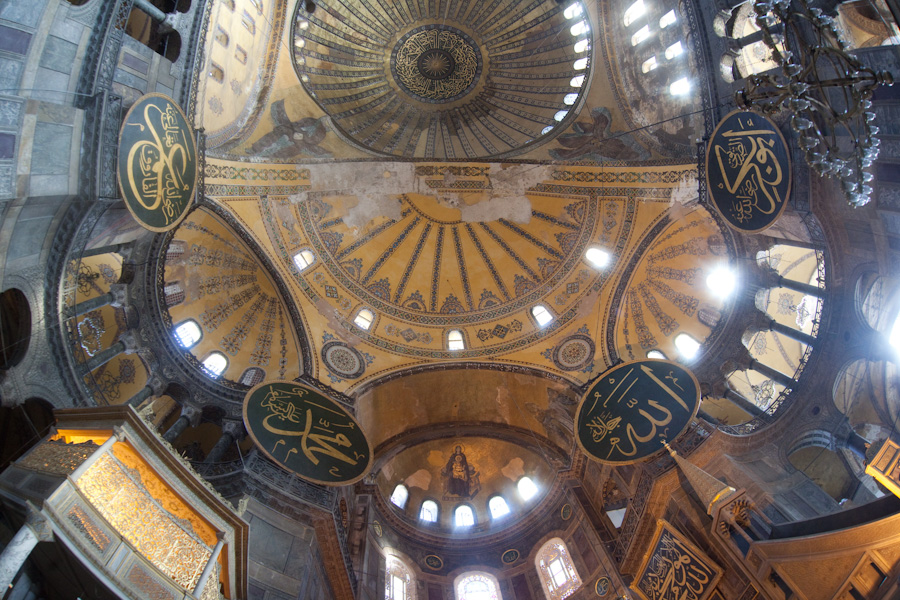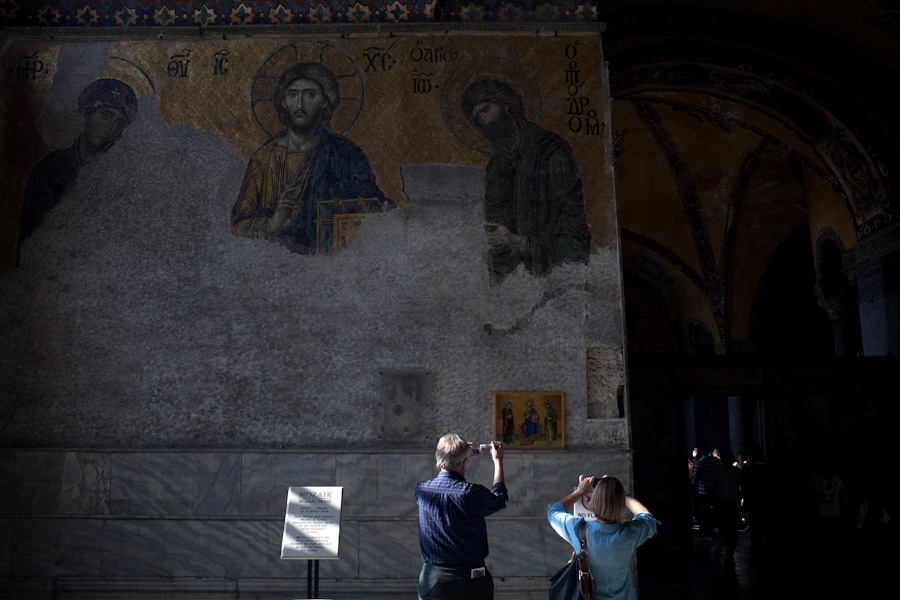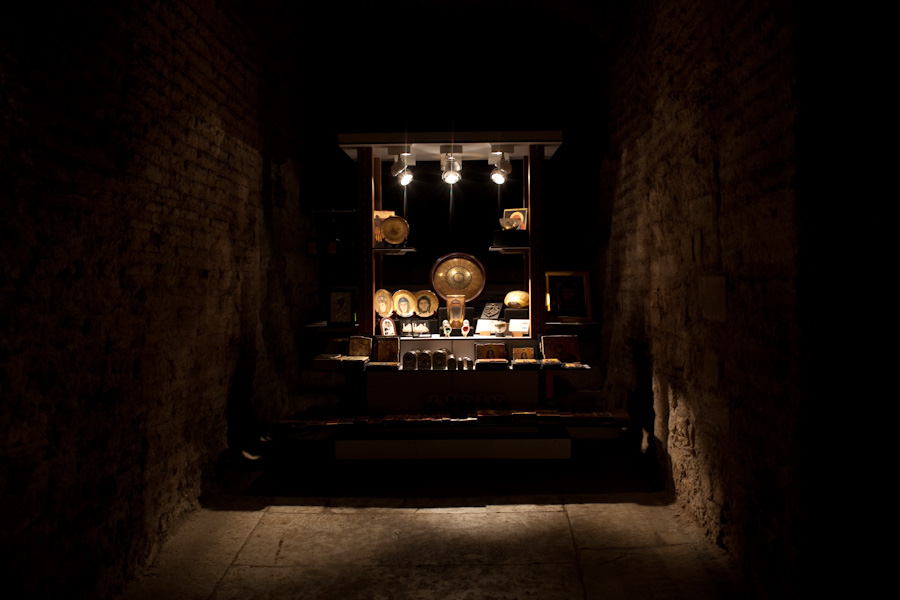 How it came to pass that a working class preacher, son of carpenter, vagabond roaming desert with his bunch of fakir style followers, on the move, with donkey as most prestigious vehicle of choice,  freak radicals, preaching equality, virtue of poverty and those at the bottom, how their pictures are revered now in golden palaces, the boss depicted on the throne,  so called spiritual descendents of his deputy being head of corrupt state, all gold and prestige, wealth, material appearances above all, message of discrimation, superiority, exclusion and moral judgement all over ? Perhaps it is because flock of sheep likes glamour, or perhaps we can find again some hint in "Occidental Mythology" of Joseph Campbell who quotes Xenophenes , a Greek philosopher who more than 500 years BC understood :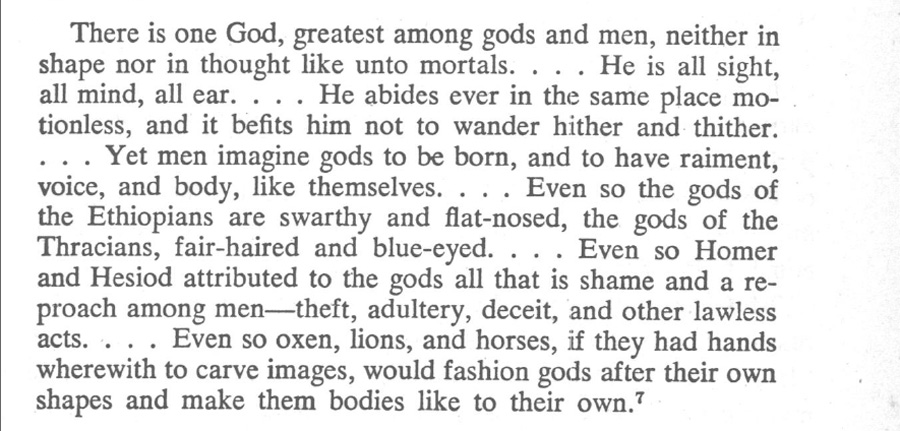 It is no wonder then that Christ of Bizantinian emperors is sitting on a throne, and God of sexually repressed ( by rules of their organization ) Catholic clergy has problem with women, homosexuals and spontaneous love outside of officially approved institutions in general.
The images come from Hagia Sophia in Istanbul, a mosque that used to be Christian temple that used to sacred spot of worship of Artemis, Goddess of Wild Animals, one of incarnations of Great Mother.
***
Jak to się stało, że kaznodzieja " z ludu" , syn cieśli, włóczęga szwendający się po pustyniach ze swoją ekipą uczniów-biedaków, sypiający gdzieś pod gołym niebem i nauczający na górkach poza miastem gdzie na Bliskim Wschodzie zwykle wyrzuca się śmieci i załatwia potrzeby, z osiołkiem jako najbardziej luksusowym pojazdem, przywódca radykalnych obdartusów, głoszący pochwałę ubóstwa i tych co dole, jak to się stało, że ich portrety wiszą teraz wielbione w złotych pałacach, szef przedstawiony na tronie, jak to się stało , że rzekomi duchowi następcy jego zastępcy są szefami skorumpowanego państewka opływającego w złoto, prestiż, bogactwo, pełnego materialnych błyskotek, produkując przekaz pełen dyskryminacji, wyższości, wyłączenia i opieprzania wszystkich nieprawomyślnych?  Być może stadko owieczek lubi glamour, a może znów znajdziemy jakąś wskazówkę w "Mitologii świata Zachodu" pióra Josepha Campbella, który cytuje Xenophenesa, greckiego filozofa, który już ponad 500 lat przed Chrystusem zrozumiał :
"…Jest jeden Bóg, największy między ludźmi i bogami, ani w kształcie ani w myślach śmiertelnikom niepodobny. Jest każdym wzrokiem, każdym umysłem i każdym słuchem. W tym samym miejscu, zawsze bez ruchu.
…Ale ludzie wyobrażają sobie że bogowie rodzą się, mają szaty, głos i postac jak oni sami…Tak więc bogowie Etiopczyków są śniadzi i płaskonosi, ci od Tracjan to niebieskoocy blondyni…Tak też Homer i Hesjod przypisywali bogom to co godne wstydu i napomnienia u ludzi, – kradzież, cudzołóstwo, oszustwo i inne bezprawne czyny… Nawet woły, lwy i konie, jeśliby ręce miały zdolne rzeźbic, wykonałyby nimi obrazy bogów na swój wzór, i swoje im ciała dały"
Nic więc dziwnego, że Chrystus bizantyjskich cesarzy siedzi na tronie i rozsiewa chwałę, podziw i strach, a Bóg seksualnie skrępowanych regułami swojej organizacji katolickich duchownych ma problem z kobietami, homoseksualistami czy ogólnie ze spontaniczną wolną miłością poza oficjalnie uznanymi instytucjami.
Zdjęcia pochodzą z Hagia Sophia w Stambule, meczetu który wcześniej był chrześcijańską bazyliką a jeszcze wcześniej miejscem kultu Artemidy, Bogini Dzikich Stworzeń, jednego z wielu wcieleń Wielkiej Matki.