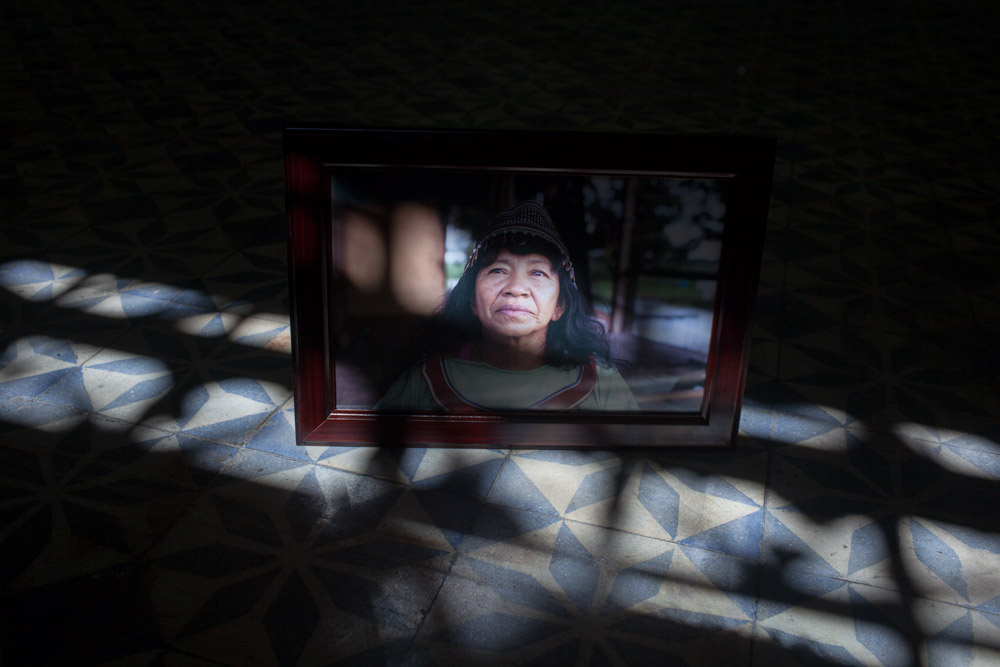 Very short post, as short was our experience. We drank with Matilda once, us, a tiny group of four gringos on her kitchen floor, and her with family, daughter and husband. The signs of annual flooding were visible on kitchen walls, around one metre from the ground. It comes soon, in a month or two from now, and table, beds, fridge, all need to be taken away, family moving too, such is life in the river slum of Belen, Iquitos.
…

Bardzo krótka notka, tak jak krótkie było nasze jednorazowe doświadczenie z Matyldą. Piliśmy z nią w jej kuchni, my, mała grupka czterech gringo i ona wraz z rodziną, mężem i dorosłą córką. Ślady po corocznej powodzi w deszczowej porze widoczne były na ścianach, mniej więcej metr ponad podłogą. W tym roku już niewiele brakuje, kiedy nadejdą deszcze – lodówka, stół, łóżka, wszystko trzeba będzie wynieść, cała rodzina przeniesie się wyżej, taka jest kolej rzeczy co roku w slumsie w Belen, Iquitos, mieście na błotach u zbiegu rzek.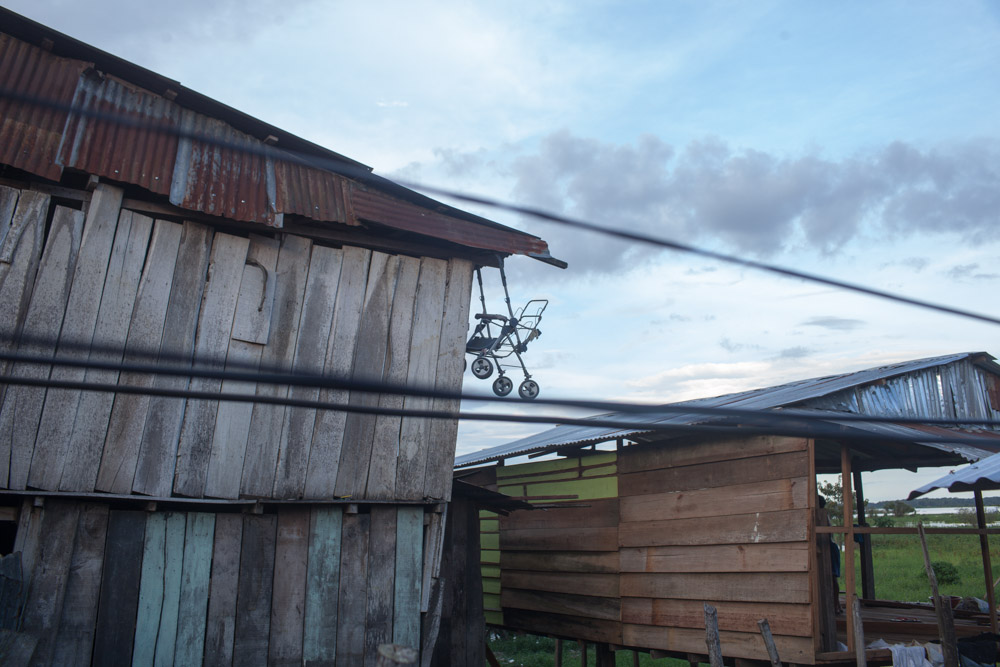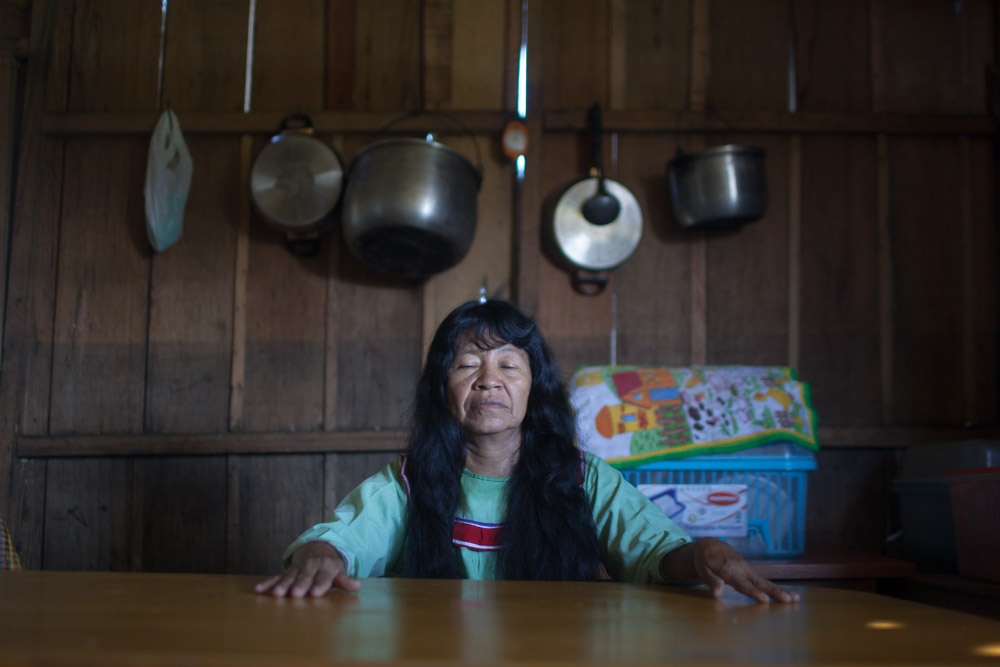 Her medicine was not so good, she admits. In the middle on the night I left to get my own from our temporary home, a few streets away. But her singing, when it finally kicked off, great stuff, very feminine, melodious, harmonious, bringing peace and healing, what we needed after roughness of the jungle base and some spiritually sick people that affected us in last weeks. My partner was delighted, saying Matilda was best so far on this journey, so I guess she can be especially recommended for women, looking for care and softness. Her husband sang as well, adding male strength to the mix. They gave us good limpieza, my infected wound started to finally heal after this night.
In the morning Matilda brought handicrafts, beautiful handmade textiles painted with her visions. I thought they are, as it is usually, for sale, but they were generous gifts, from someone who hardly possess anything. Well, I mean this "anything" in material terms. Matilda has sweet family, curandero skills, empathy and generosity. I guess this is good foundation, on which can also grow decent living, which you can support with your visit, experiencing something genuine, experiencing the way locals work with the medicine, if you can only give up your comfort attachments.
…
Jej medycyna nie była nadzwyczajna, bardzo rozwodniona, sama to przyznała. W środku nocy i ceremonii opuściłem grupę by przynieść swoją z naszego tymczasowego domu parę ulic dalej. Ale śpiew Matyldy, kiedy w końcu się rozkręciła, wielka sprawa, bardzo kobiecy, melodyjny, harmonijny, niosący pokój i uzdrowienie, to czego potrzebowaliśmy po brutalności dżunglowego obozu i duchowym zanieczyszczeniu, jakie pewien chory człowiek na nas ściągnął. Moja partnerka była przeszczęśliwa, twierdziła, że Matylda to numer jeden tej podróży, jak dotąd, więc myślę że można szczególnie polecić ją kobietom, poszukującym miękkości i opieki. Mąż Matyldy również śpiewał, dodając męską siłę do tej mieszanki. Oboje oczyścili nas porządnie, moja zainfekowana rana zaczęła się po tej nocy w końcu goić.
Rano, kiedy się obudziliśmy, Matylda przyniosła swoje rękodzieło, piękne, ręcznie wyszywane tkaniny, także malowane, wszystko z jej własnych wizji. Myślałem że są , jak to zwykle bywa u Shipibo, na sprzedaż, ale okazały się podarunkami, hojny gest kogoś kto mało co posiada. Mam na myśli "mało" w materialnym sensie bo Matylda ma słodką rodzinę, umiejętności uzdrowiciela, empatię i szczodrość. Myślę, że to solidna podstawa, na jakiej może wyrastać dostatnie życie, które możecie i wy wesprzeć swoją wizytą, doświadczając czegoś autentycznego, doświadczając tego jak pracują z medycyną tutejsi mieszkańcy, jeżeli tylko jesteście gotowi zrezygnować z turystycznego komfortu.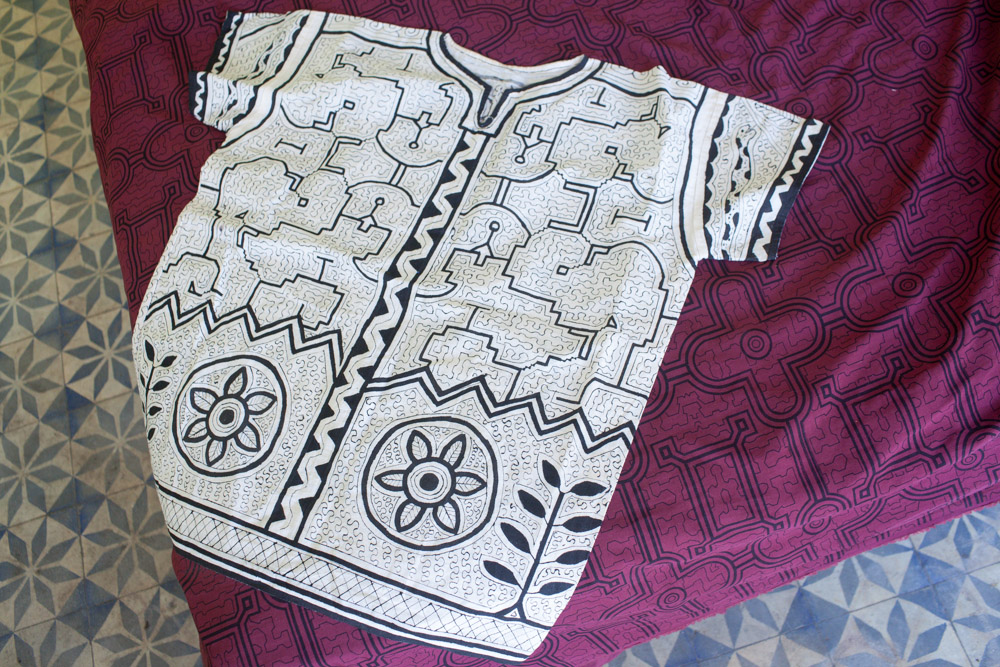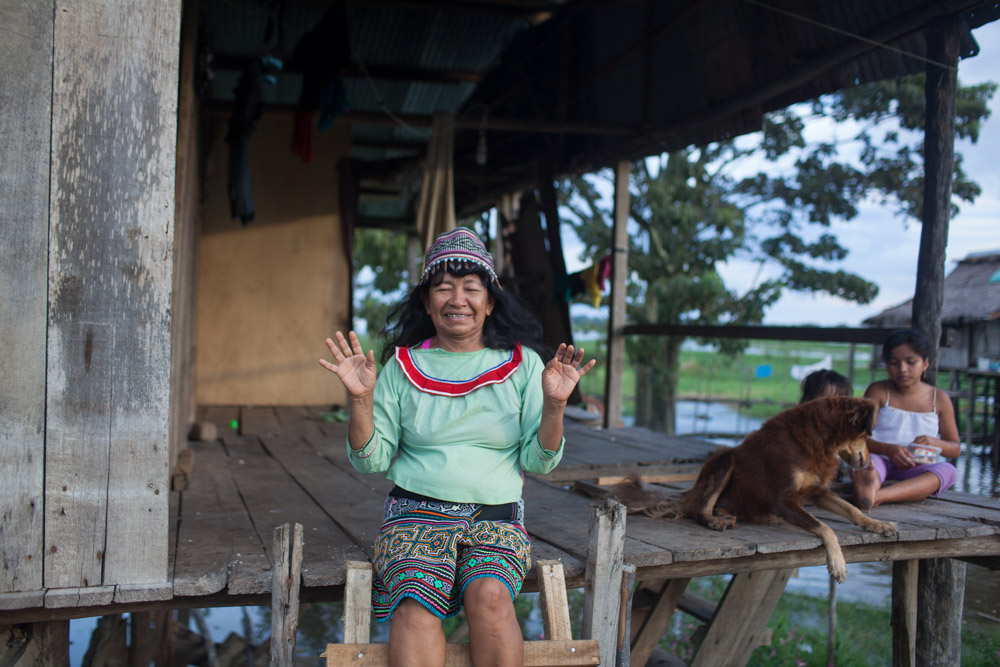 Matilda occasionally works with medicine centres around Iquitos or Cuzco, so is not always available, but you can always try to reach her on her mobile number : 942 923 797. Of course she speaks only Shipibo and simple Spanish. Worth trying.
…
Matylda co jakiś czas wynajmowana jest przez centra w okolicach Iquitos czy Cuzco, więc nie zawsze jest dostępna w swoim domu, pochodzi zresztą z małej wioski koło Contamany i czasem mieszka tam. Zawsze jednak warto próbować łapać ją na jej komórce – 942 923 797. Powodzenia !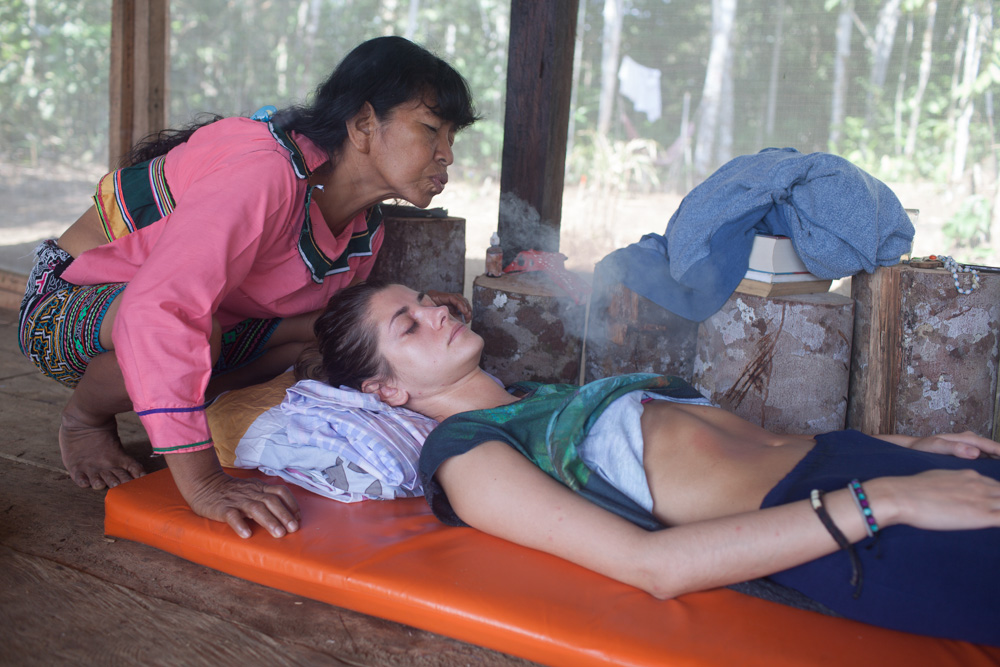 Some time passed since the words above were written and photos taken, and in the meantime I had opportunity to witness and assist Matilda and her partner Pancho at work, as well as travel with them into their homelands, so some update is posted here to show a wider context of who they are.
…
Minęło sporo czasu od czasu napisania powyższych słów i zrobienia zdjęć, w międzyczasie miałem okazję byś świadkiem i asystować Matyldzie i jej partnerowi pancho w pracy, jak i w podróży w ich rodzinne strony, więc wypada zamieścić tu małą aktualizację, by pokazać szerszy kontekst tego kim są.
For sure one thing stays certain , these are humble, simple people with low egos, if I may use that abused word, that many speak of and all possess, but what I love about this couple is that they speak so little about others, especially in criticizing way. So many shamans I encountered are fond of boasting their power and gossiping about others, of course usually scaring their guests, that anywhere else they go, they are in danger of falling prey of evil brujos, incompetent fake shamans etc, and only here, true and real master will guide and protect them. This claim is not unlike one that can be heard from many religious gurus of the world and perhaps it is ironic for some of those escaping influence of guardians of only truth wearing funny hats,  to fall into being disciple of one adorned with feathers. So none of that from Matilda and Pancho. Do you know many spiritual leaders who come to perform a ceremony in the evening, and while there is still some time left, they will go down on their knees with machete to clean the host's place from weeds? And when the evening comes, true beauty is revealed.
…
Jedna rzecz pozostaje pewna, to są cisi i skromni prości ludzie z małym ego, jeżeli mogę użyć tego nadużywanego słowa, ego o którym wielu gada i każdy posiada, ale to co kocham w tej parze to fakt, iż tak mało plotkują o innych, zwłaszcza w krytyczny sposób. Tak wielu szamanów z jakimi się zetknąłem uwielbia chwalić się swoją mocą i obgadywać innych, oczywiście zwykle strasząc swych gości, że gdziekolwiek indziej się udadzą, są w niebezpieczeństwie wpadnięcia w sidła złych czarowników, niekompetentnych fałszywych szamanów itd, i oczywiście tylko tutaj, prawdziwy i jedyny mistrz ich poprowadzi i ochroni. To twierdzenia nie tak odmienne od tych którymi handlują wszelacy religijni guru, i być może jest coś ironicznego w uciekaniu od wpływów posiadaczy jedynej prawdy w śmiesznych czapeczkach by stać się wyznawcą innych w pióropuszu. Nic z tego nie usłyszycie raczej od Matyldy i Pancho. Znacie wielu nauczycieli duchowych, którzy przybywają aby przeprowadzić wieczorną ceremonię, a ponieważ zostało jeszcze trochę czasu, lądują na kolanach z maczetą by nieco oczyścić z chwastów podwórko gospodarza? A kiedy nadejdzie już wieczór, prawdziwe piękno zostanie ujawnione.
What happens in the ceremony is usually out of reach of camera, and in my opinion, it is better to avoid words too. I say that despite having used quite a lot of them in the past, and I tend to less and less. Better come and see. But the healer's work is not finished by the time last icaros are sung. Especially in case of physical issues, as well as some hard traumas both Matilda and Pancho can offer extra work in the morning, depending on case and location of the problem, it can be Shipibo style massage, work with tobacco, or special technique that not many curanderos of Amazon can still perform – called chupar, sucking out the illness. Matilda has a lot of experience working with women, and is usually really appreciated by female guests, and Pancho works individually with female patients only in presence of his partner, to avoid any misunderstandings and accusations that are increasingly common in the Amazon recently.
…
To, co zdarza się w ceremonii jest zwykle poza zasięgiem aparatu, a także, w mej opinii, lepiej unikać i słów. Mówię to, pomimo iż w przeszłości użyłem ich sporo, ale staram się coraz mniej. Lepiej sprawdźcie sami. Ale praca uzdrowiciela nie jest zakończona, kiedy przebrzmi ostatnie icaro. Zwłaszcza w przypadku fizycznych dolegliwości, jak i niektórych ciężkich traum i blokad, zarówno Matylda jak i Pancho mogą służyć dodatkowymi zabiegami w ciągu dnia, zależnie od problemu i jego lokalizacji, może to być tradycyjny masaż Shipibo, praca z tytoniem albo specjalna technika, jaką niewielu uzdrowicieli w Amazonii ma opanowaną – zwana chupar , wysysanie choroby. Matylda ma duże doświadczenie w pracy z kobietami i zwykle jest bardzo ceniona przez szukające pomocy dziewczyny, a Pancho pracuje indywidualnie z pacjentkami tylko w obecności swojej partnerki, by uniknąć nieporozumień i oskarżeń jakie są ostatnio w Amazonii coraz częstsze.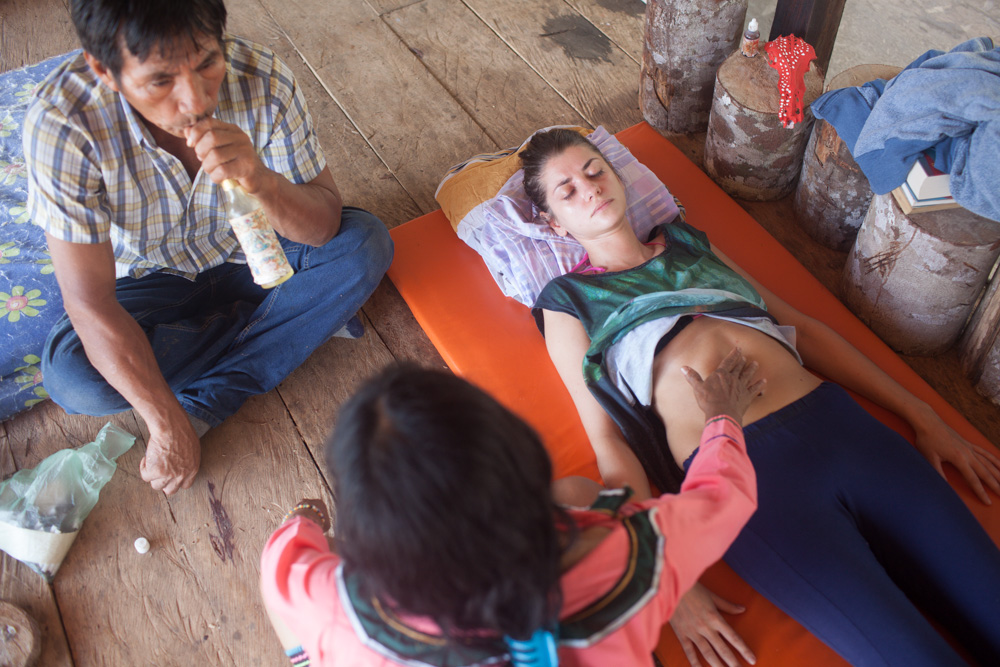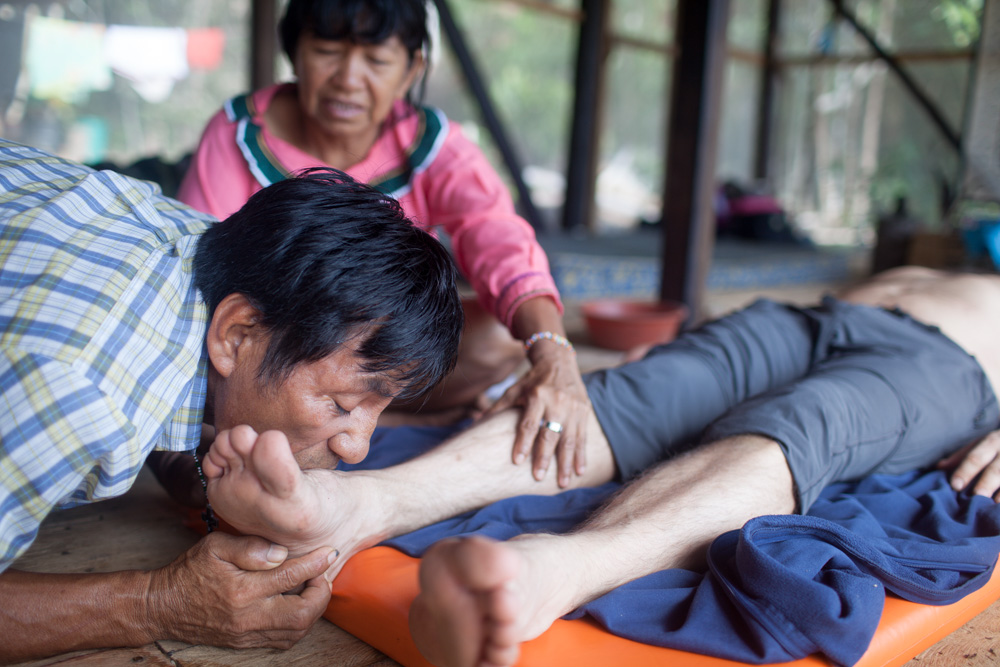 …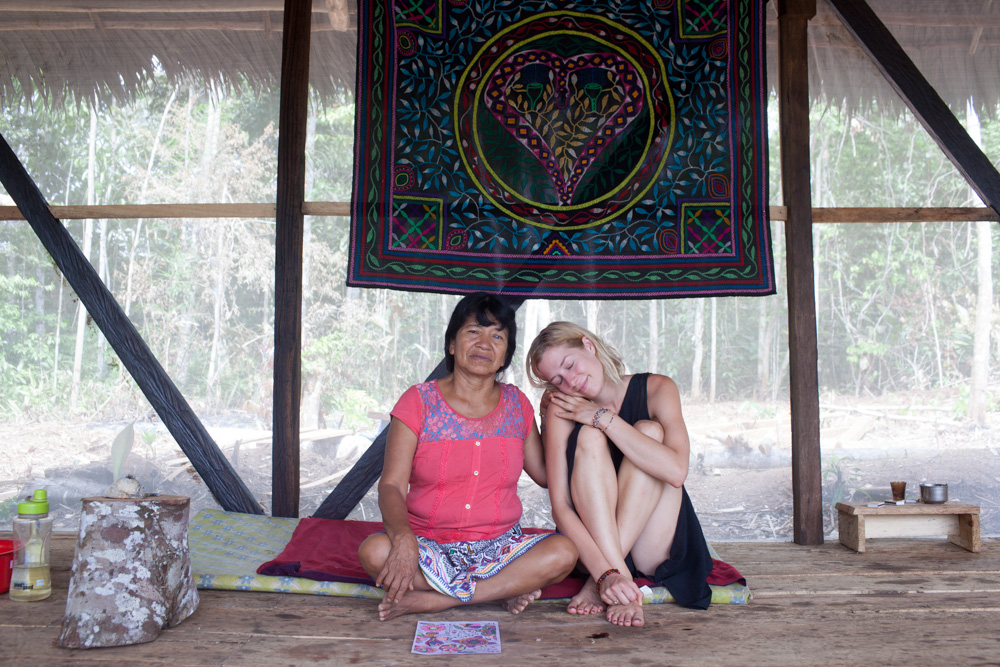 If you want to meet a sweet girl, that perhaps grew in years and experience, but no so much in character, that is the right address.
…
Jeżeli chcecie spotkać się ze słodką dziewczynką, która być może nabrała lat i doświadczenia ale nie zmieniła zbytnio swojego charakteru, wybór jest prosty.