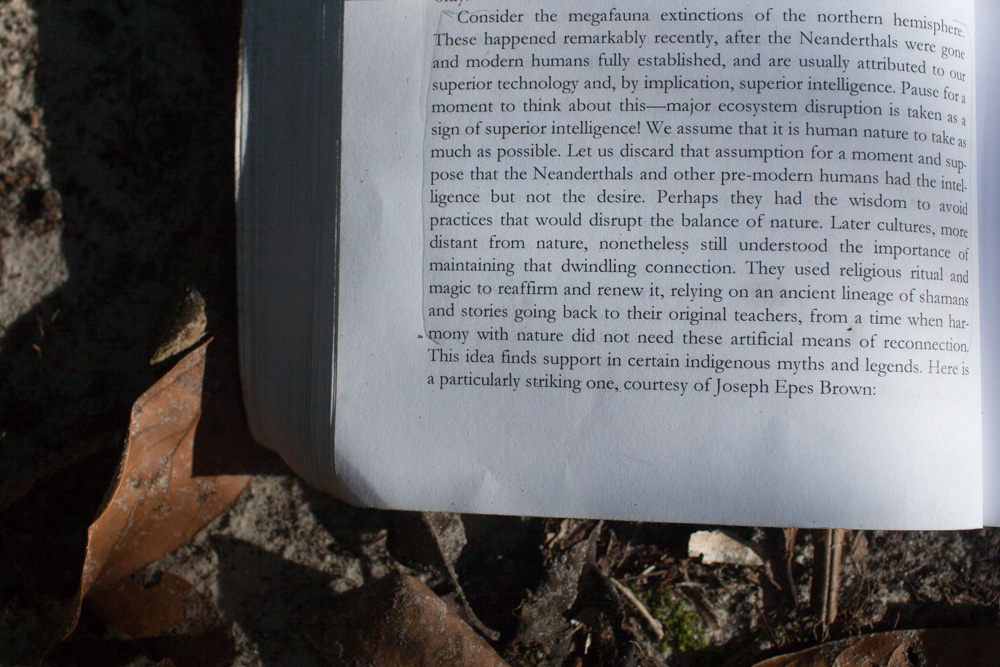 Spójrzmy na wymarcie megafauny na północnej półkuli. To stało się nadzwyczaj niedawno, po tym jak znikli neandertalczycy, i w pełni rozwinął się współczesny typ człowieka, i zwykle przypisywane jest wyższości naszej technologii i, co z tym związane, naszej wyższej inteligencji. Zatrzymajmy się na chwilę by o tym pomyśleć – poważne zaburzenie ekosystemu jako oznaka wyższej inteligencji ! Zakładamy iż w ludzkiej naturze jest zagarnianue tyle ile jest to tylko możliwe. Porzućmy na moment takie założenie i przypuśćmy, że neandertalczycy i inni pra-ludzie miel inteligencję, ale nie mieli takich chęci. Być może mieli oni mądrość by unikać praktyk, które zakłócałyby równowagę w naturze. Późniejsze kultury, bardziej od niej oddzielone, pomimo to wciąż rozumiały wagę utrzymywania tego kurczącego się podłączenia. Używały religijnego rytuału i magii aby potwierdzić i odnowić je, opierając się na pradawnym dziedzictwie szamanów i historiach o korzeniach wśród pierwotnych nauczycieli, z czasów kiedy jeszcze harmonia z naturą nie potrzebowała sztucznych sposobów połączenia.
…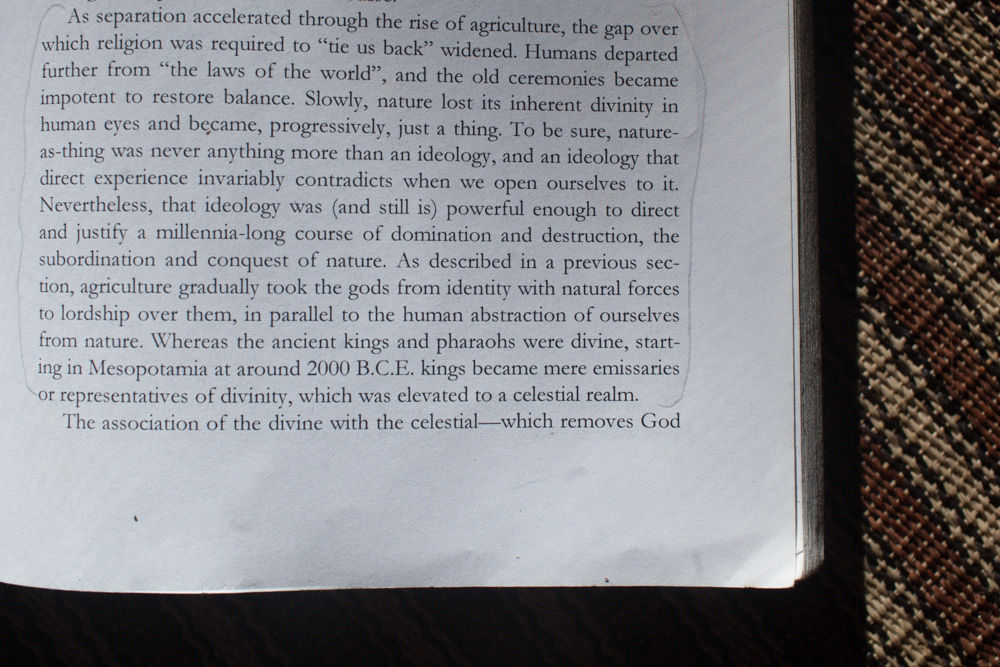 Kiedy separacja nabrała tempa poprzez rozwój rolnictwa, przepaść nad jaką miała za zadanie budować most religia poszerzyła się. Ludzie oddalili się bardziej od "praw świata" i stare ceremonie utraciły moc przywracania równowagi. Powoli natura zaczęła tracić wewnętrzną boskość w ludzkich oczach i stała się, progresywnie, jedynie rzeczą. Aby było jasnym, natura-jako-rzecz nie było nigdy niczym innym jak ideologią, i to ideologią jakiej niezmiennie przeczy bezpośrednie doświadczenie, kiedy się na nie otworzymy. Mimo tego, ta ideologia była ( i wciąż jest ) dostatecznie potężna aby doprowadzić do i uzasadnić trwający stulecia projekt dominacji i zniszczenia, subordynacji i podboju natury. Jak opisano w poprzednim rozdziale, rolnictwo stopniowo zabrało bogów od utożsamienia ich z naturalnymi siłami do władzy nad nimi, równolegle do postępującego ludzkiego wyabstrahowania własnej tożsamości od natury. Kiedy starożytni królowie i faraonowie byli jeszcze bogami, począwszy od mniej więcej 2000 r p.n.e w Mezopotami królowie stali się zaledwie emisariuszami lub reprezentami boskości, która wyniesiona została w strefę niebios.
…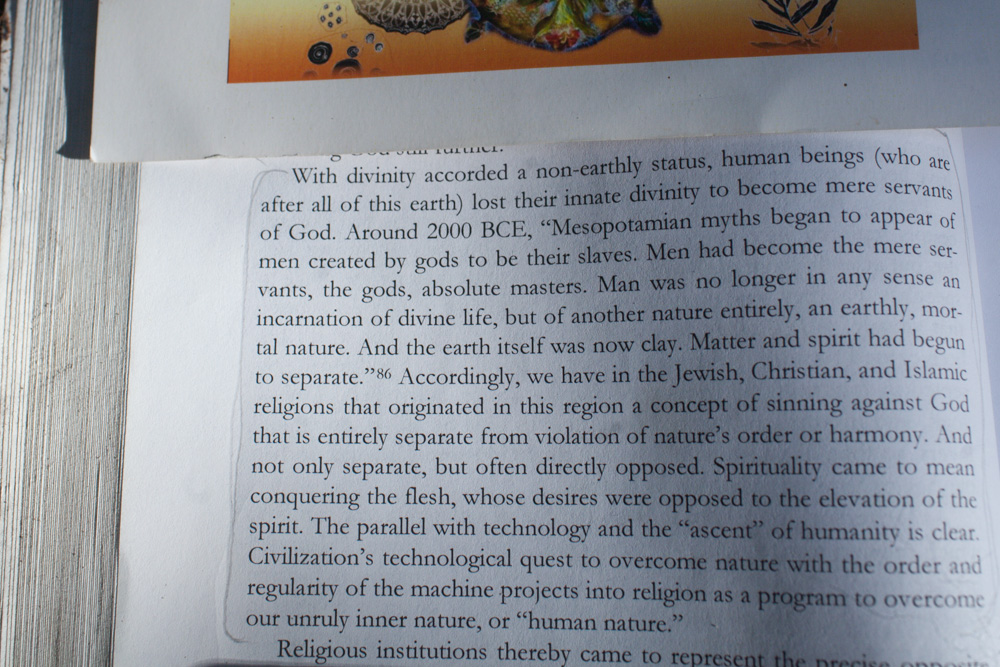 Z bogiem eksportowanym, o nie-ziemskim statusie, ludzie ( którzy, bądź co bądź są z tej ziemi ) stracili swoją wewnętrzną boskość i stali się zaledwie sługami Boga. Około roku 2000 przed naszą erą, "zaczęły pojawiać się mezopotamskie mity o ludziach stworzonych przez bogów jako ich niewolnicy. Ludzie stali się zwykłymi sługami, bogowie, absolutnymi władcami. Człowiek nie był już w jakimkolwiek sensie inkarnacją boskiego życia, ale innej zupełnie natury, ziemskiej, natury śmiertelnej. A sama ziemia stała się teraz gliną. Materia i duch rozpoczęły swój rozdział." W związku z tym, mamy w żydowskich, chrześcijańskich i muzułmańskich religiach, które w tymże regionie powstały, koncepcję grzechu wobec Boga, która jest zupełnie oddzielna od gwałtu na porządku natury, czy jej harmonii. Nie tylko odrębna, ale często dokładnie przeciwna. Słowo duchowość zaczęło oznaczać podporządkowanie ciała, którego pragnienia zostały przeciwstawione podwyższeniu ducha. Paralela z technologią i "wspniaczką" ludzkości jest jasna. Technologiczna krucjata cywilizacji aby przezwyciężyć naturę porządkiem i regularnością maszyny znajduje swoje odbicie w religii jako programie przezwyciężenia naszej nieuporządkowanej wewnętrznej natury, czy też "ludzkiej natury".
Charles Eisenstein, "Ascent of Humanity" ( 2007 )