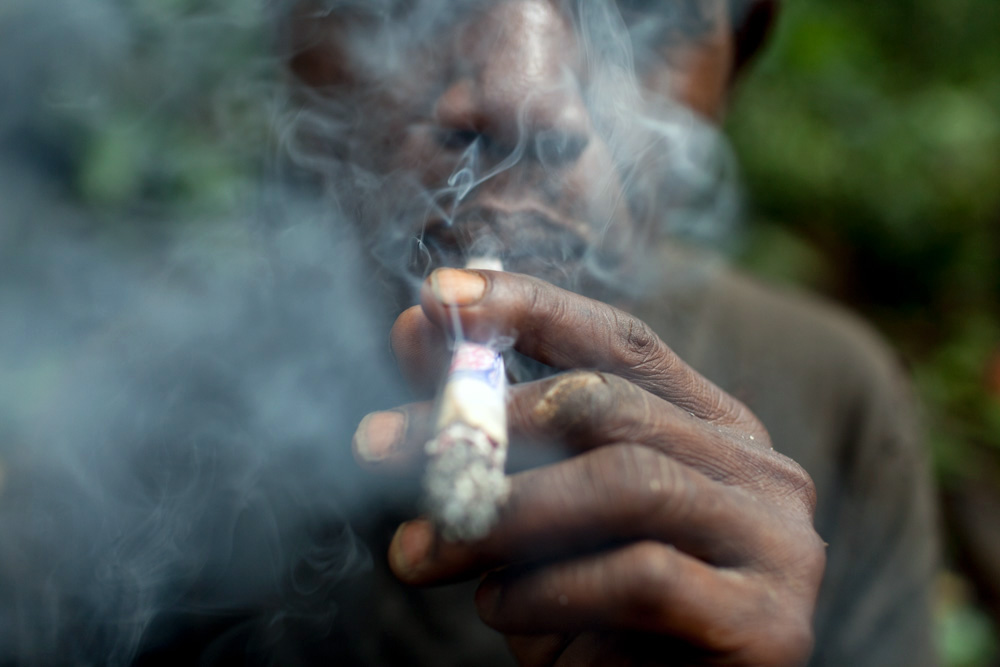 Baka like to smoke. Baka are Pygmies from Central Africa and they smoke whatever and whenever. Baka also means weed in Polish slang. I love those little synchronicities, they are so obvious. Especially when you are stoned.
…
Baka uwielbiają bakać. Baka to Pigmeje z Afryki Środkowej i palą cokolwiek i gdziekolwiek. Baka znaczy też w naszym kraju towar do jarania, i wydaje się to oczywiste i więcej niż przypadkowe. Zwłaszcza po zbakaniu.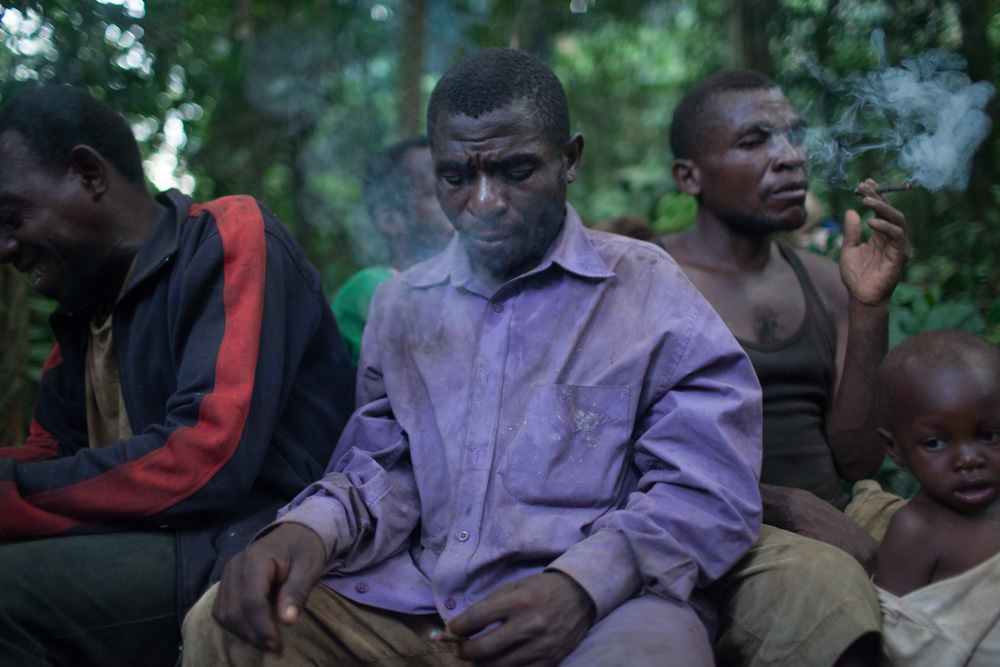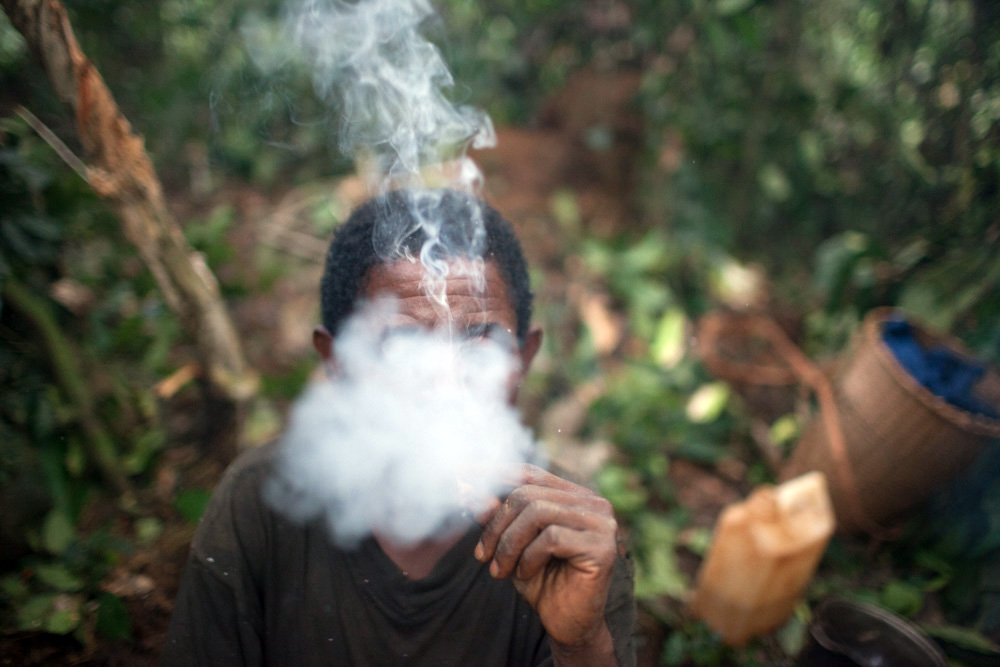 In recent years Baka were forced by governments to move out of the forests. This is for the loggers you know, for you we have some diseases and cheap work, come to the roadside. So they can not "poach" now , they can not be nomads anymore. They have to stay in "modern" earth houses with tin roofs and send their children to school. In the past they would smoke their jungle weed in leaves, but now there is lots of free paper, thank you government.
…
W ostatnich lata Baka zostali zmuszeni przez rządy do wyjścia z lasu. Las jest dla firm wycinających drewno, wiecie, dla was mamy trochę nowych chorób i gówniane fuchy czasami, przyjdźcie do drogi. Więc Baka nie mogą już "kłusować", to rozrywka dla licencjonowanych myśliwych, najlepiej dewizowych. Nie mogą też już przenosić się z miejsca na miejsce. Muszą zamieszkać w "nowoczesnych" domach z ziemi i blachy falistej, i wysłać dzieci do szkoły. W przeszłości paliliby swe zielsko zawinięte w liście, ale teraz jest wiele darmowego papieru, dziękujemy ci rządzie.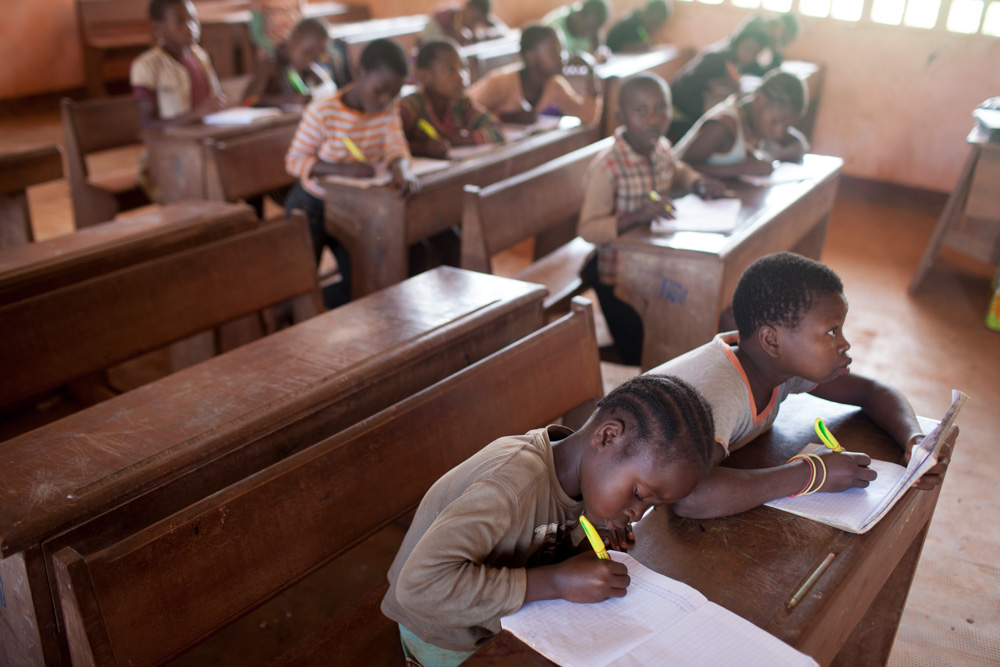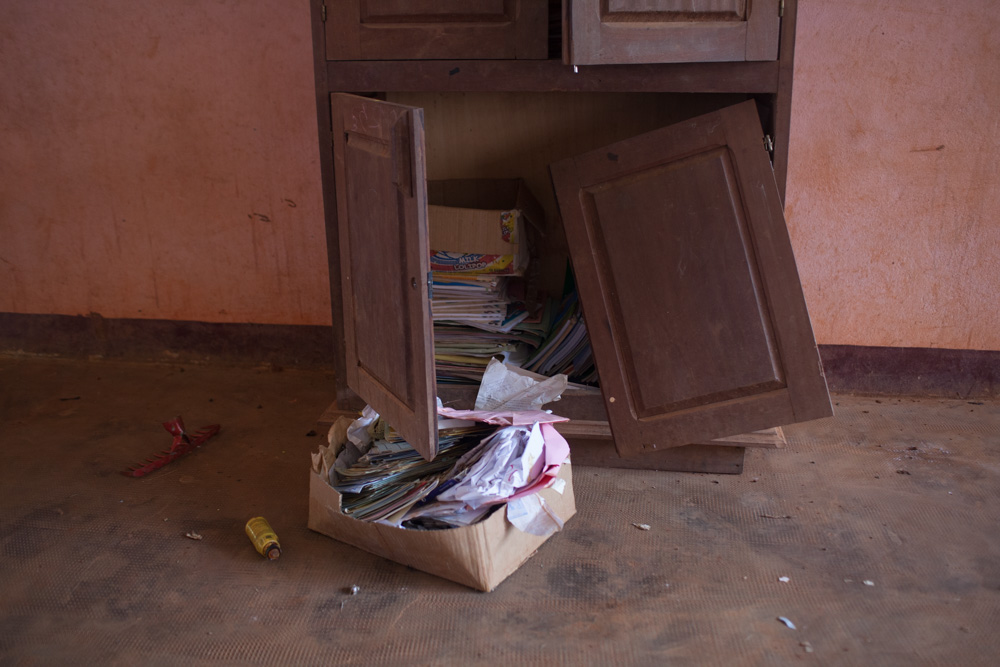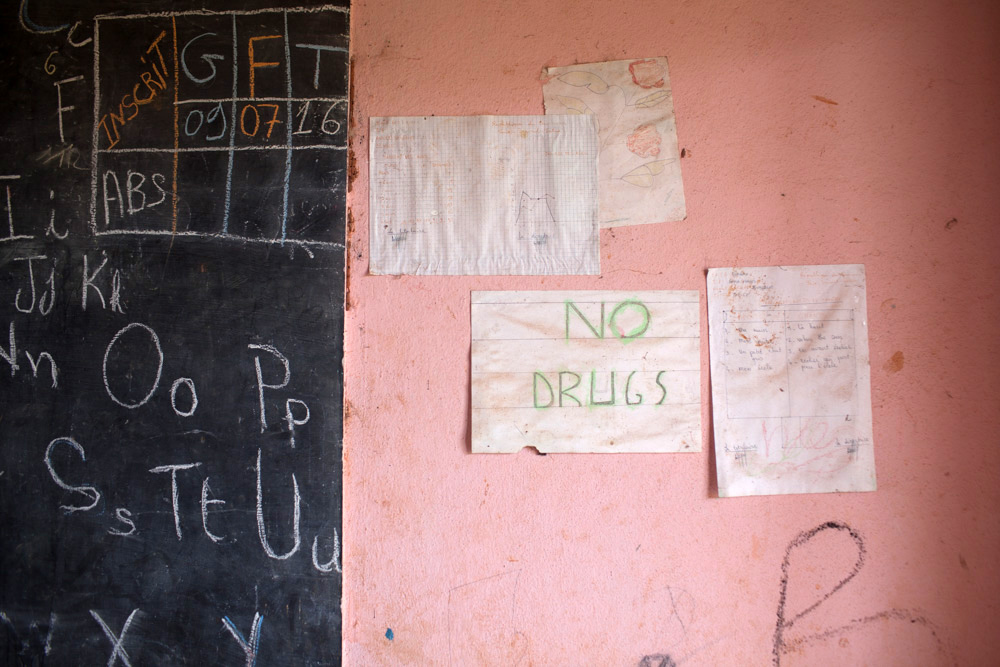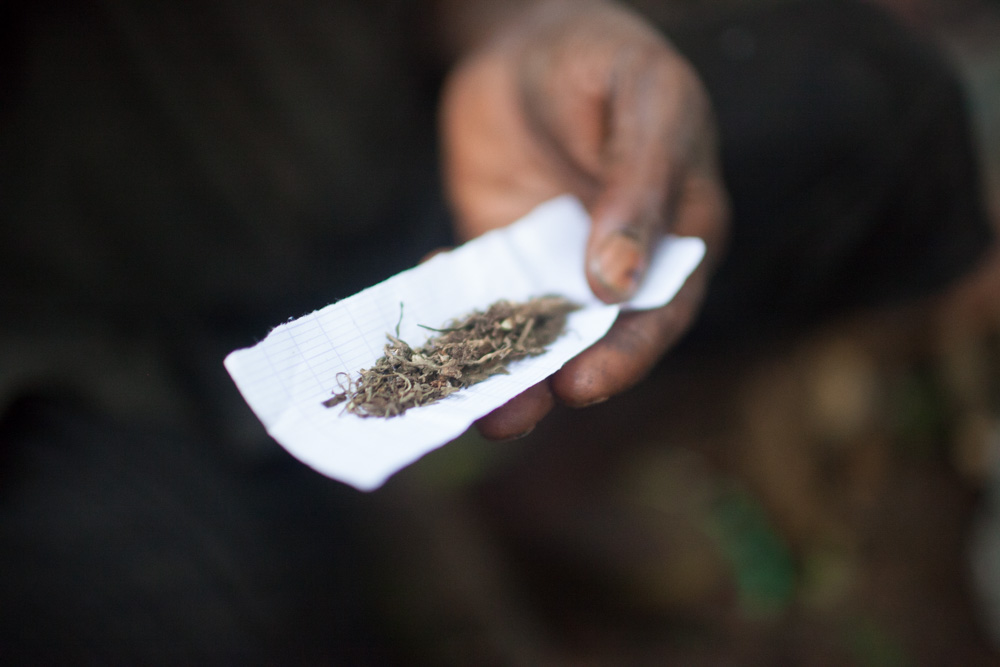 Bits of maths and french language are flying into it the air… It will all end up as ash anyway, so why wait…
…
Kawałeczki matematyki i francuskiego pomalutku płoną sobie i fruną z wiatrem. I tak wszystko obróci się w popiół, po co zatem czekać?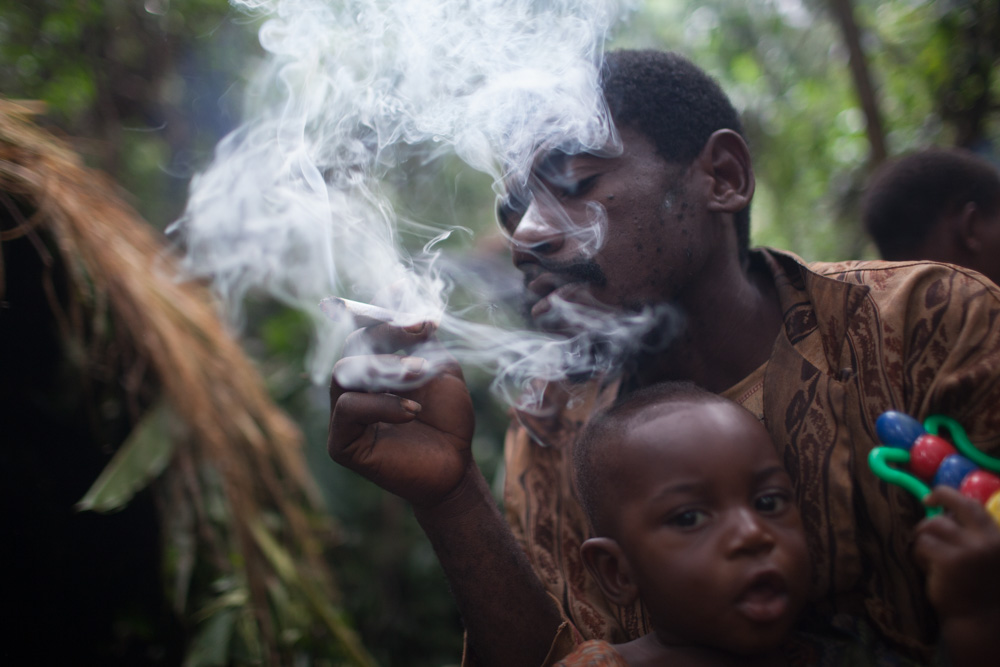 Baka live in extremely tight tribal extended families, and as we know, smoking comes with sharing. The smoke weaves the community.
…
Baka żyją w bardzo bliskich relacjach wewnątrz rozszerzonych rodzin – klanów. Jak wiemy, palenie łączy się z dzieleniem. Dym tka wspólnotę.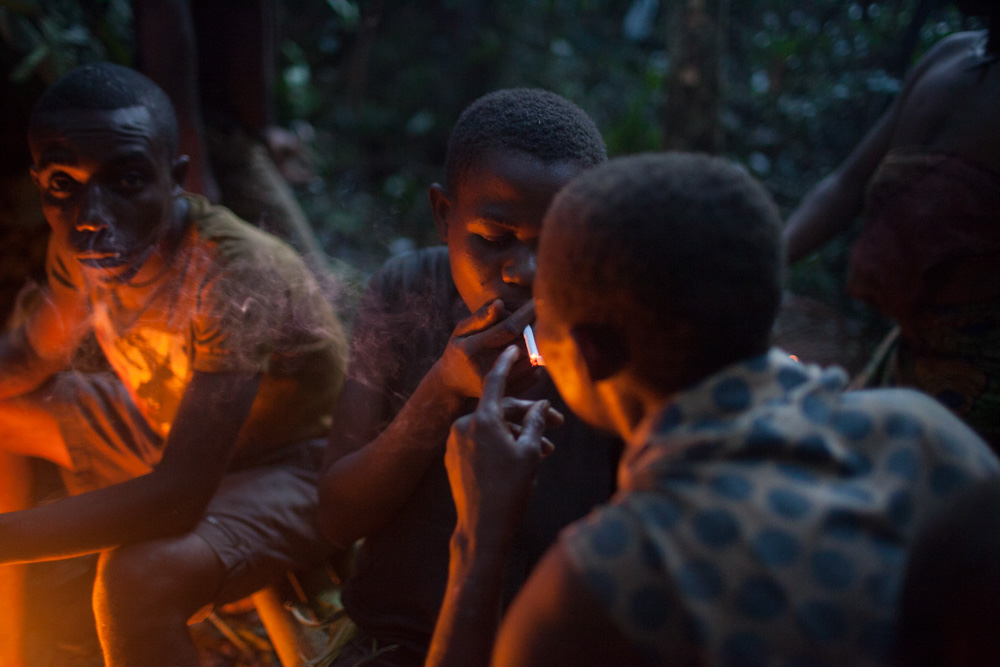 Youth smoke it  //  Pali młodzież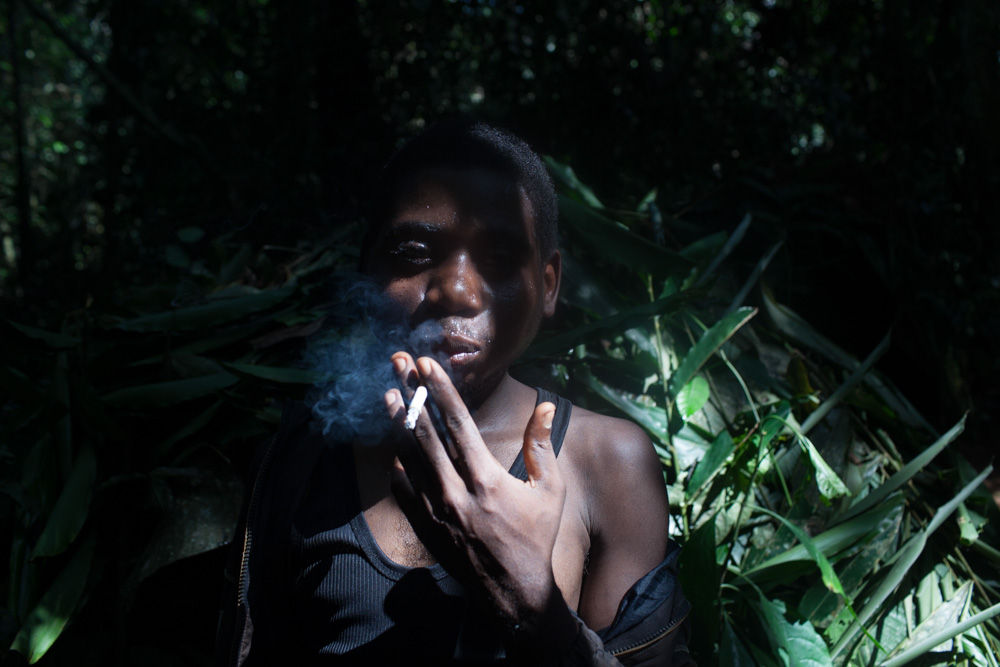 Mothers smoke it  //  Palą matki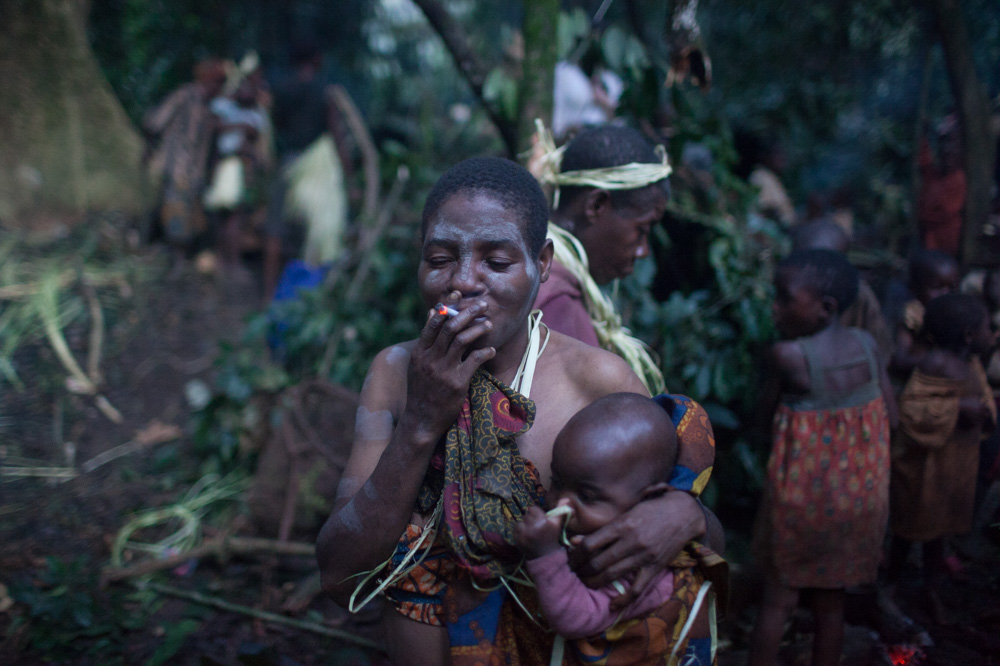 Hunters smoke it  //  Palą myśliwi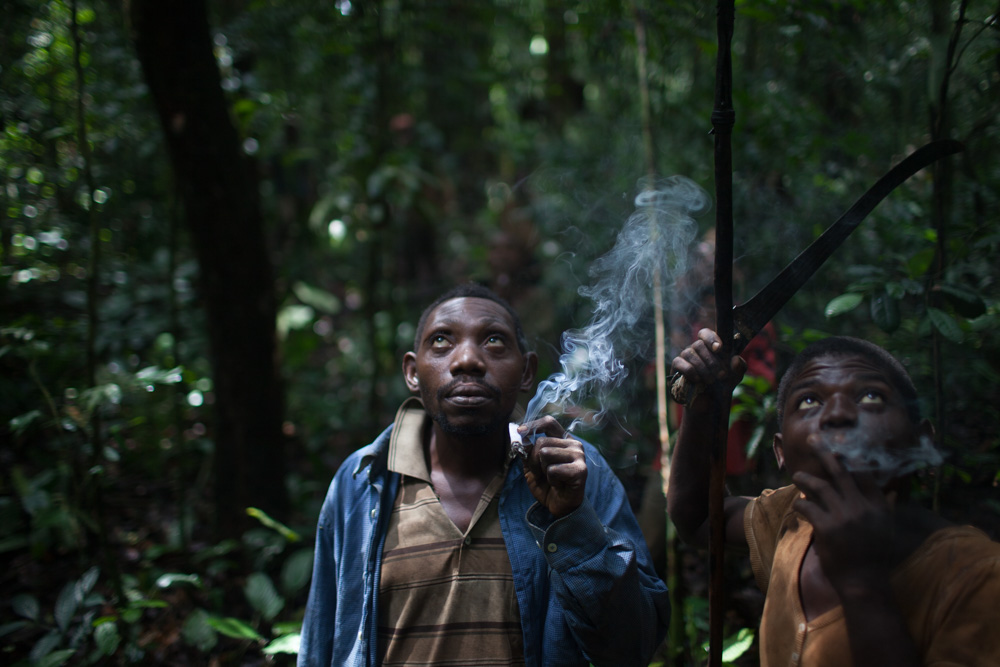 Drummers smoke it  //  Palą bębniarze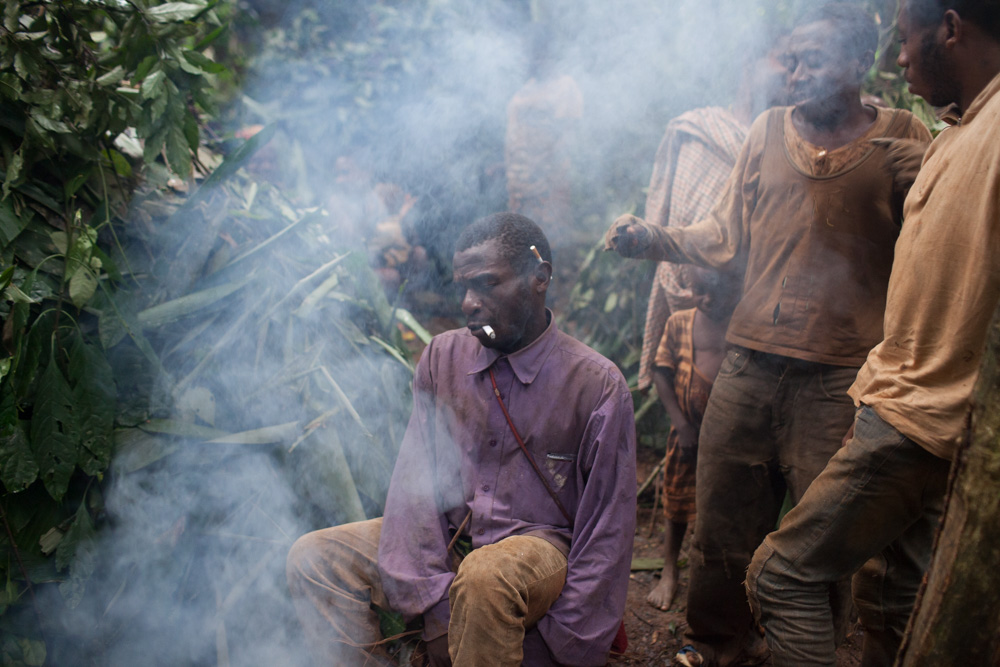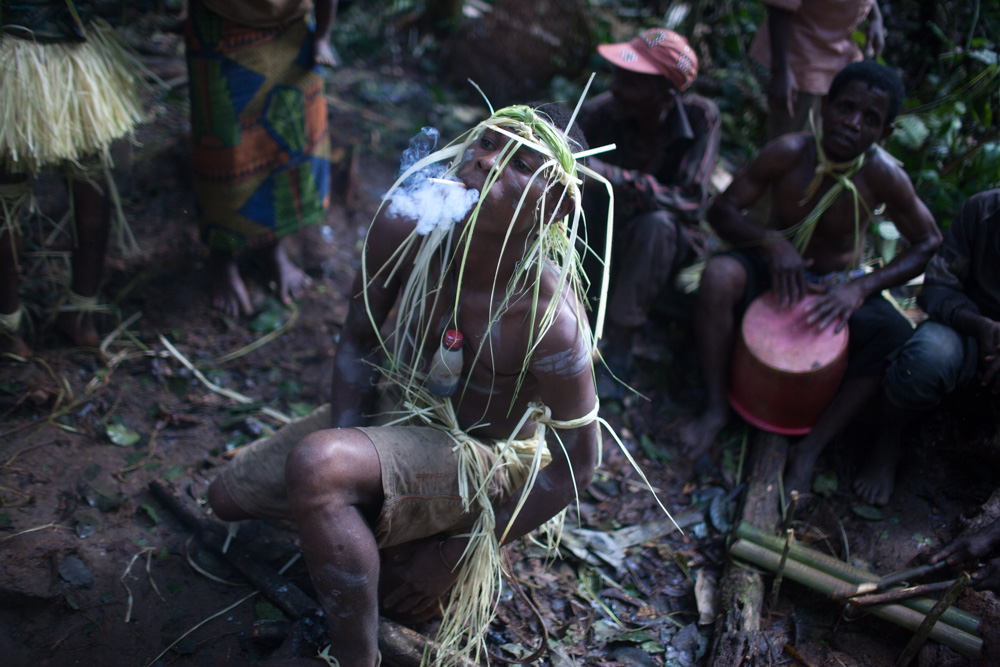 Dancers smoke it  //  Palą tancerze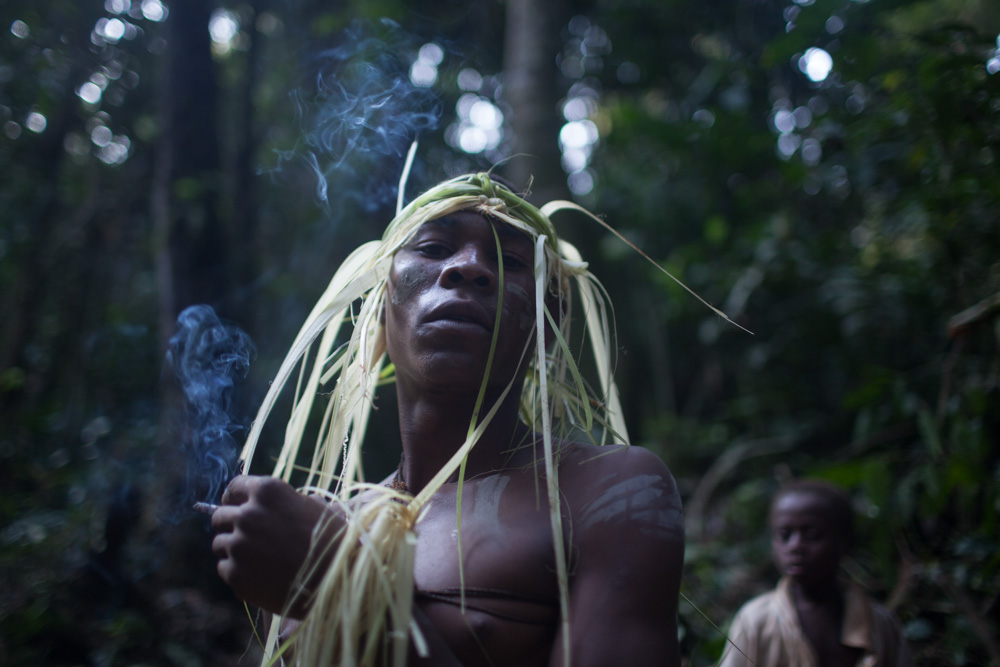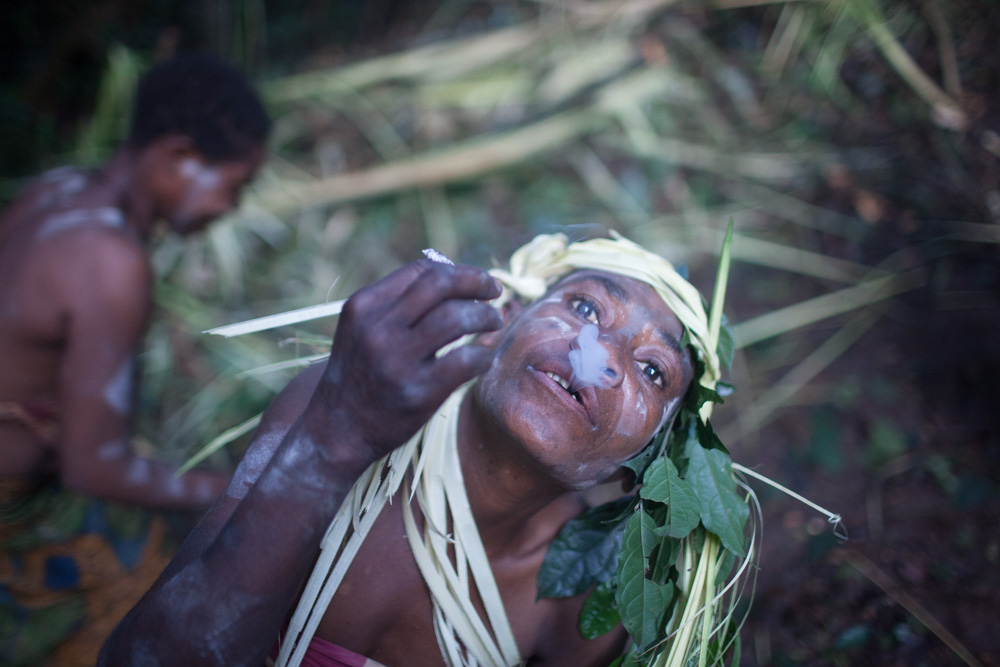 And of course palm spirit drinkers too.  //  I oczywiście pijący wódę z palmy też.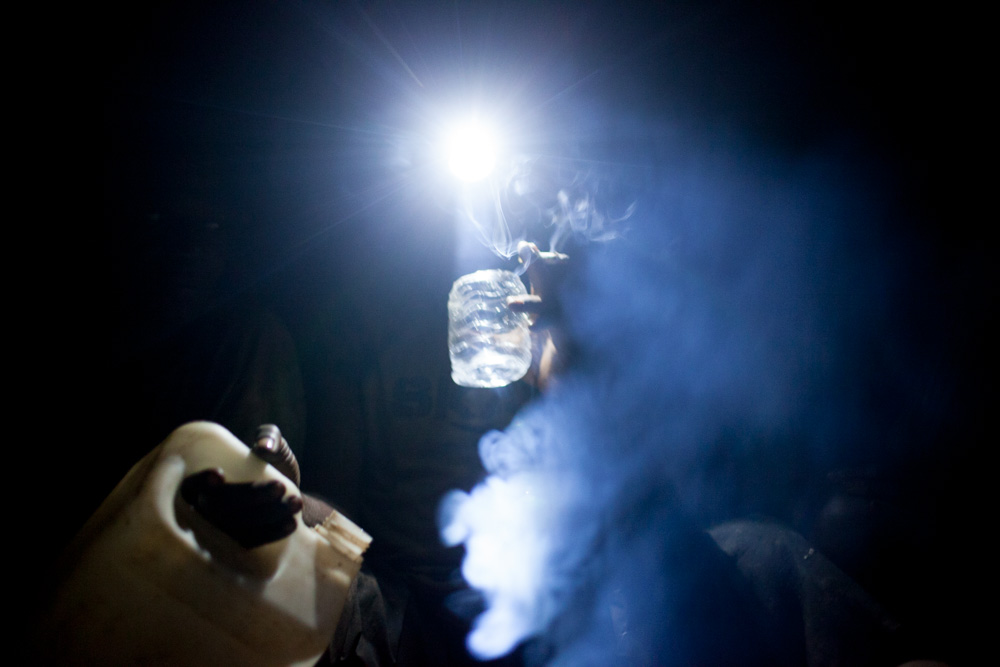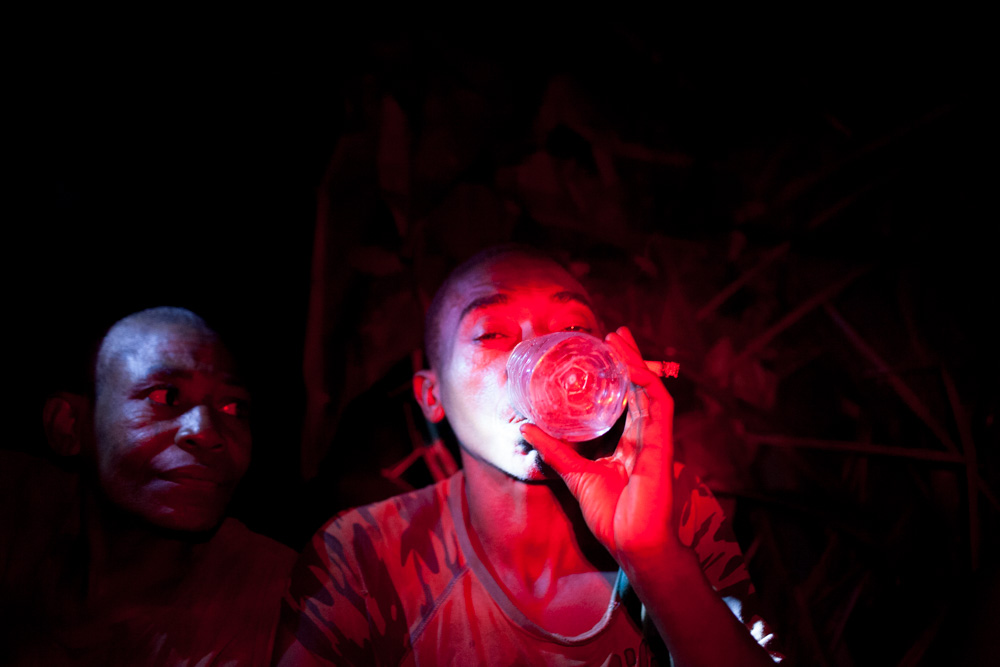 When all the fun of the day is done, some go out for night hunt into the forest, of course after … //  Kiedy kończy się zabawa, niektórzy ruszają na nocne polowanie, oczywiście po …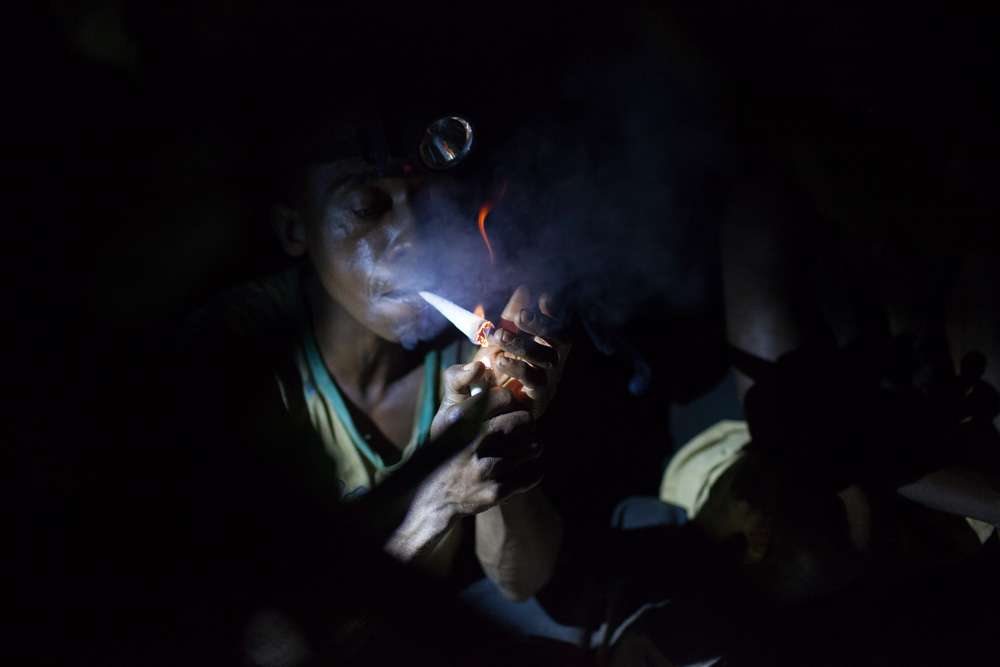 Others lay down in their huts, with family and joint.  //  Inni kładą się w swych szałasach z rodzinami i jointem.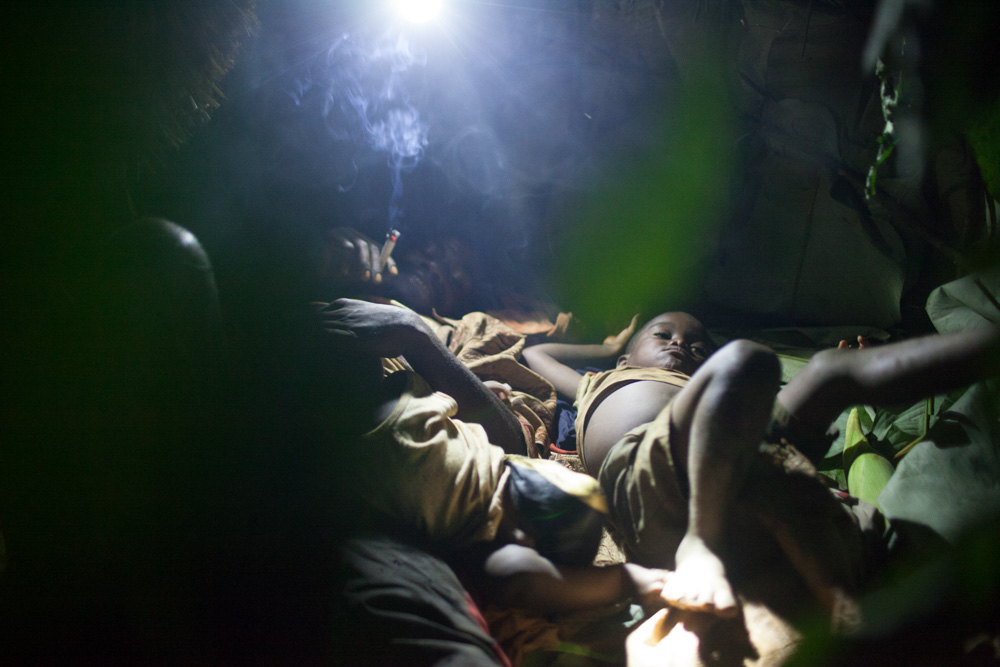 One of the few passions which are stronger than smoking is money. It is unfortunately much less binding, on the contrary, it rips community apart, fueled with alcohol, fights about money turn brothers against each other in a scenario repeated so many times before when tribal societies encountered gifts of the civilization. Here you see three of them.  Money, tobacco and new religion, which does not accept the belief in spirits of the forest.
…
Jedna z niewielu pasji mocniejszych od palenia to pieniądze. Niestety dużo słabiej też łączą, a raczej przeciwnie, rozrywają społeczne więzy, podlane alkoholem walki o kasę obracają przeciwko sobie braci i siostry, w scenariuszu już tylokrotnie odgrywanym, kiedy plemiona spotykały się z darami cywlizacji. Na zdjęciu poniżej widać trzy z najważniejszych. Pieniądze, tytoń i nowa religia, która nie akceptuje wiary w duchy lasu.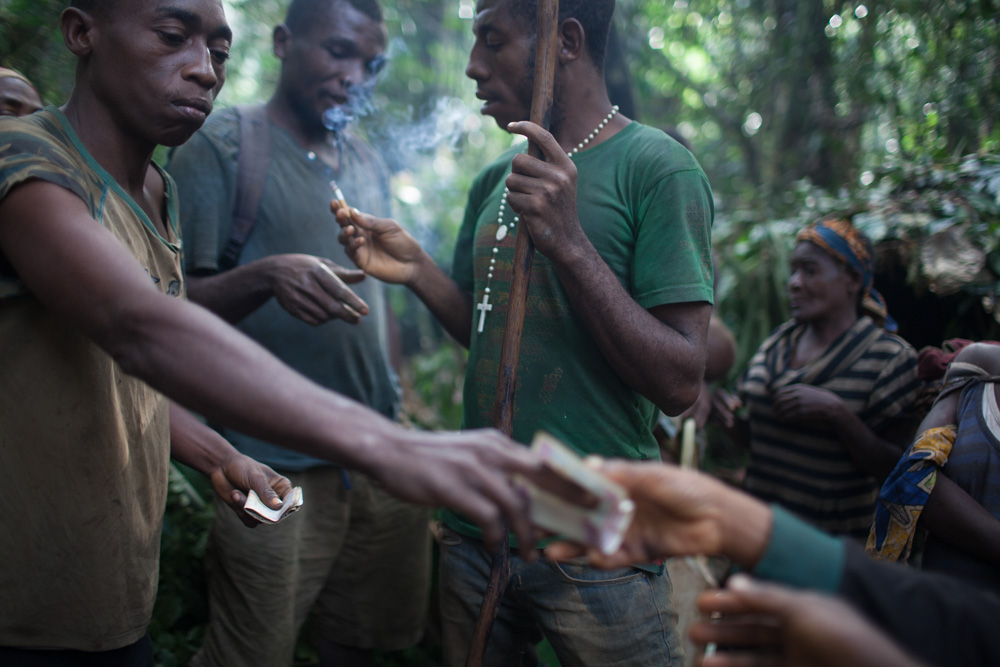 I brought them something too, mapacho, jungle tobacco from Peru, used there in ayahuasca ceremonies. Baka were impressed, saying it is very strong.
…
Też coś przywiozłem. Mapacho, dżunglowy tytoń z Peru, używany tam w ayahuaskowych ceremoniach. Baka byli pod wrażeniem, twierdząc iż jest bardzo mocny.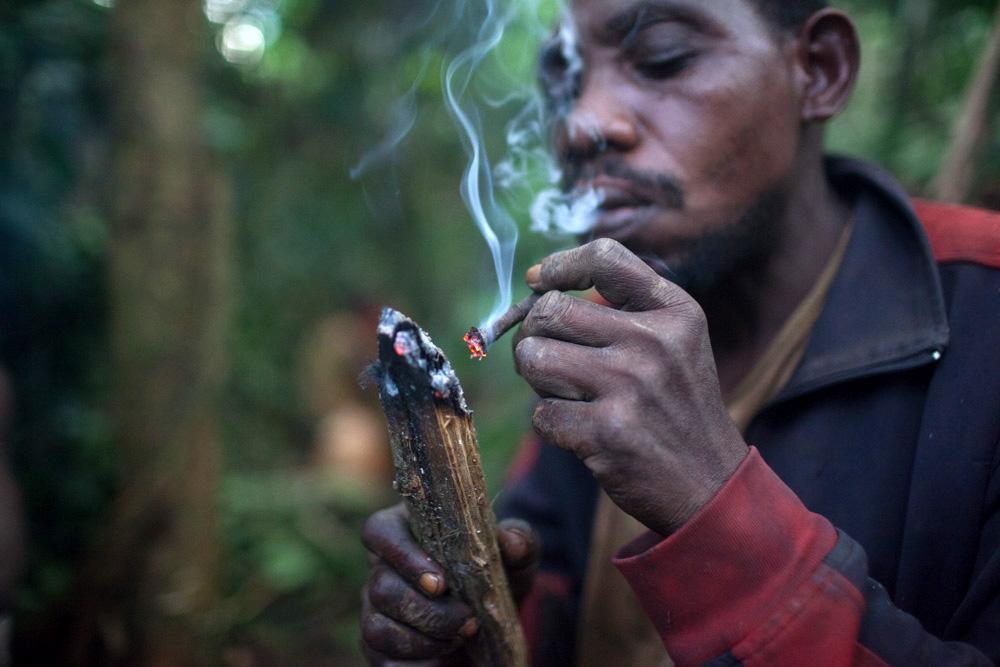 Some time later, in Bwiti ceremony I realized again how many practices of shamanism are universal in societies that never had any contact with each other. Here too tobacco was blown on those taking part in ceremony, for spiritual protection.
Baka live in dangerous forest and are excellent hunters, always on their guard, scanning extremely complex environment. Man below, wearing  personal protective amulets in a plastic bottle on his neck, is pictured during a jungle trip , when we walked barefoot through deep swamps, and on the bank of one stream encountered one of the deadliest poisonous snakes. He saw it and split apart with a single blow of his machete. Despite, or perhaps thanks to being stoned all day long.
…
Jakiś czas później, na ceremonii Bwiti uświadomiłem sobie ponownie jak wiele praktyk szamanizmu jest uniwersalne, podobne w społeczeństwach, które nigdy nie miały ze sobą żadnego kontaktu. Tutaj także tytoń dmuchany był jako duchowa ochrona na uczestników rytuału.
Baka żyją w niebezpiecznym lesie i są doskonałymi myśliwymi, zawsze czujni na sygnały niezwykle złożonego otoczenia. Chłopak poniżej, z ochronnymi amuletami w plastikowej buteleczce na szyi, jest sfotografowany podczas wyprawy do lasu, na której boso brnęliśmy przez bagna sięgające czasem do pasa, i na brzegu jednego z nich natkneliśmy się na jednego z najbardziej jadowitych węży w regionie. Chłopak ten ( zgineła mi pieprzona kartka z imionami… ) dostrzegł go i błyskawicznie rozpołowił jednym uderzeniem maczety. Pomimo tego, a może dzięki temu, że cały dzień był zbakany.