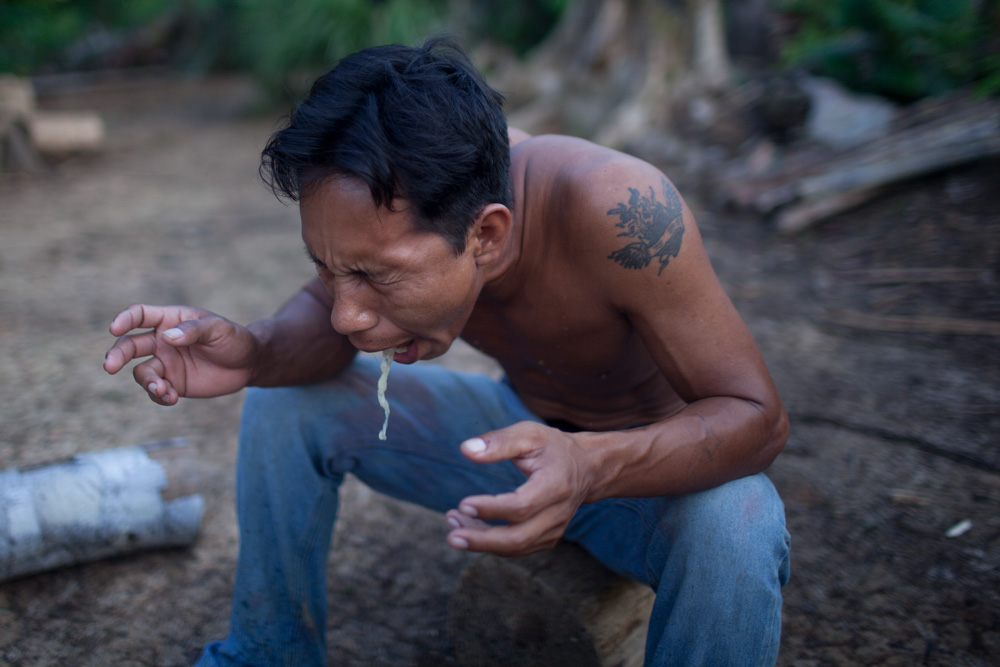 OK, so here is how it goes, or at least the way Matses tribesmen do it. This guy below is called Robinson and will take you through the process of harvesting and using the frog venom, called in his language kampu or acate. Be aware, it is rough, done barbarian style, no new age mantras, blowing Palo Santo or alignment of your chakras. Just brace yourself and think, it is better to suffer once a lot, than all your life, more and more. Kambo is health. But yes, frogs are harassed in the process, unlike your factory farm chicken they survive though.
…
A robi się to tak, przynajmniej w plemieniu Matses. Ten kolega poniżej nazywa się Robinson i przeprowadzi was przez proces zbierania i używania trucizny z żaby, zwanej w jego języku kampu lub acate. Bądźcie jednak świadomi, iż jest to brutalna, w barbarzyńskim stylu procedura, bez new agowych mantr, dmuchania dymem z Palo Santo czy ustawiania waszych czakr. Trzeba zacisnąć zęby i podejść z nastawieniem, iż lepiej raz i krótko pocierpieć solidnie, niż przez całe życie coraz więcej. Kambo to zdrowie. Ale to prawda, po drodze trzeba pomęczyć też żabę, w przeciwieństwie jednak do kurczaków z waszego supermarketu, żaba przeżywa i wraca na wolność.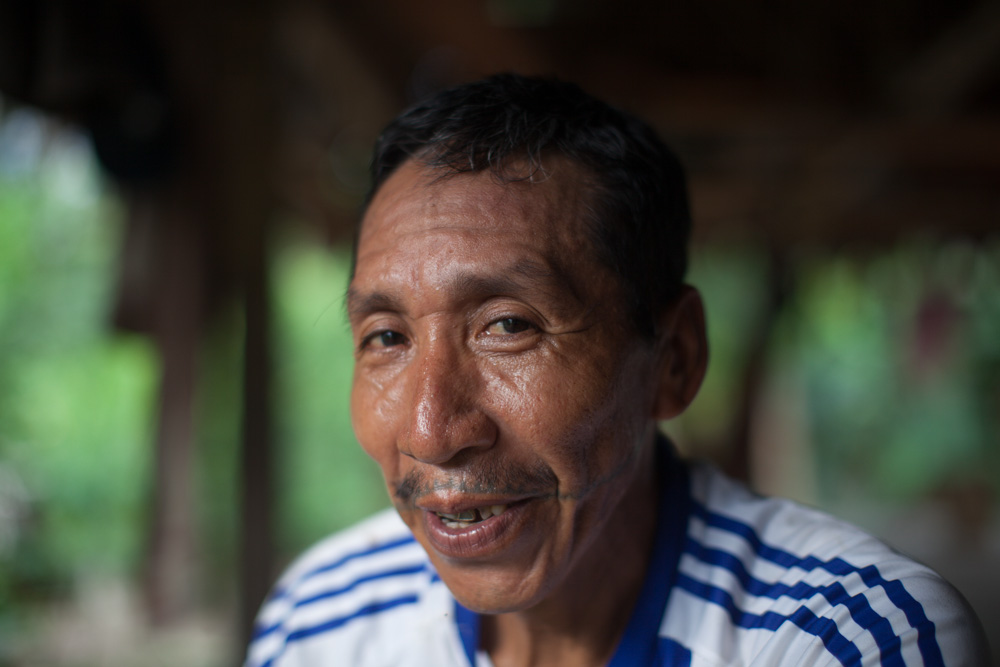 First you must go into the forest at night, when the frogs are active and pretend you are one of them. When they hear you and are fooled, they will respond, so you know now where they are. Now is the hard part, climbing the canopy in darkness, sneaking to catch the green fellow. You should not hold it too long, especially if you have any scratches or wounds from climbing, as the venom is already being excreted because of stress. Once down, you can already start harvesting, or wait until the morning, but keep guard over your prisoner.
…
Na początek należy wybrać się w nocy do lasu, kiedy żabki są aktywne, i udawać, iż jest się jedną z nich. Kiedy usłyszą wasze podrabiane skrzeczenie, i uda się je oszukać, odpowiedzą, a wy już wtedy wiecie gdzie się znajdują. Kolejny etap jest trudny, nocna wspinaczka w tropikalnym lesie bywa niebezpieczna, ale tak się łapie zielonego kolesia. Nie powinno się trzymać go w ręce zbyt długo, zwłaszcza jeżeli są na niej jakieś zadrapania czy rany od wspinania, bo trucizna jest już wydzielana w dużej ilości z powodu stresu ofiary. Kiedy zejdziecie już na dół, można przystąpić do jej zbierania, albo czekać na poranek, bacznie pilnując więźnia.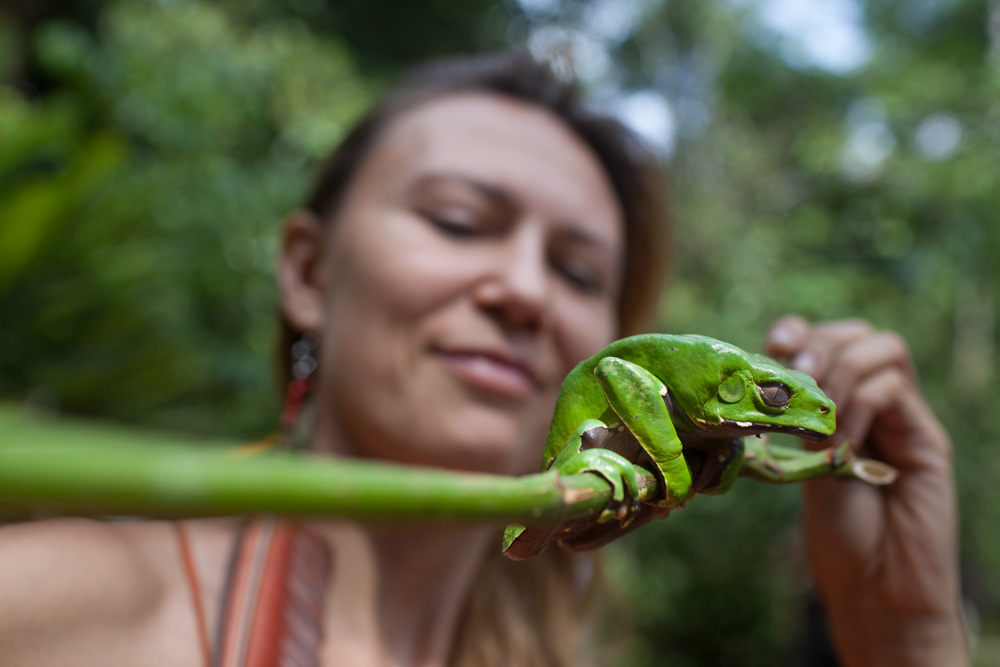 It is hard part for animal lovers, because the venom is excreted when frog is in distress, so what you have to do is actually make it stressed and angry. You can approach it with all respect you have, but you can't go around the fact – if it is not unpleasant, it will not work.
…
Teraz najtrudniejsza część dla miłośników zwierząt, ponieważ truciznę uzyskamy tylko kiedy żaba jest w stresie, więc to co trzeba właśnie zrobić to maksymalnie ją wkurzyć i zestresować. Możecie podejść z całym szacunkiem jaki macie, ale nie da się obejść tego faktu, jeżeli nie będzie to nieprzyjemne, nie zadziała.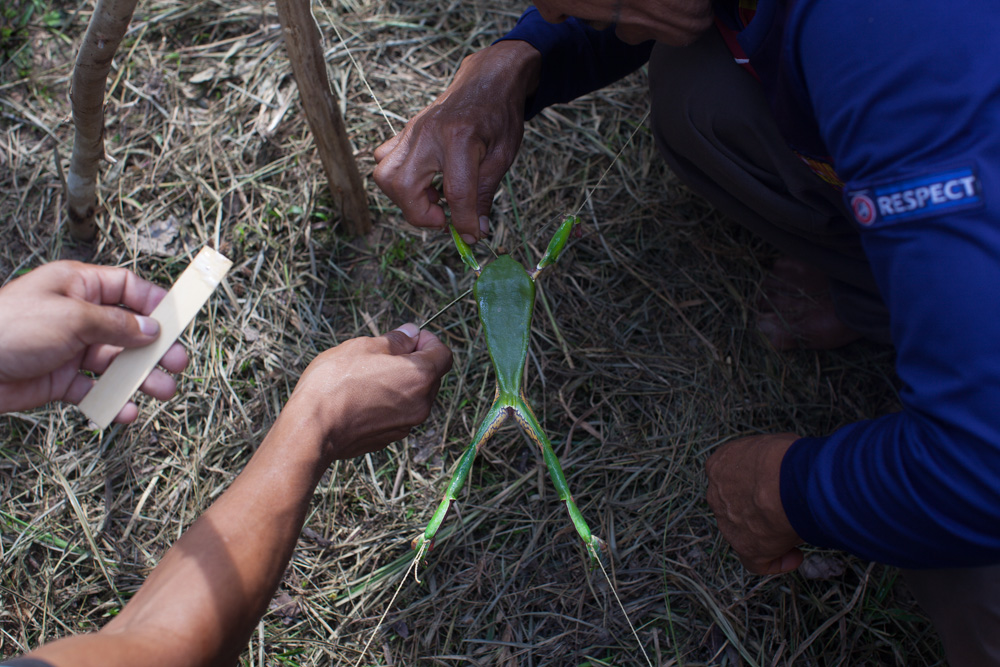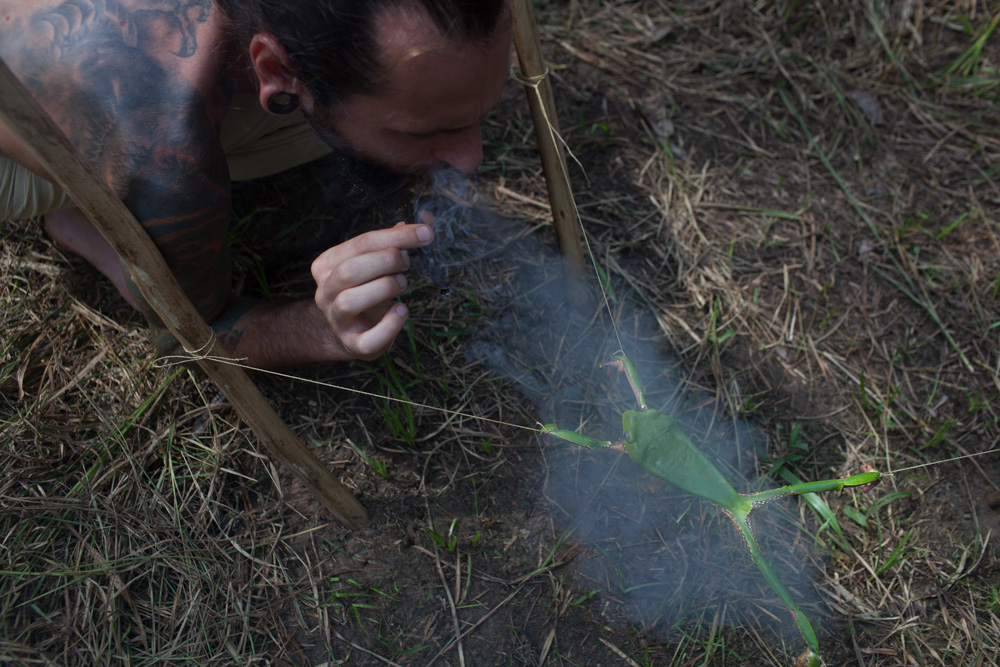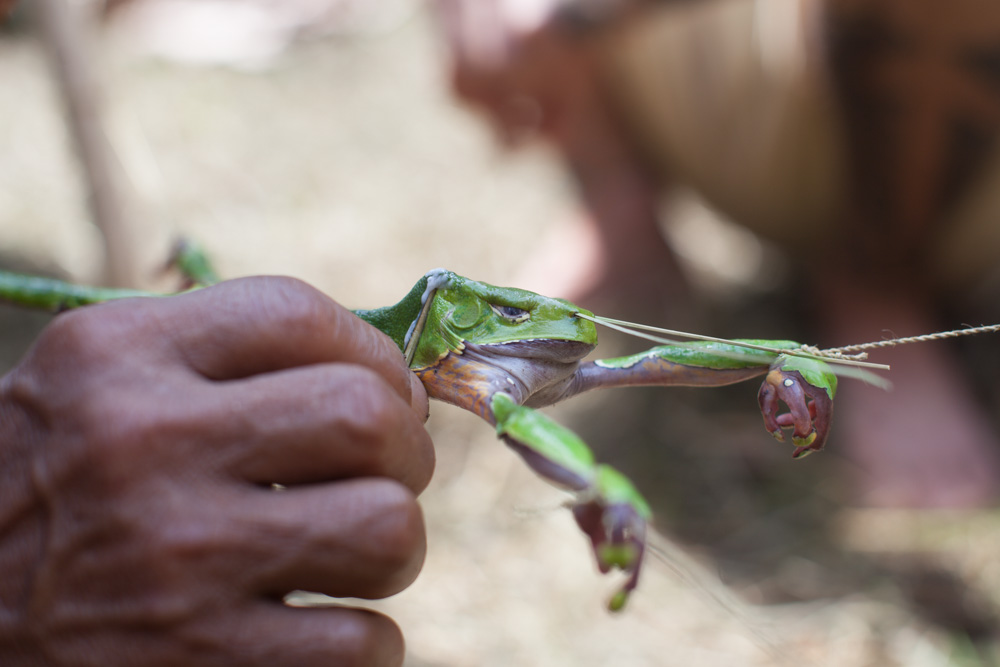 After scraping, pressing, blowing tobacco, sticking grass up his nose, enough poison has been collected and placed on the stick, and the exhausted little fellow is released, mubling his "bastards", recovering from the shock, before heading back into the forest.
…
Po skrobaniu, uciskaniu, dmuchaniu dymem, wtykaniu źdźbeł trawy do nosa wystarczająca ilość wydzieliny została zebrana na patyczku i wykończony Kermit jest wypuszczany, mrucząc swoje "skurwysyny" odpoczywa zszokowany, zanim zniknie z powrotem w głębi lasu.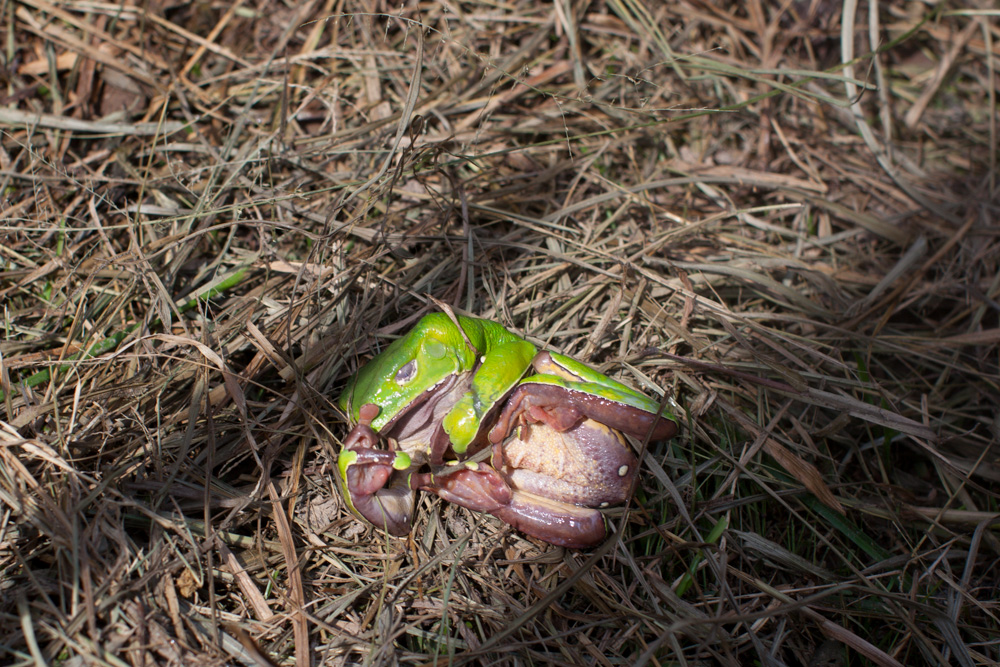 We have sticks full of medicine and we have thin tamishi vine for burning skin and we can get them to work.
…
My natomiast mamy patyki pełne medycyny i cienkie kawałki liany tamshi do wypalania dziurek w skórze, do roboty zatem.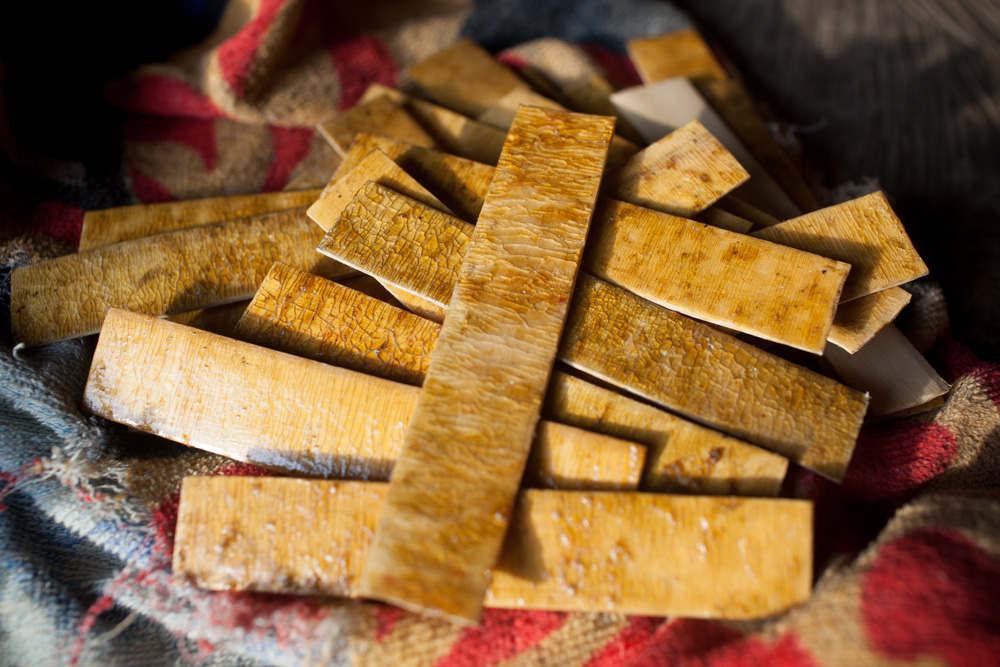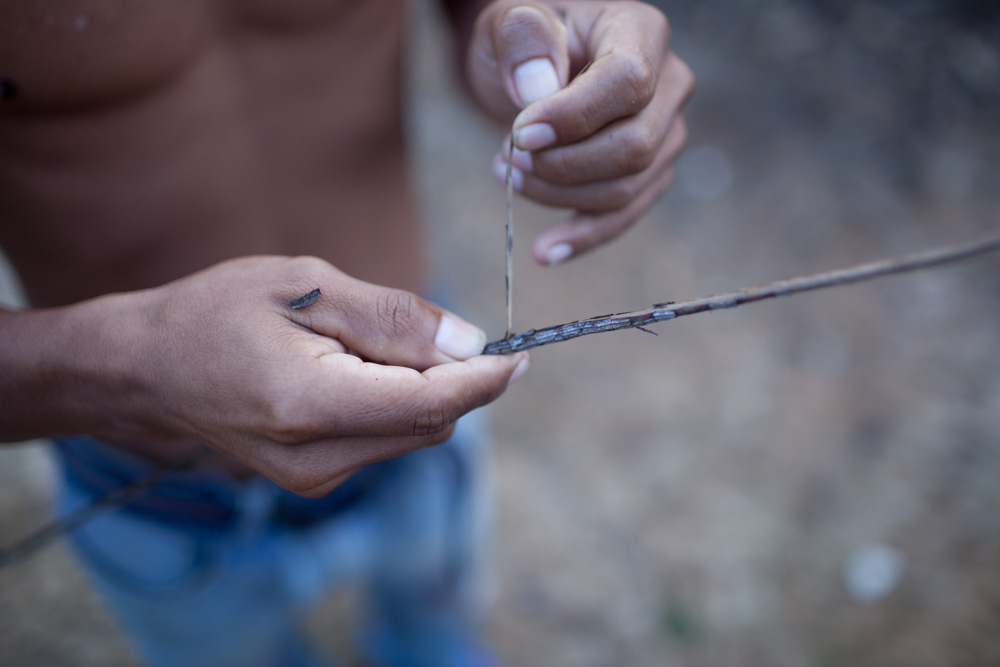 You can do it New Age style, with neo-shamanic murmuring and singing, invoking Pachamama and rattling your rattles or whatever, or you can just do it practical, simple way the indigenous people do it – with the main rules being – it brings bad luck to watch as points are burned on your skin, and if you keep your head up , apart from the moment of puking, you will swell less.
There are three simple steps. Burn the points with your tamshi stick, apply the venom moist with your saliva, wait for suffering. The first two can be done for you by the professional, your job is to drink lots of liquid and eat nothing , otherwise you can suffocate when you vomit through swollen throat. Because the last step is a lot of unpleasant action.
…
Można to zrobić w stylu różowego jednorożca, z neoszamańskimi mruczandami i zaśpiewami, wzywając Pachamamę i grzechotając czym tam dysponujecie, albo bardziej praktycznym, prostym sposobem, tak jak robi to plemię Matses, gdzie główne reguły to – przynosi pecha gdy gapisz się jak ci wypalają dziury oraz – trzymaj głowę do góry kiedy nie rzygasz, to mniej spuchniesz.
Są trzy proste kroki. Wypalasz punkty na skórze swoim cienkim patyczkiem, nakładasz zmoczoną śliną truciznę, czekasz na cierpienie. Pierwsze dwa może wykonać dla ciebie ktoś doświadczony, twoje zadanie to wypić wcześniej duuużo płynu i nic nie jeść tego dnia, bo inaczej jedzenie w drodze z powrotem na światło dzienne może utknąć w spuchniętym gardle. A puchnąć będziesz.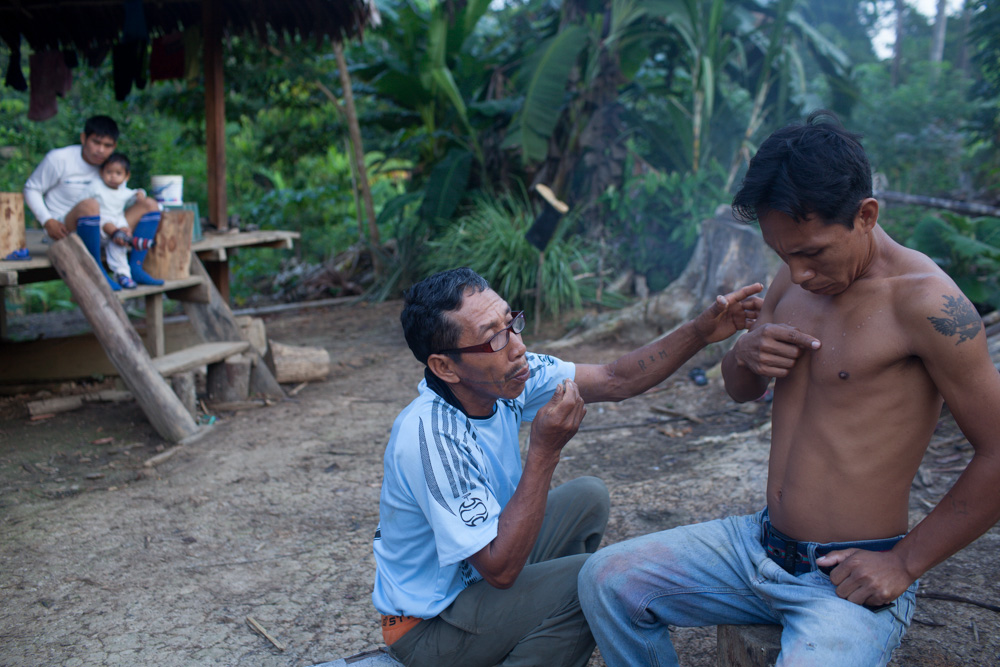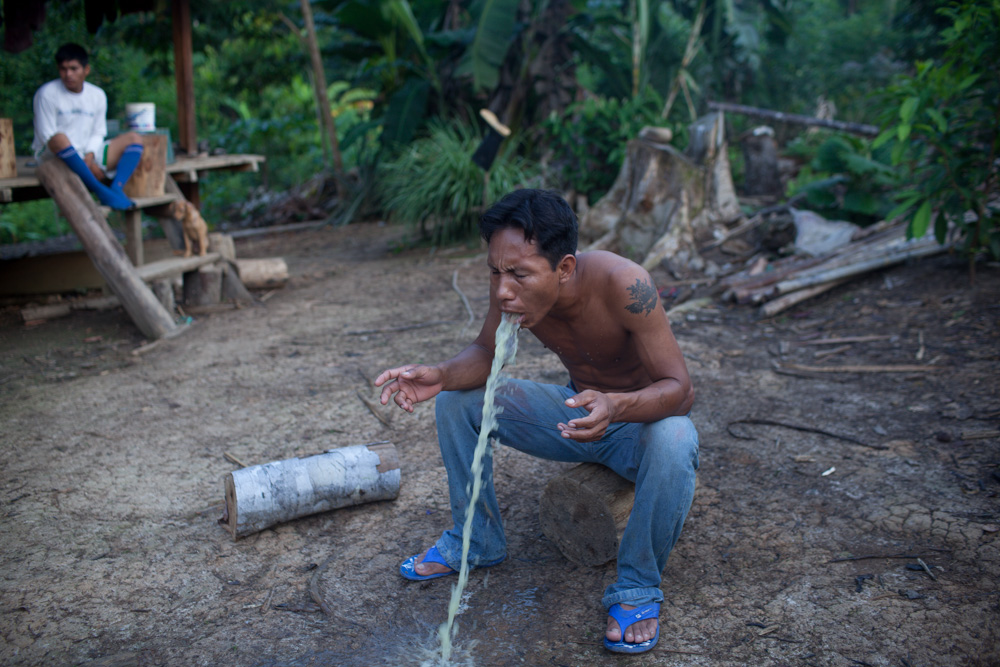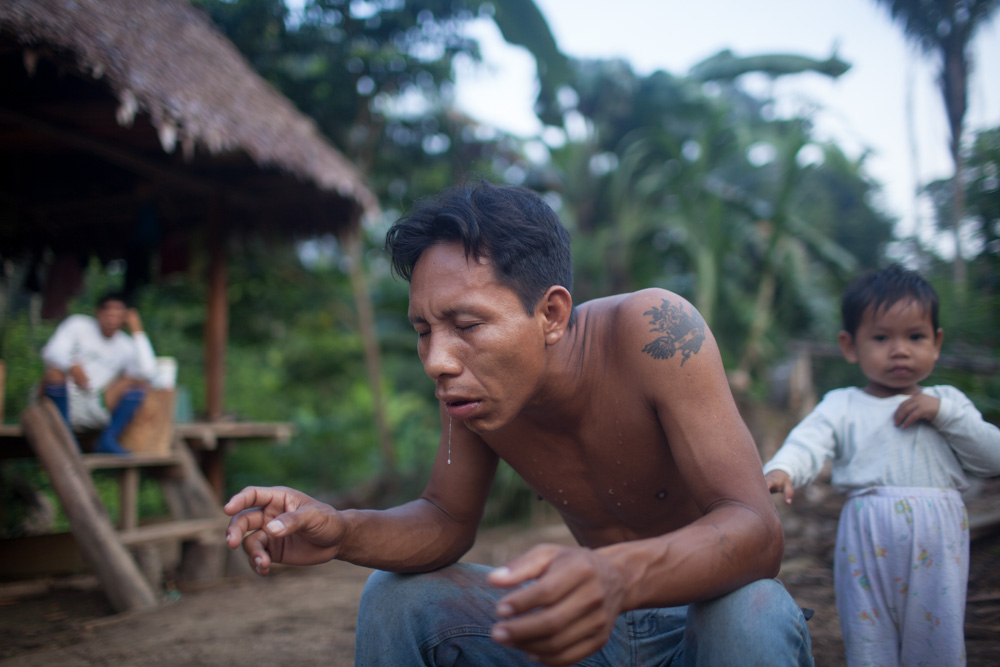 One hour later our human victim is happy to walk out of jungle, fit and strong. He will be slightly swollen for another couple of hours, his voice may be low, a bit like toad, and his marks will testify to his courage to face suffering at will, before real disease could force him to.
…
Godzinę później ofiara żaby jest gotowa do długiego marszu z dżungli, silna i pełna energii. Będzie nieco spuchnięta przez kolejne pare godzin, z niskim, nieco ropuszym tonem głosu, a jej blizny będą świadczyły ( aż nie wyblakną ) o odwadze spotkania się z cierpieniem na własne życzenie, zanim choroba nie wymusi go w dużo bardziej nieprzyjemny sposób.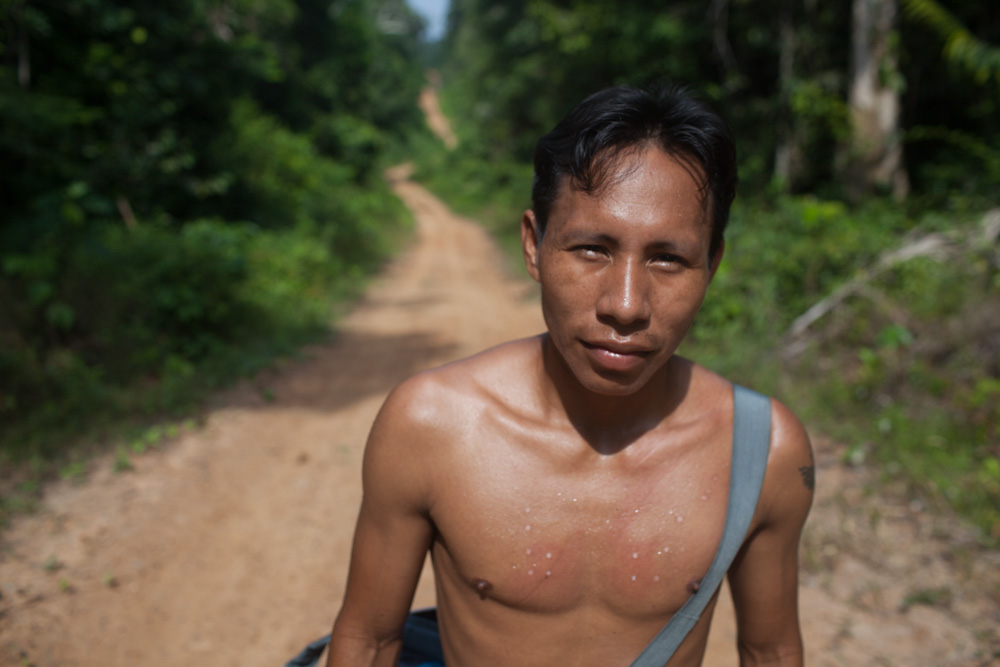 Traditionally Matses tribe use kambo mainly por prevention of malaria and increasing of hunting skills. It enhances stamina, immunological system, awareness, sight. People who do kambo on regular basis very rarely get sick, and if they do, often they treat it very fast – also with the frog. Believe it or not, read what you can, but perhaps only your experience can prove.
If you do want to try, be aware, there is a lot of low quality stuff in circulation, or sometimes simply fake, as the demand increases rapidly from month to month. Do it with experienced practitioner, or yourself, but with a sitter that can help you. The only medical contraindication is serious heart problems, but doing research before doesn't hurt. It is good to stay away before from alcohol, drugs, heavy, fat food.
Kambo is also completely legal in most countries.
…
Tradycyjne zastosowanie tej medycyny w plemieniu Matses to przede wszystkim zapobieganie malarii i wspomaganie w polowaniu. Zwiększa kondycję i system odpornościowy, uważność, wzrok. Ludzie, którzy regularnie stosują kambo bardzo rzadko chorują, a nawet jeśli to się zdarzy, szybko zdrowieją, zwłaszcza gdy ponownie zaaplikują żabę. Wierzcie lub nie, poczytajcie więcej, ale być może tylko własne doświadczenie przekona.
Jeżeli chcecie spróbować, bądźcie świadomi iż w obiegu jest dużo słabej jakości, albo zwyczajnie oszukanego towaru, w miarę jak zapotrzebowanie na świecie rośnie gwałtownie dosłownie z miesiąca na miesiąc. Zróbcie to pierwszy raz z doświadczonym praktykiem, albo sami, ale z jakimś opiekunem, który pomoże. Jedyne medyczne przeciwwskazania to poważne problemy z sercem, ale mały research odnośnie diety na przykład nie zaszkodzi. Dobrze jest parę dni wcześniej zrobić sobie dietę wolną od alkoholu, używek, ciężkiego, tłustego jedzenia.
Kambo jest zupełnie legalne w większości krajów.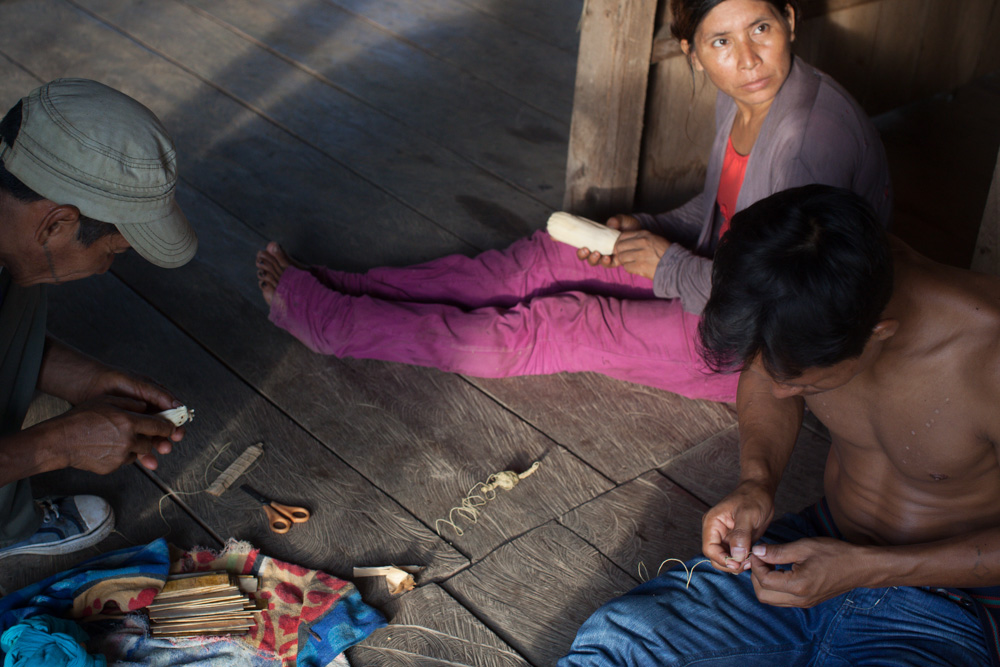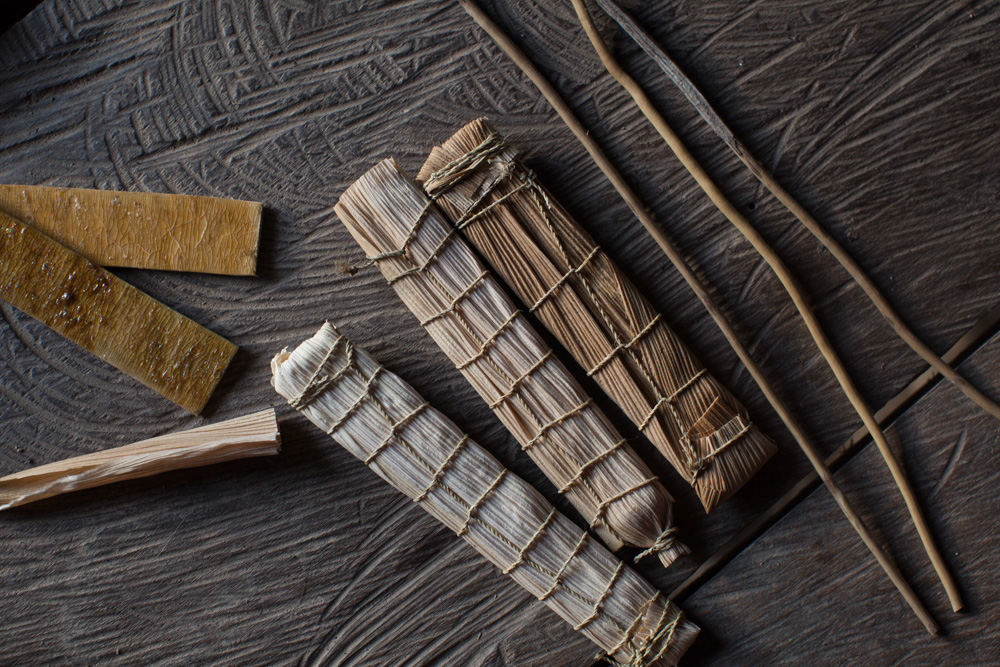 It is all natural, organic and handmade

Sticks with decent amount of medicine, after it dries, are wrapped in corn husks, tied with chambira – string done on the spot from palm fibre, and, together with applying vine, ready for shipping.
…
Cały produkt jest do bólu naturalny, organiczny i ręcznej roboty. Patyczki ze szczodrej ilości medycyną, jak już wyschnie, są zawijane w suche liście kukurydzy, związywane sznurkiem chambira robionym na poczekaniu z włókna palmy, i razem z kawałkiem liany tamshi gotowe do wysyłki.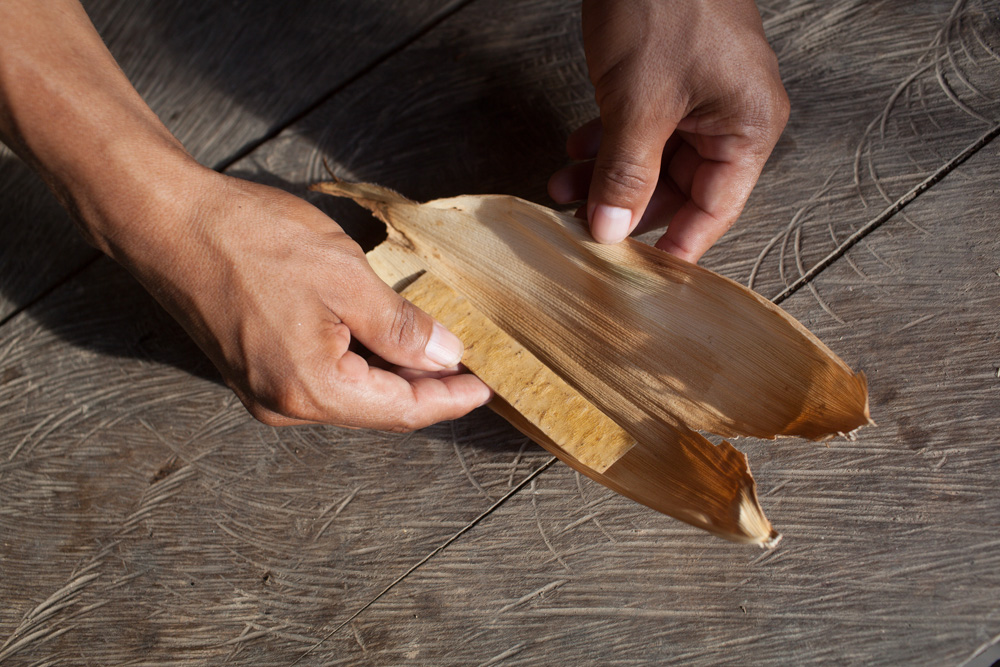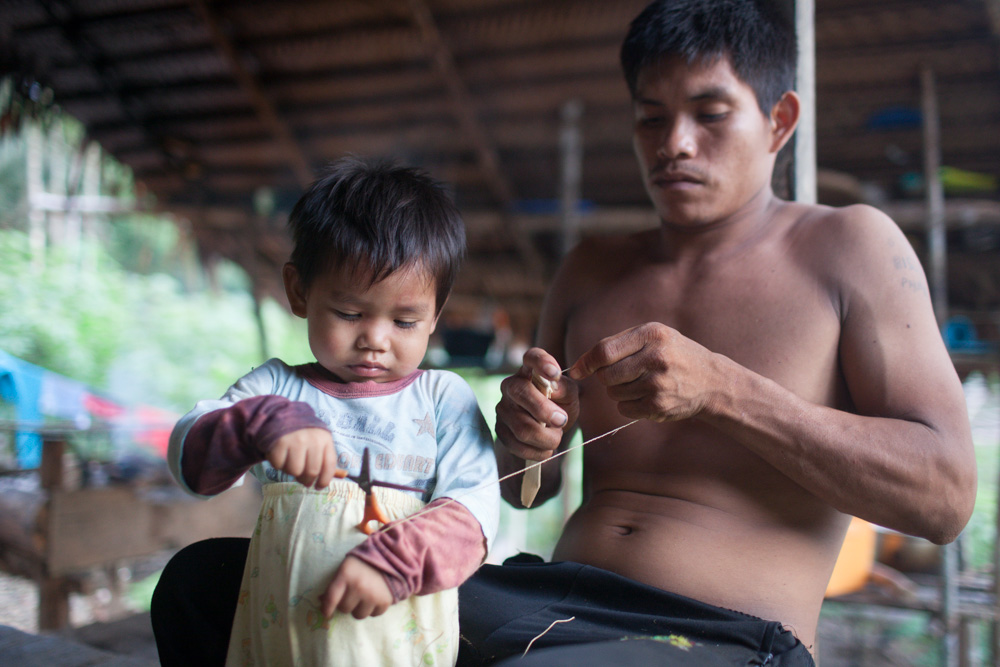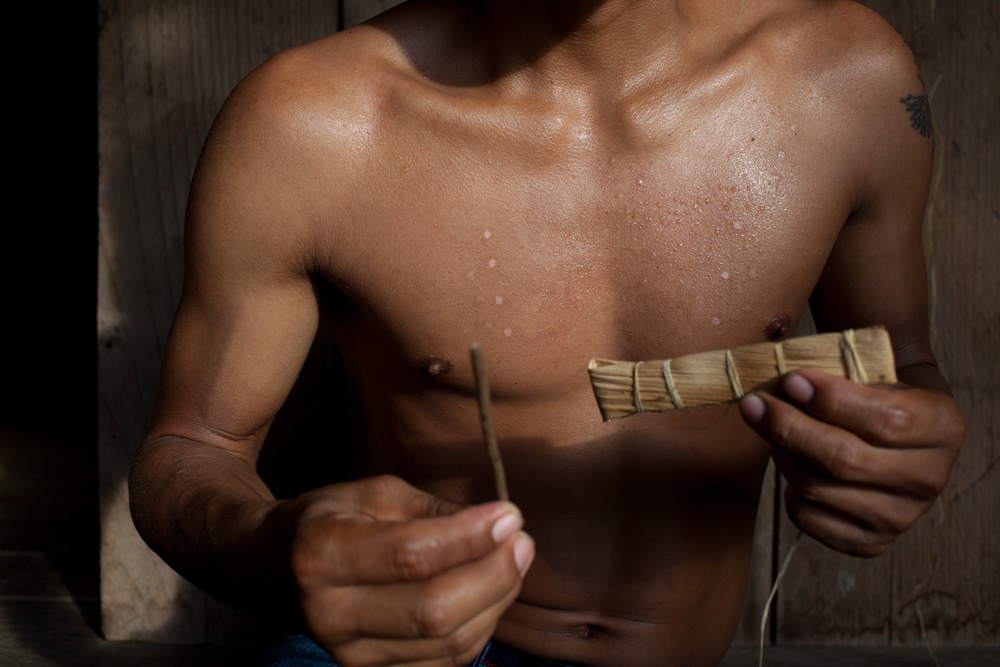 Smile