Ashley ( USA )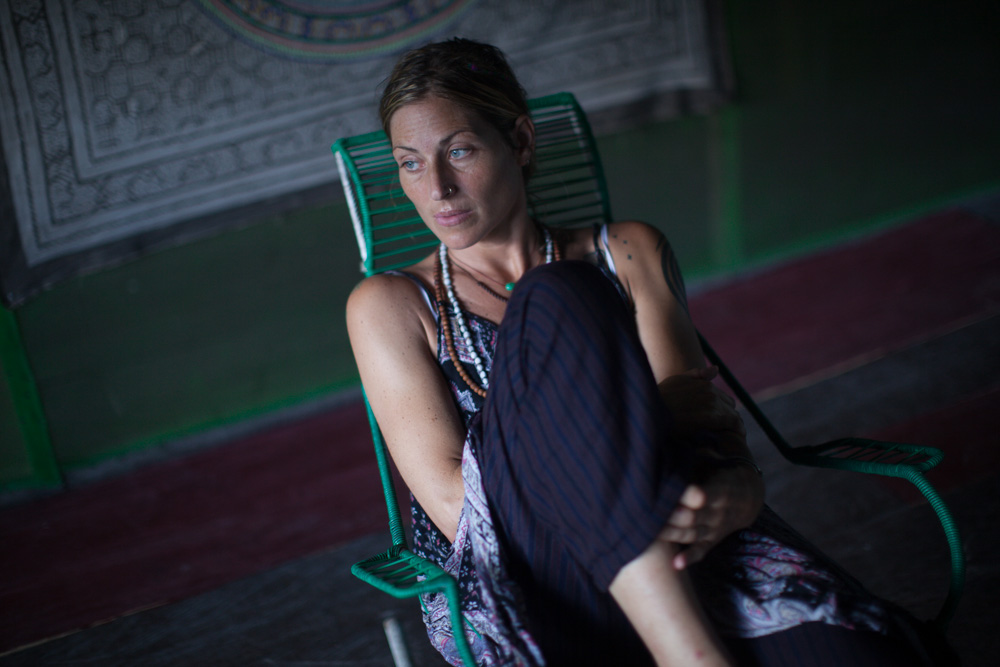 I was first introduced to the medicine Christmas of 2015. I came to the center with a vague understanding and expectation of shamanism and the power of Ayahuasca. The only thing I was certain was even though I lived a beautiful and privileged life, it had no meaning, and my life had no purpose. This alone is what started the journey, for I knew there was so much beyond the basic living to which I had become accustomed; therefore, I sought the medicine and asked if it would help me see clearly what a beautiful and gifted life I led.
To say that the medicine worked is a magnificent understatement. I embodied many lessons during my first occasion with the medicine. When I came home, I focused on learning more about the nature of master plants and shamanism in general; I also began putting into practice the mindful lessons of kindness, compassion, gentleness and love that I was given from the medicine. When I went back a second time, I discovered the love of my life, someone who works closely with the medicine, which has entirely rewritten my future, my relationship to myself, my relationship to love, and my relationship to others. Daily, I find myself opening like flower, discovering new depths to myself, love, happiness, and the potentials of life.
I still struggle with the profundity of my experiences with Ayahuasca, for they are continually being revealed to me even now. Quite simply, it is the most meaningful thing that has ever happened to me on so many levels. William James observes in Varieties of Religious Experience that "Our normal waking consciousness, rational consciousness as we call it, is but one special type of consciousness, whilst all about it, parted from it by the filmiest of screens, there lie potential forms of consciousness entirely different… No account of the universe in its totality can be final which leaves these other forms of consciousness quite disregarded."  By no means am I trying to emphasize that the medicine offers one a religious experience, but I want to highlight that Ayahuasca does give one a spiritual experience. It allows a person to see beyond waking consciousness into the magnificent spectrum of potential human experiences; it allows one to explore the vastness of the psyche in context of a remembered exchange with totality. Indeed, the medicine can wake one up to the possibility, as Pierre Teilhard de Chardin coined, that "We are not human beings having a spiritual experience; we are spiritual beings having a human experience." This realization alone, this true understanding of the implications behind this truth, is life changing—and an incredible relief, for one finally understands, in perfect context to the teachings, that all the trials and triumphs are for a purpose.
…
Po raz pierwszy miałam okazję zapoznać się z medycyną w Boże Narodzenie 2015 roku. Przyjechałam do ośrodka z ogólnym pojęciem i oczekiwaniami co do szamanizmu i mocy ayahuaski. Jedyna rzecz jakiej byłam pewno to, pomimo że żyłam pięknym i uprzywilejowanym życiem, nie miało to znaczenia a moje życie nie miało celu. To było wystarczające by rozpocząć podróż, bo wiedziałam, że jest wiele poza codziennością do jakiej się przyzwyczaiłam, wyruszyłam więc na spotkanie z medycyną i poprosiłam by pomogła mi jasno dojrzeć jak piękne i pełne życie mam.
Powiedzieć, iż medycyna zadziałała to niedopowiedzenie. Wiele z lekcji odbyło i zakodowało się w moim ciele, już podczas pierwszej okazji. Kiedy powróciłam do do domu, skupiłam się na uczeniu się więcej o naturze roślin nauczycieli i szamanizmu w ogóle; rozpoczęłam także wprowadzanie w praktykę lekcji co do uważności, współczucia, delikatności i miłości, jakie otrzymałam od medycyny. Kiedy wróciłam po raz drugi, odnalazłam miłość swojego życia, kogoś kto pracuje blisko z medycyną, który napisał na nowo moją przyszłość, moją relację z sobą samą, z miłością, z innymi. Codziennie czuje się jakbym otwierała się jak kwiat, odkrywając nowe głebie siebie samej, szczęścia i potencjału w życiu.
Wciąż borykam się z głębią moich doświadczeń z ayahuaską,bo są mi one stale ujawniane, nawet teraz. Mówiąc krótko, to najbardziej znacząca rzecz jaka kiedykolwiek zdarzyła mi się, na wielu poziomach. William James zaobserwował, w "Odmianach Religijnego Doświadczenia" iż "nasza codzienna świadomość na jawie, racjonalna świadomość, jak ją nazywamy, jest tylko jednym, szczególnym typem świadomości, podczas gdy tuż obok jej, rozdzielony jedynie najcieńszym z ekranów, leży potencjał form świadomości radykalnie odmiennych…Żadna z relacji opisujących wszechświat w jego całości może być uznana za ostateczną, jeżeli pomija te formy świadomości". W żadnym wypadku nie chcę tu nalegać, iż medycyna oferuje religijne doświadczenie, ale chcę podkreślić, iż istotnie może umożliwić przeżycie duchowe. Pozwala osobie spojrzeć poza racjonalną świadomość, we wspaniałe spektrum potencjalnego ludzkiego doświadczenia, pozwala eksplorować nieskończoną przestrzeń psychiki w kontekście możliwej do zapamiętania relacji z totalnością. W samej rzeczy, medycyna może obudzić nas do możliwości, jak nazwał to Pierre Teilhard de Chardin, iż jesteśmy nie "ludźmi przechodzącymi doświadczenie duchowe ale duchowymi bytami doświadczającymi ludzkiego doświadczenia." Sama taka realizacja, prawdziwe zrozumienie implikacji jakie za tą prawdą stoją jest odmieniające życie – i jest niesamowitą ulgą, kiedy w końcu się udaje zrozumieć, w kontekście tych lekcji, że wszystkie próby i triumfy mają swój cel.