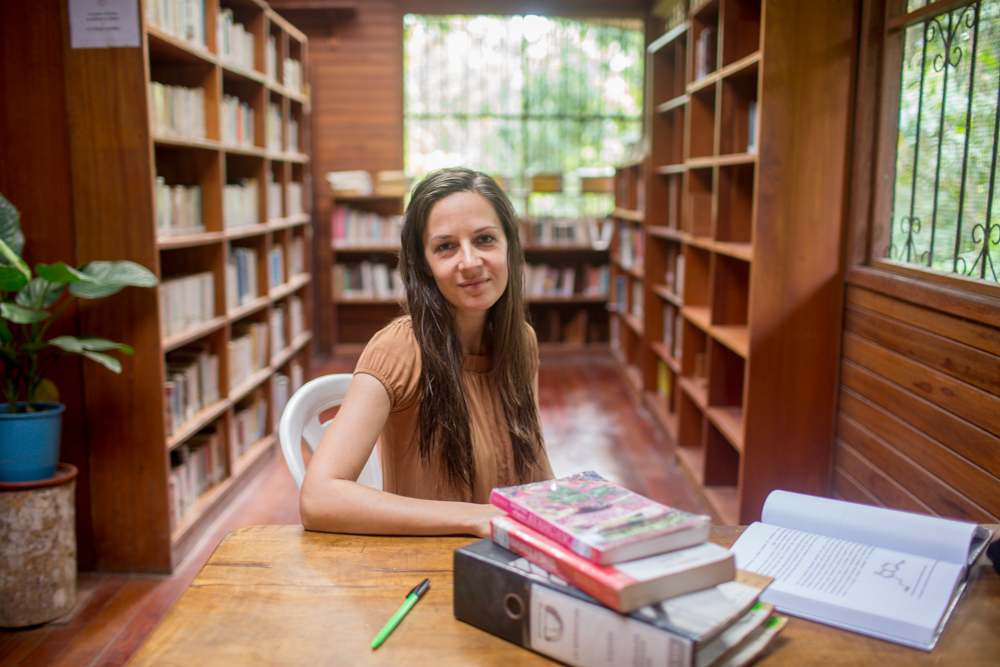 Veronika Kavenská is a Jungian therapist. She includes these approaches in clinical practice. Researcher in the field of traditional medicine in Peru and its possible applications in psychotherapy, she wrote a book and several articles on the subject. She currently works as a psychologist in Takiwasi, therapeutic centre in Peru focused on issue of addiction.
"Before Takiwasi, I never really considered using ayahuasca, I treated is as simply another drug, and I was not interested in these. I was a student of the last year of psychology back then, and after having heard of the work being done here, I came to see it as part of my practice.  I finally decided to experience the brew myself. It was a breaktrough and I quickly saw its enormous potential as a tool to understand oneself in a deeper way, to know oneself, one's history and ancestors, and from this knowledge to heal, to change things that block our progress in life. So I decided to dedicate my PhD work in clinical psychology to this subject, and at the same, to practice here as therapist.
I see this plant as a source of knowledge – both about myself, my personal issues – as well as for my professional life, for work with others as psychotherapist. It also performs well as a supervisor in my relations with patients – it shows me things about it I wouldn't be able to notice otherwise.
It is not a magical pill that changes the life itself, but thanks to the messages received, one can have enough information to make these changes himself. I have been working with ayahuasca for 10 years now and I feel like I am going deeper and deeper in my connection and understanding, so I have no doubts about its value. I am above all amazed how this plant works simultaneously on three levels, physical, spiritual, psychological. It is one of main reasons why the treatment here is so effective – because spiritual dimension is taken into account, unlike most of therapies in the West, where it is completely ignored. This may also be a problem in its wider introduction there, because it requires more than just knowledge of dosis and psychology, rigorous training of years is needed, also to operate on this forgotten, spiritual level."
…
Veronika Kavenská jest terapeutą w tradycji Junga, i jej podejście stosuje w swojej klinicznej praktyce. Badaczka tradycyjnej peruwiańskiej medycyny i jej możliwych zastosowań w psychoterapii, autorka książki i kilkunastu artykułów na ten temat. Obecnie pracuje jako psycholog w centrum Takiwasi w Tarapoto, Peru, gdzie z dużą efektywnością rozwiązywane są problemy uzależnień od substancji.
"Zanim trafiłam do Takiwasi nigdy nie rozważałam spróbowania ayahuaski, postrzegałam ją jako po prostu jeden z narkotyków, a te mnie nie interesowały. Byłam studentką ostatniego roku psychologii i opowieści o tym miejscu skłoniły mnie do przyjazdu, w ramach swojej praktyki. Ostatecznie zdecydowałam się na spróbowanie samej substancji. Był to przełom, i szybko dostrzegłam jej wielki potencjał jako narzędzia zrozumienia siebie samego, poznania siebie i swoich tajemnic, swojej historii i przodków, i dzięki tej wiedzy uzdrowienie, zmianę rzeczy, które blokują nasze postępy w życiu.  Podjęłam więc decyzję, by poświęcić swój doktorat w dziedzinie psychologii klinicznej temu właśnie tematowi, i jednocześnie praktykować w Takiwasi jako terapeutka.
Postrzegam tą roślinę jako źródło wiedzy – zarówno o mnie samej, o moich osobistych procesach, jak i odnośnie mojego życia zawodowego, pracy z innymi jako psychoterapeutka. Dobrze sprawdza się także w roli superwizora w moich relacjach z pacjentami – pokazuje mi rzeczy, jakich inaczej nie byłabym w stanie zauważyć.
To nie jest magiczna pigułka, która sama w sobie zmienia życie, ale dzięki otrzymanym przekazom można mieć dość informacji aby dokonać tych zmian samemu. Pracuję z ayahuaską już 10 lat  i czuję, iż moja relacja z nią i zrozumienie stale się pogłębia, nie mam więc żadnych wątpliwości co do jej wartości. Przede wszystkim jestem wciąż zachwycona jak pracuje ona równocześnie na trzech poziomach, fizycznym, psychologicznym i duchowym. To jeden z głównych powodów, dla których terapia tutaj jest tak efektywna, ponieważ działamy także w wymiarze duchowym, w przeciwieństwie do większości programów na zachodzie, gdzie jest on kompletnie ignorowany. To może stanowić także problem w rozpowszechnieniu ayahuaski na szerszą skalę we współczesnym świecie, bo stosowanie jej wymaga więcej niż tylko znajomości dawki czy psychologii, rygorystycznego, wieloletniego szkolenia, także by móc skutecznie operować na tym zapomnianym, duchowym poziomie."