Some years ago I was spending time in ashram underneath Mount Girnar in Gujarat, holy place of pilgrimage for Shiva followers, lovers of crazy God. Thousands upon thousands of dreadlocked sadhus arriving from all India, some of them naked, some of them ended up in the same place we did, to create never-ending , never-sleeping , always coughing circle of chillum. We were hosted by charming ex- sadhu Hari Giri, loving husband and father of lovely kids running around somewhere in dirty yard. He was a mad person indeed, kind of uplifting, cheerful madness I was almost jealous of. And his question, asked with naughty smile and nod towards chillum, "ganja member, you?" always rings in my mind when similar situation happens in another part of globe , with other companions. I dedicate this set below to all lovers of herb I met, to conneiseurs of the plant, to Hari Giri, to Lancelot, old Jamaican woodcarver hiding in bushes with his apprentices to smoke spliffs out of sight of his wife, Linda from Manchester, to Moroccan farmers in Rif mountains, to hippies in the hills of northern Portugal, mystics of the east, and hedonists of the west, to countless others obscured in memory by countless clouds of smoke.
///
Ładnych parę lat temu spędziłem święto Maha Shivaratri w małym aszramie u podnóża góry Girnar, szczególnego miejsca dla wyznawców Sziwy. Hordy skołtunionych , często nagich i wysmarowanych popiołem miłośników szalonego boga ściągały tu właśnie z całych Indii i wielu z nich wpadało do nas aby odwiedzić naszego gospodarza, tworząc niekończący się, kaszlący krąg palaczy chillum. Hari Giri był tutaj naprawdę u siebie, błyszczał, świecił zębami i białkami roześmianych oczu, bawił się ze swoimi dzieciakami, grzecznie słuchał żony na której głowie spoczywała oczywiście większość praktycznych obowiązków. Hari Giri, rodzinny sadhu, szaleniec, boży szaleniec, wysokoenergetyczne, wesołe wariactwo, dokładne przeciwieństwo poważnej wyważonej depresji zachodniego świata który ulubioną używkę sziwaitów ściga z obsesyjną nienawiścią i strachem. Hari Giri miał swoje ulubione pytanie w koślawym angielskim, nigdy się nie narzucał, ale widać było po uśmiechu że szczerze cieszy się z kolejnego członka klubu, z pozytywnej odpowiedzi na "ganja member, you?". To pytanie zostało mi w pamięci na lata, ile razy byłem w sytuacjach kiedy można było je zadać, kiedy roślina wiązała nić między kilkoma członkami ludzkiej rodziny. Poniższe zdjęcia dedykowane są wszystkim koneserom ziela jakich spotkałem na swojej drodze, Hari Giriemu, Lancelotowi z Jamajki, staremu rzeźbiarzowi chowającemu się w krzakach ze swymi uczniami i jointem przed wzrokiem angielskiej żony, marokańskim chłopom z gór Rif, hippisom z północnej Portugalii, mistykom wschodu i hedonistom zachodu, niezliczonym twarzom , zagubionym w chmurach zadymionej pamięci. Chwała niech będzie minionym momentom.
Hari Giri, India.
Maha Shivaratri, Gujarat.
Pagla Baba mazzar, Tomb of the Crazy Baba, Sufi shrine in Kolkata and hashish lovers club uniting various members of Bengali society, from business people and scholars to rikshaw pushers.   //  Mauzoleum Szalonego Ojca, święte miejsce dla sufi i naśladowców dziewiętnastowiecznego guru z Kalkuty, oraz palarnia haszyszu dla ludzi z różnych sfer bengalskiego społeczeństwa, od naukowców i biznesmenów po rykszarzy.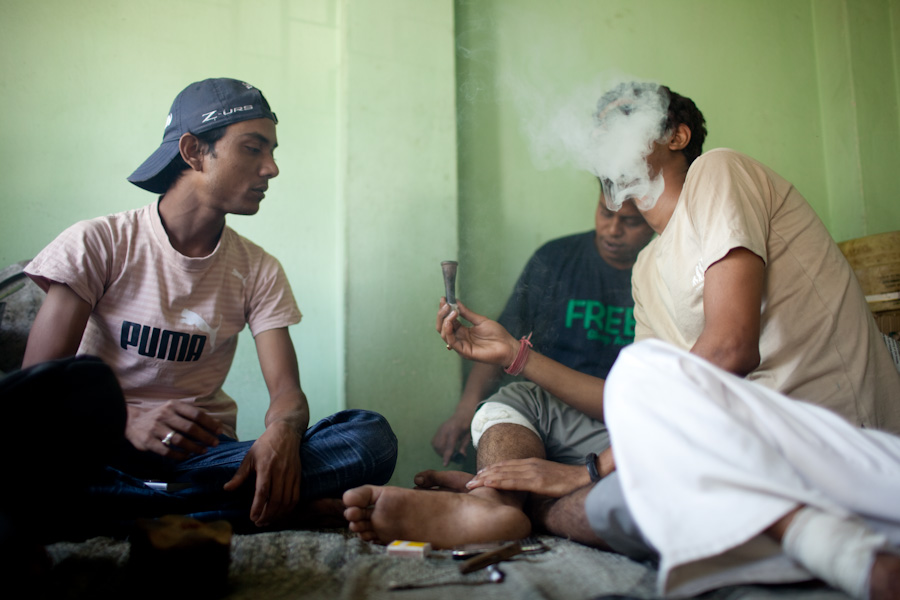 Cannabis filled chillum pipe on Beneshwar rural fair in Rajasthan, India.  / Fajka z konopnym wsadem w rękach radżastańskiego nomady na corocznym targu w Beneshwar
Paramaribo, Surinam. Caribbean cool. Short visit to ganja dealing place, where one kilo was just being cut in pieces. The police came, said hello, made serious face, and then left, and the boys just continued rolling. //  Z wizytą u dealera w slumsach Paramaribo, stolicy Surinamu. Ekipa była właśnie w trakcie dzielenia na mniejsze porcje kilograma konopii kiedy wpadło w odwiedziny paru mundurowych. Policjanci przywitali się, z poważnymi minami zapytali gospodarza o coś w kreolskim patois, wskazując na mnie, a potem ruszyli dalej, zaś chłopaki spokojnie skończyli kręcić jointy.
Bus from Dilling to Kadugli in Nuba mountains, Sudan. Transport in that area is so crowded that these guys were standing on the back bumber of the bus, behing the back window all this several hours long journey. They took this opportunity however to smoke couple of nice ganja spliffs. // Za tylną szybą autobusu przemierzającego góry Nuba w południowym Sudanie dwóch pasażerów korzysta z wolnej przestrzeni , stojąc na zderzaku przeładowanej maszyny i paląc dorodne skręty.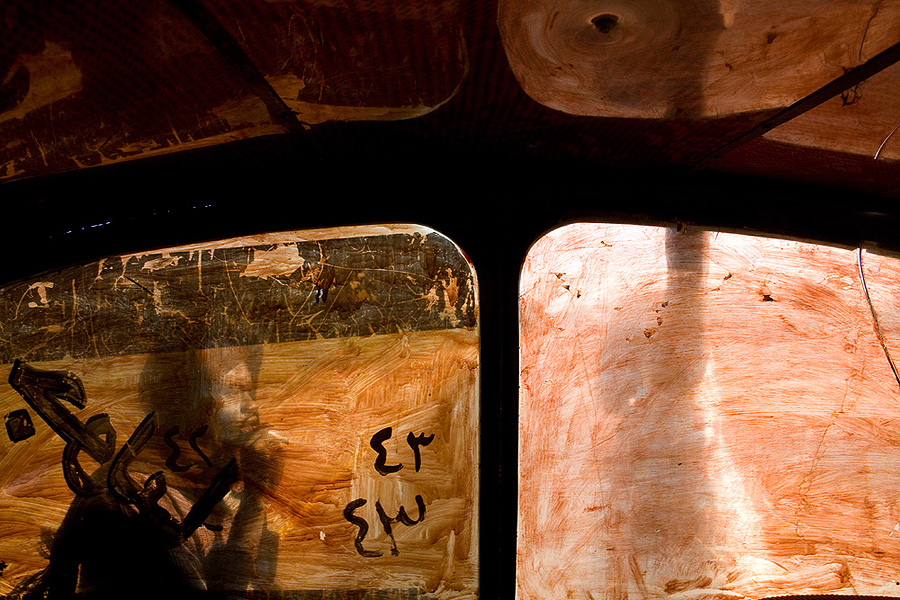 Blessed is the one who dissolves himself.
Kumbh Mela, largest religious gathering in the world. Naga baba in his tent in Haridwar, on the banks of Ganges. // Jeden z Naga Babas, radykalnego odłamu sadhu podczas największego zgromadzenia religijnego na święcie. Jak twierdzi, on i jego goście przez dwa miesiące od rozpoczęcia imprezy wypalili już kilka kilogramów haszyszu.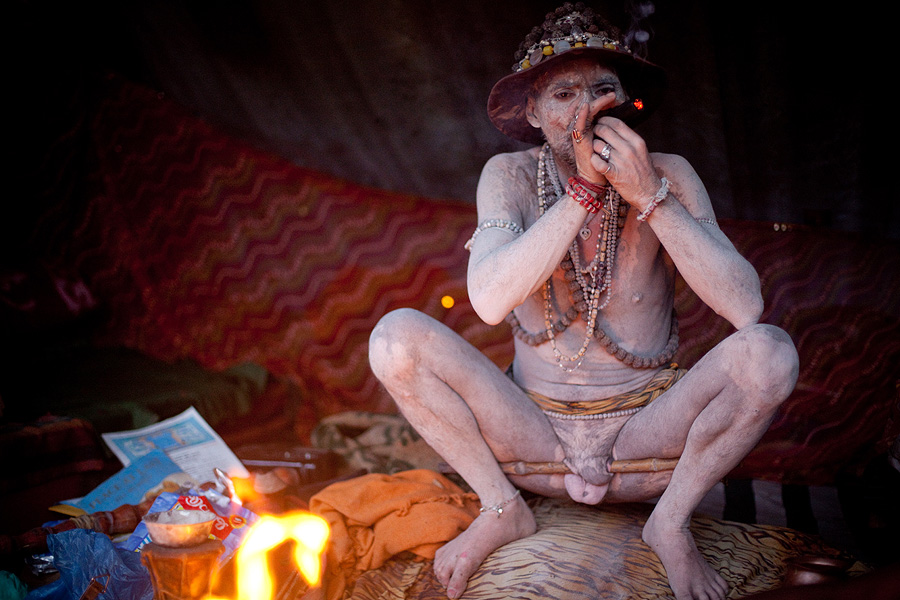 I won't tell your mom what you were doing on holidays. Children of the West playing in the eastern shores, tourist and bar girl in Sihanoukville, Cambodia. // Zagraniczni goście dobrze bawią się z khmerskimi dziewczynami i khmerskim zielem podczas wakacji na plażach Kambodży.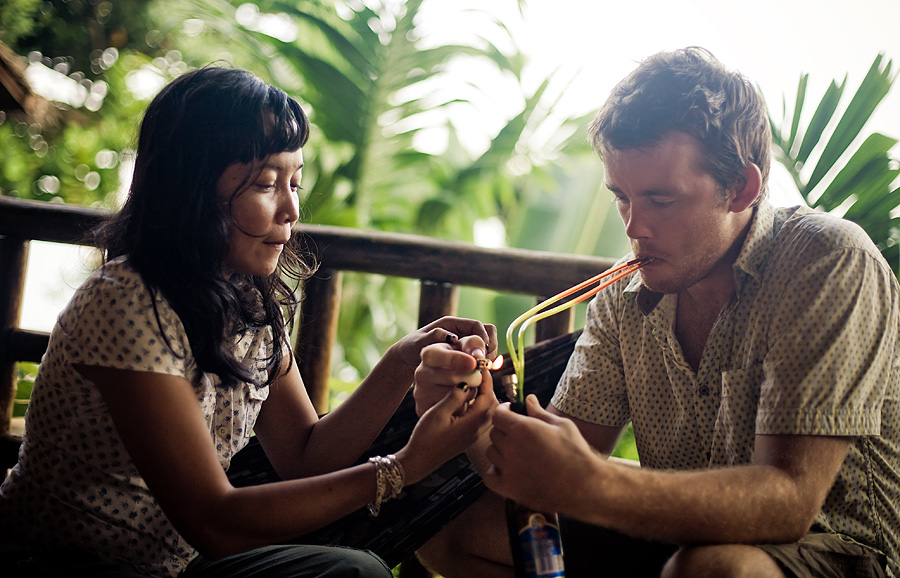 Getting in the mood, smoking kif ( cannabis ) during leila ceremony in Meknes, Morocco.
Leila, which means night, a sufi gathering in a hired house. It involves chanting the praise of God, love and sufi poetry, and accompanied by increasingly wild rhythms, a trance called hadra. People who enter into hadra become almost like possessed by some spirits, but it is ecstasy that is suppose to purify them and bring closer to god. //
Palacze kifu podczas religijnej ceremonii marokańskich sufi. Konopny dym tutaj to jedno z narzędzi obok muzyki, poezji, tańca, które pomóc mają we wprowadzeniu w oczyszczający i leczniczy trans, zbliżający człowieka do swej prawdziwej istoty i tym samym do Boga.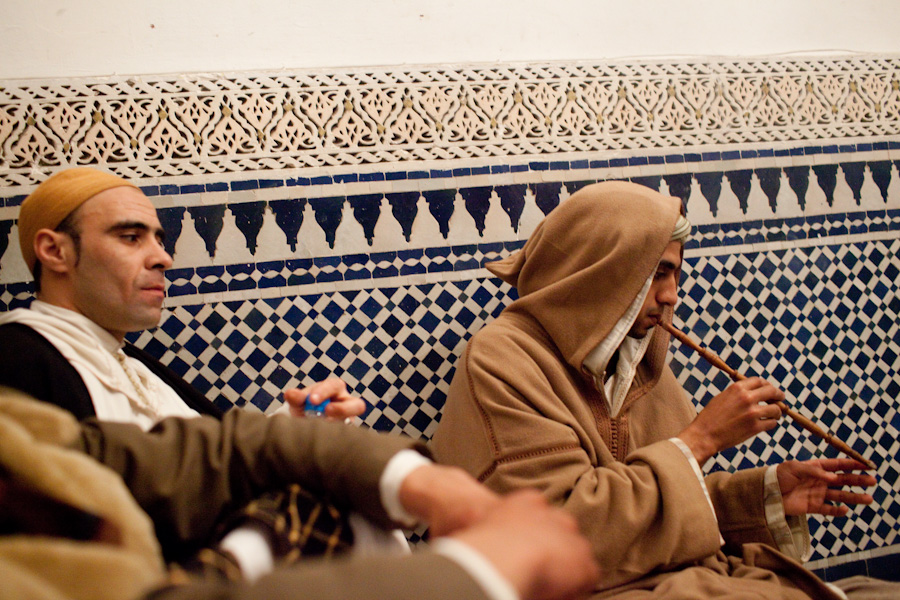 Ganja, religious sacrament in many traditions, some of them reaching back to beginnings of history. / Ganja, jeden z najstarszych religijnych sakramentów znanych ludzkości.
Kumbh Mela, India.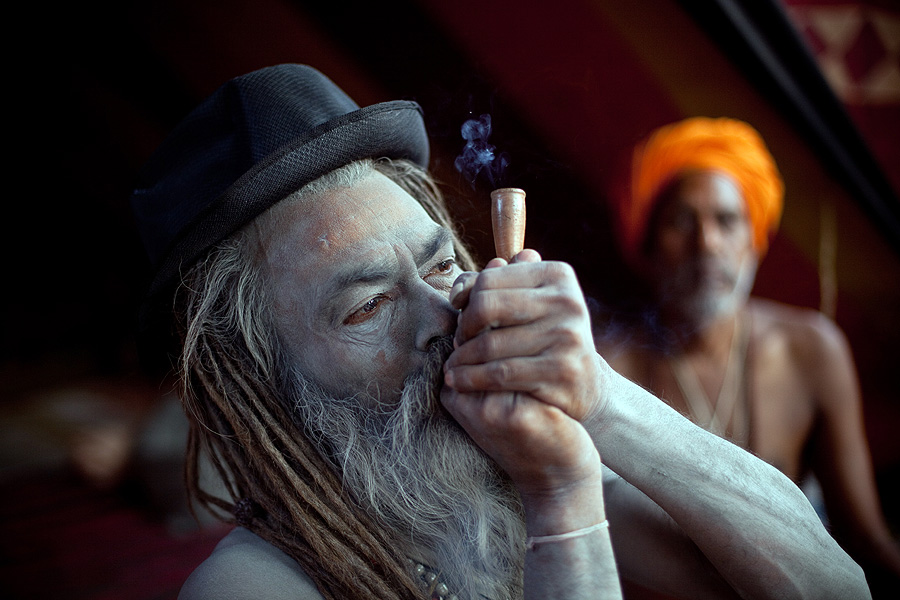 Sufi fakirs in a dargah in Delhi.  // Muzułmańscy fakirzy w swej kwaterze niedaleko grobowaca ukochanego świętego w centrum Delhi.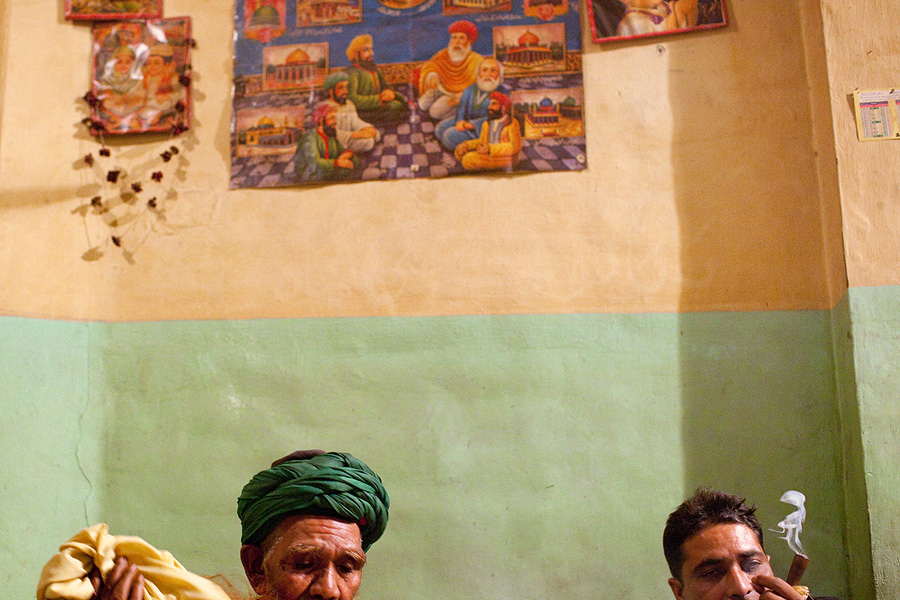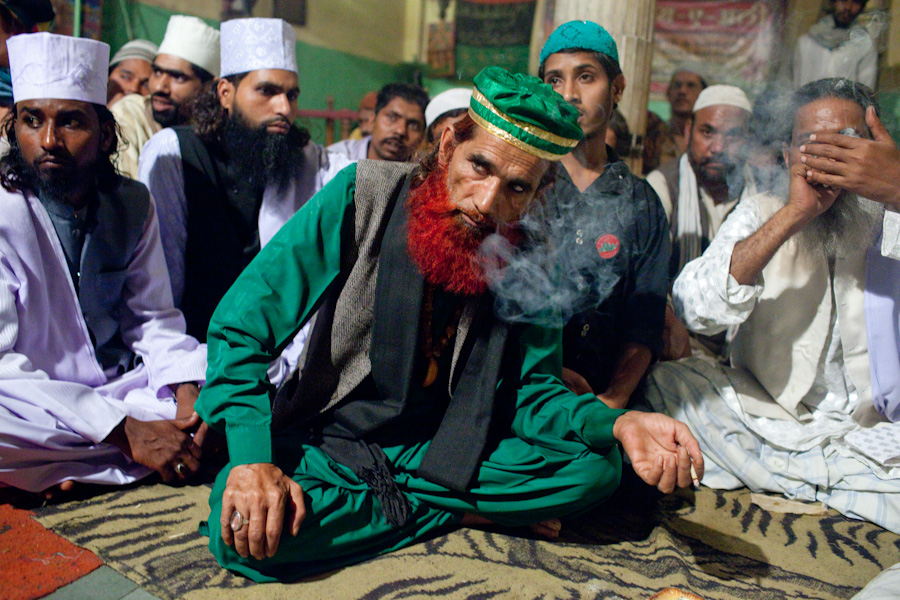 Cafe au lait, Thé à la menthe, morning joint. Breakfast in northern Morocco. // Kawa z mlekiem, miętowa herbatka, papieros z haszyszem. Kolonialne francuskie tradycje spotykają berberyjskie dziedzictwo z gór Rif na śniadaniu w Chefchaouen.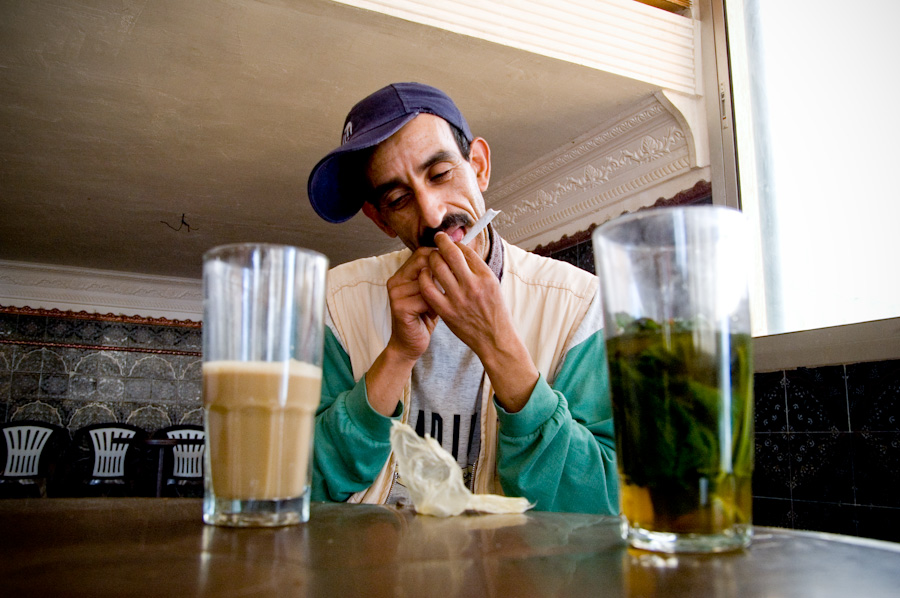 Kurdish youth in eastern Turkey. No job, no plan, no tomorrow. // Rozrywki kurdyjskiej młodzieży. Wschodnia Turcja.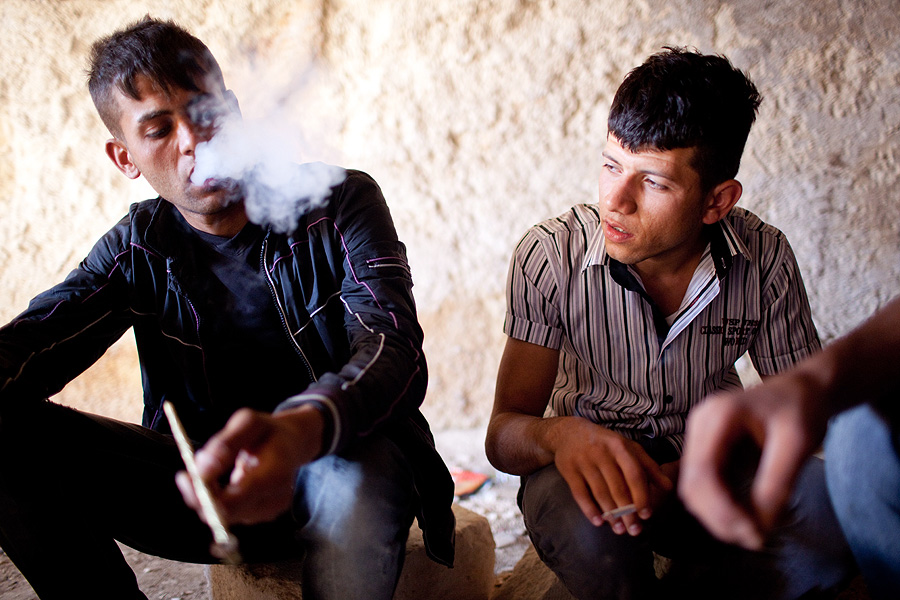 Polish migrants in Dublin spice their life up. // Polscy emigranci w Dublinie.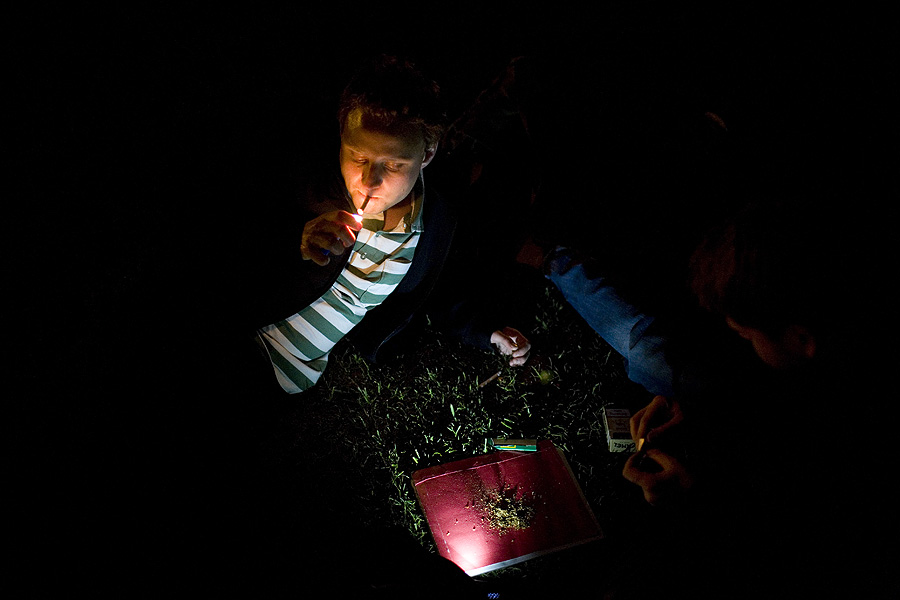 Old tax collector and his friends gather on Thursday night to pray, sing and smoke charas in the small shack near Mazhar Khan Jahan Ali, ancient Sufi shrine in Khulna distict of Bangladesh. //
Poborca podatkowy i jego przyjaciele spotykają się w czwartkową noc aby śpiewać i palić charas w małej chatce nieopodal grobowca sufickiego świętego w Bagerhat, w zachodnim Bangladeszu.
Although ancient way of smoking in India and the most popular one is through the clay pipe called chillum… // Chociaż chillum to prastara i najbardziej szanowana metoda palenia w Indiach…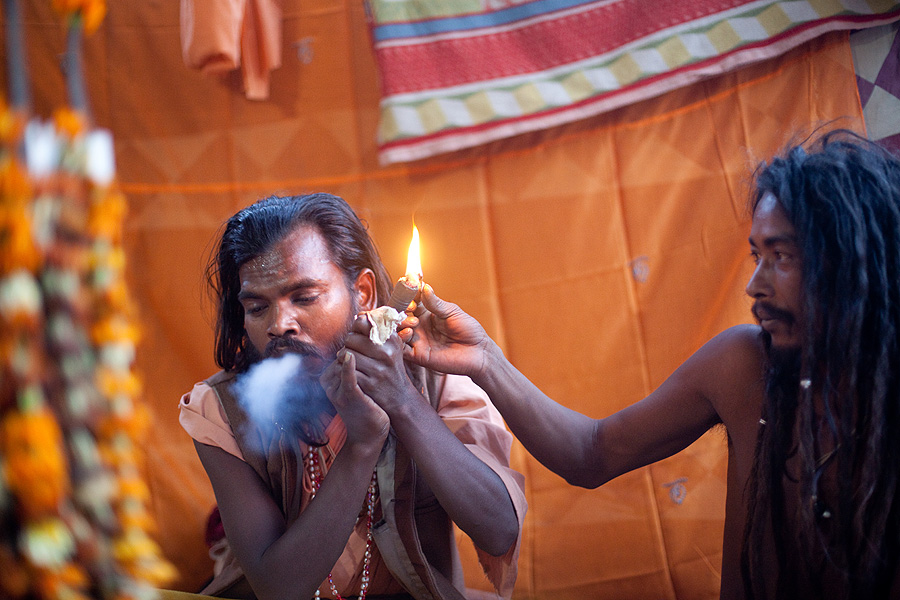 …ganja members are always open for new trends.  // …to członkowie konopnego klubu zawsze otwarci są na nowe doświadczenia.