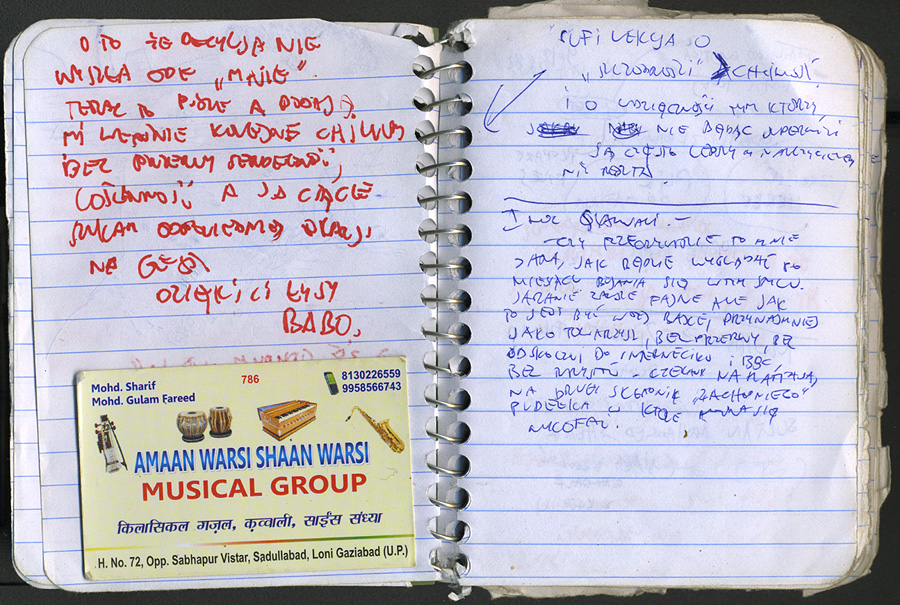 From the notebook : for three days I kept coming to Mehrauli, smoking , litening to qawwali, wondering, does that situation really turn me on, how will my state of mind look after one month of spending time like this, surrounded only by those people, not speaking hindi, being outsider in so many ways. Smoking is always nice, but how is it to be fully in this story, as their companion,  without a break, without occasional escape, into worlds of internet and other tourists. But I am also waiting for Matias, Argentinian psychologist, musician and vagabond, other part of that "western box" we can always withdraw into if things get too heavy, weird, or "exotic".
***
Z notatek z tamtego czasu : przez trzy zadymione dni przyjeżdżałem do Mehrauli z Pahargandżu, paliłem, słuchałem qawwali, zastanawiając się na ile ta sytuacja mnie jara, jak będzie wyglądać to po miesiącu bujania się w tym stylu. Jaranie zawsze fajne, ale jak to jest być w tej bajce, przynajmniej jako towarzysz, bez przerwy, bez odskoczni do interneciku, bez innych turystów. Czekam na Matiasa, włóczęgę-psychologa z Argentyny, drugi składnik "zachodniego" pudełka, w które zawsze można się wycofać.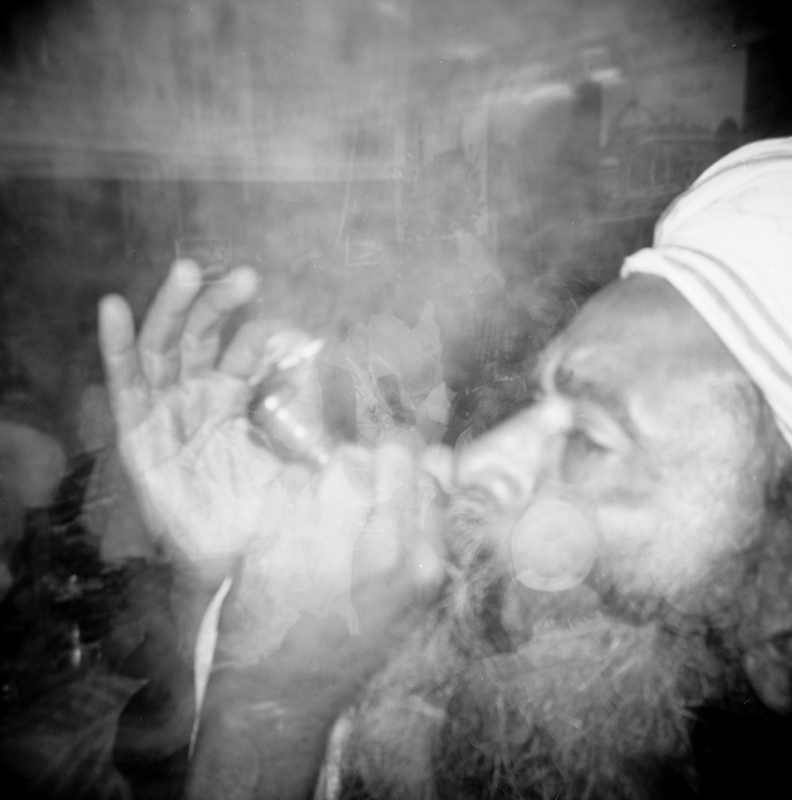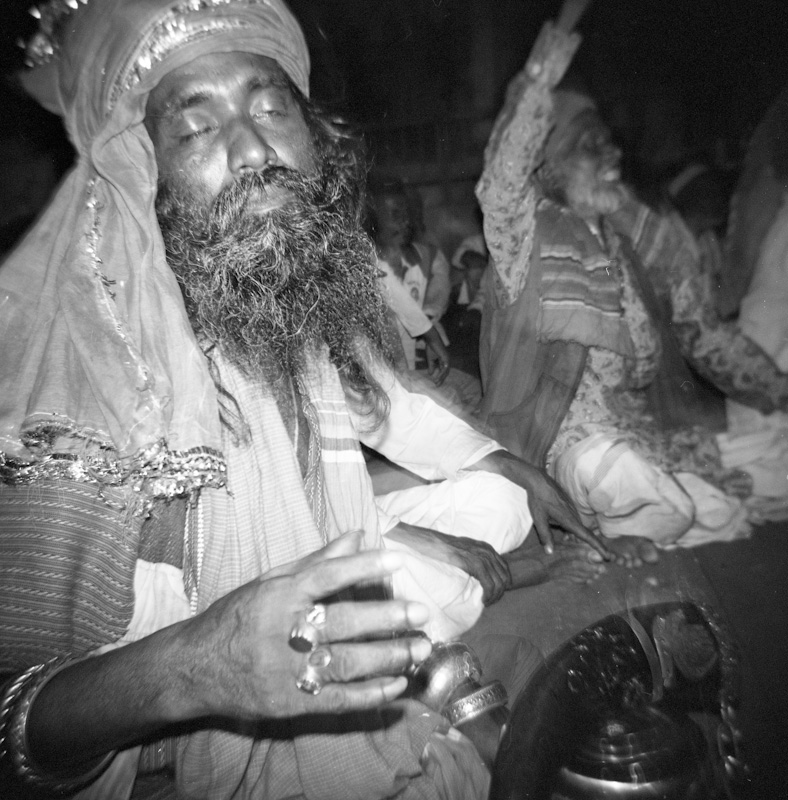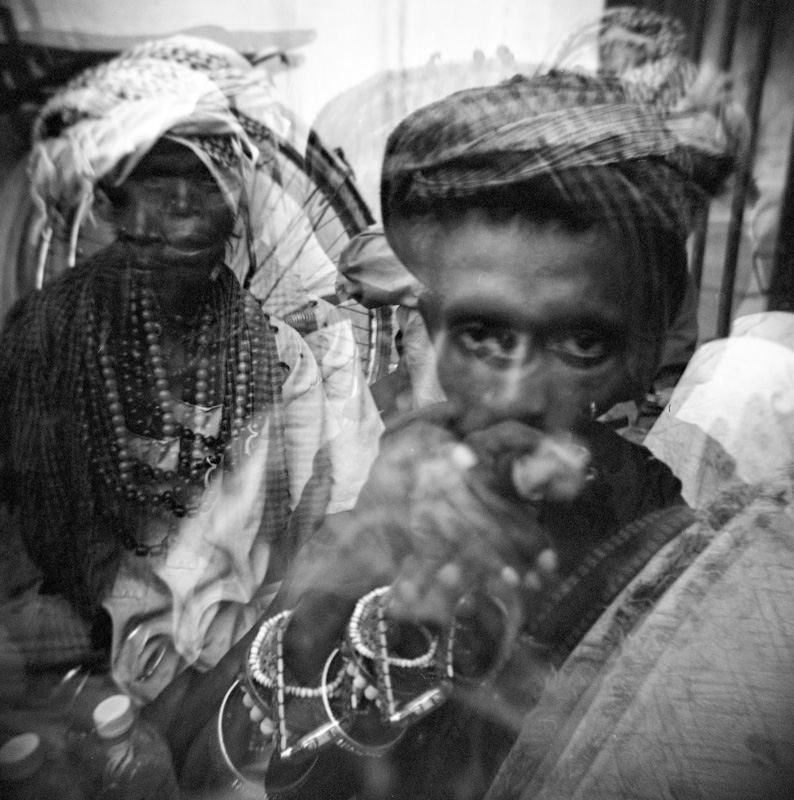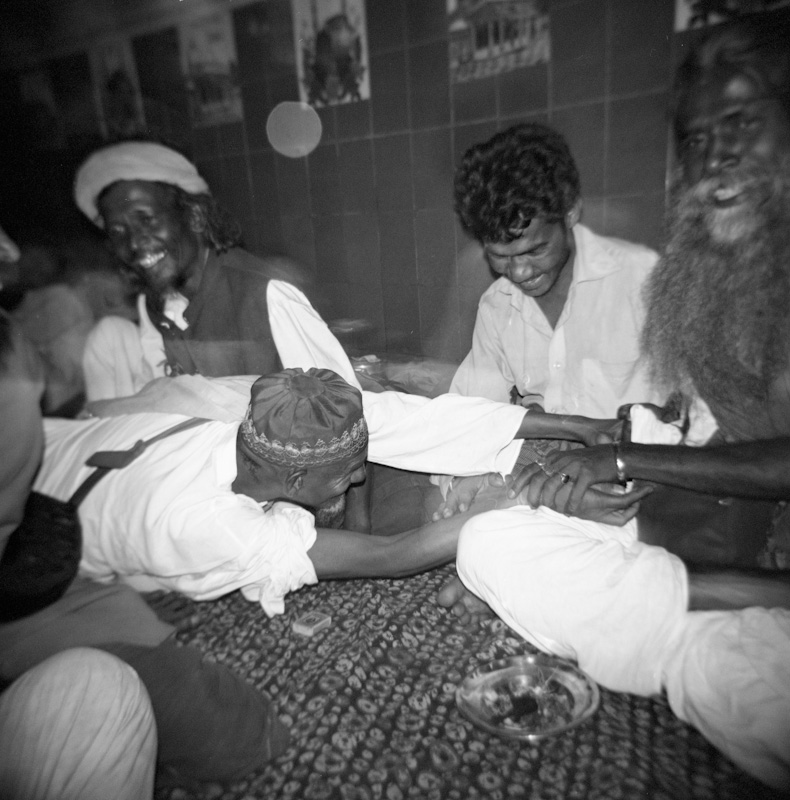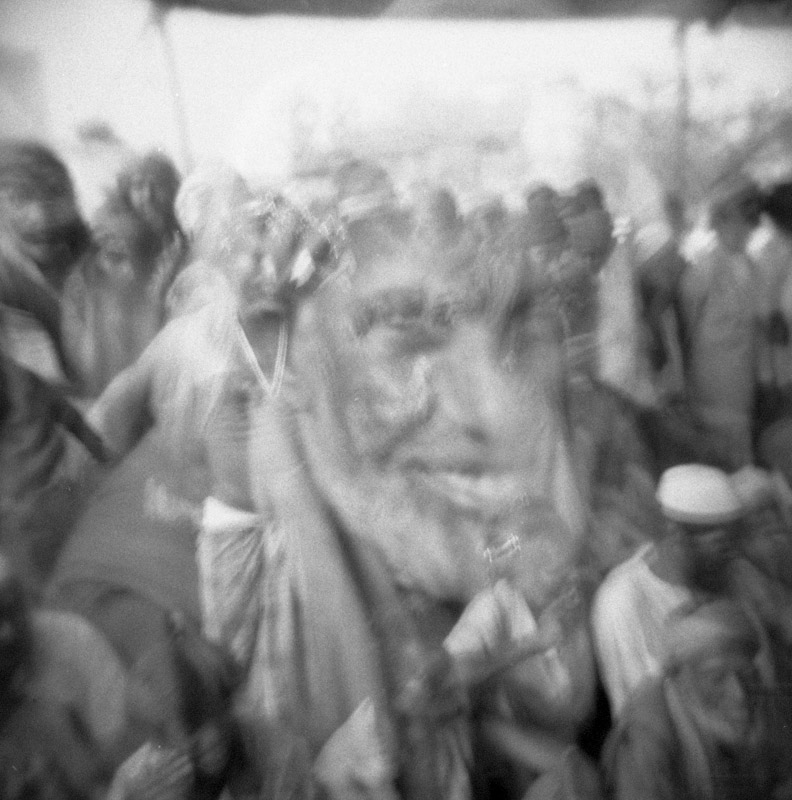 I am starting to meet some really interesting characters. My worries whether I can make it, walking two weeks in constant 45 °C melt when I see old men on crutches or that kind of heavyweight freak fakirs. No worries, only trust.
***
Już w Delhi poznaję niektórych bardzo ciekawych uczestników wyprawy. Moje obawy czy dam rade w codziennym marszu w niekończącym się 45 stopniowym upale rozpuszczają się kiedy widzę starców o kulach przygotowujących się na trasę czy też takich świrów z żelaznymi obręczami jak ten pan. Bez obaw zatem , z zaufaniem.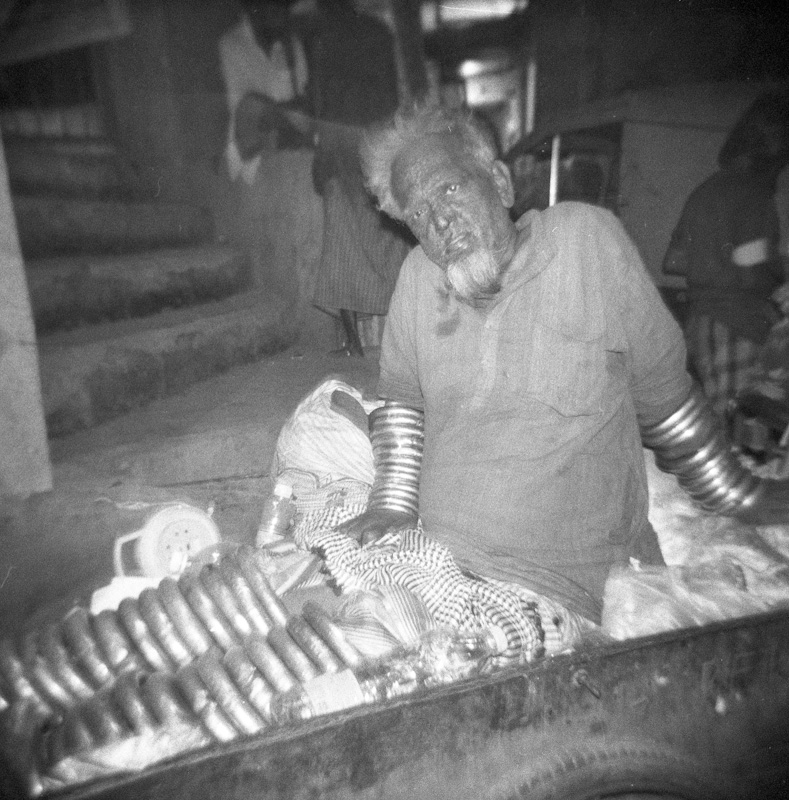 Finally, we are ready to leave, after much official blah blah, farewell and prayers, the trucks are loaded with cooking equipment assistants and hijras who will help to run the camps, the holy flags to be carried all the way from one grave to another 500 kms away are picked by the fakirs and we set off, full of energy, into streets of Delhi, first stretch of the journey leading us through the urban jungle, of concrete, tarmac, wires and heavy traffic. It feels great to be part of the crowd, perhaps for my Latin American mate it is a familiar feeling, but I never been a football fan, I have never run the city streets with hundreds of fellows scaring normal citizens with warlike cries, waving flags, feeling irresponsible, blocking way of cars, smiling in the face of those who follow normal rhythm. We just broke out of that rhytm and what we are going to do is very far from normal, we re breaking the linear and entering the holy time. We are pilgrims now, on the move with clear purpose, we are here now but at the same we represent our holy destination. Someone wraps turban around my head, some other passerbys run to me, trotting along , cos we don't stop and almost run , and they force some rupee bills in my hand, asking to put them in the grave of Gharib Nawaz, saint of Ajmer.
***
W końcu jesteśmy gotowi. Po oficjalnych pożegnaniach, przemowach, modlitwach, posiiłkach, bębnieniach, po załadowaniu ciężarówek sprzętem kuchennym, chłopcami do pomocy, hidżrami – kucharzami, fakirzy odbierają swoje flagi, święte płachty jakie nieść mają z jednego grobowca, do drugiego, odległego o 500 kilometrów, i ruszamy pełni energii, wprost na zatłoczone ulice Delhi. Pierwszy odcinek podróży prowadzi przez miejską dżunglę, plataninę betonowych mostów, billboardów, kabli, zapchaną autami, rykszami, pieszymi. To wspaniałe uczucie, być częścią tłumu o wspólnym celu, być może nieobce mojemu latynoskiemu towarzyszowi, ale ja nigdy nie byłem fanem piłki nożnej, nigdy nie biegałem po ulicach z bandą kumpli strasząc normalnych obywateli wojennymi okrzykami, machając flagami, zachowując się i czując nieodpowiedzialnie, blokując przejazd autom, smiejąc się w twarz niewolnikom normalnego rytmu dnia. Właśnie się z tego rytmu wyłamaliśmy, to co bedziemy robić jest dalekie od codzienności, łamiemy to co liniowe i wkraczamy w święty czas. Jesteśmy teraz pielgrzymami, w ruchu, z jasnym celem, jesteśmy tu i teraz ale jednoczesnie reprezentujemy naszą świętą metę. Ktoś zawija mi na głowie turban pielgrzyma, jacyś przypadkowi przechodnie podbiegają, i ponieważ nie zwalniamy tempa, niemalże biegną obok kawałek, wciskając mi w dłoń banknoty, z prośbą abym zaniósł je do grobu Opiekuna Biednych, Gharib Nawaza, do samego Ajmer, w nadziei błogosławieństwa.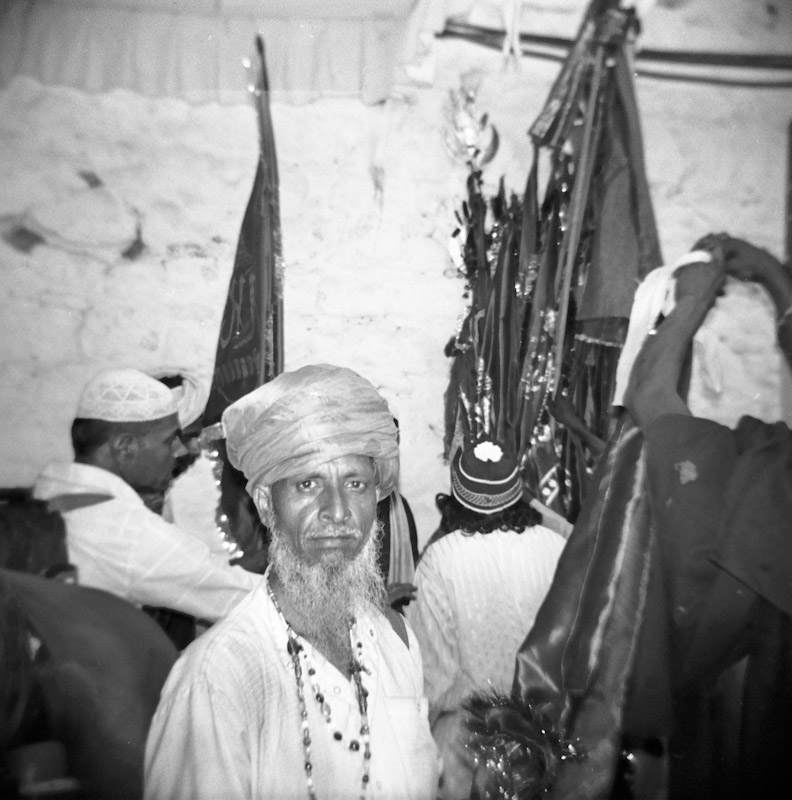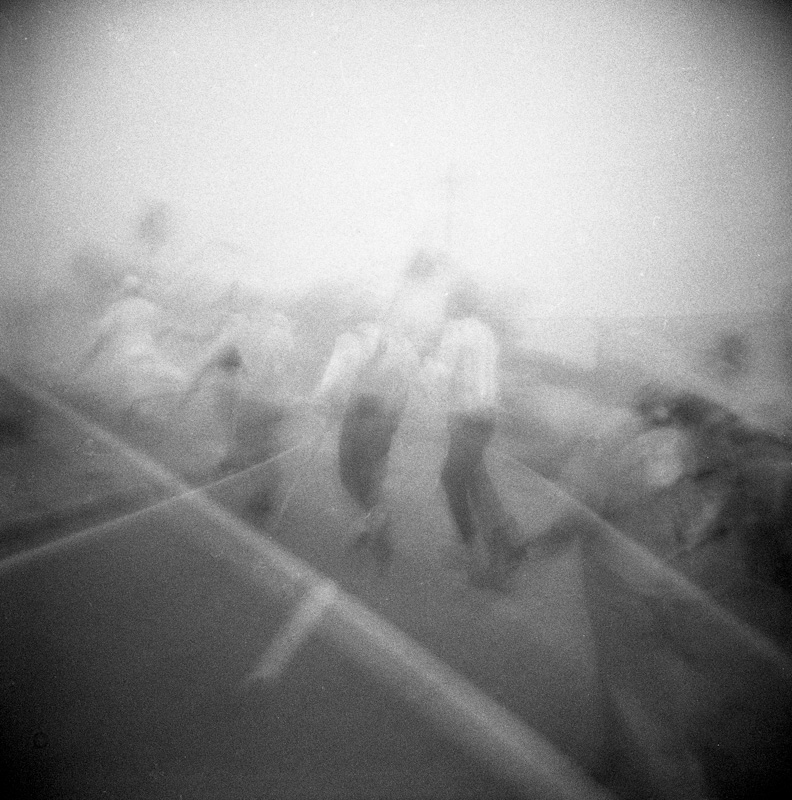 First part of the journey, getting out of Delhi. Perhaps 60-80 kms of city, urban monster. We are strange sight, hundreds of medieval style mystics and two weird foreigners walking across Indian middle class world, countless new shopping malls, residential areas, petrol stations and parking lots, grey landscapes of new aspirations shrouded in thick smog, traffic of old school rickshaws and new Asian family cars with puzzled faces in their windows, stuck in afternoon traffic jams, from work to suburban homes in high rise prisons. Ali ! Ali ! Mast Qalandar ! Jhule Lal ! Echo our cries and songs, the chillums are lit even on the way, in front of traffic police, who can do nothing , religious expression is untouchable in India, even it means this kind of anarchic behaviour. Our trucks overtake us and so do some of pilgrims who travel on bicycles, DIY rickshaws or even horse carts. As the night comes closer, I realize what can be biggest problem of this journey. Things changed a lot since 800 years ago first dervishes followed footsteps of their master through fields and forests surrounding Delhi. Now it is not wild animals but wild truck drivers in the darkness that threaten our lifes as we walk along multilane highways and there will be no fire lit on the crossroads, as we lay to sleep for a few hours around 2 AM, under traffic lights and in constant roar of cars, on the bare ground littered with modern garbage of bright new world that India wants to become. I enjoy the feeling, I guess this feeling of freedom, to put your head down wherever you are tired, coupled with fellowship with dozens of others alike makes one not only immune to city temptations and beggar stigma, but also proud of staying out of the rat race.
***
Pierwsza część podróży, wydostać się z Delhi. Byc może 60-80 kilometrów miasta, betonowy potwór. Jesteśmy pewnie dziwnym widokiem, setki mistyków w strojach niezmienionych od średniowiecza i dwóch cudzoziemskich świrów wędrujący przez świat indyjskiej klasy średniej, niekończące się nowe centra handlowe, multipleksy, zamknięte osiedla mieszkalnych wieżowców albo reklamy takich osiedli w budowie, stacje benzynowe i parkingi, wszystko spowite gestym pyłem i smogiem, popołudniowe korki starych ryksz i nowych koreańskich aut ze zdziwionymi twarzami w szybach,  w drodze z pracy podmiejskich domów w ponurych komfortowych sypialniach – więzieniach. Ali ! Ali ! Mast Qalandar ! Jhule Lal ! Sławiące szaleństwo i ekstazę okrzyki przyciągają gapiów, chillumy zapalamy na każdym postoju, czasem też w  drodze, na oczach policjantów, którzy nic nie zrobią, religijna ekspresja jest nie do ruszenia w Indiach, nawet jeżeli oznacza ona takie anarchiczne zachowania.
Nasze ciężarówki wyprzedzają nas, zaraz po nich niektórzy z pielgrzymów, podróżujący własnoręcznie kleconymi rykszami, rowerami, niektórzy nawet na konnej bryczce. Powoli zapada zmrok a ja zdaję sobie sprawę co może być największym problemem tej podróży. Sytuacja zmieniła się sporo od czasu gdy 800 lat temu pierwsi derwisze podążali tą drogą , śladem swojego mistrza, przez pola i lasy otaczające Delhi. Teraz to nie dzikie zwierzęta i rozbójnicy, ale dzicy, nieraz pijani kierowcy ciężarówek prujących ciemność zagrażają naszym życiom gdy maszerujemy wzdłuż wielopasmowej autostrady. Na zatłoczonych skrzyzowaniach dróg nie zapalimy ognia, gdy kładziemy się spać na pare godzin, koło drugiej w nocy, pod uliczną sygnalizacją, w ciągłym ryku samochodów, na gołej ziemi zaśmieconej opakowaniami nowej wspaniałej cywilizacji do jakiej Indie usiłują dołączyć. Smakuję te wrażenia, coś w rodzaju uczucia wolności, kiedy kładziesz swoją głowę gdziekolwiek, tam gdzie jesteś zmęczony, połączone z świadomością wspólnoty z innymi takimi jak ty, to nie tylko uodporniania na marne pokusy miasta i na upokorzenie bycia żebrakiem ale wręcz daje dumę, że jesteśmy poza szczurzym wyścigiem.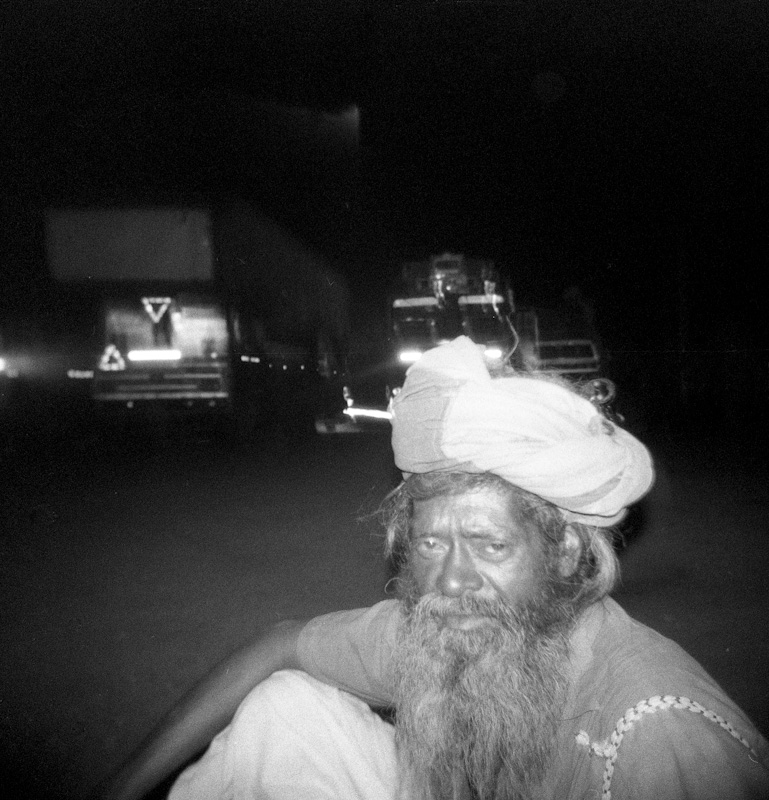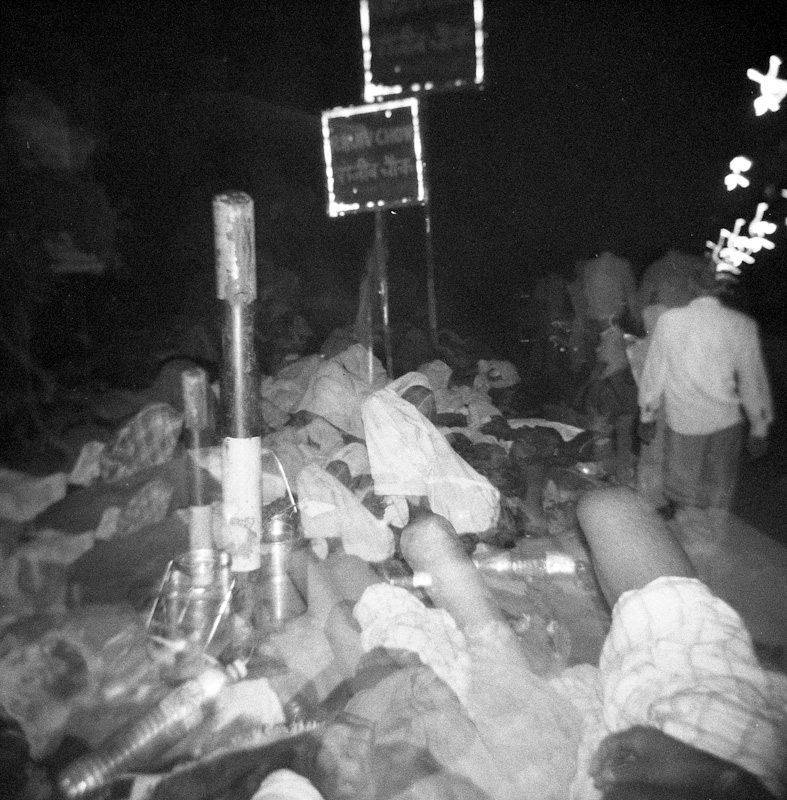 When we wake up, the day is still not there, but we press on.  I am eager to get out masteplanned world, into lovely imperfection of the life on the road.
***
Kiedy wstajemy, dzień jeszcze się nie zaczął, ale ciśniemy dalej. Nie mogę sie doczekać aż wydostaniemy sie z zaplanowanego świata prostych kątów, w słodką niedoskonałość życia w drodze.