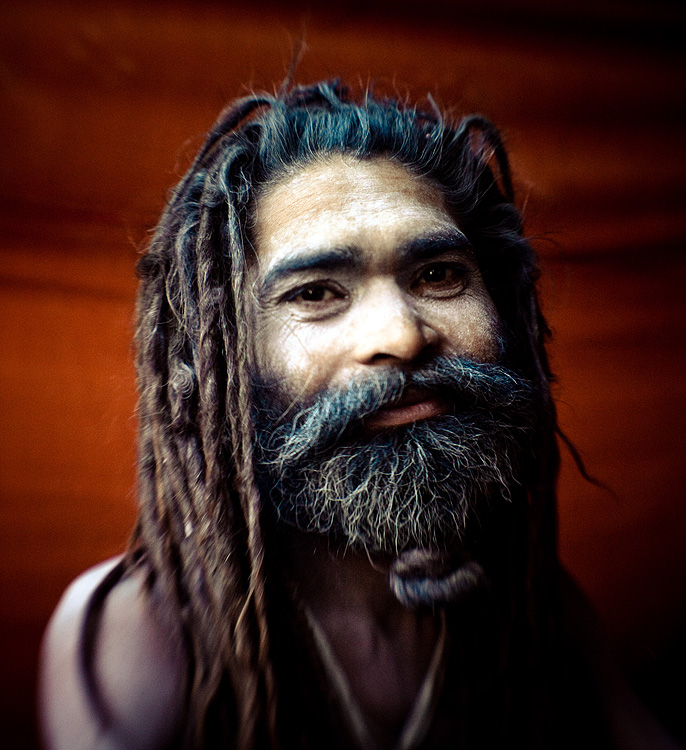 I am reading "Occidental Mythology", part of great work by Joseph Campbell on comparative history of religion, and I came across wonderful story, probably known to any philosophy student. There was a king of the world once, and a man who lived in earthen pot outside the temple of Great Mother. The man was a beggar-philosopher and one of most celebrated human beings of his time. When young king came to visit and pay respect, he asked the philosopher, if there is anything at all, any favour he could do for him, and beggar replied with these words : " You are between me and the sun, please move aside".
Name of the man in the pot was Diogenes, and the king, Alexander the Great reported to have said " If were not Alexander, I would be Diogenes".
The story comes from this fascinating time when development of very important ideas was happening simultaneously in two branches of Indo European family,  it was a time, for example, when a Greek, Xenophanes, contemporary of Buddha, was, according to Aristotle , the first to believe in unity of all things, unity that was God and that was the Void. It was a time long before Christianity usurped rights as state religion and with that corruption of power proclaimed all other ways of thinking as heresies to be exterminated. But, if you want to meet men like Diogenes, it is still possible,  if you want to speak to men who not only study their philosophy but live it, you can make that trip into past. When you are lucky to find some who can speak English, you might feel like you are conversing with Diogenes. Kumbh Mela starts in January 2013, in Allahabad, India.
***
Czytam właśnie książkę, nieprzetłumaczoną chyba na polski, "Occidental Mythology", część monumentalnej pracy Josepha Campbella "Maski Boga" , porównawczej historii religii i mitologii. Natrafiłem na wspaniałą historię, znaną zapewne każdemu studentowi filozofii. Był sobie kiedyś król znanego świata, i był mężczyzna, który żył w glinianym dzbanie koło świątyni Wielkiej Matki. Ten ostatni był żebrakiem i filozofem, i jedną z najbardziej szanowanych i podziwianych osób swojego czasu.  Kiedy młody król przyjechał doń w odwiedziny,  zapytał się czy jest jakakolwiek przysługa, cokolwiek czego mędrzec sobie życzy. Ten zaś odparł :  "Stoisz między mną i słońcem, przesuń się na bok"
Mężczyzna ten nazywał się Diogenes, a król, Aleksander Wielki, miał ponoć kiedyś stwierdzić  "…gdybym nie był Aleksandrem, byłbym Diogenesem".
Historia pochodzi z fascynującego okresu, kiedy dochodzenie do ważnych koncepcji co do obrazu świata i naszej w nim roli miało miejsce równolegle w odległych od siebie ojczyznach różnych odłamów indoeuropejskiej rodziny.  Był to czas, między innymi, Xenophanesa, współczesnego Buddzie Greka, który, jak twierdzi Arystoteles, był pierwszym, który wierzył w jedność wszystkich rzeczy, jedność która jest Bogiem , uniwersalną Pustkę czy też Brahman, używając określenia z drugiej strony znanego wtedy świata. To był czas na długo przed przyjęciem przez chrześcijaństwo statusu religii państwowej, jedynej słusznej, i wynikających z tego prześladowań wszystkich innych sposobów myślenia, herezji godnych wytępienia. Ale jeżeli chcecie spotkać ludzi takich jak Diogenes, to wciąż możliwe, jeżeli chcecie pobyć z ludźmi którzy nie tylko filozofię rozważają i studiują ale nią żyją, taka wyprawa w przeszłość jest całkiem realna. Jeżeli chcecie razem poleżeć na słońcu albo gdzieś pod starym drzewem, być może nawet pogadać, jak traficie na takich co znają angielski, tysiące takich panów zjeżdża w styczniu do Allahabadu w Indiach. Warto jednak pamiętać , aby coś z tego wynieść, trzeba spuścić troche powietrza, inaczej zasłonicie im słońce.