This time very different guy from the previous entry in SHAMPON guide ( remember, Shamanic Plants Online ). Let us meet Ronald Rivera , an ayahuascero, writer ( now at work on a book about ayahuasca art ) and philosopher.
***
Tym razem bardzo odmienny wpis w moim przewodniku po szamanach ayahuaskowych, chociaż też z Pucallpy. Poznajcie Ronalda Rivera , ayahuaskero, pisarza ( obecnie przy pracy nad kolekcją wywiadów z malarzami ayahuaskowymi ) oraz filozofa.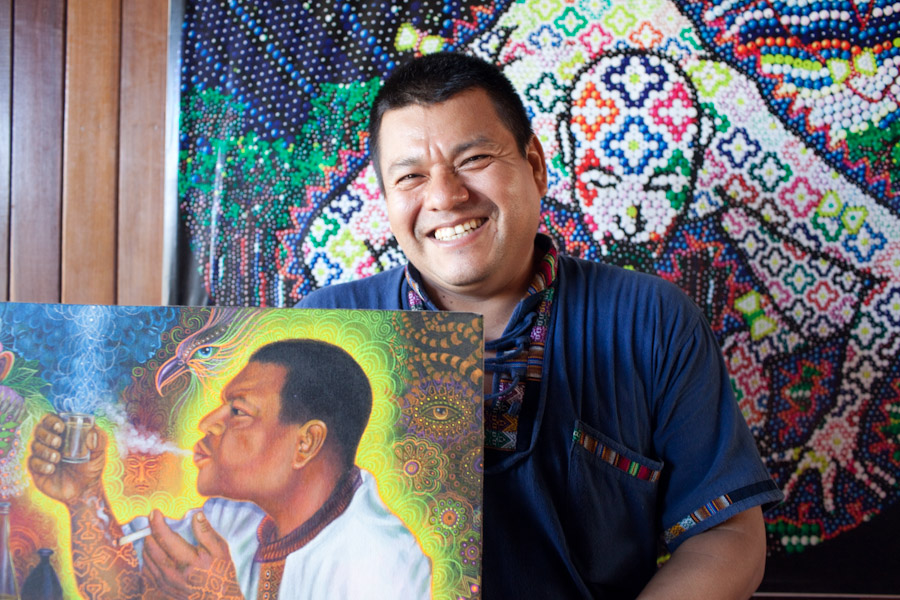 He is one of many mestizo shamans settled in Pucallpa, a place that offers easy access to jungle, with its plant resources and locations for ceremonial malocas, away from the noise of the city, where gringos are brought for spiritual shakedown or month long diets. At the same Pucallpa is a city, with all facilities, such as internet access, important marketing tool in modern day neoshamanism, to contact clients that come from all over the global village. Ronald is very present in the cyberspace, he has a website as well as two Facebook pages, one called : "Ayahuasca Sabiduría" ( Ayahuasca Wisdom ) and another "Ayahuasca Sabiduría Albergue Amazónico" .  As most of Peruans he is only using Spanish language, so communication with English speaking world is limited, but a look on FB is always a good way to research who are you dealing with.
***
Jest jednym z wielu metyskich szamanów osiadłych w Pucallpie, miejscu z którego łatwo dostać się do dżungli, z jej roślinnymi zasobami i spokojnymi lokalizacjami na ceremonialne maloki, gdzie zawozi się gringo na duchowe otrzęsiny czy miesięczne diety. Jednocześnie Pucallpa jest dużym miastem, z wszelakimi udogodnieniami, takimi jak dobry dostęp do internetu, ważnego narzędzia marketingowego w dzisiejszym neoszamanizmie, narzędzia kontaktu z klientami rozsianymi po różnych zakątkach globalnej wioski. Ronald jest aktywny i obecny w cyberprzestrzeni, ma swoją stronę internetową i prowadzi dwa konta na Facebooku , jedno zwane "Ayahuasca Sabiduría" ( Ayahuaskowa Mądrość ) i drugie  "Ayahuasca Sabiduría Albergue Amazónico" . Jak większość Peruwiańczyków jest ograniczony językiem hiszpańskim, więc komunikacja ze światem anglo- a tym bardziej polskojęzycznym jest raczej trudna, ale na FB zawsze warto zajrzeć, chociażby dla linków, albo wyczucia z kim mamy do czynienia.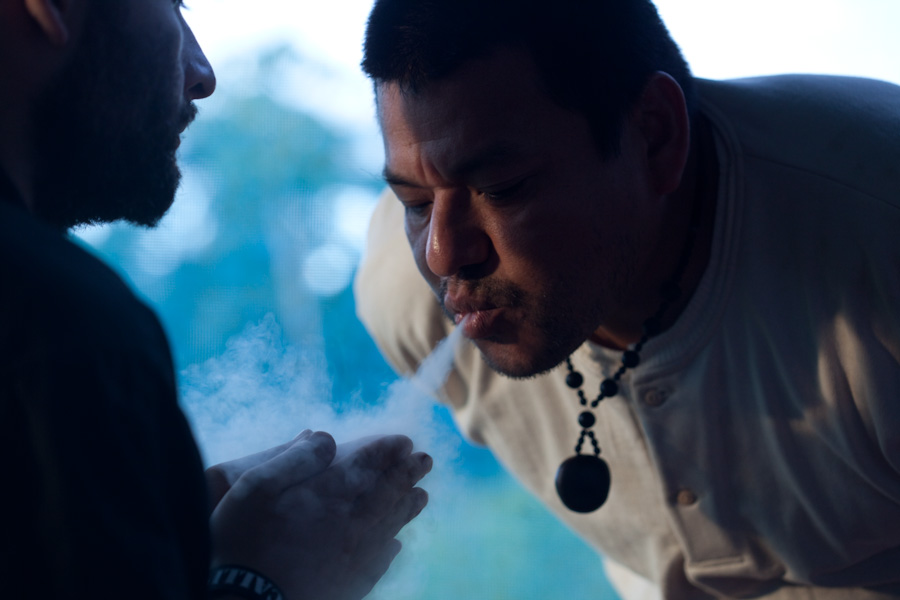 While working as a philosophy lecturer at Universidad de San Marcos in Lima Ronald discovered world of ayahuasca, fell in love and eventually and switched careers. He has now around 17 years of experience as ayahuascero. He has his icaros, mostly new age kind of songs, spiritually or even religiously saturated, in general the mood of his ceremony is uplifting, clean, airy and kind of noble. Perhaps the location helps – it is  was quite a contrast after night in Marcelo's shack to be in spacious, very clean "albergue" at Ronald's land, some two hours away from Pucallpa. The maloca is built on a quite high platform and one has a feeling of being in a bird's nest, nicely cooled by wind entering through mosquito nets. It surely influences the trip, which is recommended for beginners, or older people, those for whom hygiene, safety and cultural accessibility matter. Ronald for sure is much closer to your  world, to your cultural background than Shipibo Indians, for example. The people that were in the ceremony with us included tourism industry spokeswoman or Ronald's mother's friends, to give you an idea, although you must remember it was just one Saturday ceremony and there are younger people for sure at other times.
Although personal insights are something I will rather avoid trying to keep this guide at least demi-objective, I think it is no sin to mention I had visions of Slavic knights, romantic obsessions and feeling of well being throughout ceremony. There was fresh fruits in the morning and long sleep, so in general – spa kind of experience. If you want more adventure you must go deeper and further from Facebook.
***
Pracując jako wykładowca filozofii na Uniwersytecie San Marcos w Limie Ronald odkrył świat ayahuaski, zakochał się w nim i ostatecznie zmienił ścieżkę swej kariery. Ma obecnie około 17 lat doświadczenia jako ayahuaskero. Ma swoje icaros, w większości pieśni w new-agowym stylu, duchowo czy nawet religijnie nasiąkniete, częściowo dzięki nim jego ceremonie są dosyć podniosłe, czyste, w jakimś sensie szlachetne. Być może pomaga też ich lokalizacja – bardzo kontrastująca z chałupą Marcelo, obszerny i bardzo czysty pensjonacik, jakieś dwie godziny drogi od Pucallpy, w przetrzebionym buszu. Maloka w której odbywają się ceremonie ma porcelanowy kibelek i wygodne materace, zbudowana jest na dość wysokiej platformie i łatwo tu się poczuć jak w ptasim gnieździe, przyjemnie chłodzonym wiatrem wdzierającym się przez moskitiery w ścianach. To z pewnością wpływa na jakość "podróży", którą możnaby polecić początkującym, lub też starszym osobom, czy po prostu tym dla których istotne są higiena, bezpieczeństwo, i kulturowa dostępność. Ronald z pewnością jest dużo bliższy waszemu światu, waszej kulturze niż na przykład Indianie Shipibo. Ludzie, którzy towarzyszyli nam podczas ceremonii to na przykład była rzeczniczka peruwiańskiej organizacji ds promocji turystyki ( zwolniona kiedy władzę objął w niej ultrakatolicki szef nie aprobujący "pogaństwa") czy przyjaciółki matki Ronalda. To może dać wam pojęcie o jego stylu, chociaż należy pamiętać, że była to zaledwie jedna sobotnia ceremonia, i innym razem można spotkać młodszych uczestników.
Chociaż osobiste wglądy są czymś czego raczej będę unikał tutaj próbując zachować chociaż częściową obiektywność tego mini-przewodnika, myślę że nie zgrzeszę zanadto wspominając, iż moja sesja obfitowała w wizje z motywami fantasy, cofania się bardzo głęboko w czasie, słowiańskich rycerzy, ptaki, romantyczne obsesje, i dość trwały dobrostan, w trakcie i po ceremonii. Rano były świeże owoce i długi sen, w skrócie zatem doświadczenie w stylu spa / sanatorium.  Jeżeli szukacie większej przygody, należy udać się głębiej, i dalej od Facebooka.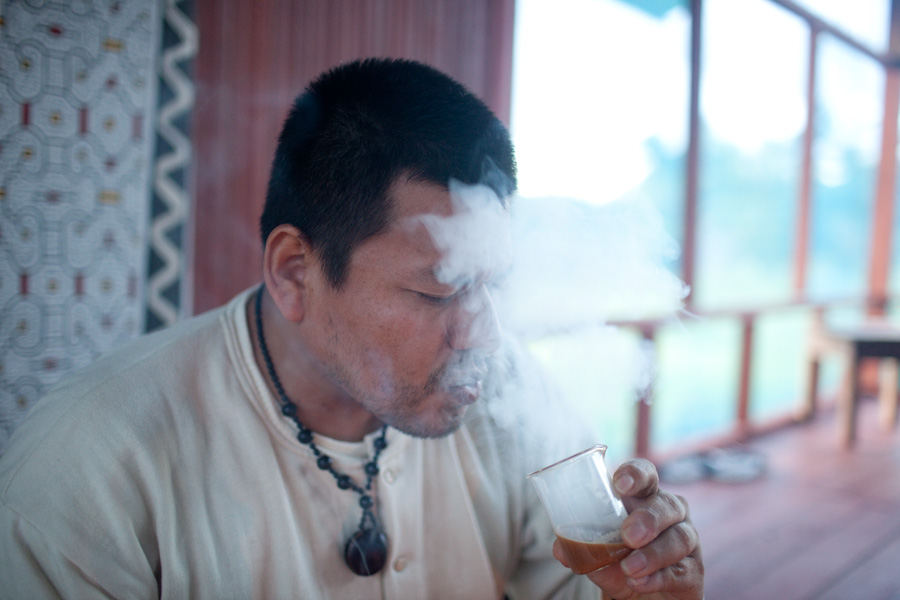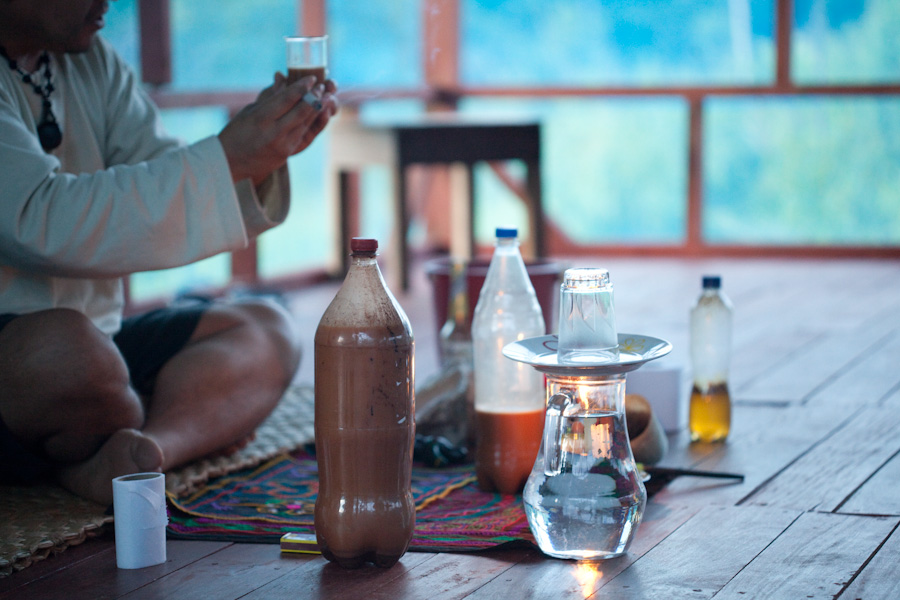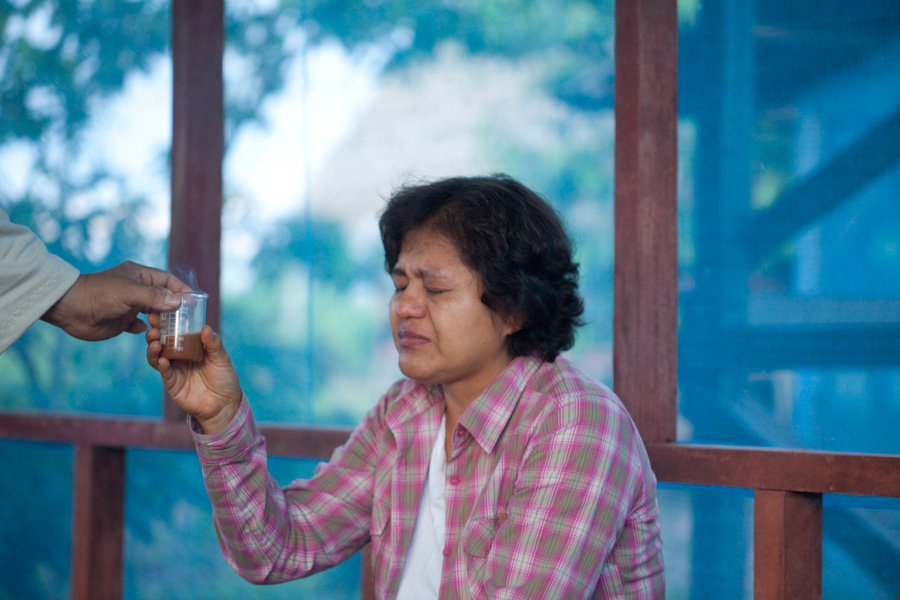 Ronald charges 250 soles for a session, lives in Pucallpa centre at Jr Aguarico 210,  and can be contacted by Facebook :  "Ronald Rivera" & "Ayahuasca Sabiduría" or by phone +51 999 272 985
***
Sesja z Ronaldo kosztuje 250 soli od osoby, można znaleźć go w centrum Pucallpy na ulicy Aguarico 210, na Facebooku : "Ronald Rivera" & "Ayahuasca Sabiduría"  albo pod numerem telefonu +51 999 272 985