We came to Succumbios in Lower Putumayo to drink with Taita Querubin Queta, one of oldest and most famous ayahuasca shamans of all Colombia. He has been sick for some time, so we were not sure whether it makes sense to risk venturing into what many people told us is guerilla territory, but then news came he is OK again, and it is a rare chance to visit him at home as he often travels invited to ceremonies all over the country. When we came, he was exhausted after previous night, but waiting for the ceremony with him we decided to drink with other members of his family, who are also ayahuasceros, Bernard ( below ) and his father, Reinario Queta Criollo ( above )
…
Przyjechaliśmy do Succumbios w dolnym Putumayo aby pić yage z Taita Querubinem Queta, jednym z najstarszych i najbardziej znanych ayahuaskowych szamanów w całej Kolumbii. Był dłuższy czas chory, więc nie byliśmy pewni czy jest sens pakować się na teren, jak wielu twierdzi, opanowany przez guerillę, ale kiedy nadeszły wieści, że mu sie poprawiło, postanowiliśmy skorzystać z tej rzadkiej szansy odwiedzenia go w domu, bo często jest nieobecny, zapraszany na ceremonie w całym kraju. Kiedy tu dotarliśmy, był wykończony ceremonią poprzedniej nocy, więc, w oczekiwaniu na następny dzień, zdecydowaliśmy od razu, tego samego dnia pić z innymi członkami jego rodziny, którzy także są ayahuasceros, Bernardem ( poniżej ) i jego ojcem, Reinario Queta Criollo ( powyżej ).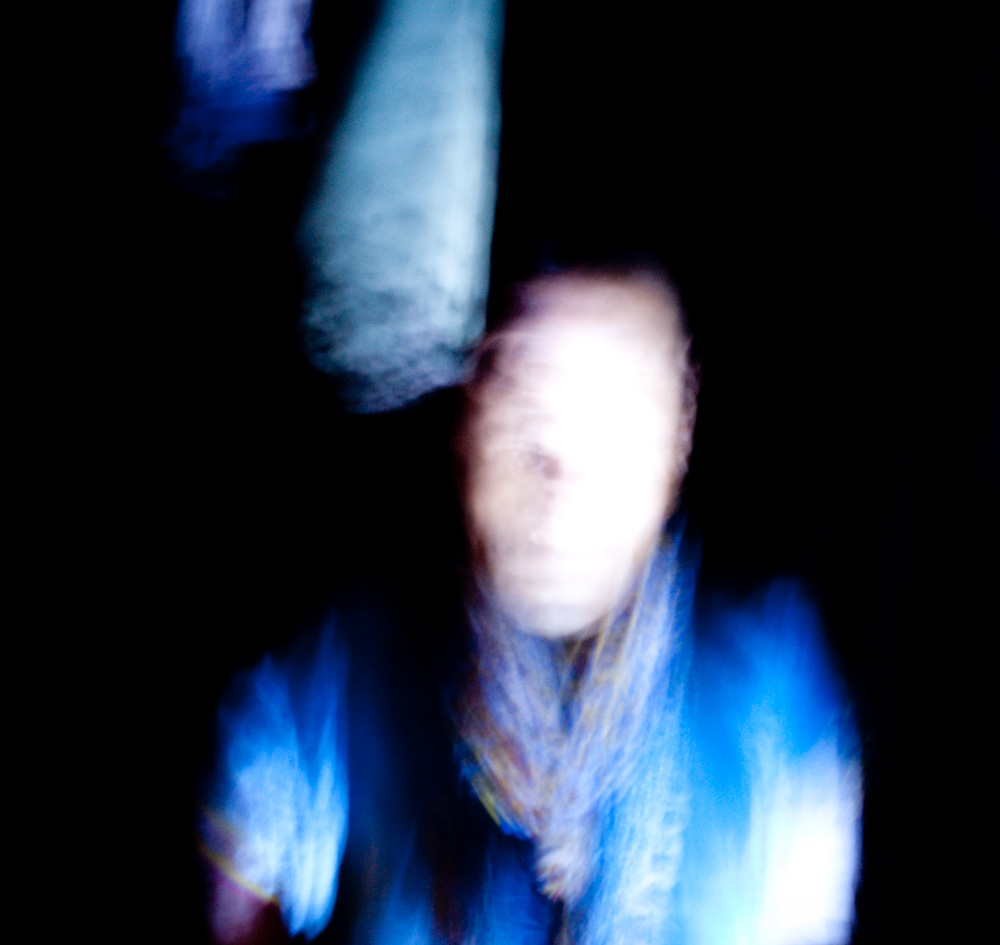 Czy to poczucie substytutu, czy niedoświadczony Bernardo, który prowadzi ceremonię, czy też słaba ayahuaska, wygrzebana na poczekaniu skądś, nie wiem, ale tej nocy mam głównie mętne myśli i sny, nieco sraczki ale bez rzygania, co doceniam, i przypisuje stabilizacyjnemu działaniu rytualnego tytoniu.
…
Whether it is the feeling of going for a substitute, or inexperienced Bernardo, leading the ceremony, or weak, diluted ayahuasca, found in a rush so that we can drink that night, I don't know, but I only have some cloudy thoughts and dreams, unclear visions, a bit of diarrhea, but no vomiting, which I think is a result of stabilizing effect of ritual use of tobacco.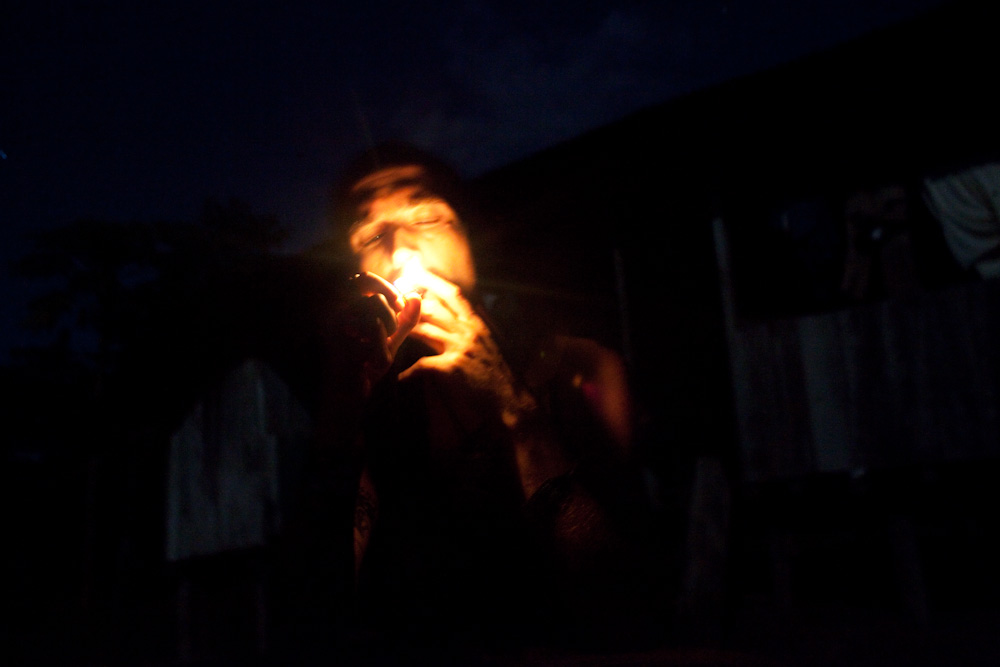 Nie zwalam już nic na nikogo, nie mam pretensji. Tyle już dostałem, mogę się zająć etnograficzną obserwacją. Tej nocy pijemy razem z całą rodziną, trzy pokolenia. Swój hamak rozwiesza dziadek, Reinario, który zwykle mieszka samotnie w tej chatce bo nie lubi gwaru w centrum wioski. Nie będzie zbyt wiele działać , ale opowie ciekawe rzeczy, o swych rozmowach z lasem, o duchach mieszkających w tym domu, o wizjach dawnych kacyków pochowanych pod chatą, razem ze skarbem, których niektórzy pijący tutaj yage goście mają okazje widzieć, chociaż ze strachu, z szacunku nikt nie odważył się kopać w poszukiwaniu skarbu.
…
I blame no one, I have no problem. I have already received so much, I can focus on ethnographic observation. This night we are drinking with the whole family, three generations. The grandfather Reinario is mounting his hammock. He is at home, he usually lives here alone, as he doesn't like the noise in the center of village. He will not act much, but will tell interesting stories, about his conversations with the forest, about spirits living in this house, about visions of ancient chieftains buried with their gold under the hut, which appear sometimes in visions of some of people drinking here, although no one dared, out of fear or respect, to dig for those treasures.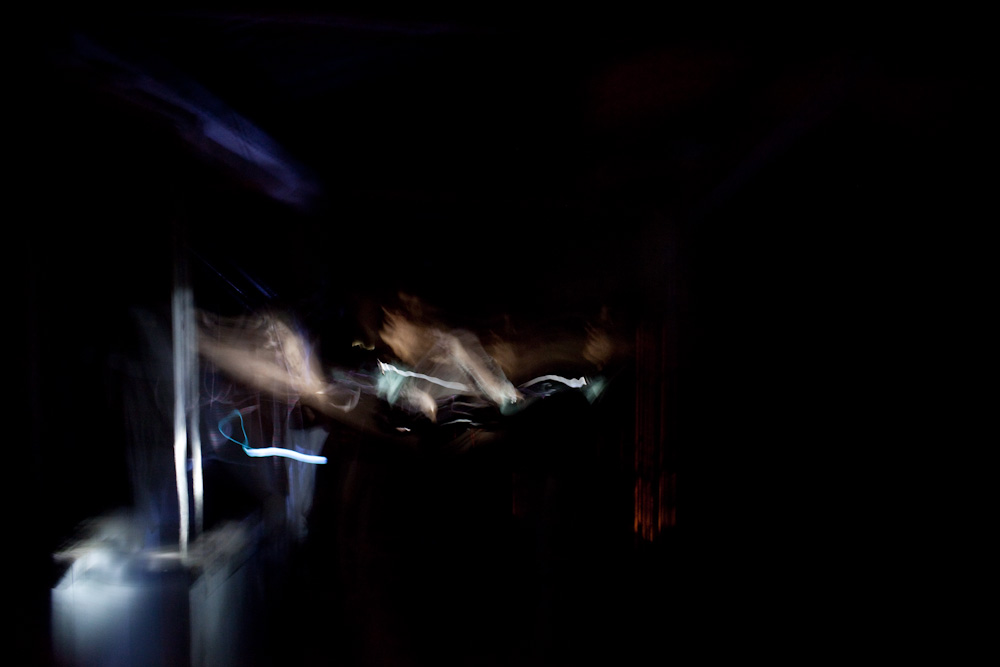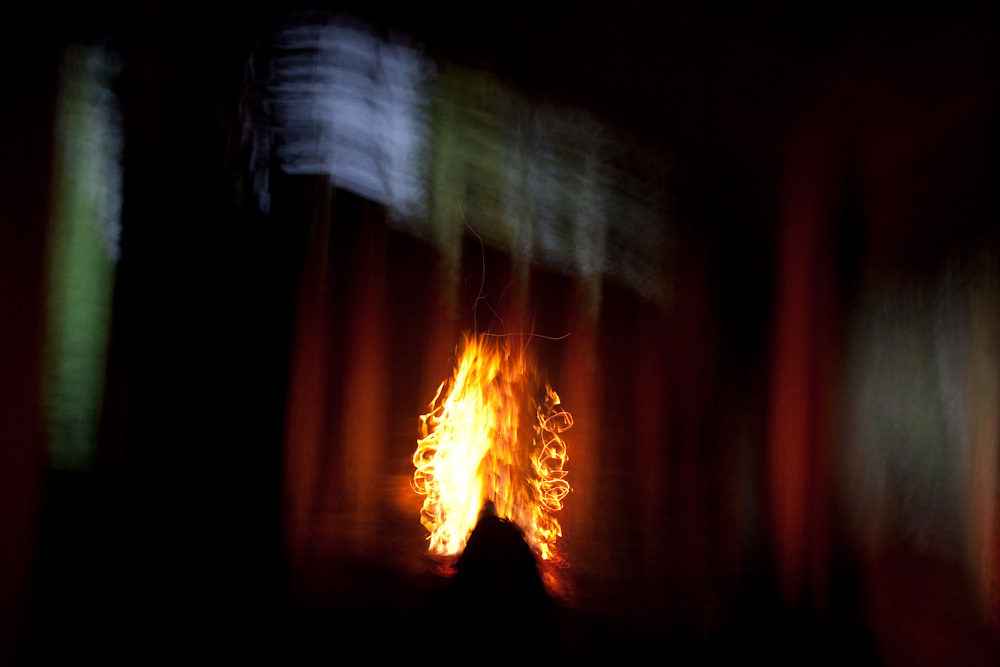 Dom stoi na uboczu, niedaleko rzeki, przechodzili tędy często partyzanci, nadal się kręcą, oni i wojsko, ale takie ostre walki jak jeszcze cztery lata temu już się nie zdarzają, i tylko podziurawiony kulami dom świadczy o czasach, kiedy cała rodzina musiała się chować w rowie przed zagrożeniem. Teraz guerillas ograniczają się do wymuszania okupów od działających tu firm naftowych za nie sabotowanie rurociągów, czasem uda się im kogoś porwać.
Bawiąca się ze swym braciszkiem żołnierzykami córka Bernarda ma 3 latka. W nocy też z nami pije, co więcej, domaga sie kolejnych dolewek, pije 4 kubki, chociaż malutkie. Kto wie, może będzie z niej szamanka, wiekszość zawodowców wcześnie zaczynała.
…
The house is situated away from the village, near big river, rebels passed near here often, still they like to hang around, them and the army, but as violent fighting as 4 years ago does not happen anymore. Only walls of the hut riddled with bullets remind of the times when whole family needed to take shelter in ditch to avoid getting hit. Now guerillas only extort ransom from petrol companies in exchange for not bombing pipelines, occasionally they also manage to kidnap someone.
The daughter of Bernard playing with toy soldiers is only 3 years old. She will drink with us this night, and she will request extra portions, 4 times in total. Who knows, she may grow into a shaman, most of pros began early.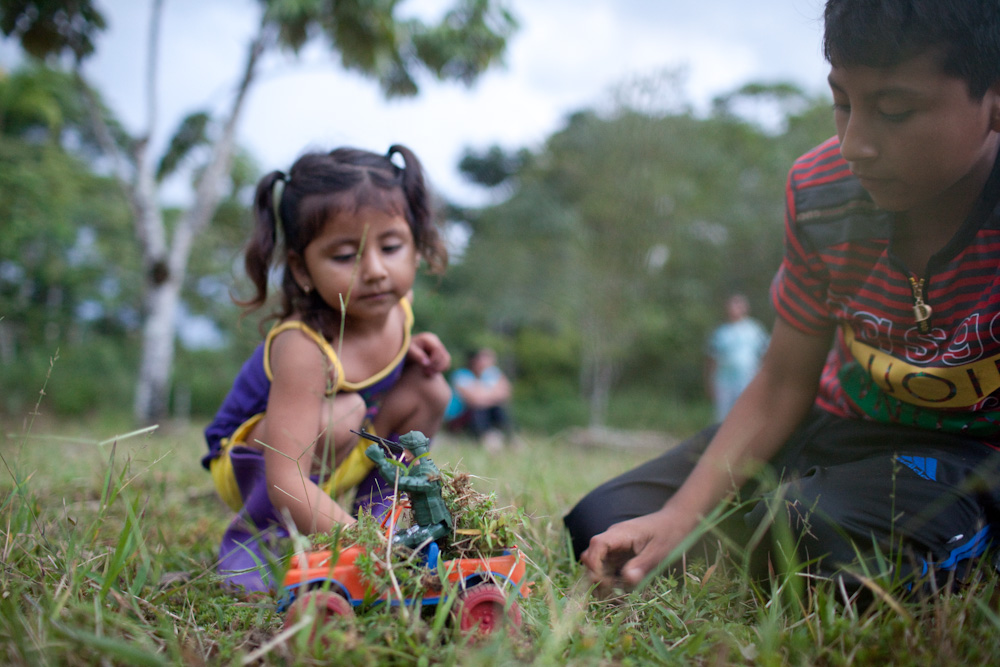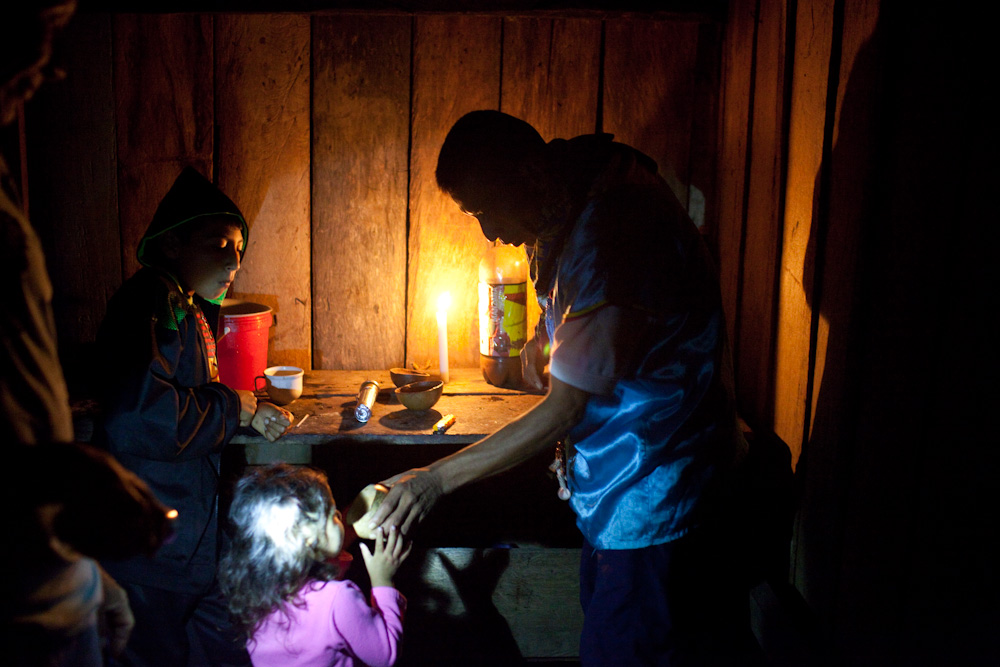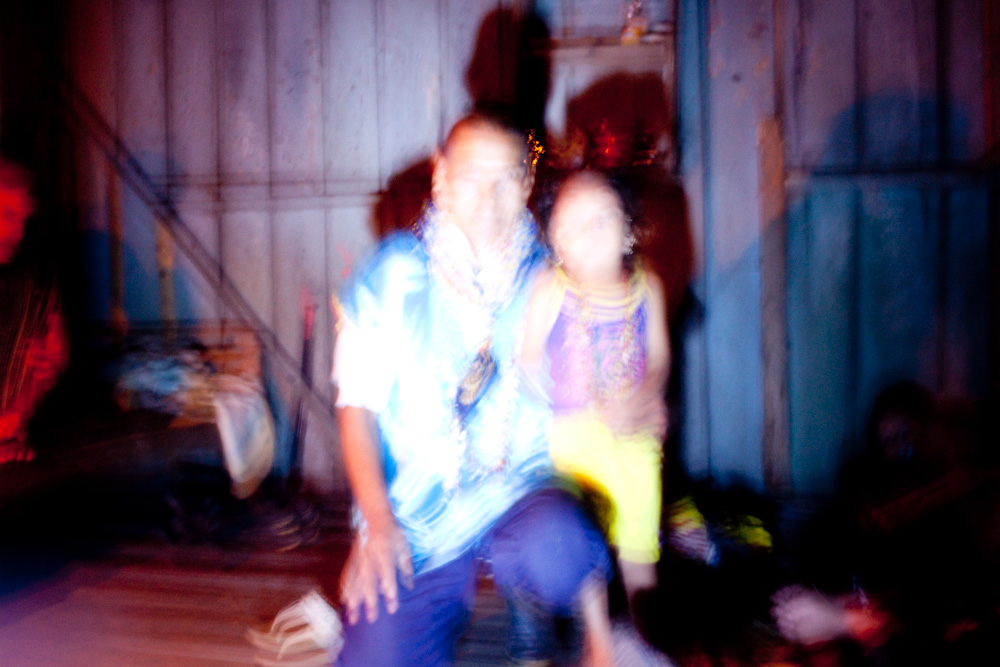 Bernardo zaczął też jako mały chłopak. Opowiada o swojej nauce, jak co pół godziny dolewano im kolejną porcję i musieli pić, mimo, że tracili już przytomność, że doświadczył wielokrotnie śmierci, rozkładu, przemienienia swojego ciała na pył, z którego narodził się potem na nowo.  W czasie rocznego czeladnictwa w głębi lasu, gdzie Taita Querubin ma swoją drugą malokę, Bernardo miał też wielokrotnie okazję spotkać się i rozmawiać z ludźmi yage, przychodzącymi w formie jaguara. Tutaj jest zbyt blisko cywilizacji, mówi, aby się pokazali.
…
Bernardo also began as a young boy. He tells about his learning process, when sometimes in the ceremony their cups were refilled every half an hour, and they had to drink, despite almost loosing consciousness. He experienced on multiple occasions death, decay, turning of his body into dust and then being reborn out of it. During one year long apprenticeship deep inside the forest, where Taita Querubin, his uncle, has second maloca, Bernardo had many chances to meet and talk to yage people, arriving in the form of jaguar. Here it is too close to civilization for them to come, he says.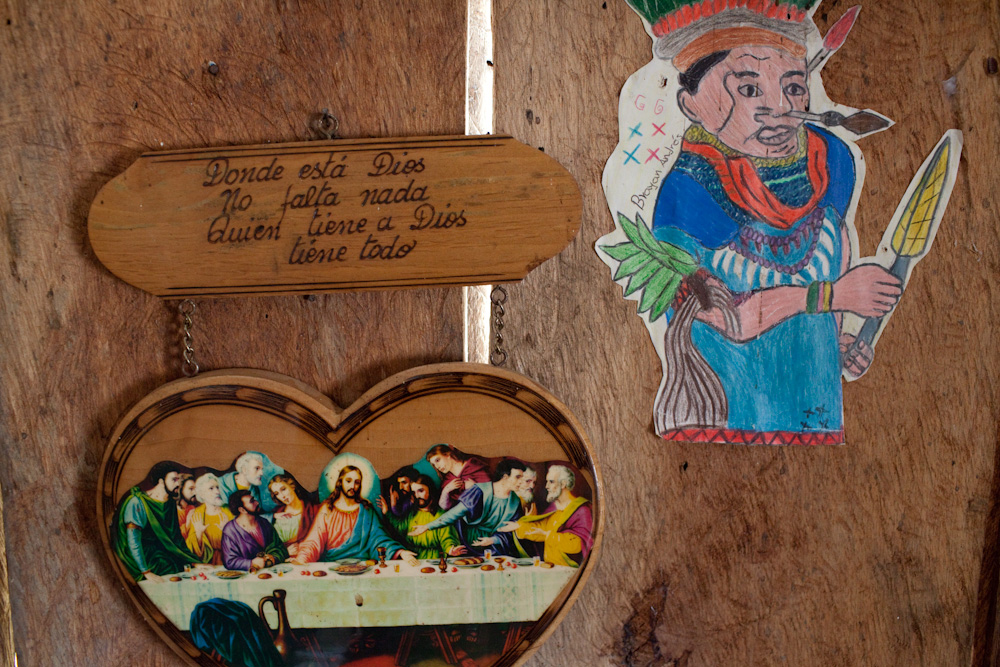 Jeżeli chcecie się spotkać z tymi szamanami, przyjedźcie do Succumbios albo z Puerto Assis albo z Mocoa, poprzez Orito. Można też pisać na Facebooku ( https://www.facebook.com/bernardo.quetacriollo ) albo dzwonić : 3106882063 / 3144563252 . Zapewne poproszą was o 40 tys. peso od osoby za ceremonię.
…
If you to meet these shamans, just come to Succumbios, either from Puerto Assis, or from Mocoa, via Orito. You can also write to them on Facebook  ( https://www.facebook.com/bernardo.quetacriollo ) or call 3106882063 / 3144563252. Most likely you will be charged 40 000 peso per person.