I don't need that much a scientific analysis of how ayahuasca works, endless debates, proofs, when I have a man way above 80 years of age, and instead of passing his time in front of TV or on his porch, he is as active and full of energy as Don Agustin. There are many more such old men and women involved with medicinal plants and their bodies and minds are best testimony to the power of plants.
…
Nie jest mi tak bardzo potrzebna już naukowa analiza tego, jak działa ayahuaska, niekończące się debaty, dowody, kiedy mam starca grubo po 80tce, który zamiast gnić na ganku wiejskiego domu czy przed telewizorem, tryska energią i życiem tak jak Don Agustin. Wielu takich starszych panów i pań spotkałem, zajmujących się i regularnie konsumujących medyczne dary dżungli, i zarówno ich ciała jak i umysły są najlepszym świadectwem potęgi roślin.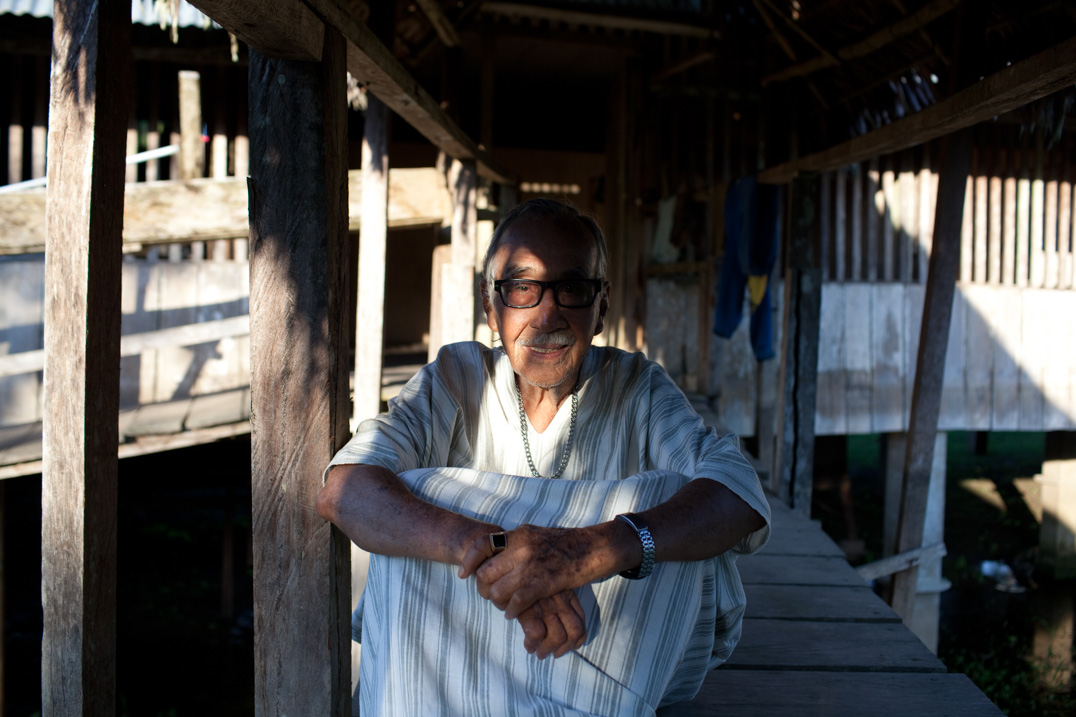 Niestety dupa ze mnie a nie reporter i kiedy teraz, parę miesięcy po fakcie spoglądam w swoje notatki ze spotkania z Don Agustinem jestem zmuszony przyznać, że ich w zasadzie nie ma. Poza namiarami i cenami nie spisałem w zasadzie nic, więc teraz skazany na pamięć, sztukowaną ogólnikami i zrzynką ze strony jaką mojemu gospodarzowi i jego partnerce sklecili ich niemieccy fani i kontrahenci. Don Agustin pracuje bowiem z grupami, zwykle grupami z Niemiec, dokąd wcześniej jeździł zanim gebelsy w mundurach nie przechwyciły mu ayahuaski. W związku z tym jego ceny są raczej wygórowane – dzień pobytu w jednym z jego ośrodków ( albo sfotografowanym tu domu położonym na brzegu Amazonki, albo posiadłości w głębi lądu, niedaleko Tamshiyacu, godzinę drogi od Iquitos ) kosztuje 120 dolarów od osoby, zaś 100 dolarów pod opieką jego partnerki, Marleny Soto Ramirez.
…
Unfortunately I am just stoner vagabond not a proper journalist, so now, a few months after, when I look for my notes from meeting with Don Agustin, I realize they hardly exist. Apart from contact details and prices I did not write down much, so now I am forced to rely on my memory, supported by some stuff I will be able to nick off the site German ( yeah, thank God for Germans ) fans of my host designed. Don Agustin works a lot with the Germans, usually German groups visiting him, before he used to travel there himself, before the uniformed blokes with no sense of humor arrested his ayahuasca. Therefore his prices are rather steep – one day at one of his centres ( either the house presented here, standing on the bank of Amazon river, or the estate inland, near Tamshiyacu, an hour away from Iquitos ) costs 120 USD per person, and when his partner Marlene Soto Raimirez is the main shaman – 100 USD.
Odwiedziny są możliwe tylko jeżeli są wolne miejsca. Najlepiej skontaktować się bezpośrednio i zapytać, przedstawiając swoją motywację, można także ponegocjować ceny w wypadku dłuższego pobytu. Don Agustin ma dobrą reputację w regionie, także jeśli chodzi o leczenie trudnych przypadków, chociaż sam przyznaje, nie należy liczyć na cuda w jednej sesji, ale dobrze poświęcić jest więcej czasu. Poza ayahuaską para oferuje długotrwałe kuracje wieloma rodzajami wywarów, ziół, kąpieli, szczegóły można znaleźć na niżej zalinkowanej stronie ( po niemiecku )
…
Visit is only possible when there are free spots, and not too big crowd already. The best thing to do is write and ask, presenting your reasons, perhaps also negotiating prices in case of longer stay. Don Agustin has a good reputation in the region, also about treating difficult cases, however, as he admits, one should not count for miracles in one session, rather prepare oneself for more time and work. Besides serving ayahuasca, the couple offers long term treatments with various medicinal herbs and brews, baths etc, details can be found on the page linked below ( in German )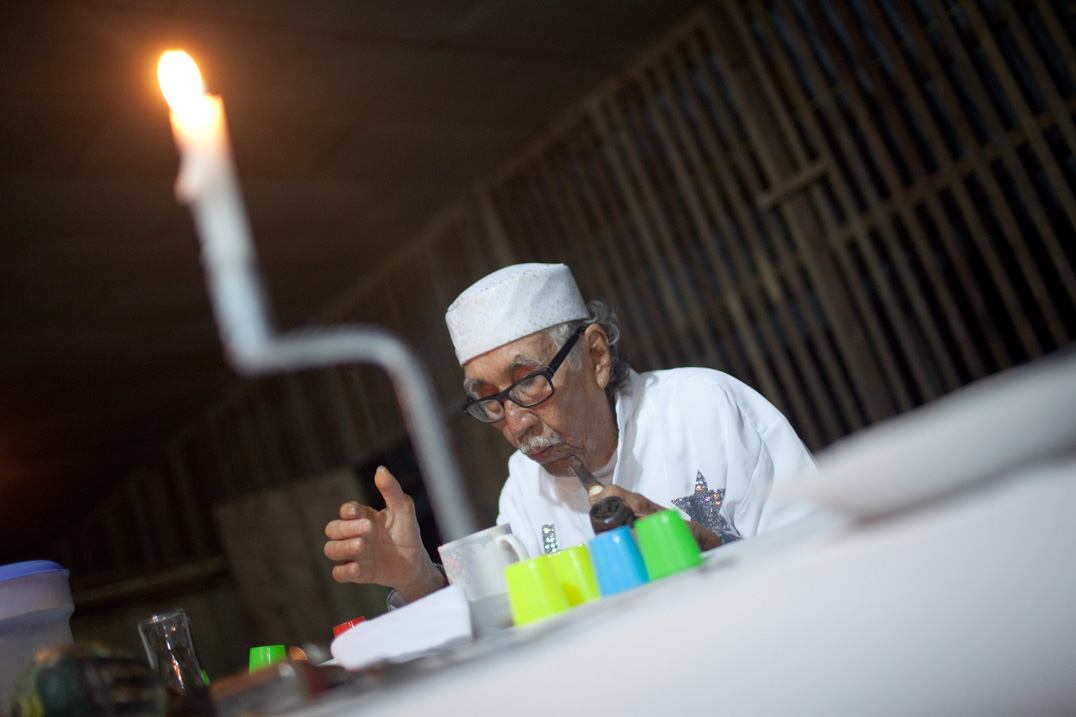 Być może nie jest to przypadek że nic nie zanotowałem, najwyraźniej nie poruszyło mną nic aż tak bardzo. Było miło, bardzo poprawnie, były wizje, były bardzo ciekawe icaros, nie mam nic do zarzucenia. Być może jedynie początek sesji był uciążliwy ze względu na nadmiar legnących się tu nad brzegiem rzeki komarów i z tego powodu techniczna porada jest taka by nalegać na późniejszy start, gdzieś około 20:00, kiedy te cholerstwa już się uspokoją. Mowa tutaj o domu na brzegu Amazonki, ośrodek położony w głębi dżungli tego problemu nie ma. Jak twierdzi don Agustin, w wypadku dłuższych, na przykład dwutygodniowych turnusów, goście spędzają część czasu po jednej, część po drugiej stronie rzeki. Czasem ceremonie odbywają się też na należącym do niego katamaranie, zacumowanym na środku nurtu, z dala od brzegów a zatem i wszelkich insektów. W dzień goście, zwłaszcza panie, mają nieraz okazje pływać w Amazonce razem z licznie podpływającymi do katamarana przyjaznymi różowymi delfinami. Piszę panie, bo jest ponoć dziwne erotyczne napięcie między nimi a samcami delfinów.
W tym wypadku piliśmy w bardzo małym gronie, sąsiedzi jacy mieli wpaść ostatecznie nie dopłynęli, więc koło 19:00 ruszyliśmy z akcją, ja, don Agustin, Marlene no i wnuczek don Agustina.
…
Perhaps this is no surprise that I wrote down so little, apparently nothing moved me strong enough. The session was nice, very correct, there were visions, good music, very interesting icaros, I have nothing to complain about. Only the beginning of the night was hard due to multitude of mosquitoes breeding in nearby riverside swamp, so because of this a technical advice – do insist on starting later, around 8 PM, when the bastards are gone to sleep.  I am speaking here only about the house on the bank of Amazon, the estate inland has no such problem. As Don Agustin claims, in case of longer stays, for example two weeks long, his guests stay half of the time on one bank of the river, second half on another. Sometimes night ceremonies are also held on his catamaran, anchored in the middle of Amazon, far away from the shores and so from all the creepy-crawly stuff. In the day guests, especially ladies, have a chance to swim there with friendly pink dolphins, which love to visit humans. I am writing "ladies", because there is often a strange erotic tension between them and male dolphins.
That particular night we drank in very small company. Neighbours announced before finally had not arrived so around 7 PM we set off into the unconscious, me, Don Agustin, Marlene and the shaman's grandson.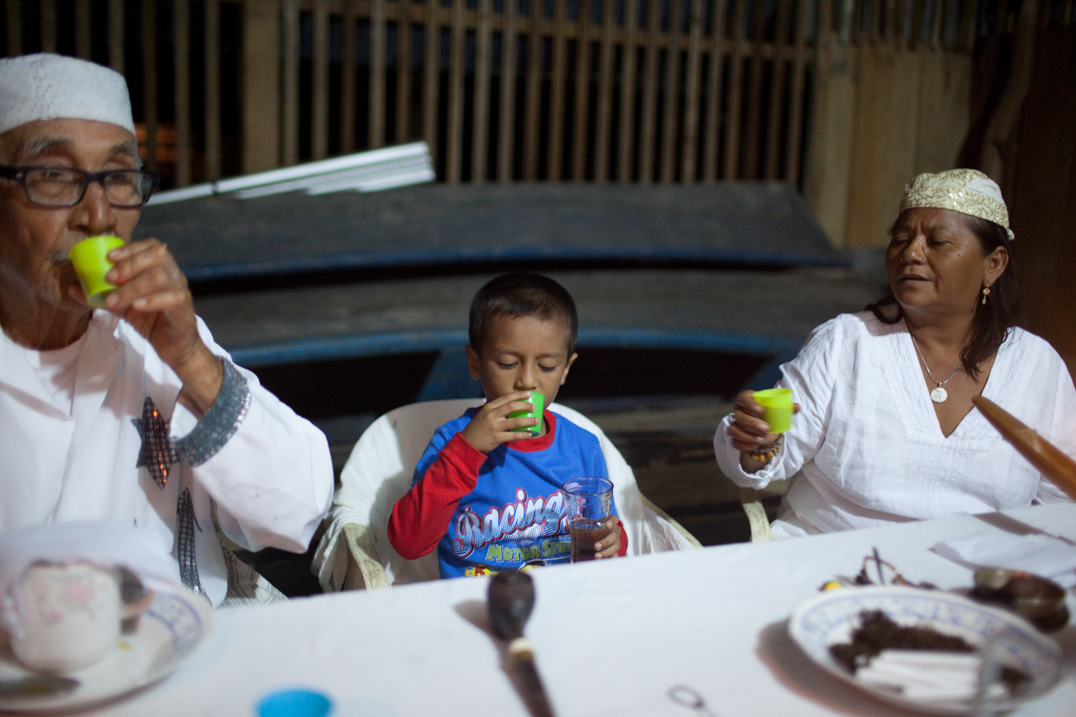 Ceremonia była fajna ze względu na stronę muzyczną, duży, naprawdę zróżnicowany repertuar icaros jakie w trakcie długich lat swej kariery zgromadził don Agustin ( będący między innymi nauczycielem przedstawianego tu wcześniej Rona Wheelocka ), jak i tych inicjowanych przez Marlene, dużo improwizacji, ciekawych i rzadko w rejonie spotykanych technik czy instrumentów, takich jak poniższy łuk paszczowy.  Lekka, windująca do góry medycyna, zero wybojów i mroku, tak być może najlepiej opisać mogę tą noc, niekoniecznie zmieniające życie doświadczenie, ale na pewno terapeutyczna i przyjemna sesja.
…
The ceremony was cool because of music, very diverse repertoire of icaros, gathered over the long years of Don Agustin's career ( among other experiences, he used to be a teacher of featured here previously gringo ayahuasquero Ron Wheelock ), as well as the songs initiated by Marlene, a lot of improvisations, interesting and rare in the region techniques and instruments such as photographed below mouthbow. Light, heaven bound medicine, zero troubles and dark stuff, perhaps that is how I can best describe that night. Not necessarily life changing experience, but for sure decent therapeutic and pleasant session.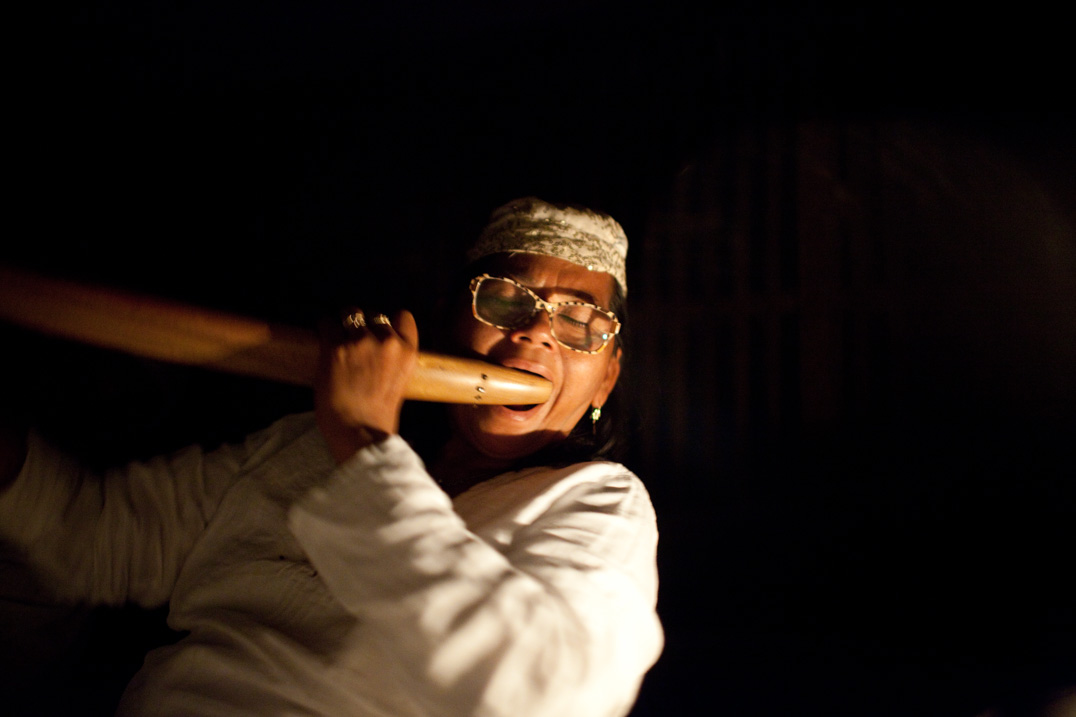 Don Agustin and Marlene live in Tamshiyacu. There are two slow boats a day from Belen port, costing a few soles and many speedboats at 20 soles per person, leaving from Iquitos on the Amazon river, so Tamshiyacu is pretty accessible, and at the same much quieter area than the capital of Loreto. Because of his schedule it is best to ask in advance and hope for free spot. The ways to contact are either through German intermediary who runs this page : http://charapamama.jimdo.com/ , or directly : Marlene : marlenesotor@hotmail.com, phone (065) 264173, FB : https://www.facebook.com/marlene.sotoramirez.7 , Agustin : teterivas@gmail.com , agusrivas.vargas@gmail.com
…
Don Agustin i jego partnerka żyją w Tamshiyacu. Można tam dotrzeć albo za pare soli na jednej z dwóch wolnych łodzi wyruszających codziennie z portu w Belen, albo za 20 soli na licznych, aż do popołudnia motorówkach z Iquitos, pędzących Amazonką, więc jest to rejon zarazem dość łatwo dostępny, ale i dużo spokojniejszy niż stolica regionu Loreto. Ponieważ Don Agustin jest dość zajęty, najlepiej rezerwować z wyprzedzeniem. Można się kontaktować albo z niemieckim pośrednikiem, prowadzącym stronę http://charapamama.jimdo.com/ albo bezpośrednio z Marlene : marlenesotor@hotmail.com, tel (065) 264173, FB : https://www.facebook.com/marlene.sotoramirez.7  lub Agustinem : teterivas@gmail.com , agusrivas.vargas@gmail.com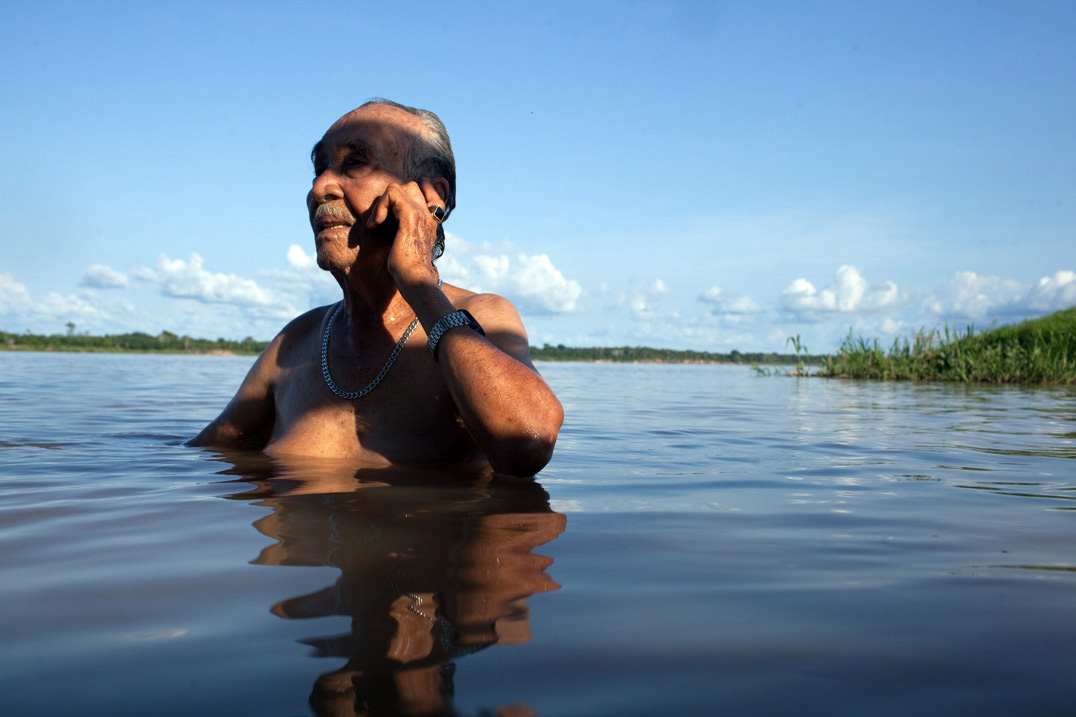 I would recommend experience with Don Agustin and his partner to older, wealthier people, preferring calm, comfort and predictability over strong experience and adventure. Marlene also specializes in female issues and works a lot with women groups. You may like this healing centre on the river, I move onwards however, right after coffee, to the other bank for some experiments.
…
Poleciłbym doświadczenie w tym miejscu starszym, zamożniejszym osobom, które preferują spokój, komfort i przewidywalność od mocnych wrażeń i przygód. Marlene specjalizuje się w kobiecych problemach i dużo z kobiecymi grupami pracuje. Może wam się spodobać w tym rustykalnym kurorcie nad rzeką, ja jednak, tuż po kawie ruszam stąd na drugą stronę, na ciekawe eksperymenty.