The further you want to go, the stronger should be the rope anchoring you in your foundations. These foundations are daily life, being in the world, which is testimony for the the thing you claim to be medicine. If you loose the grip on reality, you loose ability to check what is happening to you in relation to the world, you may commit the sacrilege towards what you say you love – because for those who only wait for you to fall, you will be best example of the joke these claims to healings are. When you strive to open your third eye, be careful that light you seek does not blind you, because the trick is to know maya, and to embrace it, not deny, with eyes fixed on seeing the invisible. Love dunya, praise the world.
…
Im dalej chcesz podróżować, tym silniejsza powinna być lina kotwicząca cię w twych fundamentach. Są nimi codzienne życie, bycie w świecie, które stanowi świadectwo na rzecz tego, co, jak twierdzisz, jest medycyną. Jeżeli tracisz kontakt z rzeczywistością, tracisz zdolność zweryfikowania tego co dzieje się na styku ciebie i świata, możesz popełnić wówczas świętokradztwo, wobec tego co rzekomo kochasz i szanujesz. Bo dla tych, którzy tylko czekają byś upadł, będziesz najlepszym przykładem dowcipu, jakim jest to rzekome leczenie. Kiedy więc napinasz się by otworzyć trzecie oko, uważaj by światło, jakiego szukasz nie oślepiło cię, bo cały trick to rozpoznać mayę, i ją zaakceptować, nie wypierać, z oczami wypatrującymi czegoś poza. Kochaj dunye, sław świat.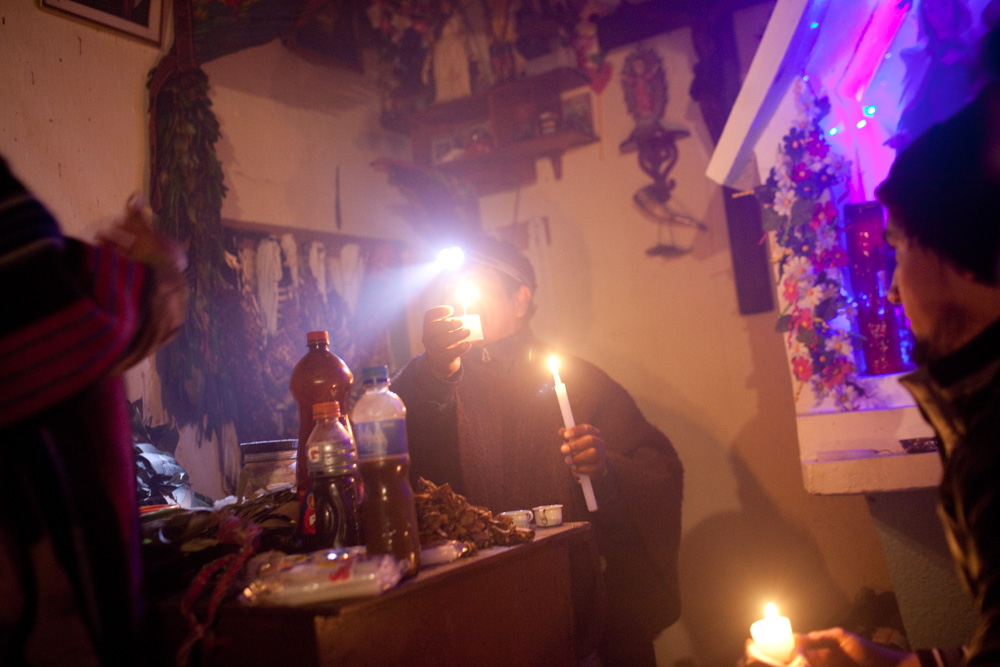 Being ungrounded is in my opinion the most common threat from indiscriminate, chaotic psychedelic use. Illusions of grandeur or contrary, fear and paranoia, conspiracy theories, make believe new age spirituality, fantasies about talking with plant spirits while avoiding engaging with personal issues or own family, all this is common among ever increasing numbers of those, who in the age of internet got used to conviction that all opinions and truths are equal, that all being one means = whatever. If there was nothing they considered of value in their life before, it is very quick and common process to proceed from the experience of "awakening", to ego inflation, to missionary attitudes, to Don Quixote fighting reptilians, chemtrails, and in the process making fool of himself. In this chapter he will wear Shipibo shirt and Indian feather crown, but he is still a guide in what to be watching out for.
Traditional shamans don't lose their head in clouds, and to do so they engage in real life, have normal activities, often get dirty. Be like them, instead of dealing with reptilians, maybe learn to milk a cow?
I may cherish my own taste and the fact I am not wearing Indian feather crown and chasing exotic gurus, but I would not be honest – and perhaps wouldn't dare to preach the words above if I were not myself – at times at least – the guy in Shipibo shirt who does not have a clue how to milk a cow.
…
Brak ukorzenienia to w mojej opinii najczęstsze zagrożenie płynące z niekontrolowanego, chaotycznego używania psychodelików, nawet jeśli dzieje się to pod szyldem ceremonii, w oparach palo santo i dźwiękach mantr. Iluzje wielkości, zwłaszcza na początku częsta ekstaza i fanatyzm neofitów, albo na odwrót, strach i paranoja, teorie spiskowe, patchworkowa duchowość new age, fantazje na temat duchów roślin, przy jednoczesnym unikaniu konfrontacji z osobistymi problemami, z rodziną z krwi, to wszystko jest powszechne w coraz większych szeregach tych, którzy w epoce Internetu przyzwyczaili się do przekonania, że wszystkie prawdy i opinie są równowarte, że skoro wszystko jest jednością – to znaczy wszystko jedno. Jeżeli w ich życiach nie było wcześniej nic co uznawali za wartościowe, to szybki i dość powszechny bywa proces, gdy z doświadczenia "przebudzenia" przechodzą do inflacji ego, podstaw misjonarskich, do Don Kiszota walczącego z reptilianami, chemtrailsami i w ramach tego procesu, do zwyczajnej farsy. W tej odsłonie błazen nosi etniczne koce i pióropusz, ale dalej jest drogowskazem jaki mówi – uważaj by nie iść tą drogą. Alejandro Jodorowski napisał, że jego zdaniem ayahuaska we współczesnym świecie w dużej mierze trafiła do ludzi o romantyczno- infantylnej mentalności. Nie pozwólmy by mówił o nas.
Tradycyjni szamani nie tracą głowy w chmurach, uczestniczą w prawdziwym życiu, normalnych czynnościach, czasem uwaleni błotem i potem. Bądź jak oni, zamiast walczyć z reptilianami, może naucz się doić krowę?
Mogę cenić sobie własne poczucie smaku, które powstrzymuje mnie przed zakładaniem indiańskiego pióropusza i gonieniem za egzotycznymi guru, ale nie byłbym uczciwy – zapewne nie miałbym odwagi wygłaszać powyższych kazań – gdyby nie to, że to ja jestem – przynajmniej czasami – tym gościem w koszuli Shipibo, który nie ma pojęcia jak wydoić krowę.