Kalash valleys are situated very near the border of Afghanistan. Just a few mountain passes separate them from notorious province of Nuristan, full of Taliban who occasionally venture into Pakistan, and in very recent past attacked Chitral scouts, or even manage to kidnap a Greek NGO worker, based for long time in Bumborate. Because of that, Pakistani authorities decided it is compulsory for foreign visitors to be accompanied by policemen, first one, and now two , even with a single traveller. It doesn't matter that often, as in my case, these are just young boys with guns, that I could easily wrestle from them, so I don't even want to think how could they resist hardened Afghan warriors. What bothers me most however, and local Kalasha population as well, is that they need to sleep and eat, and they move around the village like nosy intruders, in full uniform, following me wherever I go. Their expenses were supposed to be covered , as I was assured in police station in Chitral, and of course , here they are, eating from my food, and demanding room , so it is either me who is going to pay, or the guesthouse owners, lovely people, who had just 5 tourists in last half a year, so I can't really allow this. But what is worst, they will go where I go. Locals know it is not my choice, but how can I socialize with them, enter their kitchen, have relaxed time , take photos,  with uniforms and automatic guns in the background. OK, here is the plan. First I will shoot my "holidays with the police".
***
Doliny zamieszkałe przez Kalaszy położone są tuż przy afgańskiej granicy. Tylko kilka przełęczy dzieli je od Nuristanu pełnego talibów, którzy czasem wyprawiają się do Pakistanu, całkiem niedawno zaatakowali pakistańską armię, a wcześniej porwali i kilka miesięcy więzili greckiego przyjaciela Kalaszy mieszkającego w Bumboret. Z tego powodu władze zdecydowały że dla zagranicznych gości odwiedzających doliny obowiązkowe jest towarzystwo najpierw jednego a teraz już dwóch policjantów, nawet dla samotnego podróżnika. Nie znaczenia , że często, jak w moim wypadku, to młodzi goście ze spluwami, które łatwo bym im mógł zabrać, nie chcę więc nawet myśleć jak długo byliby w stanie stawiac opór doświadczonym afgańskich wojownikom. Co mnie niepokoi bardziej, jak i mieszkańców doliny, że muszą oni gdzieś spać i coś jeść, i kręcą się po wiosce jak wścibscy szpiedzy władzy. Nikt nie lubi jak policjant patrzy mu w garnek. Ich wydatki miały byc pokryte przez państwo, jak zapewniano mnie na komendzie w Chitral, tymczasem bez pytania o zgodę dosiadają się do mojego stołu, za oczywiste uznają też że mam opłacic ich pokój.  Moi gospodarze to biedni ludzie, przez ostatnie pół roku mieli zaledwie pięciu gości, więc cała ta akcja stawia mnie w niezręcznej sytuacji. Ale najgorsze jest to że wszędzie za mną chodzą. Mimo że wioska wie że to nie mój wybór, jak mam wejść w jakieś normalne relacje z mieszkańcami, pić herbatkę w ich kuchni, robić zdjęcia, kiedy nad głową stoją nam panowie w mundurach i z kałaszami. Trzeba wymyslić plan. Na początek sesja pod tytułem "wakacje z policją".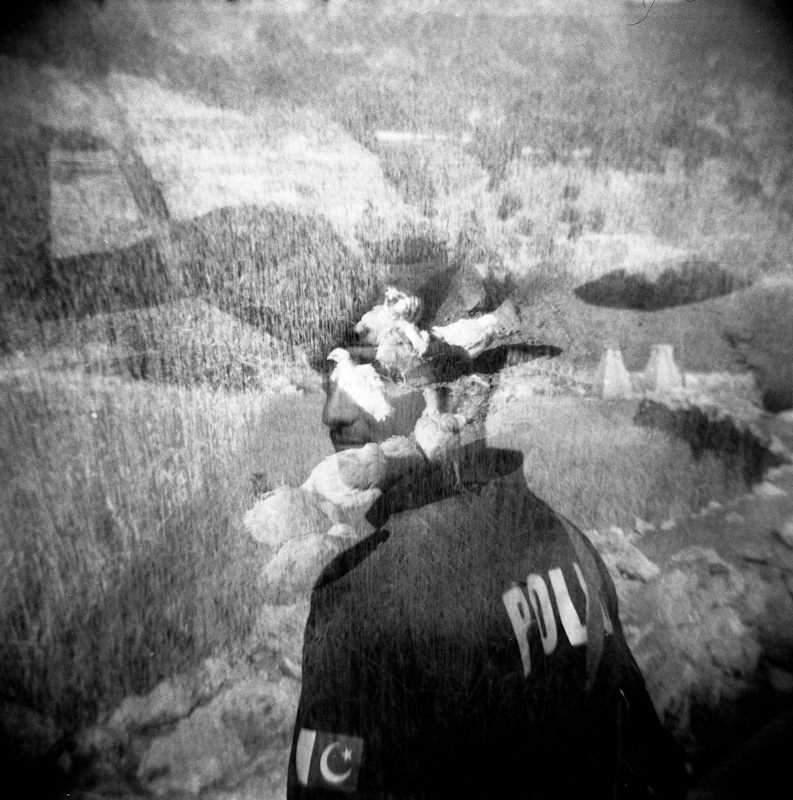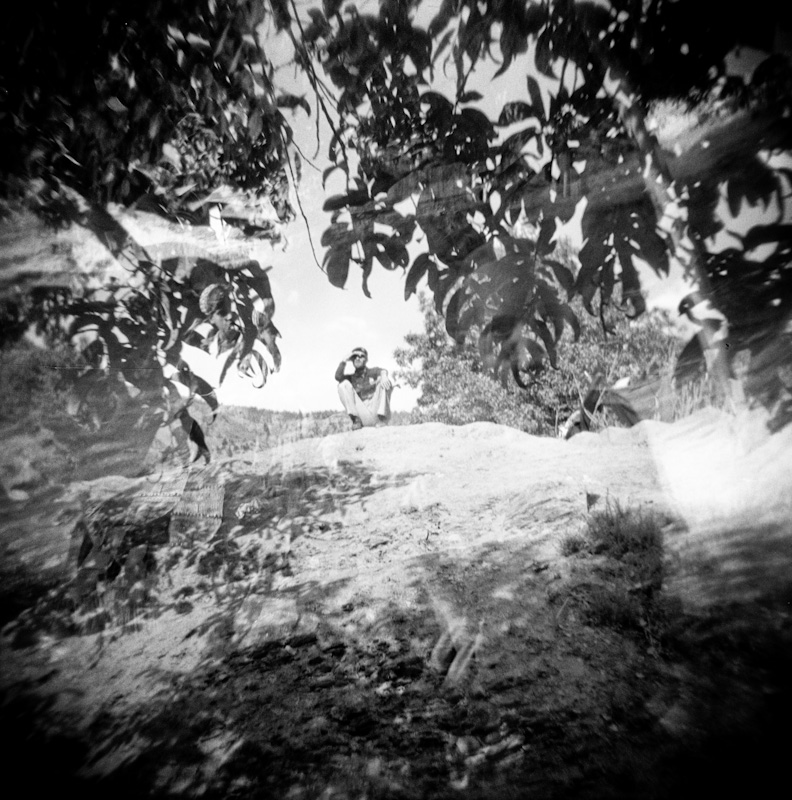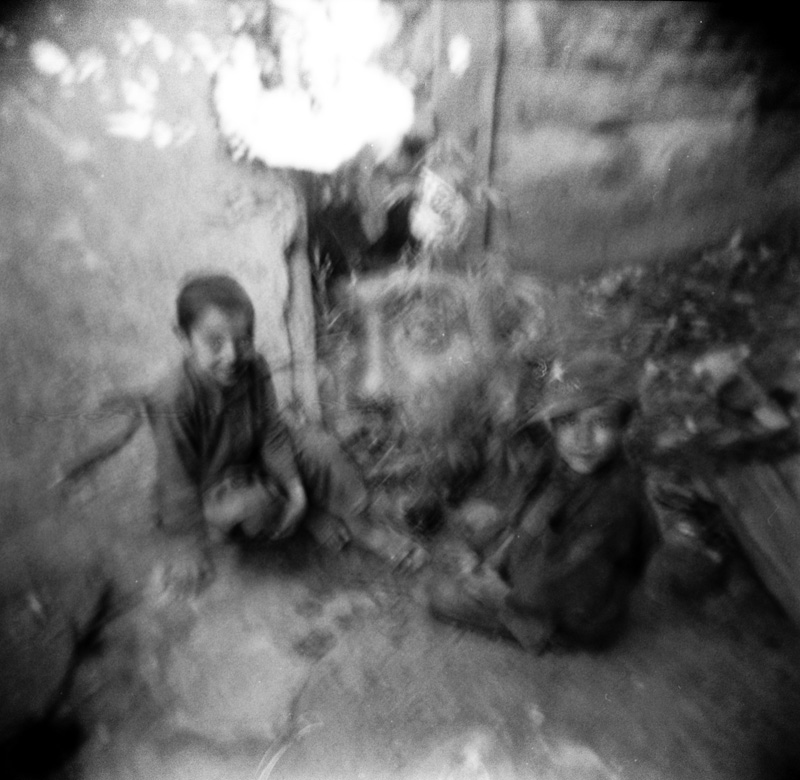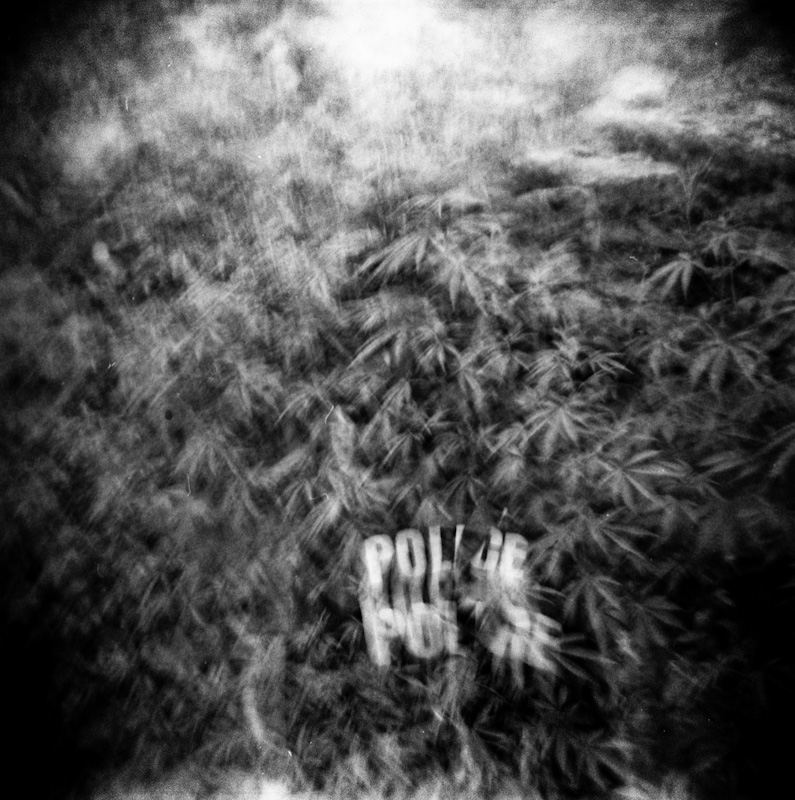 Now, when I ve had enough of them it is time for next step. They are staying on the terrace of my guesthouse , or in the street outside, waiting for time whenever I leave to walk around the valley. But there is back door, to the river and along the bank, into the village, avoiding main street. So I run and head straight into higher areas of the valley, where narrow paths and steep slopes slow down the search party. I follow paths through the fields, greet surprised Kalasha, shoot pictures, enjoy the morning alone. Soon everyone knows I am on the run. There is army in the village, there is police. I know it is short time game but I enjoy this.
***
Teraz, kiedy mam już dość, czas na kolejny krok. Wiekszość czasu spędzają na tarasie mojego schroniska, albo na uliczce przed nim, czekając aż będę wybierać się na spacer po wiosce. Na szczęście jest też tylne wyjście, da się wymknąć w strone rzeki i dalej wzdłuż jej brzegu w głąb wioski, omijając główną drogę. Biegnę więc i ruszam od razu w wyższe partie doliny, gdzie wąskie ścieżki i strome zbocza utrudniają pościg. Kluczę między polami, pozdrawiam zaskoczonych mieszkańców, robię zdjęcia, cieszę się porankiem bez niepożądanego towarzystwa. Wkrótce wszyscy już wiedzą że jestem zbiegiem, i śmieją się z policji. Ja wiem że to nie potrwa długo, szuka mnie kilkunastu funkcjonariuszy, w wiosce jest też armia, ale zabawa jeszcze chwilę potrwa.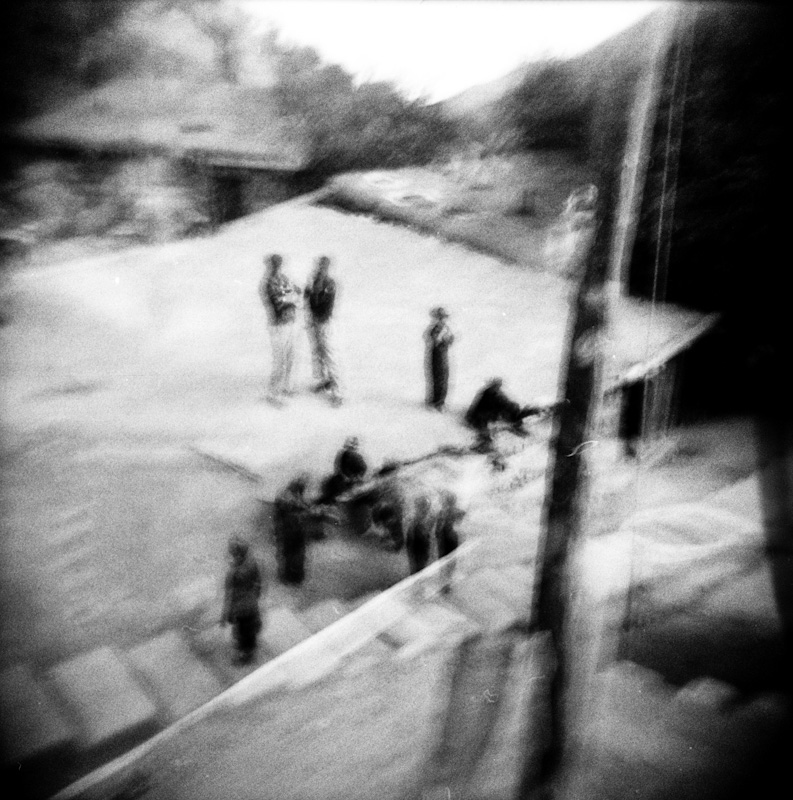 Finally I come back to the main road and meet police commander and several others, walking towards them as if nothing happened. Cool down your temper brother, no Taliban here, all well. They are furious but they finally understand I meant this when I said I don't want "escort". So after the storm is over the boys with guns stay in guesthouse and I get plain clothed local Kalasha volunteer police, unlike the outsiders from Chitral he knows everyone here , speaks the language and knows who has hash. His misfit friend tags along, and here we are , party of three, checking out how grass grows.
***
Wreszcie wracam na główną drogę i spokojnym krokiem zbliżam się do grupki panów oficerów, jest nawet komendant, wyglądam jak gdybym nie wiedział o co im chodzi. Uspokójcie się, chłopaki, nie ma przecież tu żadnych talibów, nic się nie stało. Są wściekli ale zrozumieli w końcu, że mówiłem serio iż nie chcę "ochrony". Za jakiś czas burza cichnie i dostaję lokalnego policjanta w cywilnych ciuchach, w przeciwieństwie do chłopaków z Chitral jest Kalaszem, zna tu wszystkich, połowa tubylców to jego rodzina, zna język i wie kto ma haszysz. Wędrujemy więc po domach, dołącza się jeszcze jeden kolega, i w trójkę sprawdzamy co w krzakach piszczy.