The testimonies of patients of Takiwasi, a center based in Tarapoto, Peru, using ayahuasca and psychotherapeutic techniques to break substance addiction.
…
Relacje pacjentów Takiwasi, ośrodka znajdującego się w Tarapoto, Peru, gdzie ayahuasca w połączeniu z technikami psychoterapeutycznymi jest stosowana w leczeniu uzależnień.
Maximiliano ( Chile ) :
My reasons for seeking treatment is excessive consumption of alcohol, addiction to cocaine and other drugs. I have tried so far many ways of breaking these addictions, but ayahuasca in the ritual context of Takiwasi center was a breaktrough like none before.
There was a tradition of using plants for healing within my family, so I was open to this concept, I have tried mushrooms before or peyote in a ritual in Mexico, and although they had some positive impact, they did not result with the same changes as ayahuasca. I drank it first time here, and from the first experience it was magical encounter, full of spiritual meaning. I connected to my infancy, to my ancestors, to something very ancient about myself and nature. I felt that my problems had a lot to do with lack of roots, they were connected with story of migrations of my family. Drinking aya has shown me whom I really was. I believe that human being is nature – we are part of it. This is why the plants can reveal the truth about ourselves, this fundamental, primordial reality. Drugs I used before or pharmaceuticals were never able to do that, or actually they obscured it even more.
…
Powody, dla których poszukiwałem terapii to nadmierna konsumpcja alkoholu i uzależnienie od kokainy i innych narkotyków. Próbowałem wcześniej tak wielu różnych sposobów przełamania tych uzależnień, ale ayahuasca, w zrytualizowanym kontekście centrum Takiwasi była przełomem, jak żaden wcześniej.
Była obecna w mojej rodzinie tradycja używania roślin w celach leczniczych, więc byłem na to otwarty, próbowałem wcześniej grzybów czy peyotlu w rytuale w Meksyku, ale chociaż miały one pewny pozytywny wpływ, nie zaowocowały takimi samymi przemianami jak ayahuasca. Wypiłem ją po raz pierwszy tutaj, i od pierwszego doświadczenia było to magiczne spotkanie, pełne duchowego znaczenia. Połączyłem się z moim dzieciństwem, z moimi przodkami, z czymś bardzo starym w sobie, w swojej naturze. Poczułem, iż moje problemy były mocno związane z brakiem korzeni, były połączone z migracjami mojej rodziny. Użycie ayahuaski pokazało mi, kim naprawdę jestem. Uważam, że ludzie są naturą – jej częścią. Dlatego rośliny mogą pokazać nam prawdę o nas samych, tą pierwotną, fundamentalną rzeczywistość. Narkotyki jakie używałem wcześniej, czy farmaceutyki nie były w stanie tego zrobić, a nawet utrudniały to jeszcze bardziej.
…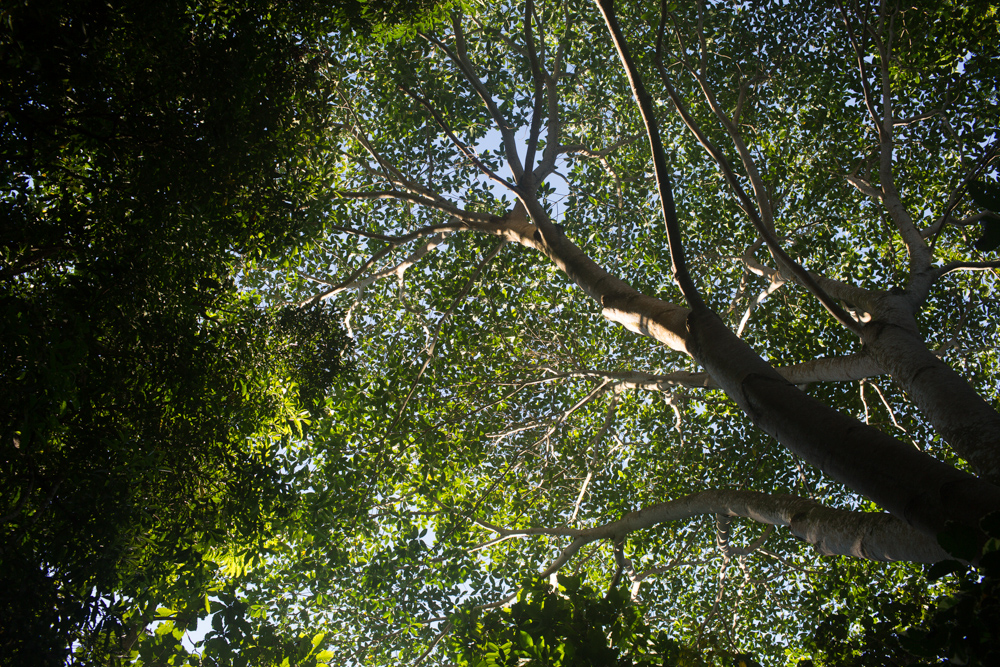 David ( Iquitos, Peru ) :
I am an mechanic, who abandoned his beginning career because I was not interested in anything but drugs, I became addict of pasta ( very toxic and addictive by-product of cocaine production ).
What ayahuasca, this spectacular, incredible experience did to me, as to teach to me to think and most of all feel, feel this sensation of sadness that was in me, those nasty things that were done to me, I was not trying to numb this anymore. Then I started to feel love again, to feel the joy of being alive, the need to be in the moment, and what is most important, that stays with me, these are not just temporary feelings in the time of use, but something permanent.
…
Jestem z wykształcenia mechanikiem, ale porzuciłem swoją karierę ponieważ nie byłem zainteresowany niczym innym jak narkotykami, uzależniłem się od pasty ( bardzo toksyczny i uzależniający produkt uboczny przy wytwarzaniu kokainy ).
Doświadczenie ayahuaski, naprawdę spektakularne, niesamowite, nauczyło mnie myślenia, a przede wszystkim czucia, zwłaszcza emocji smutku, która była we mnie, tych strasznych rzeczy jakie mi zrobiono, nie próbowałem już dłużej ich stłumiać. Potem zacząłem czuć ponownie miłość, radość z życia, potrzebę bycia w chwili, i co najważniejsze, to pozostaje ze mną, to nie tylko tymczasowe wrażenia po zażyciu, ale coś trwałego.
…
Billy ( 21, Cajamarca, Peru )
I am very young but already I was deep into troubles with drugs. What I saw in my ayahuasca visions was that If I continue this, I will end very badly, in prison or death. I decided then that I wanted to be free and to start to heal. I saw the drugs as a vision of countless snakes and spiders covering my heart. The ayahuasca can not be considered as drug – they all left me weaker, despite temporary enchantment,  I ended up worse after taking them, and I did not know who I was. With ayahuasca it is opposite. It heals very deep and I have great respect for it.
…
Jestem bardzo młody, ale zdążyłem już popaść w poważne problemy z narkotykami. To, co ujrzałem w swoich wizjach, było jednoznaczne, jeżeli będę dalej używał tych środków, skończę bardzo źle, więzieniem lub śmiercią.  Zdecydowałem wtedy, że chcę być wolnym i zacząć swój proces leczenia. Zobaczyłem narkotyki jako niezliczone węże i pająki pokrywające moje serce. Ayahuaski nie można postrzegać jako narkotyku. One czyniły mnie słabszym, pomimo chwilowego oczarowania, mój stan pogarszał się w miare ich stosowania i nie wiedziałem kim jestem. W wypadku ayahuaski jest odwrotnie. Leczy na bardzo głębokim poziomie, i mam dla niej wielki szacunek.
…
Santiago ( 31, Spain )
I have been a heavy user of many drugs, crack, cocaine, cannabis, whatever. I tried various modes of treatment before, including two long term stays in centers in Spain, full year, but without any success. Then I was able to experience ayahuasca for the first time in my home country, which brought certain effect, especially in affecting my conscience. I started hearing about this center operating in Peru, found out more and finally ended up here. In the whole context of ritualistic use in Takiwasi, in combination with icaros and whole healers work I was able to see ayahuasca as truly healing plant. I could not compare it to drugs I had used in the past, despite modifying consciousness it brings actual healing, there are also many physical sensations that there are not pleasant, it is used in certain context, and above all – with deliberately chosen intention.
…
Byłem poważnie uzależniony od rozmaitych narkotyków, między innymi kracku, kokainy, marihuany. Próbowałem wielu dróg terapii, w tym dwóch rocznych pobytów w ośrodkach odwykowych w Hiszpanii, i nic nie przynosiło rezultatów. W końcu trafiłem na ayahuaskę w moim rodzinnym kraju, i zauważalna była pewna zmiana, zwłaszcza jeśli chodzi o moją zwiększoną świadomość. Potem zaczęły dochodzić do mnie informacje o ośrodku działającym w Peru, dowiedziałem się więcej i w końcu wylądowałem tutaj. W ciągu 5 miesięcy mojego pobytu i jedenastu ceremonii, w całym kontekście rytualistycznego użycia, w połączeniu z icaros i pracą uzdrowicieli, mogłem zobaczyć ayahuaskę jako naprawdę leczącą roślinę. Nie chciałbym jej porównywać do narkotyków jakie stosowałem w przeszłości, pomimo modyfikacji świadomości przynosi ona rzeczywiste uzdrowienie, jej użycie wiąże się też z wieloma fizycznymi wrażeniami, które nie są przyjemne, jest też używana w bardzo szczególny sposób, a przede wszystkim – ze starannie wybraną intencją.
…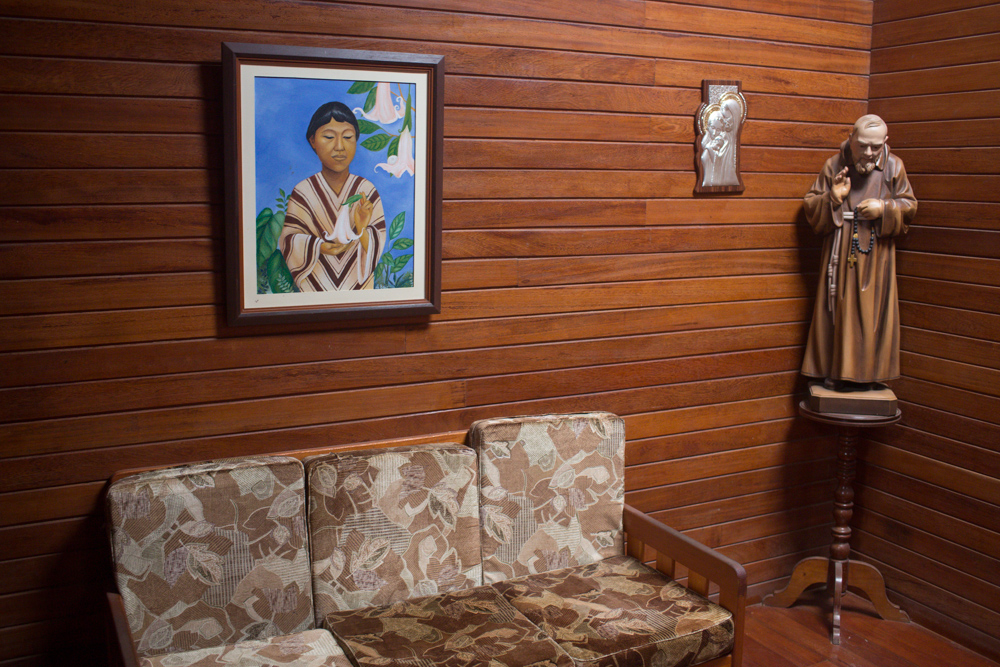 Roman ( 21, Piura, Peru )
I am a student of psychology, and a drug user since I was 14. I started with alcohol and cannabis, and later got into more serious stuff, like cocaine. I am now in my process of healing and ayahuasca helped me a lot. Thanks to it I could see the world in new way, a spiritual way, which means plants, for example, are not just only plants for me, but real beings. I cleaned a lot of bad energies that the drug use accumulated in me. They consume your energy, your psyche, body, they catch you in a trap. Ayahuasca teaches you to be a better person, on level both physical as well as energetic and spiritual. It shows you what is important.
…
Jestem studentem psychologii, i używam narkotyków od 14 roku życia. Zacząłem od alkoholu i konopii, i później zaplątałem się w poważniejsze rzeczy takie jak kokaina. Jestem teraz w trakcie procesu uzdrawiania, i ayahuaska wiele mi w tym pomogła. Dzięki niej byłem w stanie zobaczyć świat w nowy sposób, bardziej duchowy, co oznacza na przykład iż rośliny nie są już dla mnie tylko roślinami, ale istotami o własnym bycie. Oczyściłem wiele złych energii jakie skumulowały się we mnie przez użycie narkotyków. One zżerają twoją energię, twoją duszę, ciało, więżą cię w pułapce. Ayahuasca uczy jak być lepszą osobą, na poziomie zarówno fizycznym jak i energetycznym czy duchowym. Pokazuje co jest naprawdę ważne.
…
Alexandre ( 42, France )
I came here to solve my addiction to marijuana. All my life I felt bad in my body, in my head, and I guess marijuana was a way of numbing this pain. After ayahuasca session I was quickly able to solve my addiction problem, because I could see where it came from. I started to work on issues from my infancy, and ayahuasca made it very clear for me that the root is in the problems with my mother. So I focused on this in my following sessions. Slowly the improvements started to appear, I began to feel more at peace, more accepting. I don't think I will need to come back to smoke marijuana, now that I saw what was the real reason of my use. I am interested in the transformative potential of the plants, and when I leave Takiwasi, I am hoping to go to Iquitos, to do a diet with tobacco.
…
Przyjechałem tutaj by pracować ze swoim uzależnieniem od marihuany. Całe życie czułem się źle, w swoim ciele, w swojej głowie. Wydaje się że marihuana była sposobem stłumienia tego bólu. Po sesji ayahuaski byłem szybko w stanie rozwiązać swój problem uzależnienia, bo mogłem zobaczyć skąd on się wziął. Zacząłem pracować ze sprawami ze swojego dzieciństwa, i ayahuasca bardzo szybko mi wyraźnie pokazała, że korzeni trzeba szukać w mojej relacji z matką. Na tym więc skoncentrowałem się w kolejnych sesjach. Pomału poprawa zaczęła się pojawiać, zacząłem czuć się bardziej spokojny, akceptujący siebie i to co jest. Nie wydaje mi się bym musiał powrócić do palenia marihuany, teraz kiedy już wyraźnie zobaczyłem jaki był jego rzeczywisty powód. Jestem bardzo zainteresowany transformującym potencjałem roślin, i kiedy opuszczę Takiwasi, mam nadzieję pojechać do Iquitos by zrobić tam dietę z tytoniem.
…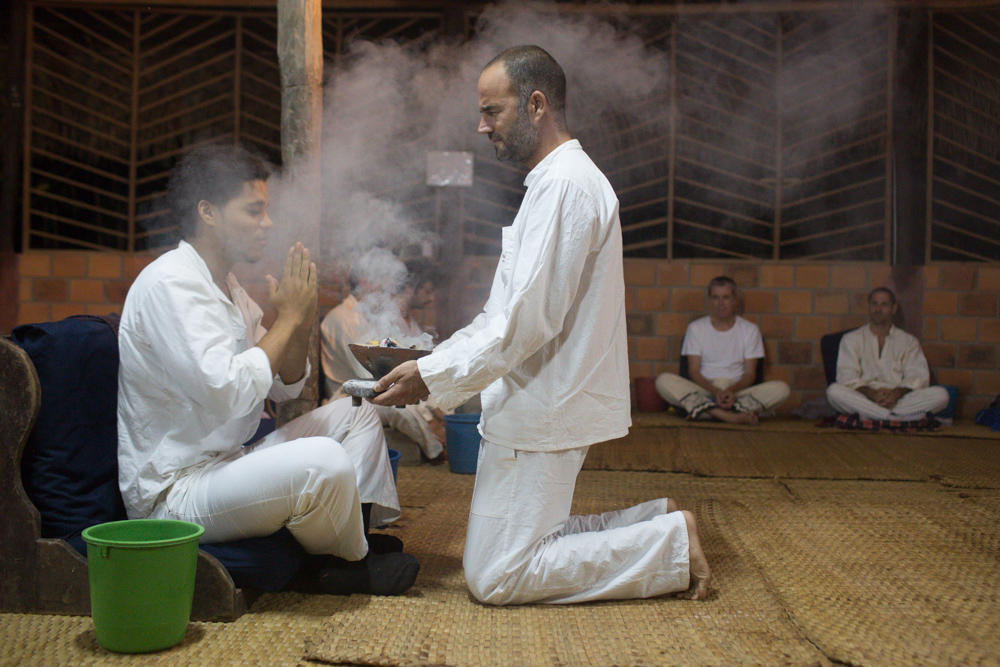 Marcos ( Bilbao, Spain )
I have been working all my life in pharmaceutical industry, and at the same time I have been heavy cocaine addict myself. I was using huge amounts of cocaine, and frankly speaking, living in darkness. What ayahuasca gave me was access to light.  I can see the changes are almost immediate, especially here in Takiwasi, where ceremonies are so powerful, in comparison to places in Spain where I drank a couple of times before coming to Peru. Here it is very hard work, but effective. I am becoming new person, receving many revelations, opening my feelings. I can say that since I started to drink ayahuasca, I speak from my heart.
In contrast with drugs I took before in my life, I don't depend on ayahuasca. It helps, but I am not seeking it out, one does not do it because one feels like it, it is not pleasant. It is work and it is not easy. You have to try it to understand. However, despite hard moments , it is full of love, and you can feel it.
…
Pracowałem całe moje życie w przemyśle farmaceutycznym, i w tym samym czasie byłem coraz bardziej uzależnionym kokainistą. Używałem ogromnych ilości i szczerze mówiąc, żyłem w ciemności. To co otrzymałem od ayahuaski, to dostęp do światła. Mogę zobaczyć zmiany niemal natychmiastowe, zwłaszcza tutaj w Takiwasi, gdzie ceremonie są tak potężne, w porównaniu do sesji w Hiszpanii w jakich miałem okazję wziąść udział kilkakrotnie, zanim trafiłem do Peru. Tutaj przechodzi się cieżką pracę, ale efektywną. Staję się nową osobą, otrzymując wiele objawień, otwierając uczucia. Mogę powiedzieć, iż od czasu gdy zacząłem pić ayahuaskę, mówię z serca. W kontraście z narkotykami, które wcześniej w życiu przyjmowałem, nie jestem od ayahuaski uzależniony. Pomaga, ale nie pożądam jej, to nie jest coś, co się robi dla zachcianki. Nie jest to przyjemne. To praca, i to niełatwa. Trzeba tego spróbować, by zrozumieć. Jednakże, pomimo ciężkich momentów, jest też pełna miłości, to roślinna inteligencja i miłość, i można ją poczuć.
…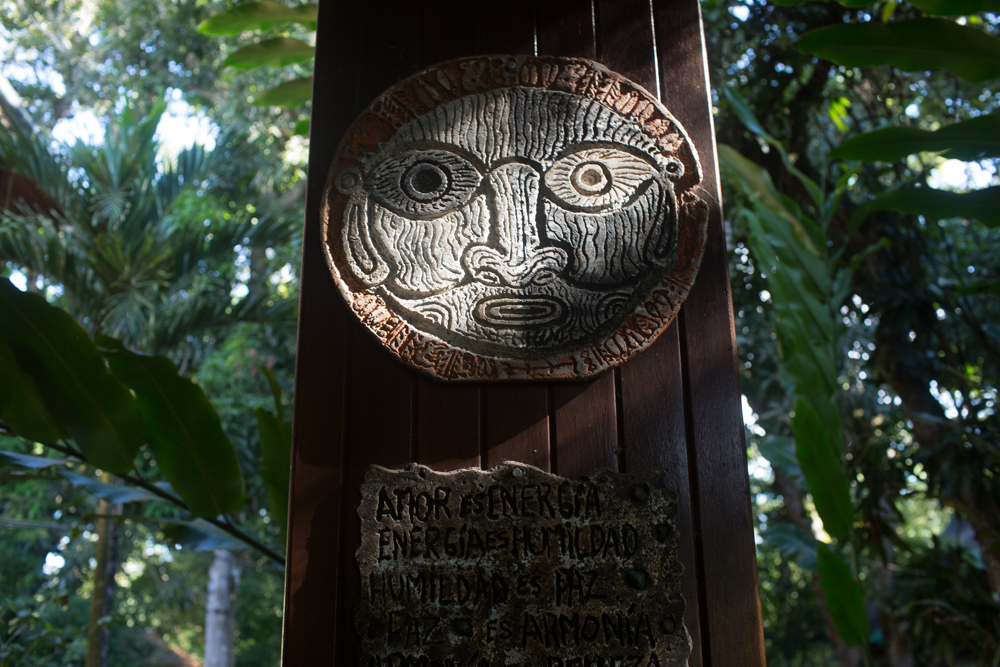 Jose Maria ( 28, Barcelona, Spain )
Ayahuasca opened for me the door of spiritual world. I met my deceased grandmother and a friend, and this experience of their presence changed my life. Before that I could only suspect the existence of this world. Then I knew it is real.
In regards to my problems, it has been very poweful cleaning of bad energies, poisons that I could literally perceive as something that accumulated over years of abuse of drugs in my liver, in my brain, I was impregnated with bad energy. I could also see the actions I did in my life, events that were hidden in my unconscious, and that were blocking me. I knew before that all the drugs were doing me harm ( I took alcohol, cocaine, lots of designer drugs ) but had no idea how to leave them behind. When the real reasons of taking them were revealed by ayahuasca, I can say that it saved my life. I see it as a miraculous plant, with its own personality, that is communicating with you, sending messages, teaching. After spending over 8 months in Takiwasi I am ready to leave next week, and I can say I am leaving as a new person.
…
Ayahuaska otworzyła dla mnie drzwi do świata duchowego. Spotkałem się ze swoją zmarłą babcią i przyjacielem, i to doświadczenie ich obecności zmieniło moje życie. Wcześniej mogłem tylko podejrzewać istnienie tego świata. Potem wiedziałem już, iż jest prawdziwy.  Co do moich osobistych problemów, dała mi bardzo potężne oczyszczenie ze złych energii, trucizn, które mogłem dosłownie zobaczyć jako coś, co przez lata nadużywania narkotyków skumulowało się w mojej wątrobie, w moim mózgu, byłem cały przepełniony taką energią. Mogłem też ujrzeć czyny ze swojej biografii, wydarzenia, które wyparłem do swojej podświadomości, i które mnie blokowały. Już dużo wcześniej wiedziałem o tym, że narkotyki szkodziły mi ( używałem alkoholu, kokainy, różnych syntetyków ), ale nie miałem pojęcia jak je odstawić. Kiedy prawdziwe przyczyny ich przyjmowania zostały mi pokazane przez ayahuaskę, mogę powiedzieć, że uratowało mi to życie. Postrzegam ją jako cudowną roślinę, z własną osobowością, która komunikuje się z nami, wysyła wiadomości, uczy. Po ponad 8 miesiącach spędzonych w Takiwasi jestem gotowy do wyjścia w przyszłym tygodniu, i mogę powiedzieć, że wychodzę jako nowa osoba.
…