What's that thing with Christian vibe of ayahuasca places of Putumayo, especially Alto Putumayo? I mean it is one thing to use some Catholic saints as aides on the altar, invoke Jesus once in a while, but what is happening here is too much for me, with my burden of Catholic upbringing, I don't really want to listen to one song after another about how Jesus loves me and Jesus this and that. Mother of god, what a test for me, thanks for that.
…
Co jest z tym chrześcijańskim klimatem ayahuaskowych miejsc w Putumayo, a zwłaszcza w Alto Putumayo? Jedno to odwoływać się do katolickich świętych jako pomocników, wstawiać na ołtarz jakieś ikony czy figurki, od czasu do czasu wspomnieć Jezusa, ale to co się tu czasem dzieje to za wiele dla mnie, z moim katolickim wychowaniem. Pomijam już to że w ogóle nie lubię za dużo słów podczas ceremonii, ale tym bardziej nie chcę słuchać jednej piosenki za drugą o tym jak Jezus to a Jezus tamto a Pan Bóg coś jeszcze. Matko boska, dziekuję za ten test cierpliwości.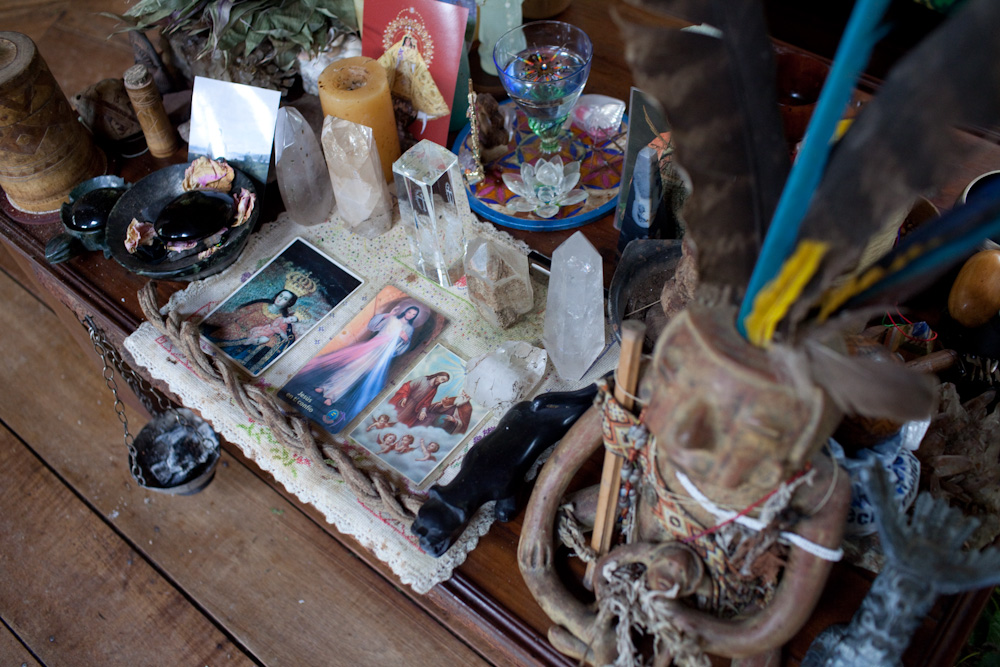 People who gather in Cruz del Sur maloca are mostly Christian, so of course I understand that they do it their style. They are middle class, they like clean floors and mattresses, so the place is neat and fancy. They are at least middle aged, so already with heavy baggage and this vibe of healing from suffering of the past is present here, complete with tears and wailing. Place has been built and is run by Taita Javier Lasso Mejia, an artist, mestizo, but trained in tradition of Siona Indians, working already for years with ayahuasca, unfortunately, not present today. His art is present, both maloca and grounds around are filled with paintings, sculptures, art installations, some of them really good, lots of New Age references, including some things that remind me Slavic pagan heritage.
…
Ludzie, którzy zbierają się w maloce Cruz del Sur to przede wszystkim chrześcijanie, więc oczywiście rozumiem, że robią ceremonię w swoim stylu. To głównie klasa średnia, mieszczuchy, więc lubią swoją czystą podłogę i materace, papier w toalecie i tak dalej, miejsce jest więc czyste, porządne, a nawet ekskluzywne. Goście są też, w większości, gdzieś tak w wieku średnim i powyżej, a zatem już z ciężkim bagażem, i ten klimat leczenia się z cierpień przeszłości jest tu obecny, razem z łzami czy jękami. Miejsce zbudował i dowodzi nim Taita Javier Lasso Mejia, artysta, metys, ale wyszkolony w tradycji Indian Siona, pracujący z ayahuaską od lat, niestety dziś nieobecny. Jego sztuka za to jest, zarówno maloka jak i teren wokół niej jest wypełniony malarstwem, rzeźbą, instalacjami, niektóre z tych dzieł naprawdę niezłe, dużo New Age'owych odniesień, wliczając w to rzeczy, które przypominają mi pogańskie dziedzictwo Słowian.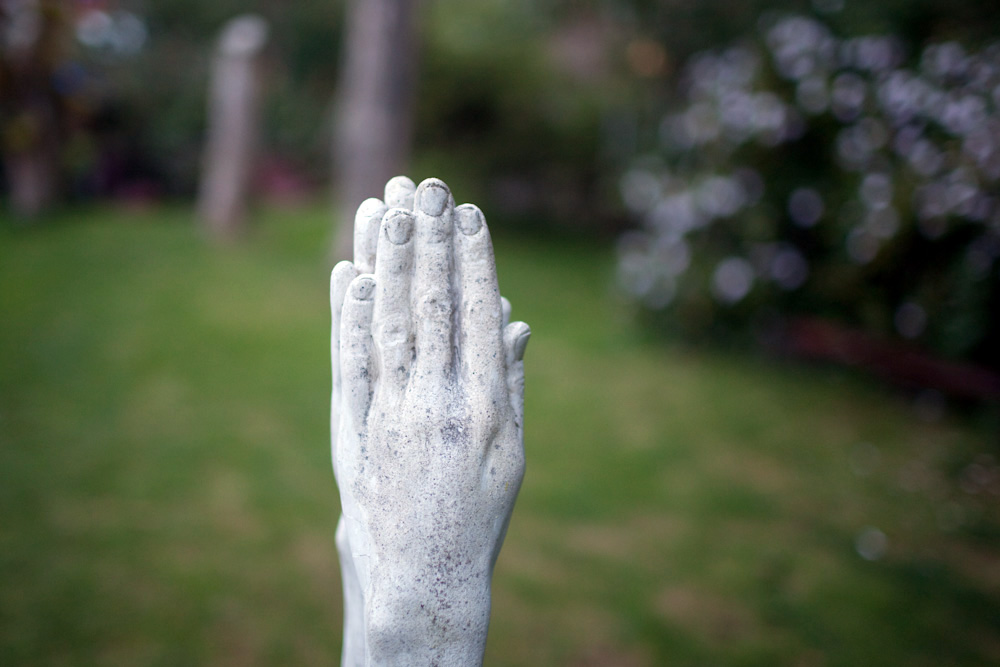 The centre is located near Pasto and next to harbour at Laguna La Cocha, one of biggest touristic attractions of Alto Putumayo, so it gets a fair share of visitors. Would be good to stress the quality of place, and of service, the healing and cleansing in the morning are done very thoroughly, it is here that I experience for the first time weird pleasure of getting beaten with ortiga. However, what may seem to be advantage to people seeking comfort, for me is another obstacle, aside from strong religious flavour. I feel here as customer, like a consumer of just another spiritual service, it seems to be almost a rule now that in this kind of places ayahuasca fails to have any significant effect on me. I struggle again with my impatience and feeling of wasting my time, while Anna has another deep trip, which actually makes me a bit jealous.  But by now I am a good guy and I know that jealousy is nasty, so I keep quiet and wait for the morning, submit to limpieza,  drink my morning coffee, say goodbye to friendly Christians and swear to always check amount 0f dirt and anarchy before choosing next venue.
…
Centrum Cruz del Sur znajduje się niedaleko Pasto i tuż obok portu na jeziorze La Cocha, jednej największych turystycznych atrakcji Alto Putumayo, więc przewija się tu sporo gości. Warto podkreślić ponownie jakość miejsca i "usług", oczyszczanie nad ranem wykonane było bardzo rzetelnie, z zaangażowaniem i uczuciem, to tutaj po raz pierwszy miałem okazję posmakować dziwacznej przyjemności bycia wychłostanym kolczastymi pokrzywami. Jednakże to co może byc zaletą dla wielu szukających bezpieczeństwa i komfortu, dla mnie jest kolejną przeszkodą, obok zbytniego przyprawienia religijnością. Czuję się tam jak klient, jak konsument kolejnej duchowej usługi, i wydaje się to już być regułą, że w tego rodzaju miejscach ayahuaska nie działa na mnie zbyt skutecznie. Szarpię się więc z moją niecierpliwością i uczuciem straconego czasu, podczas gdy Anna nurkuje w kolejnym głębokim tripie, co szczerze powiedziawszy czyni mnie nieco zazdrosnym. Jestem jednak już dobrym chłopcem i wiem od jakiegoś czasu, że zazdrość jest nieładna, więc siedzę cicho i czekam na poranek, poddaję się limpieza, piję swoją poranną kawkę, mówię "do widzenia" przyjaznym chrześcijanom i przysiegam zawsze sprawdzać poziom brudu i anarchii, zanim wybiorę następne miejsce.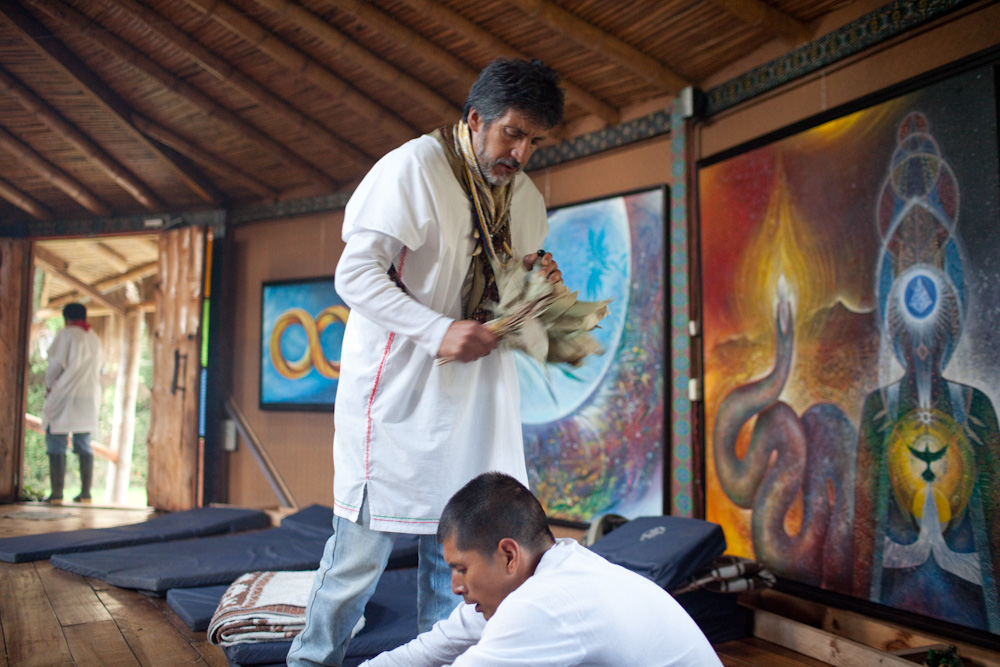 Ah I would almost forget…( it looks like I should be taking more notes as events from 2 or 3 months ago seem like a very distant past these days). During that night I have time to think – as my trip is on the edge of vision and thinking – about something that has been around for a while during my ayahuaska explorations, and kind of returns when I vomit in the garden of wooden quasi-pagan sculptures. It is here that I finally get it and put it together into coherent words :

"Who are you?
Little Pole
What your sign is?
White eagle"
That is how one can roughly translate beginning of the iconic Polish patriotic poem, force fed to countless generations of schoolkids, and now more of a joke I guess. But…Far from the cold homeland, drinking yage with shamans from Camtza, Quichua, Cofan or Siona tribes, I discover who I am. First time, by way of deep insight, I recognize and identify with my animal spirit, ancient totem of my clan of Polans, a bird of prey which loves open space, where from far and from above it can easily see his victim. Whether flying around the world, looking for game, sometimes landing here and there, for a short while, alone, sometimes in company, however, never in herd, or looking at myself when I release abundant vomit, being purified by medicine, sometimes I see power, and sometimes I see bird with broken wings, sick bird far away from his nest, I hear the sound of wings in psychedelic noise of rustling leaves during the ceremony. Once more, like in the tale about rabbi from Cracow going to Prague, it appears that to find a treasure buried nearby, it sometimes is necessary to set on one of furthest and deepest journeys.
…
Prawie bym zapomniał… ( wygląda na to, że powinienem robić więcej notatek bo wydarzenia sprzed 2 czy 3 miesięcy wydają się obecnie odległą przeszłością ). Podczas tej nocy miałem czas co nieco pomysleć – bo moja sesja była gdzieś na pograniczu myślenia i wizji – o czymś co krąży wokół mnie od jakiegoś już czasu, w związku z ayahuaskowymi eksploracjami – i co w jakimś sensie powróciło gdy wymiotowałem w ogrodzie niby pogańskich drewnianych rzeźb. To tutaj w końcu mi się rozjaśnia, to tutaj układa w całkiem klarowną całość :
"Kto ty jestes?
Polak maly
Jaki znak twoj?
Orzel bialy."
Daleko od zimnej krainy, pijąc yage u szamanów z plemion Camtza, Quichua, Cofan, Siona, odkrywam kim jestem, po raz pierwszy poprzez wgląd poznaję zwierzę – pradawny totem mego klanu Polan, drapieżnego ptaka, który kocha otwartą przestrzeń, gdzie z daleka i wysoka widać ofiarę. Czy to latając po całym świecie, w poszukiwaniu łupu czasem lądując na krótko tu i owdzie, samemu, czasem w towarzystwie, stroniąc jednak od stadnych instynktów, czy to spogladając na siebie samego kiedy rzygam rzęsiście nad ranem czyszczony przez medycynę, widzę czasem moc a czasem ptaka z połamanymi skrzydłami, chorego ptaka daleko od gniazda, słyszę szum skrzydeł w psychodelicznym dźwięku liści podczas ceremonii. Po raz kolejny, jak w opowieści o praskiej wyprawie rabina z Krakowa, okazuje się, że aby znaleźć niedaleko schowany skarb warto wyprawić sie w jedną z najdalszych i najgłębszych podróży.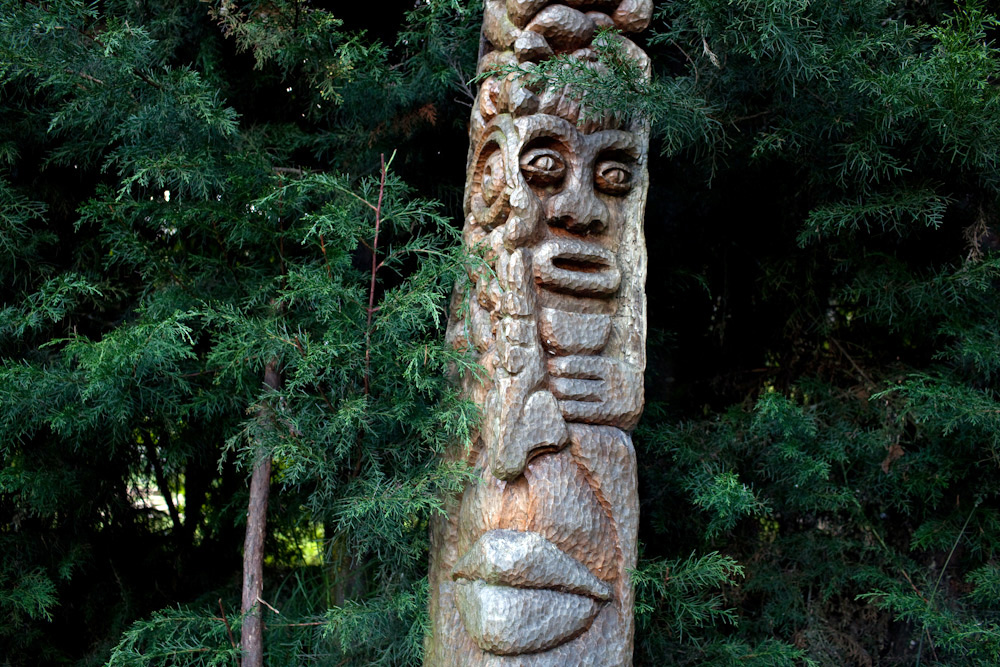 So in this twisted, serpentine ayahuasca style, hail to Jesus people for connecting me with my pre-Jesus roots.
…
A zatem w ten pokrętny, wężowy sposób, chwała ludziom Jezusa, za pomoc w odnalezieniu mojego połączenia z przed-jezusowymi korzeniami.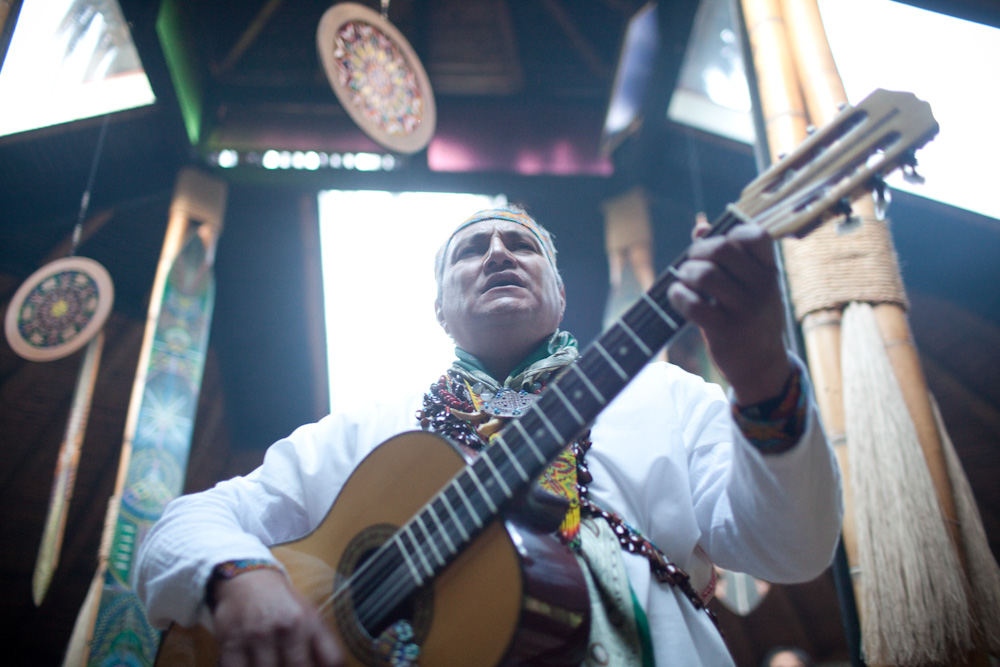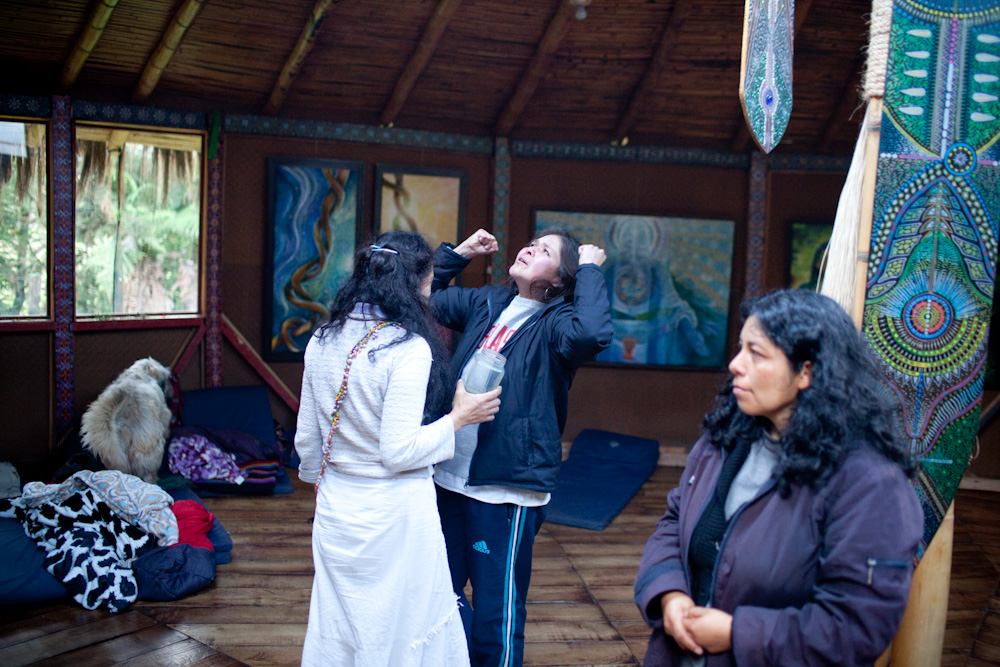 Maloca Cruz del Sur can be easily reached by public transport going to Laguna La Cocha from Pasto. Do not travel after dark however, as robberies happen on that road. Ceremony here costs usual 30 000 peso per person, but do contact the people running that place for dates of events and other details, at lassom7@hotmail.com , check their website www.javierlassomejia.com or call 7219342 or 31 48436598
…
Maloka Cruz del Sur jest łatwo osiągalna publicznym transportem z Pasto do Laguny La Cocha. Nie podróżujcie po zmroku, ponieważ na trasie tej zdarzają sie napady. Ceremonia kosztuje zwyczajowe 30 tys. peso od osoby, ale warto skontaktować się z osobami prowadzącymi ośrodek w celu sprawdzenia dat i innych szczegółów, ich e-mail to lassom7@hotmail.com , strona internetowa www.javierlassomejia.com a telefon 7219342 lub 31 48436598