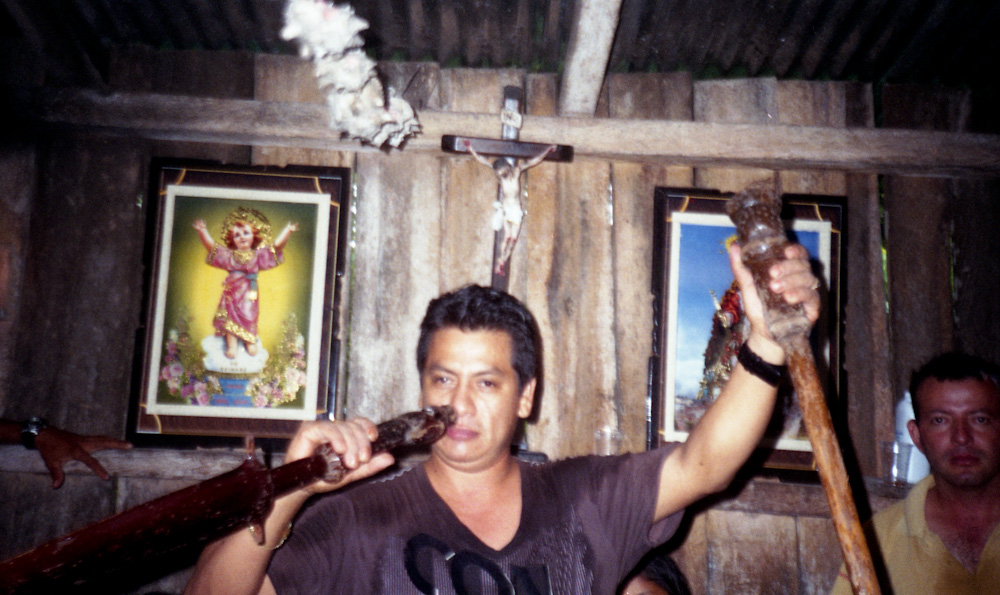 I only post it because it is Sunday today. I don't suspect there are many people reading this blog who are into love magic, believe in power of esoteric perfumes that may bring luck in business or personal life and like their ayahuasca taken evangelical church style, with exorcisms, sitting all night in uncomfortable benches, in a group of more than hundred patients, against one charismatic healer and dozen of his helpers. You do ? Well, sorry, there will be no story here, on some Friday go to Coca ( Orellana ) in the Amazon of Ecuador, call Jose Torres ( 0999632418 ) to confirm the show is happening, prepare to pay something like 40 or 50 USD they will try to charge you ( I refused to pay ) and enjoy this curious event. You should count around 1 hour on public bus from old bus station in the centre of Coca, and the last one leaves around 6 PM. But I should make sure again, do you really want to pray to Jesus and get spit on with booze while on psychedelic brews?
I do not want to take away faith from all those crowds of desperate people waiting outside Jose Torres' clinic, but I don't think they are reading this, and I hope you are smarter.
…
Zamieszczam to tylko dlatego, że dziś niedziela. Nie podejrzewam wielu z czytających tego bloga o wiarę w miłosną magię, moc ezoterycznych perfumów, które przynoszą szczęście w biznesie i życiu osobistym, o to, że lubicie pić swoją ayahuaskę w ewangelicko-kościelnym stylu, otoczeni przez setkę pacjentów, siedząc całą noc w niewygodnych, drewnianych ławkach, naprzeciw jednego charyzmatycznego znachora i tuzina jego pomocników szturchających was kijem przy każdym przyśnięciu. Lubicie takie rzeczy? Cóż, przykro mi, ale nie będzie tu żadnej opowieści, w jakiś piątek wybierzcie się do Coca ( Orellana) we wschodnim Ekwadorze, zadzwońcie do Jose Torresa ( 0999632418 ) aby potwierdzić czy tego dnia na pewno imprezka ma miejsce, przygotujcie na wybulenie około 50 USD, które od was zażądają ( ja odmówiłem ), i cieszcie się dziwnością chwili. Dojechanie na miejsce ze starego dworca autobusowego w Coca powinno zająć około godziny, ostatni bus odjeżdża o 18:00 i kosztuje 1 USD. Ale jeszcze raz się upewnię, na pewno chcecie modlić się do Jezusa i być opluwanym alkoholowym roztworem, będąc pod wpływem psychodelicznego wywaru?
Nie chcę odbierać wiary tym wszystkim tłumom zdesperowanych ludzi czekających na zewnątrz kliniki Jose Torresa, ale nie sądze aby to czytali, a wy, mam nadzieję, jesteście rozsądniejsi.