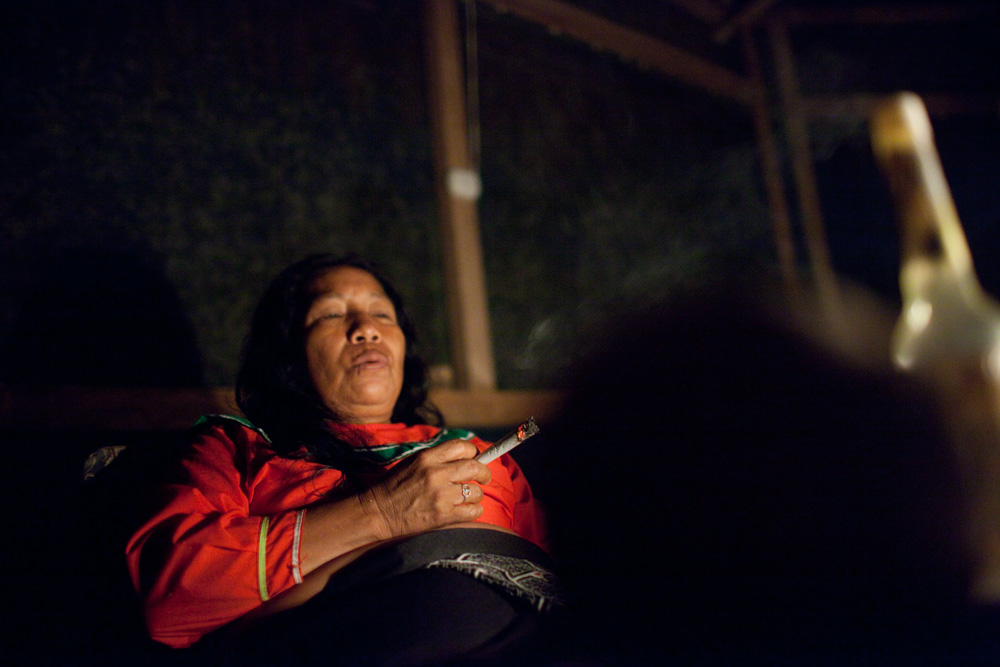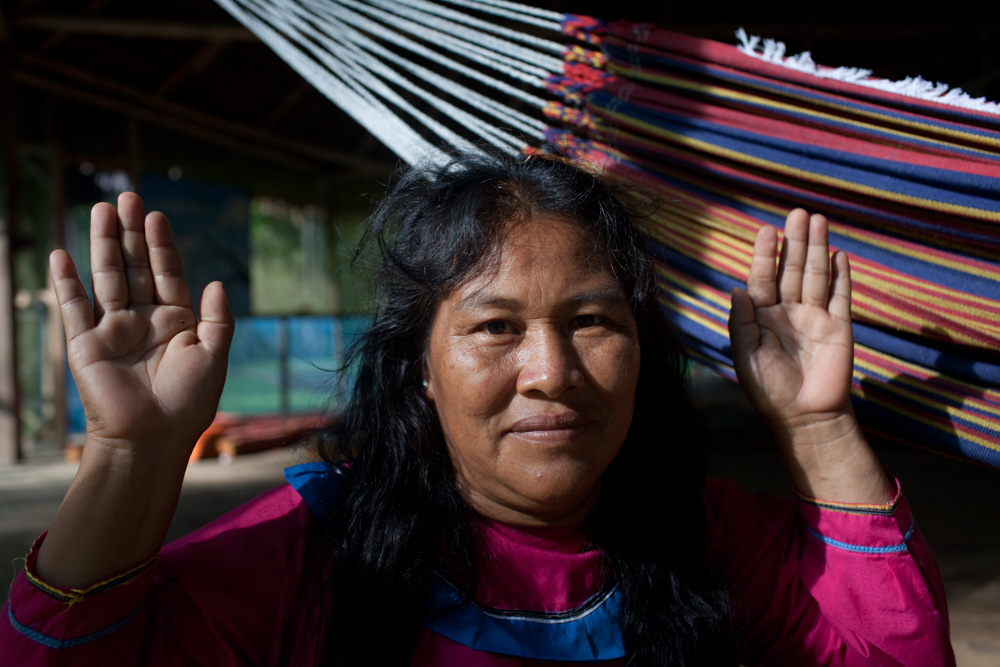 Trafiłem w to miejsce w dośc nietypowy sposób, chociaż na tym etapie mojej pracy z ayahuaską takie sformułowanie jest już chyba bardziej retorycznym chwytem.
Płynąłem łodzią z Puerto Nanay do Padrecocha, bo tego dnia, jak byłem przekonany i poinformowany, miało być picie u Jungle Jenny. Więcej o tej Australijce później, bo jak się okazało picie przełożono na później. Tymczasem w łodzi nawiązałem konwersację z dwoma sympatycznymi paniami siedzącymi obok, paniami, które podejrzewałbym o wszystko tylko nie psychodeliczne zainteresowania, więc tłumaczyłem im powód swojej podróży w sposób łopatologiczny raczej. One, słysząc o projekcie mojego przewodnika poleciły mi Javiera, innego, rzekomo niezłego szamana jaki też działa na półwyspie, i u niego pije się właśnie dzisiaj. Ponieważ byłem już umówiony z Jenny, zanotowałem namiary, na tak zwane "potem".
Tymczasem los pokierował sprawą tak, iż akcja u Jenny została odwołana i chwilę później siedziałem w rikszy gnającej przez ciemny las, licząc że załapię się na wieczorek u Javiera. Jakie było moje tam zdziwienie .. i kogo ja widzę. Czasem kobiet trzeba słuchać uważniej ( albo to one muszą się wyraźniej wypowiadać ).
…
I ended up in this place in quite unusual way, although perhaps at this stage of my work with medicine I should be conscious that such introduction is just storytelling trick, what is usual and unsual after all.
I was on a boat from Puerto Nanay to Padrecocha, because that day, as I was convinced and informed, there was going to be drinking session at Jungle Jenny. There will more here about that Australian later, because later it was when they told me we are going to drink. Meanwhile in the boat I struck conversation with two friendly ladies sitting nearby, ladies who I would judge anything but psychonauts, so I explained to them reason of my voyage in very simple terms. They, after having heard about my ayahuasca shamans guide, recommended to me another, as people say, decent ayahuasquero, by the name of Javier. He also operates near to Padrecocha and his drinking day is also today. However, as I already had appointment with Jenny and her Bora shaman, I just wrote down the name, for "later".
Apparently the fate chose otherwise, Jenny's session had been cancelled and short time after I was in a moto-rickshaw speeding across dark forest and hoping I can still make it to the evening ceremony at Javier's. How surprised I was – who do I see – when I got there. Perhaps women should be listened to more carefully ( or perhaps they should speak clearer ).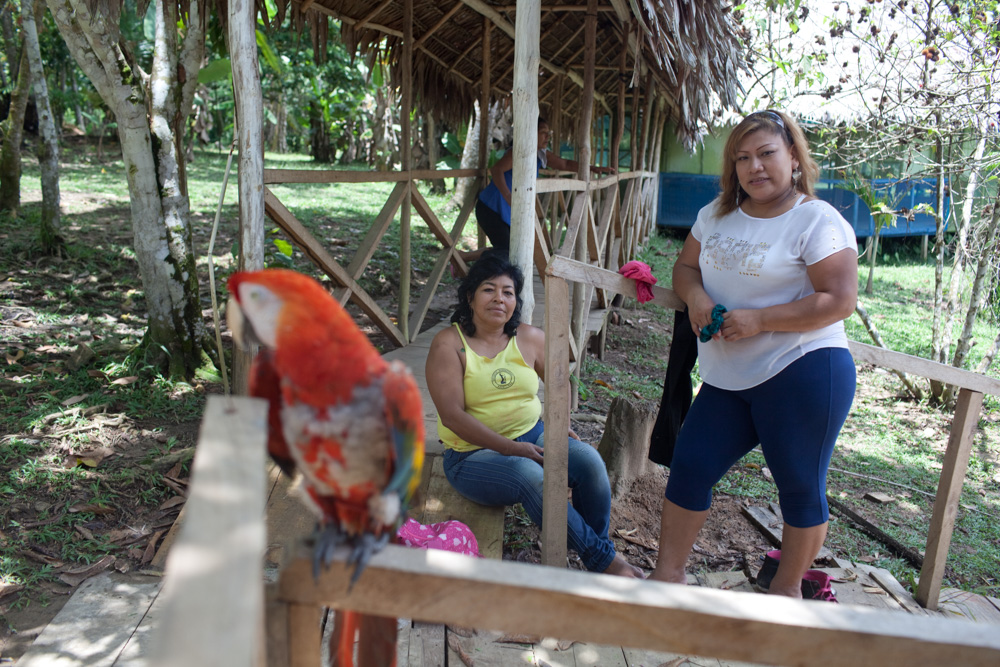 Moje towarzyszki z łodzi były gotowe do picia, jak się okazało nie po raz pierwszy, a ja zapoznałem się z ekipą.
…
My boat companions were ready for drinking, as it turned out, not their first time, and I was introduced to the crew.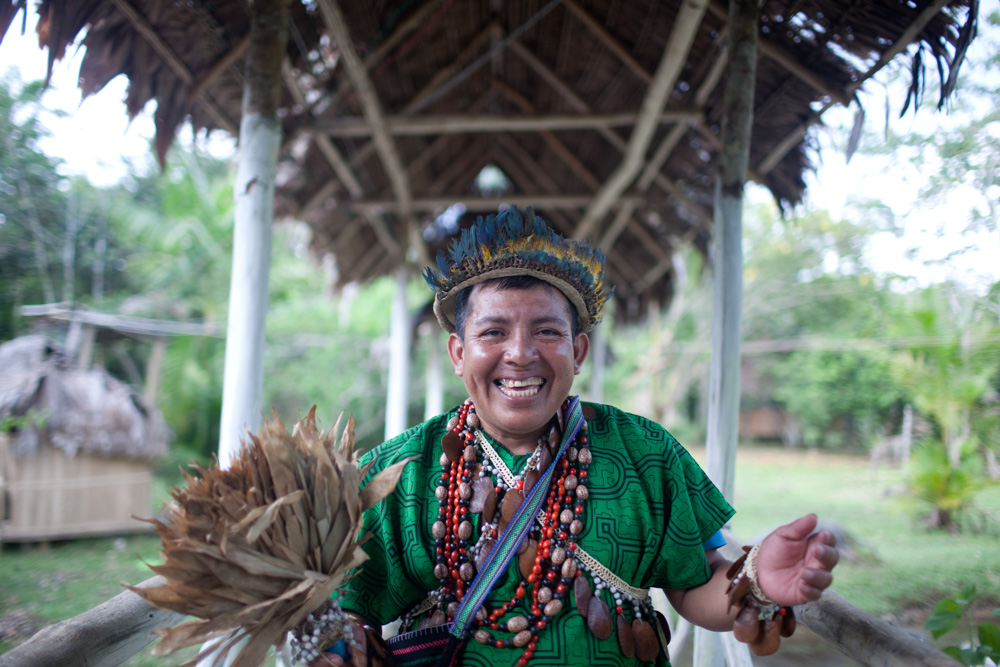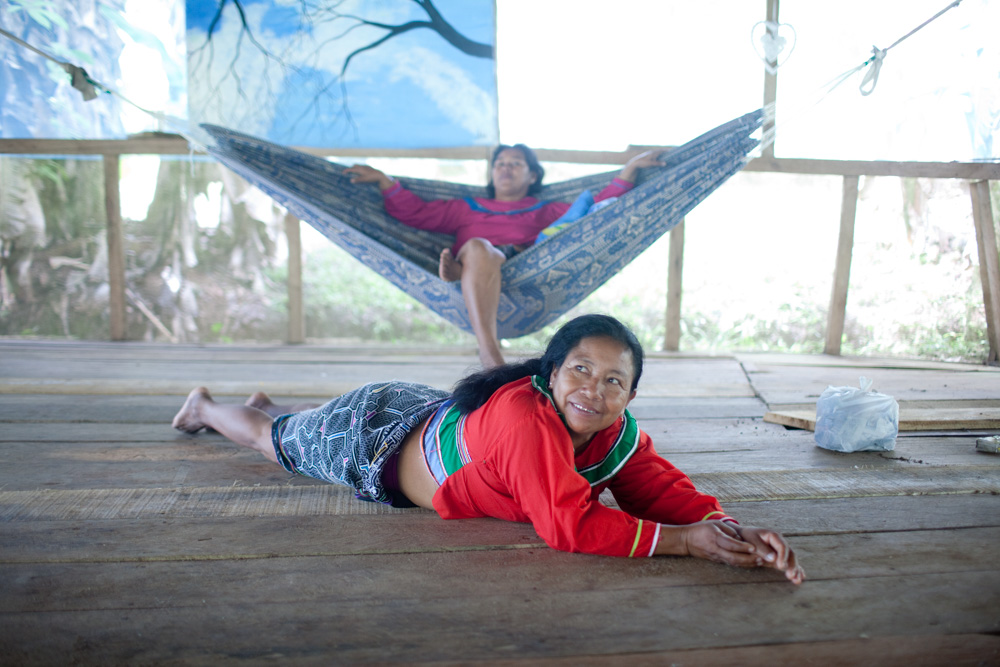 Dużym atutem Spiritual Dimensions, bo tak nazywa się ośrodek prowadzony przez Javiera Arevalo, jest to, że nie działa on sam. Poza asystentem na ceremoniach ( chociaż nie wiem czy zawsze i na wszystkich ) są obecne też szamanki Shipibo, Celia i Angela. Jedna rzecz, to moje i nie tylko moje zakochanie w icaros tego plemienia, inna, że kobieca energia jest w tym szamańskim światku rzadkością i cennym dobrem, wnosi inną jakość do sesji, dodatkowo poczucie bezpieczeństwa dla niepozbawionych nieraz traum związanych z seksualnością pacjentek szukających zaufanego i zaufania nie nadużywającego szamana.
W moim wypadku oczywiście decydowała radość z icaros ale także i ogólna sympatia jaką do Shipibo mam. Szybko ustaliliśmy wspólnych znajomych z Pucalpy, szybko posypały się żarty. Ta wesołość łatwo pojawiająca się zarówno u Javiera jak i zwykle bardziej wycofanych rdzennych jego towarzyszek była dla mnie dobrą wizytówką tego miejsca
Zaczęliśmy niedługo potem.
…
Big advantage of "Spiritual Dimensions", for that is the name of Javier's Arevalo center, is the fact that the guy is not working on his own. Besides his assistant, at the ceremonies ( although I am not sure if always ) he is accompanied by Shipibo curanderas, Celia and Angela. One thing is my adoration for icaros of this tribe, another is that female energy is in this shamanic world rare and precious good, it brings another quality to the session and the feeling of safety for female patients often traumatized by sexual issues, seeking a trustworthy healer.
In my case of course it was the joy to hear icaros that dominated, but also general sympathy I have for Shipibo. We quickly established common acquaintances from Pucalpa, some jokes followed. This joyfulness easily appearing in Javier and his usually more reserved indigenous companions was for me a good omen.
We started soon afterwards.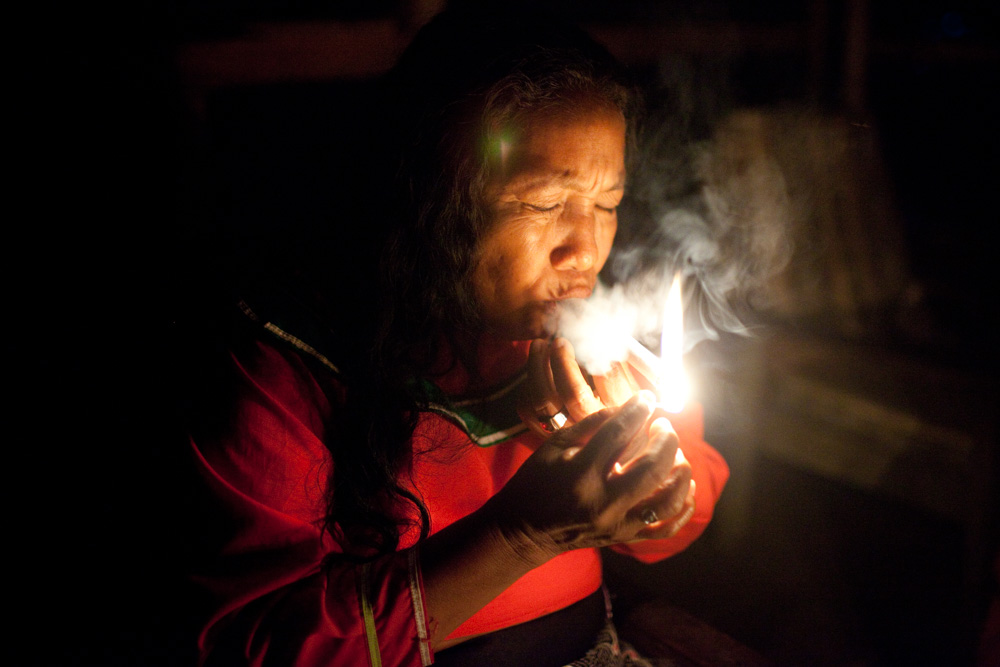 Because there were three of them, leading this ceremony, they could work almost non stop, there was one icaro after another, be it Quechua or Spanish from Javier, or enchanting melodies from the ladies. Sometimes I actually wished for a break and some silence, but most of time I really enjoyed the vibe. There was 6 "patients", including me, so such numbers guaranteed that everyone got served well – especially the girl on my right who seemed to have difficult time. I did not need special care. That night I had no deep visions, but felt very uplifted, with lots of energy. I couldn't stay still on my mattress. Half of the session I spent dancing to the icaros, enjoying my shaky, dizzy steps, moving back and forward to the rhythm, almost falling down once in a while, but all in tune with the mad dance routine, barefoot, super-sensible, transforming words and melodies into movement and space navigation in the moonlit maloca.
There is a stress on participation in Spiritual Dimensions, for people who stay on longer retreats, there are workshops designed in order to get to them to co-create experience rather that just be passive receiver. This is in addition to all the usual plant baths and dietas. I feel this bonus is very important, it makes people take charge of their destiny and course of their feeling and not just relay on healer, or worse, guru, as some see the shamans they work with.
So I find it amusing that after my energetic night, the next day, the icaro I was given to learn with the rest of the group, was called "danza guerrera".
…
Ponieważ była ich trójka prowadzących, mogli pracować niemal bez przerwy, jedno icaro za drugim, czy to Quechua lub po hiszpańsku od Javiera czy też zaczarowane melodie od pań Shipibo. Czasem nawet miałem nadzieję na przerwę i chwilę ciszy, ale większość nocy wibracja była wspaniała. Było sześciu "pacjentów", mnie wliczając, taka proporcja gwarantowała, że każdy zostanie dobrze obsłużony, zwłaszcza dziewczyna leżąca po mojej prawej, która przechodziła chyba ciężkie wyboje. Ja nie potrzebowałem szczególnej opieki. Tej nocy nie miałem jakiś głębokich wizji, ale czułem się bardzo nakręcony, z masą lekkiej energii. Nie mogłem uleżeć na swoim materacu. Połowę sesji spędziłem tańcząc do icaros, bawiąc się swoim trzesącym, chyboczącym, niestabilnym krokiem, ruszając się w te i wewte do psychodelicznego rytmu, niemal upadając co jakiś czas ale nawet i ten "błąd" do rytmu, w harmonii z szalonym, upośledzonym tańcem na bosaka, super wrażliwym, przetwarzającym słowa i melodie na ruch i nawigacje przestrzeni po oświetlonej księżycem maloce.
W "Spiritual Dimensions" jest nacisk na współuczestniczenie, dla ludzi którzy zostają na dłuższych pobytach, przeznaczone są warsztaty zaprojektowane aby wciągnąć ich do współtworzenia doświadczenia, wyrwać ze stanu pasywnego odbiorcy. Ten bonus jest moim zdaniem bardzo ważny, pozwala czującym się chorzy zdobyć wpływ na swoje przeznaczenie i oczywiście na swoje samopoczucie, zamiast uzależniać się od uzdrowiciela, czy jeszcze gorzej, guru, jak niektórzy postrzegają szamanów, którym chcą się poddać.
Zabawnym jest ( a widzę to dopiero teraz przeglądając zdjęcia ) jest to, że następnego dnia, po swojej tanecznej nocy otrzymałem do nauki , razem z innymi, icaro zatytułowane "danza guerrera".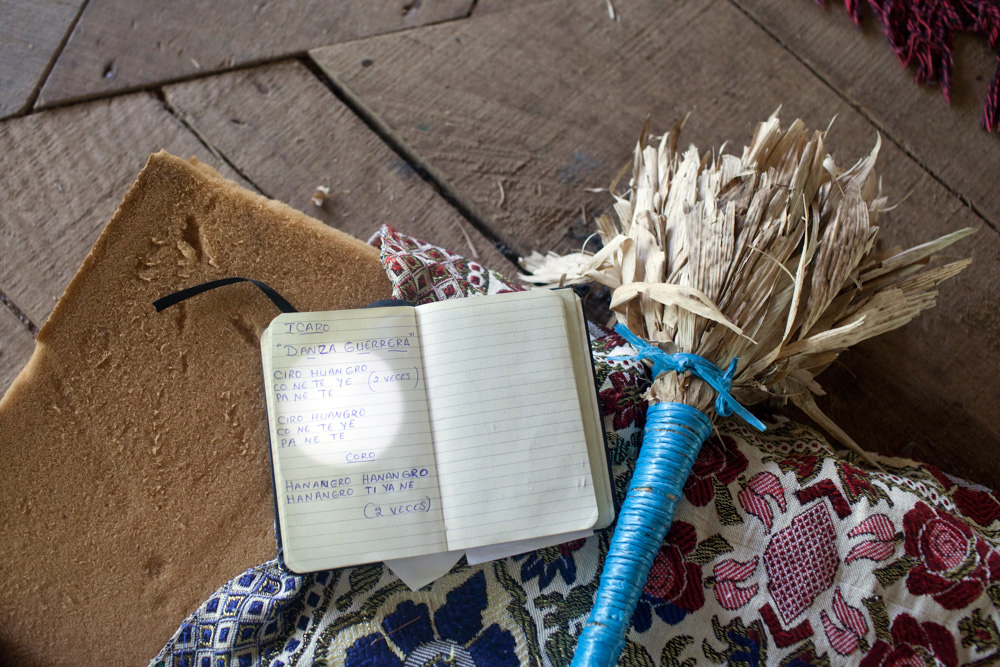 Interesting events followed when I thought it is all over that night. I was laying a bit in bliss, long after the session was finished until suddenly I realized that maloca is empty and everyone gone, back in their huts. OK, so I am off too. Well, not that simple. Where is left, where is right, what is going on. This state in Spanish is called mareado – something like "drunk", but in this special ayahuasca way.Additionally, I was foolish enough to take off my contact lenses, and the moon vicious enough to hide herself.
I was convinced that I know which way is to my hut, but it was illusion. Grounds of this center are quite large, but after all it is all a giant clearing in thick forest, and this forest started to look at me. In the beginning I carelessly stumbled around, falling into some bushes or spines, but what I began to feel-sense-see on the edge of the jungle froze me with fear and brought the awareness of seriousness of situation. I had to gather my wits again and again, keep focusing on reality and keep in mind warnings I heard so often from many shamans – in this state, forest is not your friend.
It took long time and many trials. In the meantime I ended up in some other house, with some strange people who proposed me to sleep with them, but I insisted on finding my own place, and what that involved, further wandering in the dark.
Mudded, tired, happy. Finally, my bed, candle, spirits behind. Deep sleep. Next day I woke up in garden of paradise and calm feeling of paradise. What more do I need?
…
Ciekawa rzecz miała miejsce, kiedy myślałem, że jest już po wszystkim. Poleżałem sobie w błogości długo po zakończeniu sesji, aż nagle uświadomiłem sobie, że maloka jest już pusta, wszyscy się ewakuowali do swych chatek. Dobra, ja też idę. Ha, to nie takie proste. Gdzie jest prawo, gdzie lewo, co tu się dzieje. Ten stan po hiszpańsku określa się słowem mareado – coś w stylu pijany, ale w ten specyficzny ayahuaskowy sposób. Dodatkowo, coś mnie podkusiło wcześniej by ściągnąć soczewki, a księżyc postanowił się już schować.
Byłem przekonany, że wiem w którą stronę jest mój domek, okazało się to iluzją. Teren Javiera jest dość spory, ale w gruncie rzeczy to wielka polana wycięta z gęstego lasu, i las ten zaczął w moją stronę patrzeć. Na początku beztrosko się zataczałem, wpadając na jakieś krzaki i kolce, ale to co zacząłem czuć-widzieć na brzegu lasu zmroziło mnie i przywróciło powagę sytuacji. Nagle musiałem zebrać do kupy swój porozbiegany umysł i przypomnieć sobie wielokrotne ostrzeżenia wielu szamanów – w tym stanie las nie jest twoim przyjacielem.
Długo to trwało i wiele prób zajęło. Po drodze wylądowałem w czyjejś chacie, z dziwnymi ludźmi którzy proponowali mi spanie tam, ale uparłem się na powrót do siebie, a co za tym idzie, dalsze błądzenie.
Zabłocony, zmęczony, szczęśliwy. W końcu łóżeczko, świeca, duchy w tyle. Głęboki sen. Następnego dnia obudziłem się w rajskim ogrodzie, w rajskim stanie, o co więcej chodzi…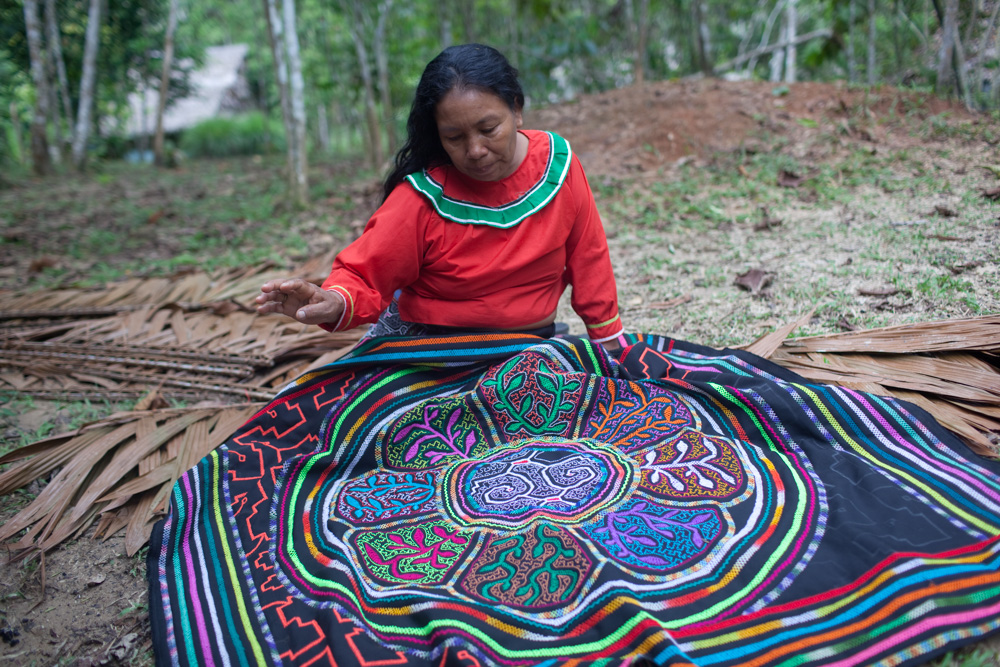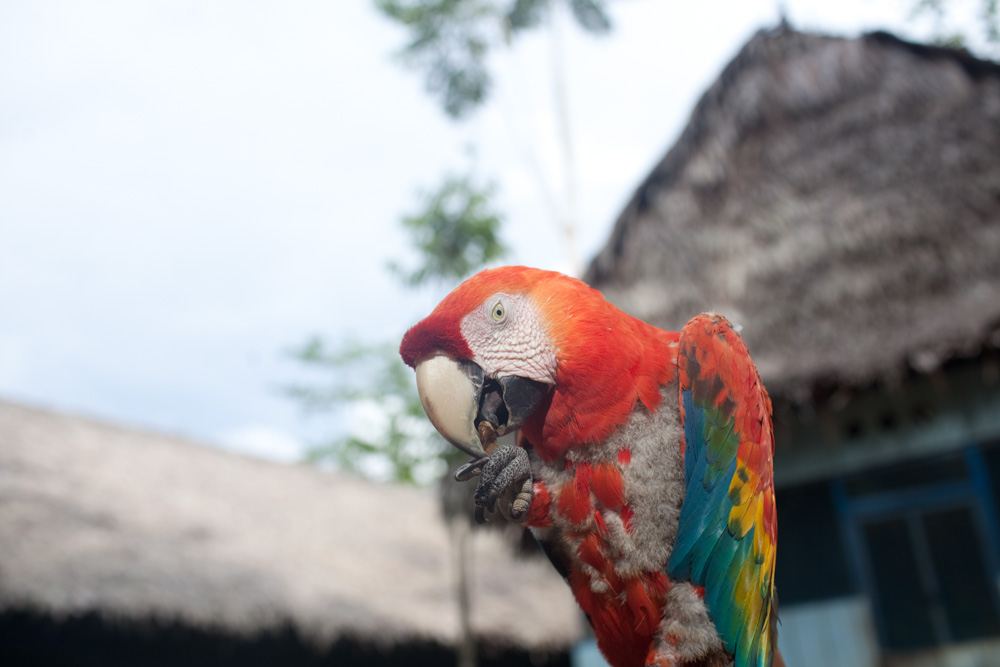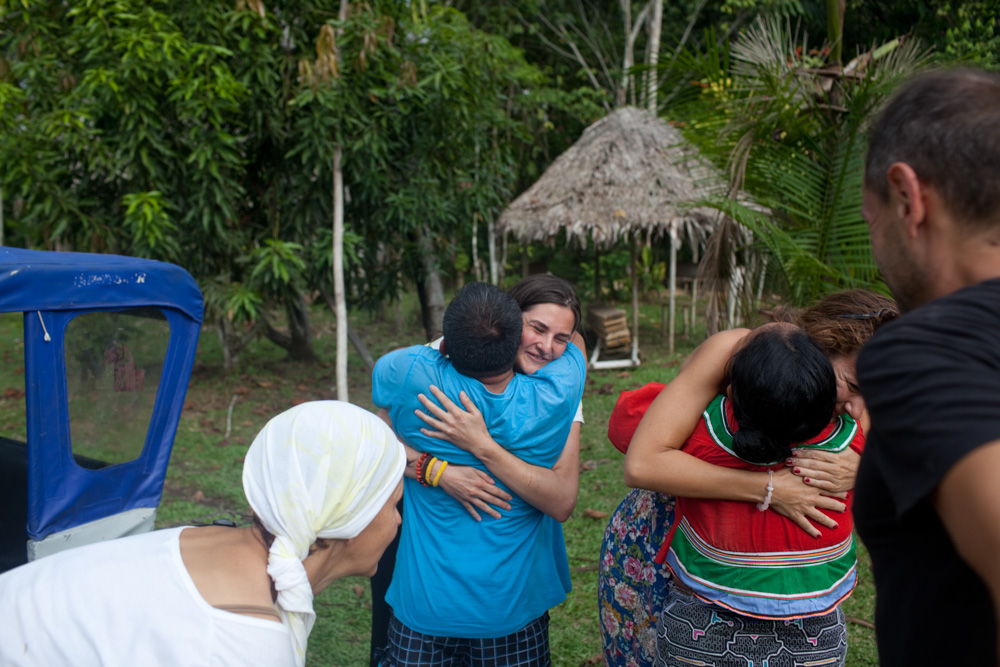 Aby dotrzeć tutaj, za parę soli wskoczyć należy w collectivo, łódź z Puerto Nanay do Padrecocha. Kiedy dotrzecie na miejsce, w porcie pytać rykszarzy o Javiera. "Spiritual Dimensions" jest mocno na uboczu, więc trzeba się liczyć z opłatą 10 soli za przejazd. Javier Arevalo, szef, jest dostępny pod mailem javierarevalo@yahoo.es , i poza pracą w Peru bywa też na gościnnych występach w Europie, zwłaszcza w Chorwacji. Szczegóły wszelakie na stronie ośrodka : http://www.spiritualdimensions.org
…
To reach here, you must jump on collectivo boat in Puerto Nanay, heading to Padrecocha. Once there, ask moto-rickshaw drivers for Javier, "Spiritual Dimensions", which is quite remote, so you should pay 10 soles at least. Javier Arevalo is the boss, and can be reached at javierarevalo@yahoo.es, besides working home he also sometimes travels to Europe, especially Croatia. All the details on the centre's website : http://www.spiritualdimensions.org