In this story about Santo Daime you may find lots of philosophy and mysticism, which can be hard to digest, so here is some concrete stuff for a change for those alergic to new age talk. Last autumn, after another year in arid, hot desert lands, I developed, what a surprise, sand in my kidneys. Of course it is my mind connecting everything with everything that makes this narrative of travelling in deserts being related to sand inside, but to be honest, modern medicine knows very little why this quite common and painful problem occurs. In fact, modern medicine knows very little about reasons why these pieces of machine , as it sees human body,  get broken. In this case, it also knows little how to fix it. I have in my family some connections with high ranking doctors, that help in getting through fucked up medical system, but none of them could help with the problem itself, and apart from pain coming on and off in random moments, pissing became bigger and bigger issue. I tried different things, including expensive hospital machines that go "beep", but all these doctors could say is they don't know if, when and how I can solve the problem. To give you idea how painful it can be, some women who experienced both sand in kidneys and childbirth say they prefer the latter.
***
W tej historii o Santo Daime znajdziecie dużo filozofiii i mistycyzmu, który może byc trudny do strawienia, więc teraz dla odmiany trochę konkretów dla tych uczulonych na new-agowe gadki. Ostatniej jesieni, po kolejnym roku włóczenia się po suchych, gorących i pustynnych krainach, dorobiłem się, co za niespodzianka, piasku w nerkach. Oczywiście to mój łączący wszystko-ze-wszystkim umysł buduje taką narrację w której jest jakiś związek między piaskiem w środku a tym ze środowiska jakie mnie otacza, ale bądźmy szczerzy, współczesna medycyna niewiele może powiedzieć o przyczynach tego bolesnego i dość powszechnego problemu. W istocie, współczesna medycyna niewiele może powiedzieć o powodach dla których psuje się większość z trybików tej maszyny, jak postrzega ona ciało. W tym wypadku, niewiele wie także jak ten akurat trybik naprawić. W mojej rodzinie mam nieco kontaktów między wysoko postawionymi doktorami, którzy mogą pomóc w prześlizgnięciu się przez popieprzony system opieki zdrowotnej, ale żaden z nich nie mógł pomóc rozwiązać problemu, nawet ordynator urologii, i poza bólem pojawiającym się w nerce w przypadkowych momentach, każde sikanie stawało się dużym wyzwaniem. Próbowałem różnych rzeczy, wliczając w to drogie i nowoczesne lasery które robią "bip", ale wszyscy ci doktorzy przyznawali że nie wiedzą czy, kiedy i jak zakończy się sprawa. Aby dać pojęcie jaki to może być ból ( chociaż mój nie był aż taki ), niektóre kobiety które doświadczyły zarówno piasku w nerkach jak i rodzenia dzieci twierdzą że wolały to ostatnie.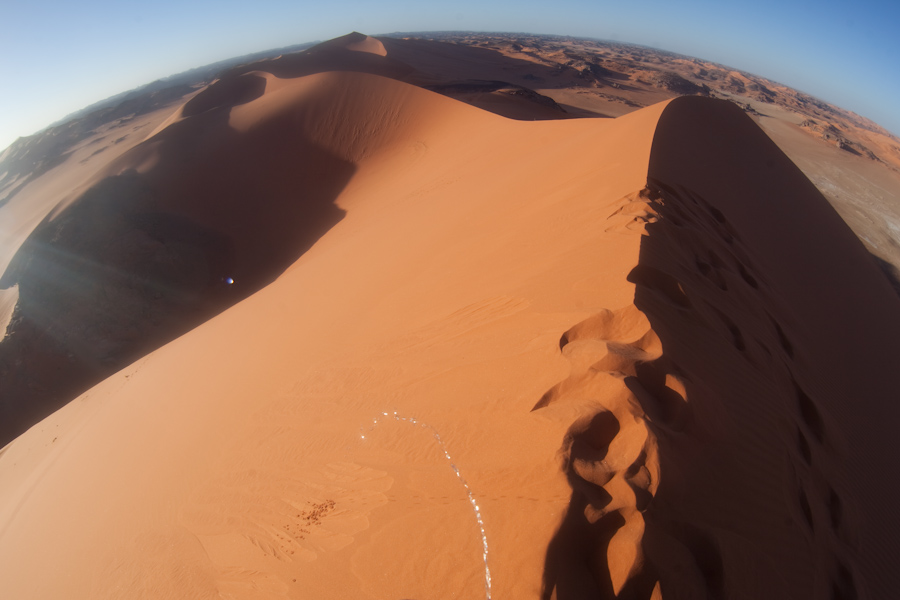 And then I went to Amazon, land of flux, ever flowing water. The sound of water was everywhere, every day, streams, rivers, rain, day and night. And I drunk a lot of ayahuasca, the medicine of the forest, and the problem was gone just like that. Now go and find your rationalist explanations, I don't think I need.
***
I wtedy pojechałem do Amazonii, krainy przepływu, wciąż płynącej wody. Dźwięk wody był wszędzie, każdego dnia, strumienie, rzeki, deszcz, dzień i noc. A ja piłem dużo ayahuaski, lekarstwa z lasu, i problem zniknął, ot tak. Teraz idźcie i szukajcie swych racjonalnych wytłumaczeń, ja nie sądzę abym tego potrzebował.