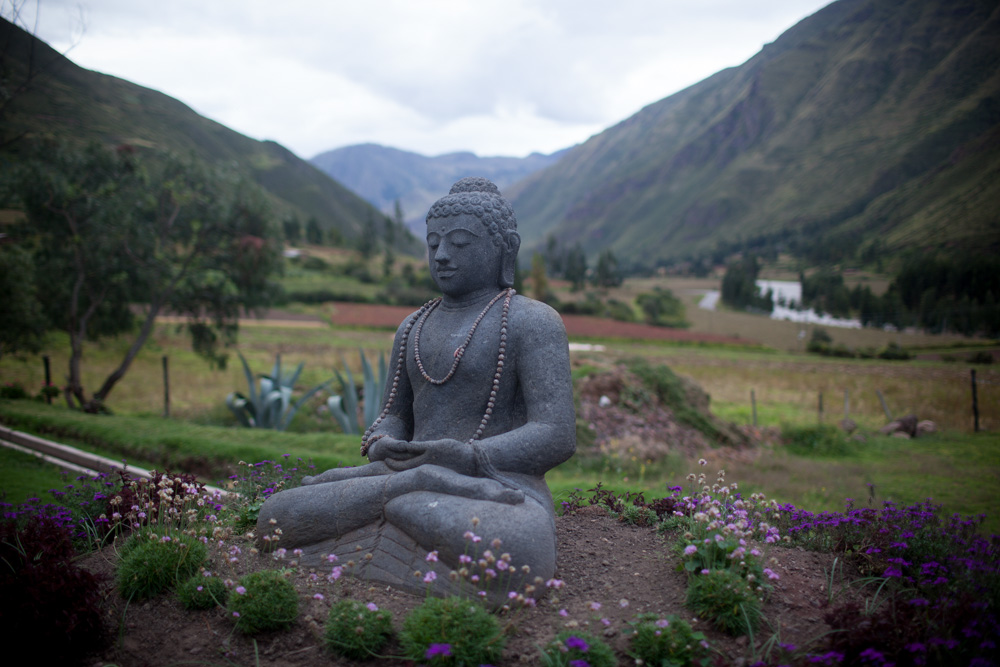 Some time ago, while still living in Cusco, above the Sacred Valley, we had a chance to participate in a ceremony in quite famous centre run by Diego Palma. Quite a few of our friends had gone there before, so I wanted to check it out, having however some idea what to expect. Sacred Valley, despite being valley is all about being high, climbing, ascending,  towards the light, the sunny side of life, the Inca Hanan Pacha- "the high world", opposed to the suspicious, chtonic and ambigous swamps and shadows of the Amazon forest, the low, uncivilized barbarians with their tribal ways.
So even if Diego Palma calls his website Sacred Valley Tribe, you can expect clean bathrooms and Buddha statue outside, and a lot of New Age vibe rather than shitting chicken and barefoot children running with hogs in the mud. The spiritual orientation also corresponding, this being heartland of fairy tale land of reiki, yoga, aromatherapy and other all things nice and good smelling. No throat singing and animal skulls here, rather mantras and clear guitar rhytms or hangdrums beats and songs about love and peace.
…
Jakiś czas temu, kiedy wciąż jeszcze mieszkaliśmy w Cusco i bywaliśmy w Świętej Dolinie, mieliśmy okazję wziąść udział w ceremonii w dość znanym ośrodku Diego Palmy. Sporo z naszych znajomych było tam wcześniej, więc też chciałem spróbować, mając już jednak jakieś pojęcie czego się spodziewać. Święta Dolina, jako dolina ma obsesję wspinaczki, bycia wysoko, zadartej głowy, pięcia się do światła,  słonecznej strony życia, inkaskiego Hanan Pacha – "wysokiego świata", przeciwieństwa podejrzanych, chtonicznych i dwuznacznych bagien i cieni amazońskiego lasu, niskich krain prostackich barbarzyńców i ich plemiennych zwyczajów.
Pomimo iż Diego Palma nazywa swoje miejsce Plemieniem Świętej Doliny, możecie się raczej spodziewać czystych łazienek i figurki Buddy na zewnątrz świątyni i sporo klimatu niuejdżowego niż srających na podwórku kurczaków i bosych zasmarkanych dzieci biegających ze świniami w błocie. Duchowa orientacja temu odpowiada, jesteśmy w końcu tuż obok Pisaq, w sercu bajkowego królestwa reiki, jogi, aromaterapii i innych rzeczy miłych i ładnie pachnących. Nie znajdzie się tu gardłowego śpiewu ani zwierzęcych czaszek, raczej mantry i melodie na dobrze nastrojonych gitarach, czy rytmy na drogich w cholerę hangdrumach, czy żydowskie piosenki o miłości i pokoju.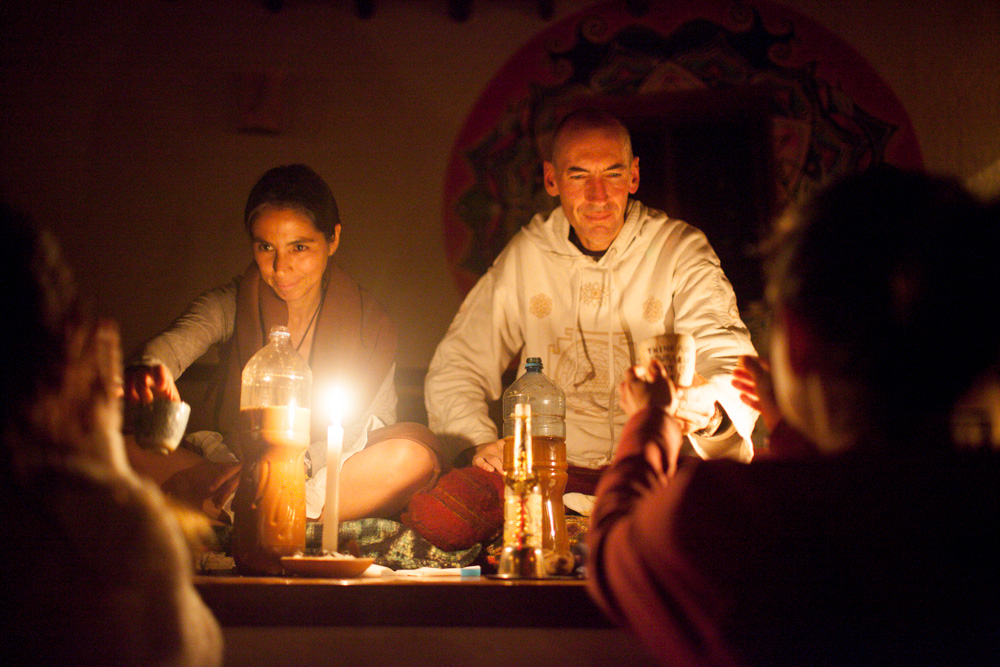 Diego just came back from India and he is clearly influenced by Eastern spirituality, and least in the form as it is digested by the West, so that unfortunately resulted in biggest weakness of the ceremony – lots of life coach style preaching while many people were still under influence. I truly enjoyed the concert – as this kind of ceremony should be actually called,  a wide array of excellent musicians waiting in line to perform their carefully rehearsed pieces and a large audience , around 50 ( sometimes it is double that size, on full moon nights ). I was missing some rough edges, some error and dirt, some improvisation and occasional detour from this shiny New Age style, but that is my preference and it differs from tastes of majority of ayahuasca tourists , at least here in the mountains.
However, what happened when Diego decided to terminate the ceremony, around 2 am perhaps, was astonishing to me. Candle lights were lit, quite a lot, breaking the darkness, and talking started , breaking the silence, without regard for the state some are still in. Even those sleeping or in a deep trip were forced to sit up by unrelenting assistants, and long preaching started. Most of the message was quite clear and obvious for people involved in medicine, universal spirituality and positive message, nothing to argue about, but the length of it, repetitions, it felt like brainwashing abusing the receptive state of people influenced by the brew. Maybe it was not controversial for followers of those countless Internet and book gurus, all those Moojis, Tolles etc, but I am used to jungle ways,  where the medicine does the talking and words are saved for morning sharing circle in the centers, or are just simple jokes about good purge from both sides in case of village healers.
But again, it fits well with the Sacred Valley style so if you like it, you will probably enjoy this place too. I find it increasingly annoying, this permanent holiday spirituality of gringos from rich countries living in gringovilles, in comfortable bubble of made up traditions constructed from what is convenient from the currently fashionable part of global heritage. That is of course grand generalization, there are lots of genuinely warm and friendly simple folks out there but also plenty enlightnened egoes.  Whatever, this is trickster radio from the jungle, love and light to all but keep your machetes sharp. I mean seriously, if all world was like Sacred Valley and not Iraq, it would be really lovely, but there are other paths guys, remember this.
…
Diego właśnie wrócił był z Indii i jest pod wyraźnym wpływem wschodniej duchowości, przynajmniej w formie w jakiej jest do strawienia przez Zachód, i to niestety było najwyraźniej przyczyną najsłabszej strony tej ceremonii – dużo lifecoachowego kazania w trakcie ceremonii, kiedy wiele osób było jeszcze pod wpływem. Naprawdę dobrze smakował mi koncert – jak tego typu ceremonia powinna być nazwana, spora grupa utalentowanych muzyków czekających w kolejne aby wykonać swoje precyzyjnie wyszlifowane kawałki przed sporą publiką, około 50 pasażerów ( czasem nawet dwa razy tyle, w pełnię księżyca ). Brakowało mi jakiś mniej z intelektu płynących dźwięków, jakiegoś błędu, brudu, spontaniczności, improwizacji i chociaż sporadycznego odjazdu od tego błyszczącego kanonu New Age, ale to tylko moje preferencje, i różnią się od smaku większości ayahuaskowych turystów, przynajmniej tutaj w górach.
To, co stało się jednak kiedy Diego postanowił zakończyć ceremonię, około drugiej nad ranem, było przedziwne. Zapalono sporo świeczek, gwałtownie przerywając ciemność i zaczęło się gadanie, przerywające ciszę, bez żadnego względu na stan w jakim wielu pasażerów wciąż się znajdowało. Nawet ci, którzy spali, czy byli wciąż w głębokiej podróży, zostali obudzeni i zmuszeni do siedzenia przez namolnych asystentów, i rozpoczęło się długie kazanie. Większość z jego zawartości była jasna i oczywista dla wszystkich pracujących dłużej z medycyną, nic z czym warto się spierać, ale jego długość, powtarzanie w kółko tych samych motywów, wyglądało to wszystko trochę na pranie mózgów wykorzystujące szczególnie wrażliwy stan ludzi pod wpływem wywaru. Może nie było w tym nic kontrowersyjnego dla wyznawców tych wszystkich duchowych trenerów, niezliczonych internetowych i książkowych guru, wszystkich tych Mooji i Tolle, ale ja jestem przyzwyczajony do dżunglowej tradycji, gdzie gadaniem zajmuje się medycyna a słowa pozostawia się na poranne dzielenie się w wypadku dużych ośrodków z psychoterapeutami albo sprowadzają się do prostych żartów o dobrym czyszczeniu z obu dziur w wypadku wioskowych szamanów.
No ale cóż, to wszystko pasuje do stylu Świętej Doliny, więc jak się wam podoba, pewnie spodoba się i to miejsce. Ja odbieram to jako coraz bardziej irytujące, ta duchowość gringos z bogatych krajów na wiecznych wakacjach w swoich kryształowych gringoville, w wygodnych bańkach zrobionych z wymyślonych tradycji ulepionych z wygodnych kawałków aktualnie modnych części globalnego dziedzictwa. To oczywiście wielkie uproszczenie, jest tu pełno szczerych i ciepłych, prostych mieszkańców, ale także pełno oświeconych ego. Zresztą, tu nadaje Radio Trickster z lasu, miłość i światło wam wszystkim, ale na wszelki wypadek nasze maczety są ostre. Serio, byłoby wspaniale gdyby cały świat był nudny jak Święta Dolina a nie wybuchowy jak Irak, ale pomiędzy jest jeszcze wiele ścieżek, pamiętajcie o tym, święte chłopaki z doliny.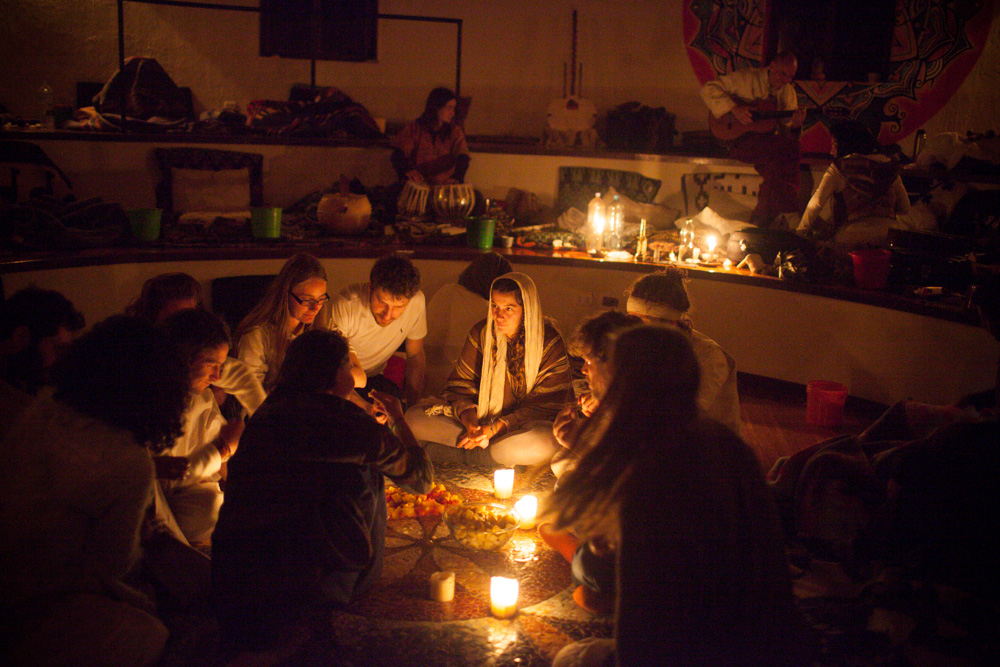 Thanks again, Diego, for good concert, anyway. ( To experience, go to sacredvalleytribe.com )
…
W każdym razie, Diego, dzięki za spoko koncert. ( Aby go też przeżyć, zalogujcie się na : sacredvalleytribe.com )