Ściana szkoły podstawowej w dzielnicy Pucalpy Yarinacocha, zamieszkałej w dużej części przez plemię Shipibo. "Non nete" po lewej oznacza "nasz świat", ale dla Shipibo to tylko jeden z czterech istniejących. "Jakon nete" ( "dobry świat" ), tam gdzie mieszka Ojciec Słońce, to miejsce gdzie trafiają ludzkie duchy, i gdzie meraya, uzdrowiciel, jest w stanie docierać jeszcze za życia, dzięki mocy ayahuaski, szukając rozwiązania problemów swych pacjentów.
…
Wall of primary school in Shipibo area of Yarinacocha. "Non nete" means our world, but it is one of four existing, and "jakon nete" is one of the others, meaning "good world", it is a place where human spirits live, most of them after death, but meraya, the healer is able to come there earlier, at will, using the vehicle of ayahuasca.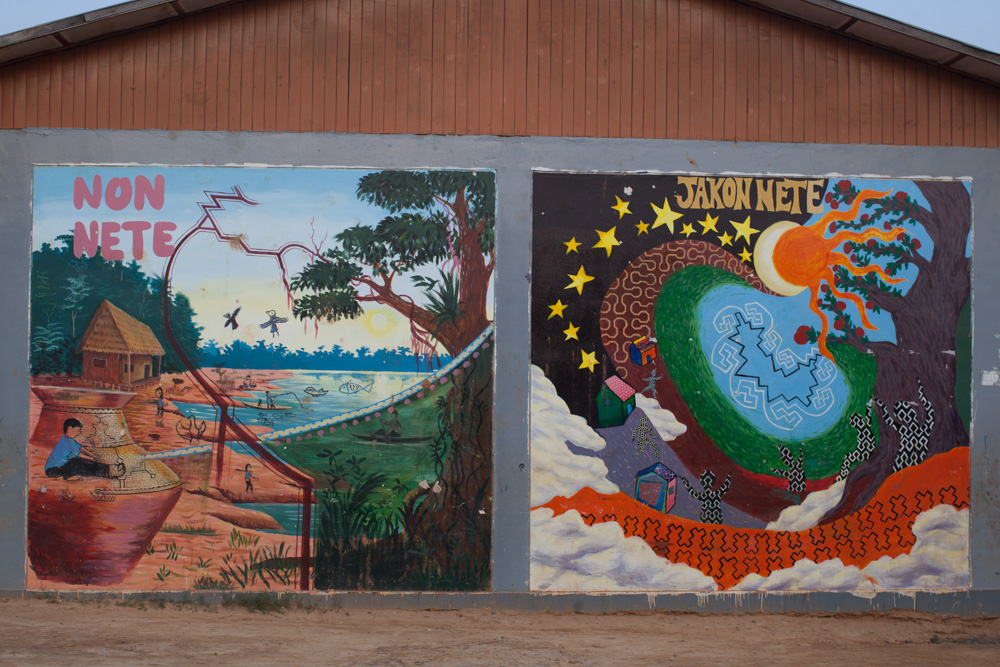 En su texto El ojo verde. Cosmovisiones amazónicas, AIDESEP y otros autores (2000), hacen referencia a los cuatro mundos en la cosmovisión shipibo-konibo. Según el testimonio del profesor Eli Sánchez, el mundo de las aguas o jenenete es habitado por los espíritus del agua, siendo el más poderoso Ronin, un espíritu caracterizado como una boa grande. Este mundo también está habitado por los shipibo-konibo que viven dentro del agua, personajes a quienes denominan jenechaikonibo.
'Nuestro mundo' o non nete es, hace referencia al mundo habitado por los seres humanos, por los animales que pueden comerse, por las plantas, los árboles, las aves y demás seres vivientes. Este mundo estaría también habitado por los espíritus de las plantas, como la lupuna, la catahua, el ayahuasca, el tabaco, entre otros.
El 'mundo amarillo', denominado panshinnete, es el mundo de los pecados y de los malos espíritus.
El cuarto mundo es el 'espacio donde está el Padre Sol' o jakon nete, espacio a donde llegan espíritus de seres humanos, así como los espíritus de los animales y las plantas. Este es un mundo lleno de flores, de frutas y de plantas, que solo el médico shipibo-konibo, el meraya, tiene la capacidad de visitar antes de su muerte. Según la creencia de este pueblo, este especialista de la salud puede recorrer los cuatro mundos y tomar contacto con los seres que ahí habitan mediante la ingesta de ayahuasca.