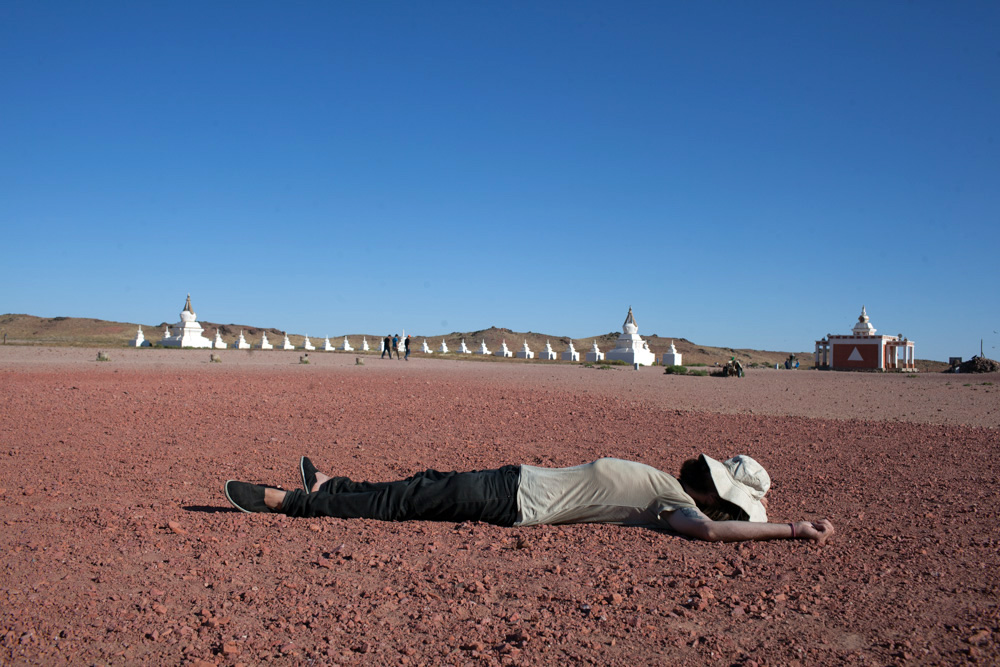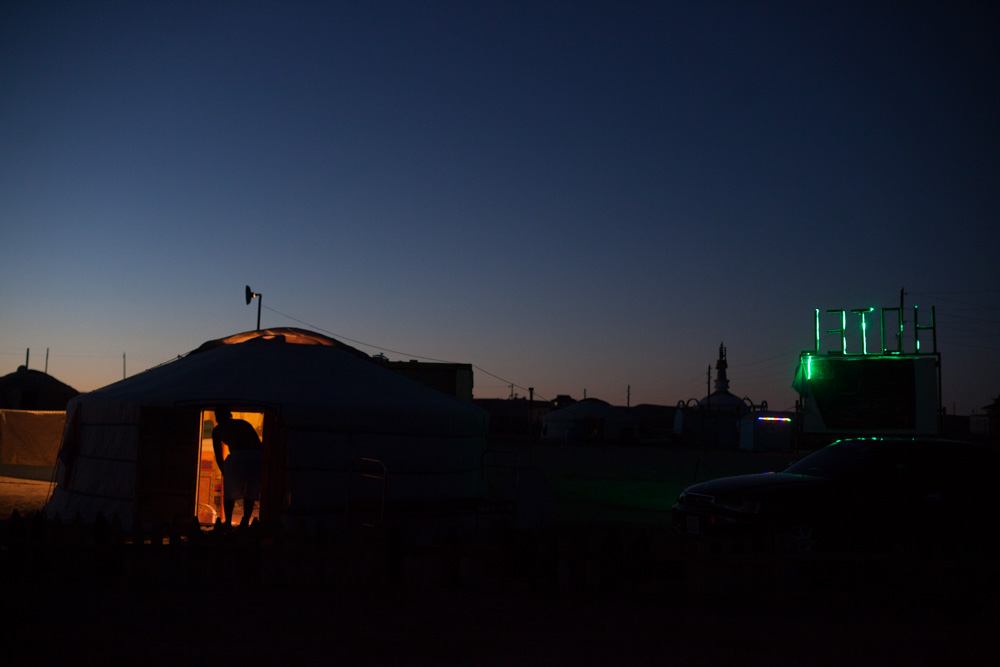 It is a bit ironic, that in the Gobi desert, where estimated six billion tons of coal are hidden and about to be exploited by multinational mining companies, a place exists which is called by enthusiastic tour operators World Energy Center and it is located on the grounds of Khamriin Khiid, which means Monastery of the Nose. Some believe the door to Shambala is located here. It is full of places frequented by pilgrims performing superstitious tasks such as banging bells, pouring milk over giant stone tits and many others supposed to bring success, children, money and whatever Far East considers as happiness. There is also a place with red rocks which magically energize you as well as your electronic gadgets.
The monastery was established by Buddhist monk in the beginning of 19th century, and at a time it hosted more than 80 temples and 500 monks, until communists kicked everyone in. The monks are back now but they can be rather found in comfy modern buildings than caves where old ascetic generations used to meditate.
…
Jest to nieco ironiczne, że właśnie na pustyni Gobi, gdzie złoża węgla eksploatowane właśnie przez międzynarodowe korporacje ocenia się na sześć miliardów ton, jest też miejsce nazywane przez entuzjastycznych organizatorów wycieczek Światowym Centrum Energii, i znajduje się na terenie Khamriin Khiid, czyli Klasztoru Nosa. Niektórzy wierzą też, że to tu znajdą bramę do mitycznej Shambali. Teren jest pełen świętych miejsc odwiedzanych przez pielgrzymów podążających za rozmaitymi przesądami, walących w dzwony, wylewających kartony mleka na wielkie białe kamienne cycki, i wiele innych rytualnych gestów mających sprowadzić sukces, dzieci, kasę czy co tam jeszcze Daleki Wschód uważa za szczęście. Jest też teren pokryty czerwonym żwirem, kamieniami które w magiczny sposób energetyzują gości jak również ich komórki czy inne elektroniczne gadżety.
Klasztor został założony przez buddyjskiego mnicha na początku XIX wieku i w swoim czasie mieścił ponad 80 świątyń i 500 mnichów, zanim komuniści wszystkich nie wykopali. Mnisi są już z powrotem, ale można ich znaleźć raczej w wygodnych nowoczesnych budynkach niż w jaskiniach gdzie dawne ascetyczne pokolenia zwykły medytować.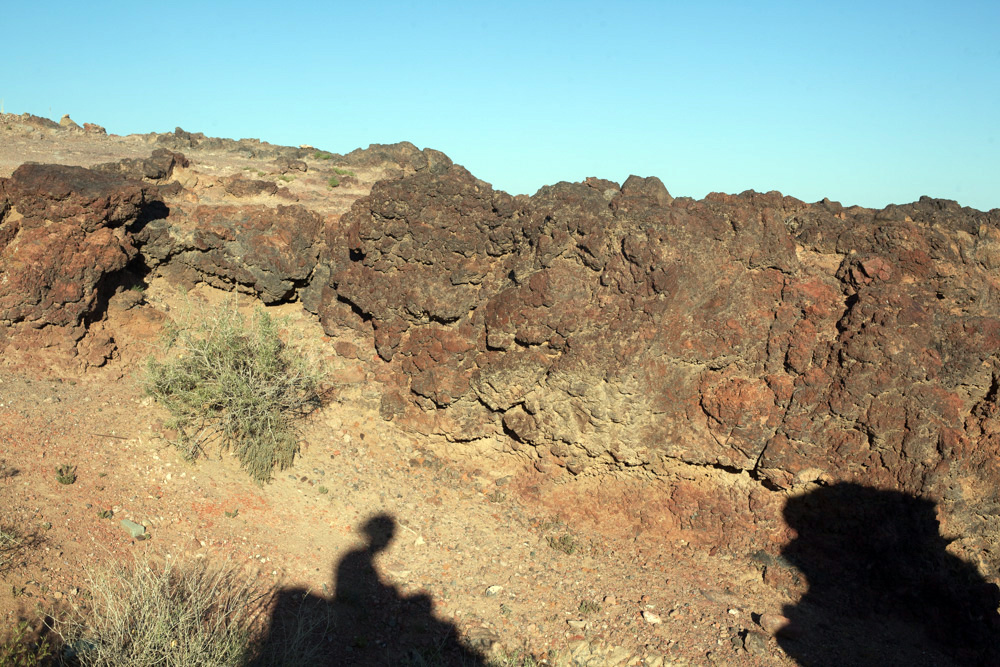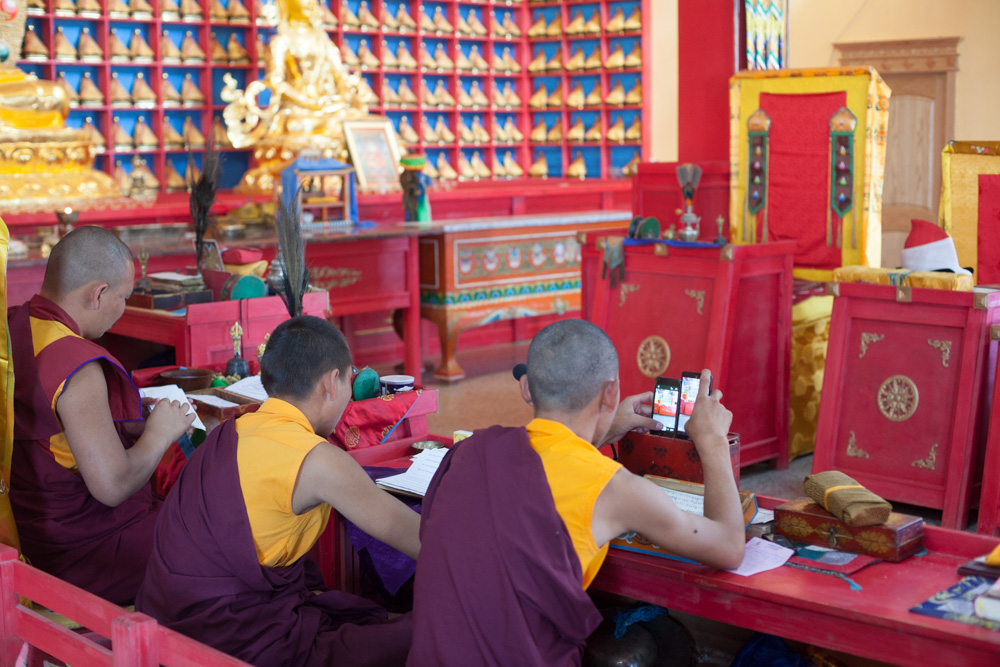 Despite ugly Chinese flavoured concrete modernity and under a thin layer of Buddhist decoration, as it is usually the case, lies however a true power spot and a shamanic tradition dating way back before prayer wheels and cash collecting boxes.
…
Pomimo przyprawionej chińskim gustem betonowej nowoczesności i pod cienką warstwą buddyjskich dekoracji, jak to zwykle bywa, znajdujemy się jednak w prawdziwym miejscu mocy i szamańskich praktyk sięgających korzeniami dużo przed młynki modlitwne i skrzynki do zbierania datków.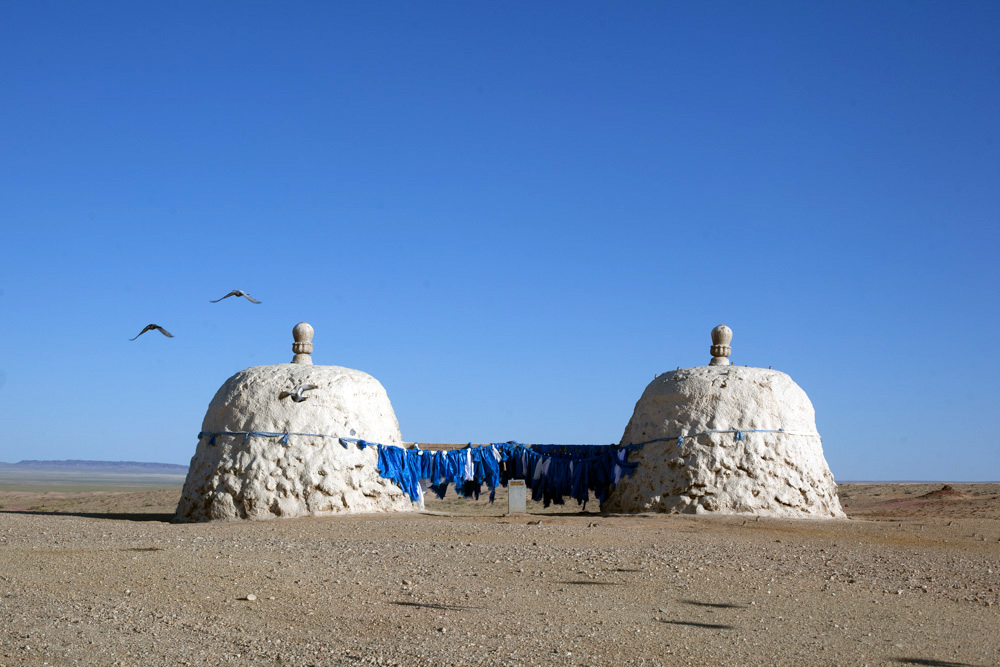 That is why we decided to come here, me and a fate given bunch of people I met in Mongolia, and to experiment with our consciousness in picturesque setting in the true center of nowhere. The tool of choice was desert loving cacti that shamanic tradition from opposite site of the world calls Saint Peter. It turned out to be equally at home in this desert, and in our minds as well as scorched and thirsty bodies.
…
Dlatego też zdecydowaliśmy się tu przyjechać, ja i podarowana przez los grupka ludzi jakich spotkałem w Mongolii, i zaeksperymentowaliśmy z naszą świadomością w malowniczej lokalizacji w prawdziwym środku niczego. Narzędziem tym razem wybranym był miłujący pustynie kaktus którego szamańska tradycja z przeciwległej strony świata nazywa Świętym Piotrem. Okazał się na Gobi być tak samo w domu jak gdzieś na suchościach Peru czy Chile, i tak samo też w naszych umysłach jak i spalonych, spragnionych ciałach.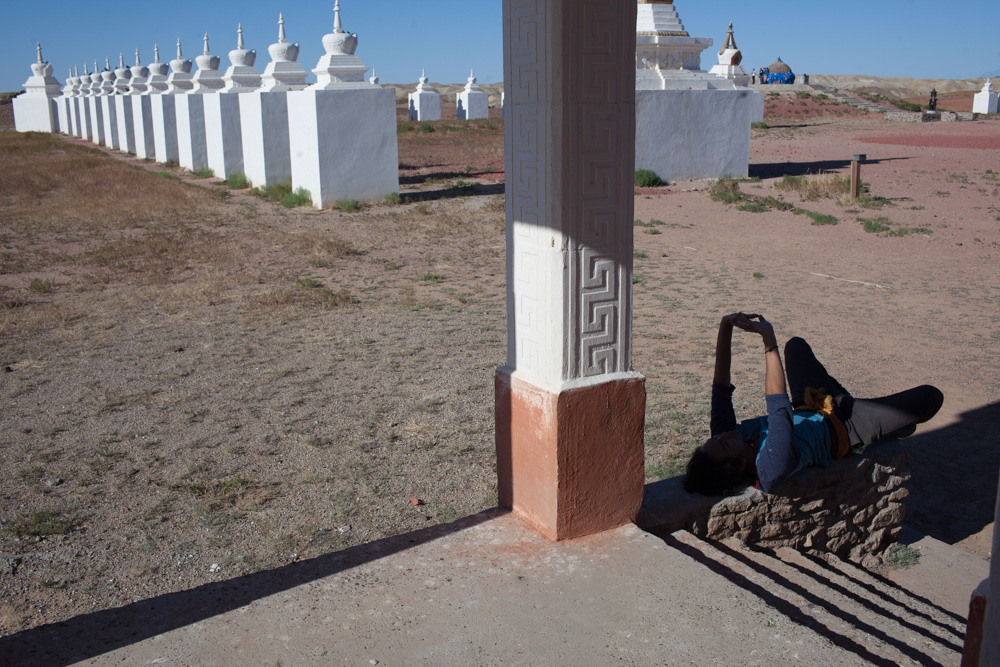 To reach the place we took a night train from Ulaan Bator, arriving at dawn in a typical communist town one can find anywhere starting from Poland until Vladivostok. It is called Sainshand, pronounced something like "sunshine", and that is one thing you can find here for sure.
…
Aby dotrzeć tutaj zarezerwowaliśmy nocny pociąg z Ułan Bator, który dotarł o świcie do typowego komunistycznego miasta jakie znaleźć można na wielkiej przestrzeni między Białymstokiem a Władywostokiem. Nazywa się Sainshand, co wymawia się mniej więcej jak "sunshine", i słońca akurat tu nie brakuje.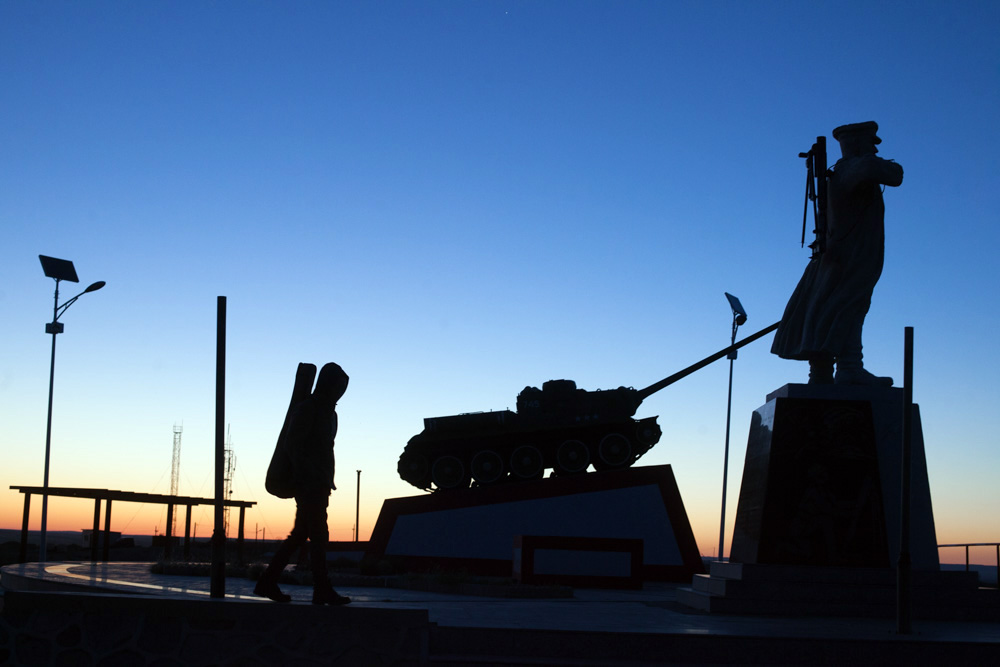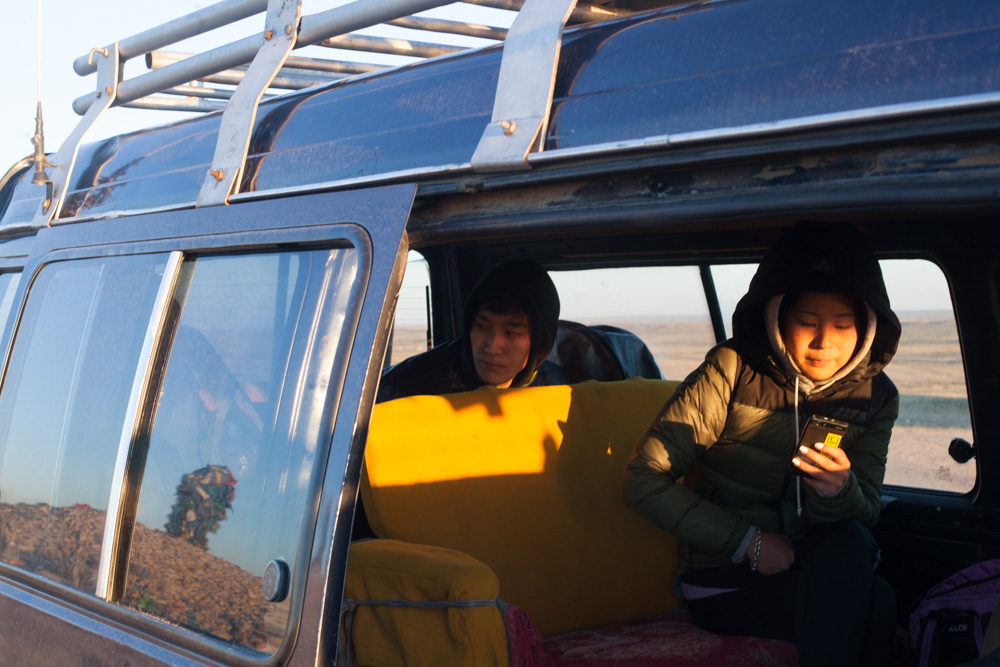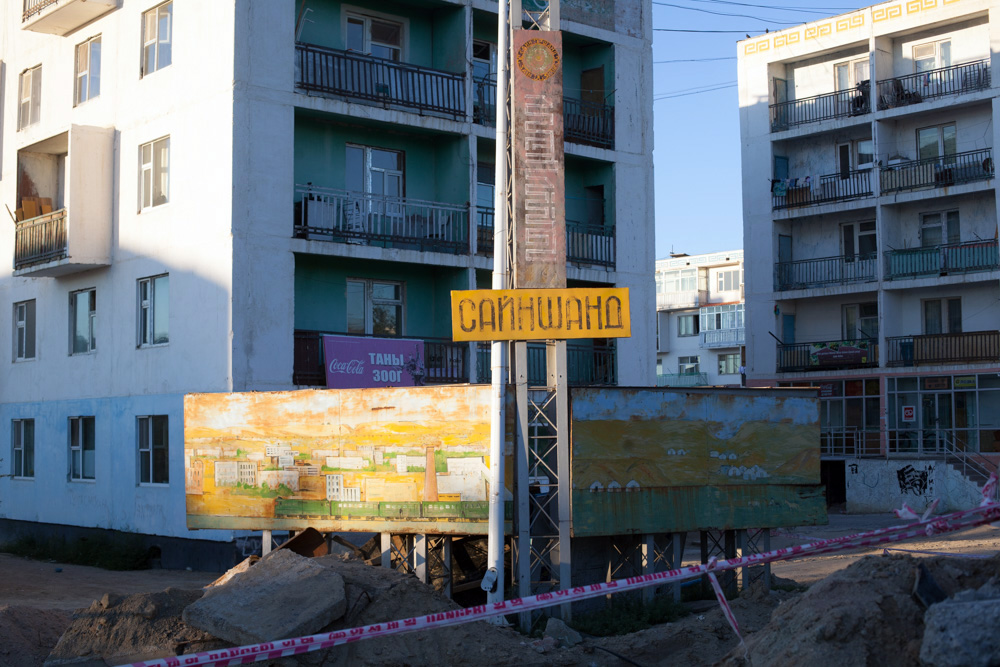 We did not waste time. It is best to take San Pedro early, on empty stomach, because the effects last very long and it is good to reach the high plateau before night, while the sun still guides you and embraces with its rays. I knew the young people with me had little patience, and if we waited, they would have eaten or drunk water, and that doesn't help in holding the stuff in long enough. Vomiting is sometimes inevitable but better not too soon. So the food was placed on the altar for later, and that was basically all the ritual we did, proceeding with the hard process of swallowing spoonfuls of bitter medicine in the privacy of our ger.
…
Nie traciliśmy czasu. San Pedro najlepiej jest przyjąć wcześnie, na pusty żołądek, ponieważ jego działanie trwa bardzo długo, i dobrze jest dotrzeć na szczytową fazę przed nocą, kiedy jeszcze słońce prowadzi i obejmuje swymi promieniami. Wiedziałem, że młodzi ludzie towarzyszący mi mają mało cierpliwości, i że jeśli będziemy zwlekać, zaczną jeść lub pić wodę, a to nie pomaga w utrzymaniu zielonej brei w środku dostatecznie długo. Wymioty są czasem nieuniknione, ale lepiej nie za szybko. Jedzenie zostało zatem pięknie rozmieszczone na ołtarzu, i był to w zasadzie cały rytuał na jaki się zdobyliśmy, przechodząc od razu do ciężkiego procesu przełykania łyżki za łyżką gorzkiego lekarstwa, ukryci w naszej jurcie.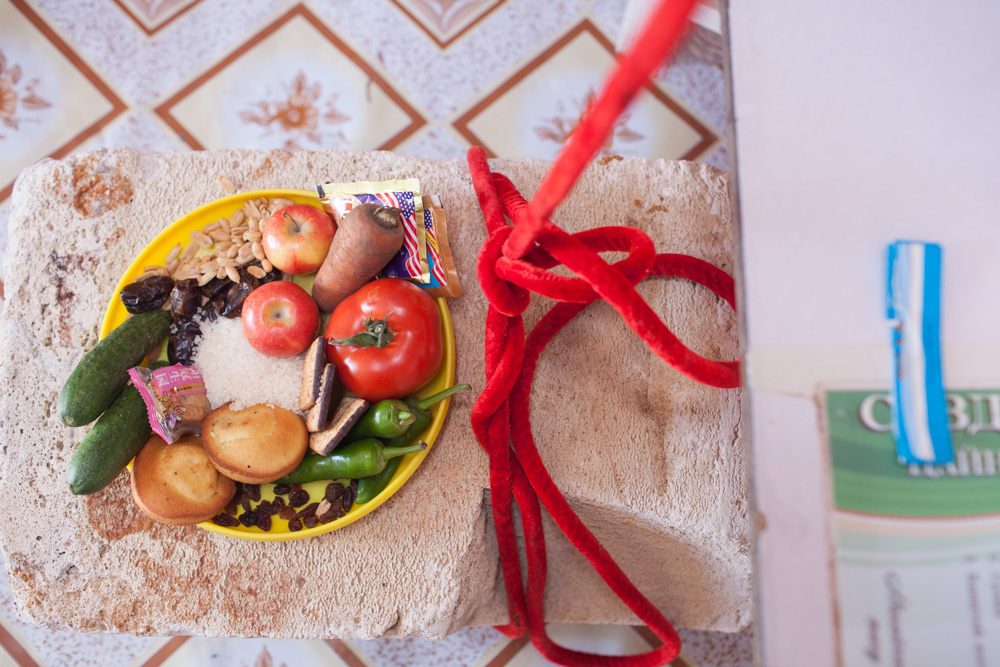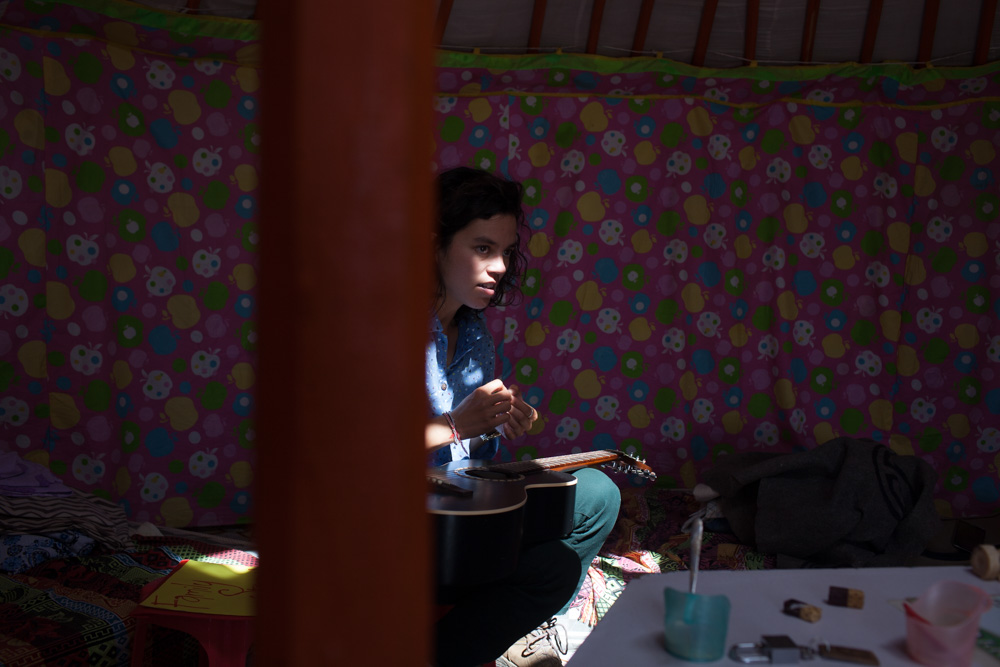 We spent some time laying sick inside, and then decided, let's take a walk to the monastery, it is only 10 minutes away from the camp, come on. We came back after nightfall, after many minutes, adventures, grains of sand and insights. The paths and shelters of Buddhist calm were perfect place for mescaline solitude, meditation of muscles and weary brain, contemplation of sun burning our skin and the meaning of water in its absence, as usual, basic things, bring attention down to the simple beauty of existence.
…
Spędziliśmy troche czasu leżąc zmożeni kaktusowym ciężarem w jurcie, a potem padł pomysł, chodźmy na spacer do klasztoru, to tylko 10 minut od obozu. Wróciliśmy po zmroku, po wielu, wielu minutach, przygodach, ziarnach piasku i refleksjach. Ścieżki i schronienia buddyjskiego spokoju były doskonałym plenerem do meskalinowego odosobnienia, medytacji mięśni i zmęczonego mózgu, kontemplacji słońca palącego skórę i znaczenia wody w momencie jej braku, jak zwykle, banalne, podstawowe rzeczy, sprowadzanie uwagi do prostego piękna egzystencji.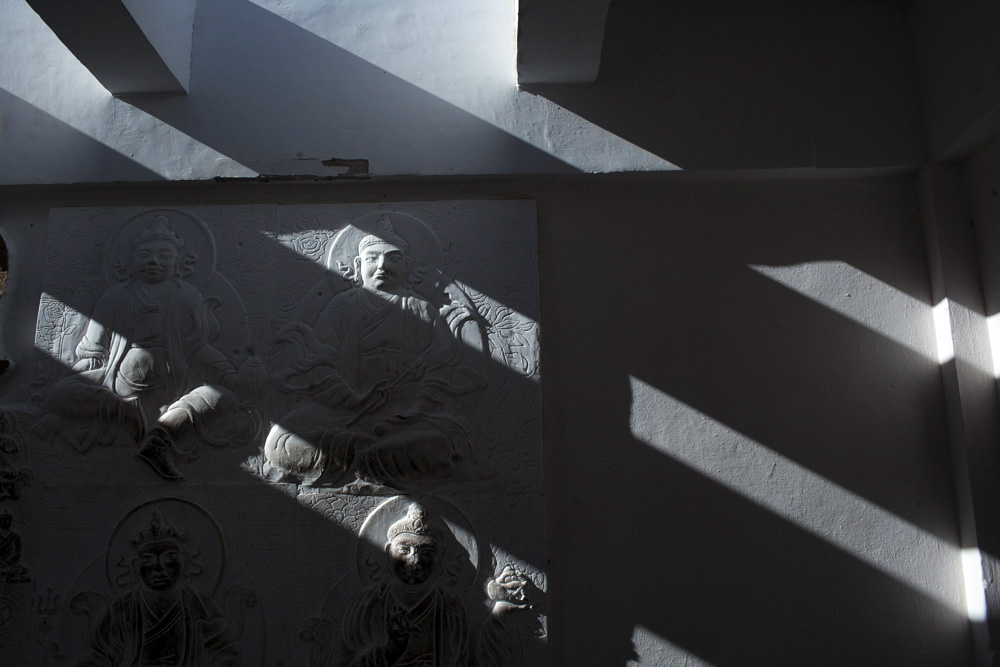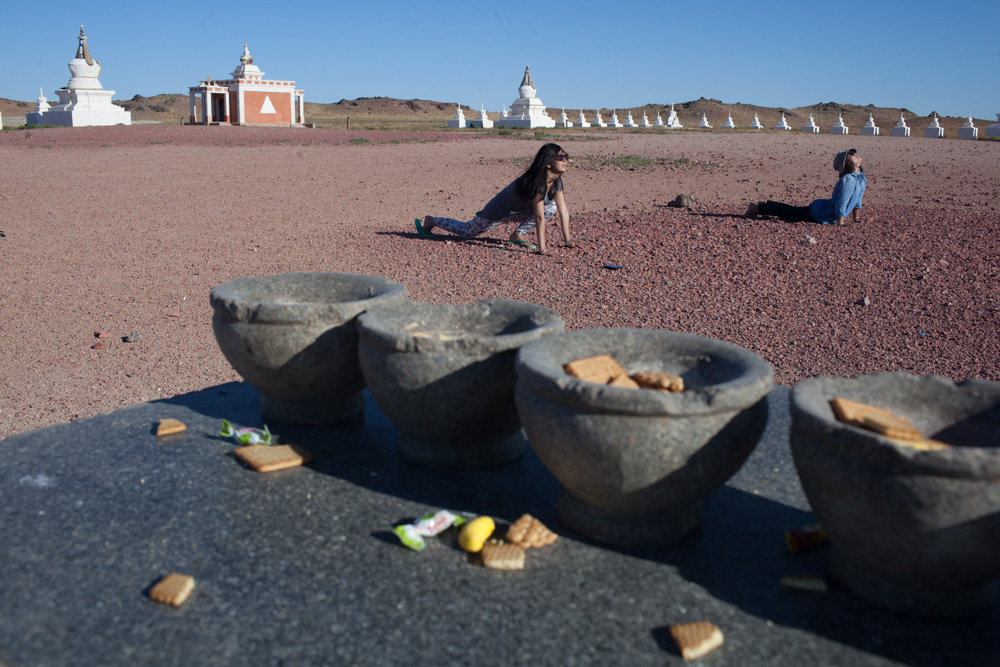 As often with this plant, the feeling was of gratefulness despite scarcity and limitations. I was happy that because of our limited budget we had no car like most of the modern pilgrims visiting now this place, quickly driving from one spot to another, performing their duties and rituals and speeding off towards success and prosperity. We could honour the earth with our steps, talk to the rocks and listen to the bell long enough.
…
Jak to często bywa w wypadku tej rośliny, dominujące uczucie tego dnia to wdzięczność pomimo braku i ograniczeń. Byłem szczęśliwy że z powodu naszego ograniczonego budżetu nie mieliśmy auta jak większość współczesnych pielgrzymów przyjeżdżających tu z miejsca na miejsce, odbębniających swe rytualne gesty i pędzących dalej, z powrotem, do sukcesu i zamożności. Mogliśmy oddać ziemi szacunek każdym krokiem, pogadać ze skałami i dostatecznie długo posłuchać dzwonu.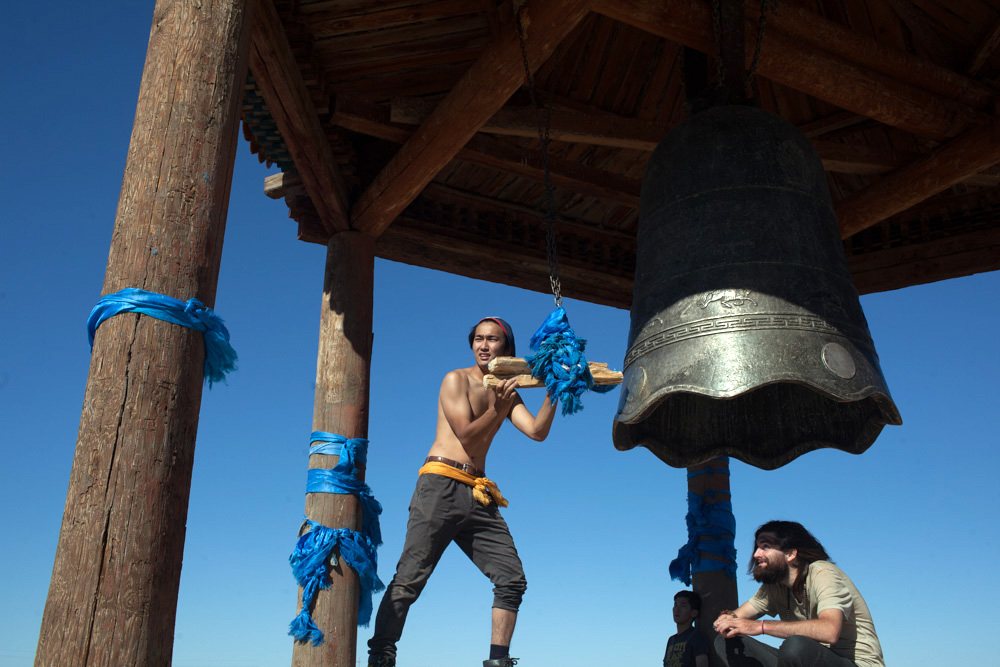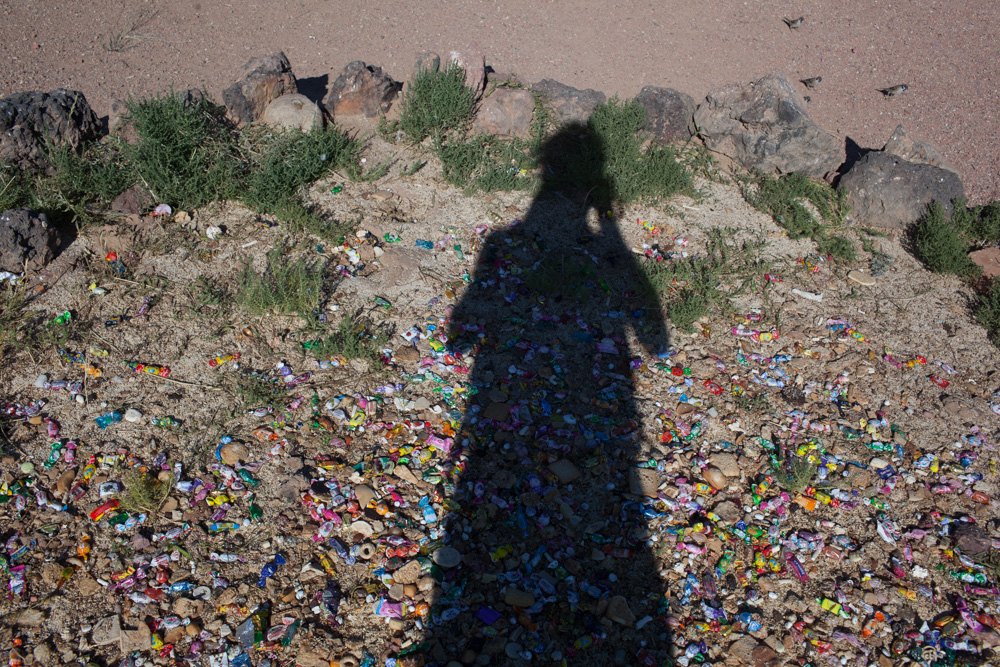 Shamanic roots were visible everywhere, perhaps nowhere more clear than in one of the caves where monks of the past used to meditate. It was called Womb of the Earth, and squeezing through it symbolizes rebirth, ideal that unites many spiritual traditions of today and before, dream of returning to the darkness of beginning and starting again. A dream within our reach, as the plants teach.
…
Szamańskie korzenie były wszędzie widoczne, być może najwyraźniej w jednej z jaskiń w których w przeszłości medytowali pustelnicy. Nazywa się ją Macicą Ziemi i przeciskanie przez nią symbolizuje odrodzenie, ideał, który łączy wiele duchowych tradycji, marzenie o powrocie do ciemności początku i rozpoczęcia od nowa. Marzenie w naszym zasięgu, jak uczą pewne roślinki.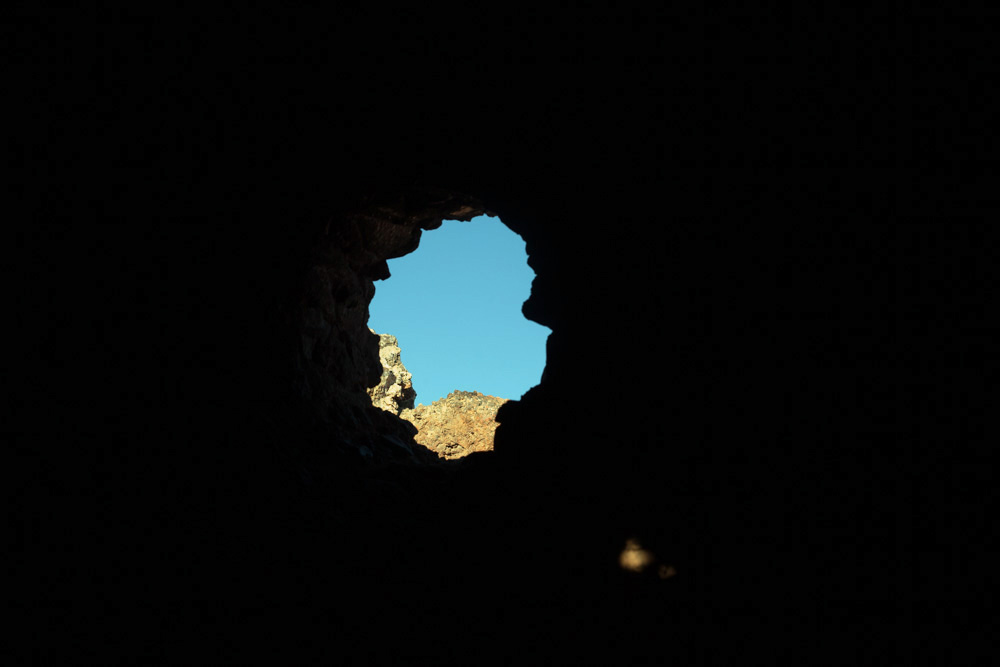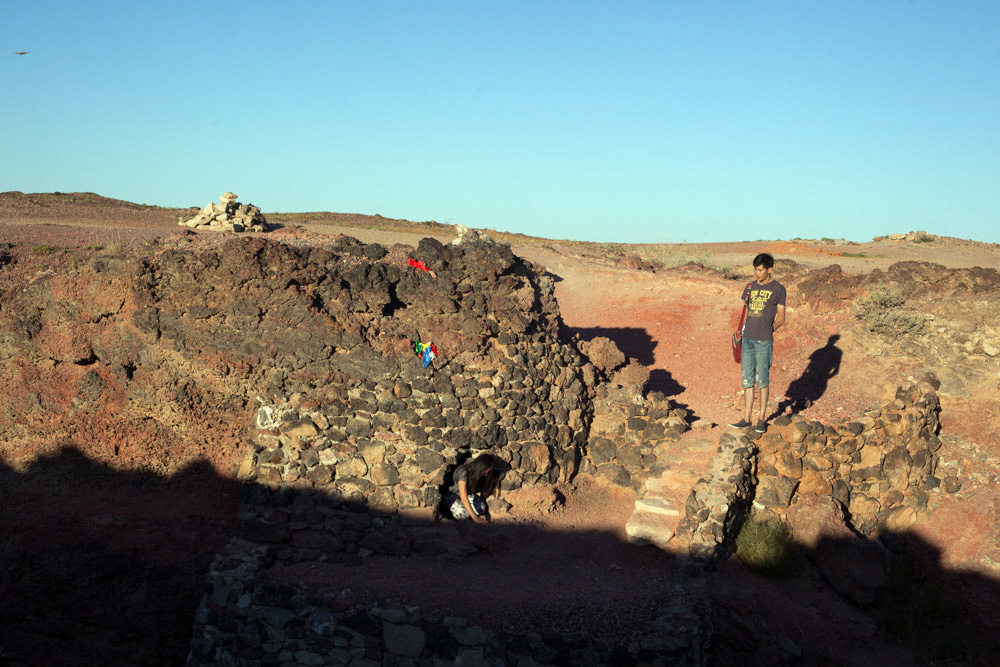 We went out for a short walk in the morning, in t-shirts and so now when evening approaches, the cold of the Gobi in September will be hard to bear. We must head back and part with the immense beauty of the landscape in high phase of medicine effect. But out there, a cosy shelter of nomadic home awaits, hot tea, and when we get dressed for the night, the starry space above us.
…
Rano wyszliśmy w t-shirtach na krótki spacer więc teraz, kiedy zbliża się wieczór, zimno wrześniowej Gobi będzie ciężkie do zniesienia. Musimy wracać i pożegnać się z majestatycznym pięknem krajobrazu w samym środku najwyższej fazy działania lekarstwa. Ale tam w obozie czeka na nas przytulne schronienie, gorąca i mokra herbata, a kiedy przebierzemy się w ciepłe rzeczy, także kino pustynnych gwiazd nad nami.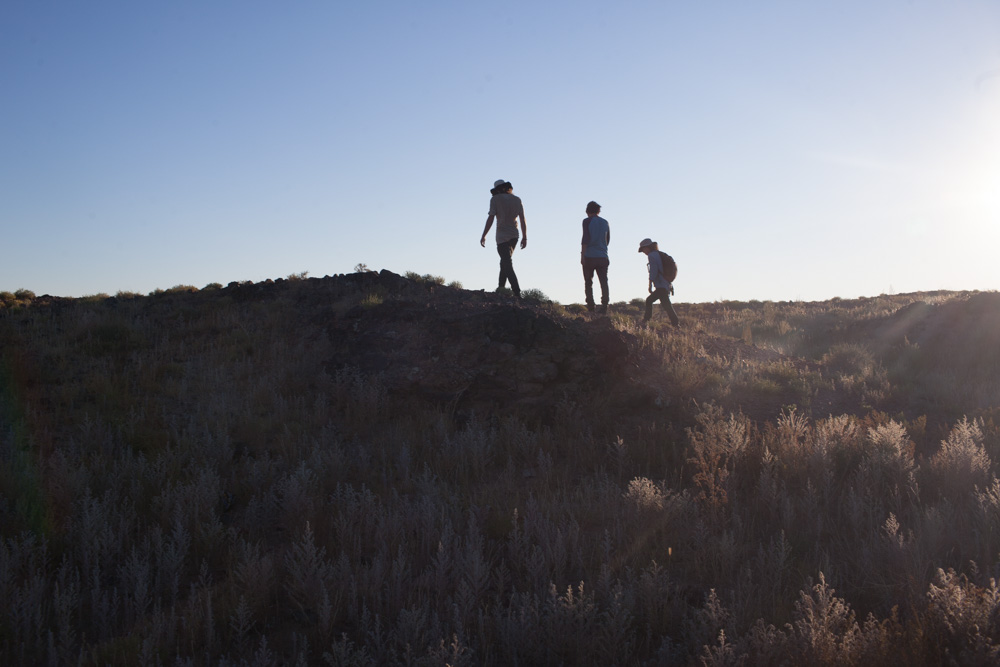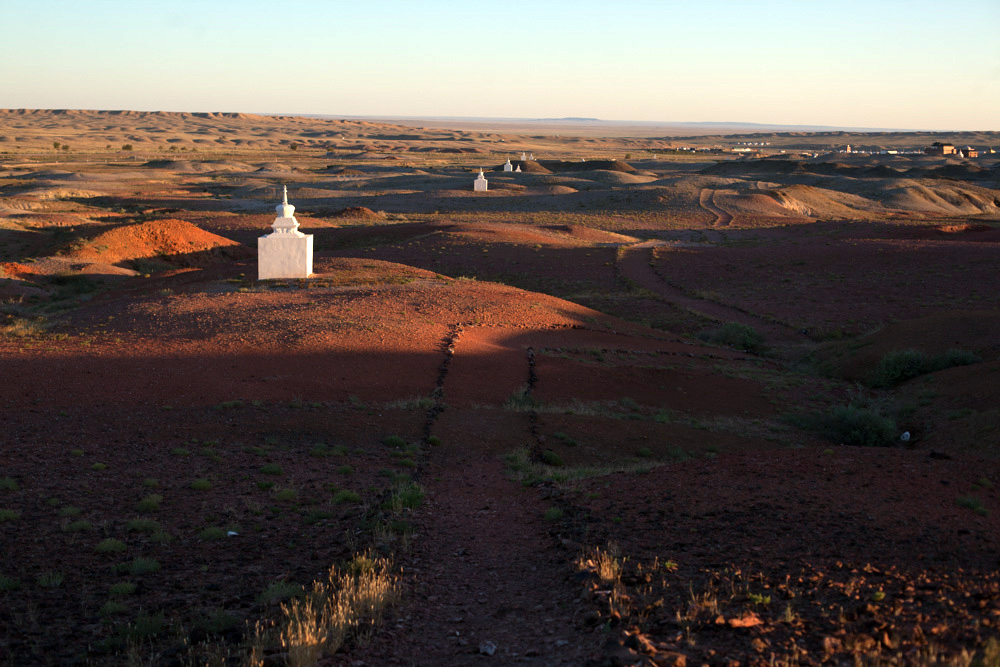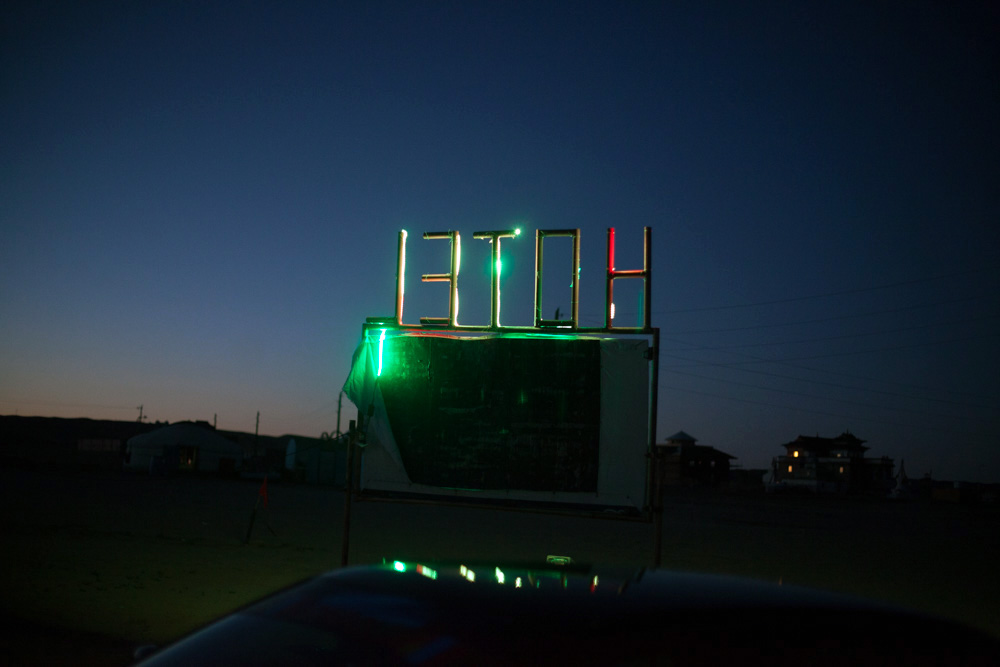 [ Gobi, Mongolia 2014 ]