(…) I ty, zuchwały, i twoja gromada
Wraz byście poszli w głębinie,
Lecz że to kraj był twojego pradziada,
Że w tobie nasza krew płynie – (…)
…
(…) You, the bold one, and all here gathered
you would have sunk down deep below
But for it was the land of your grandfather
For blood that ours in you does flow – (…)
Adam Mickiewicz – "Świteź"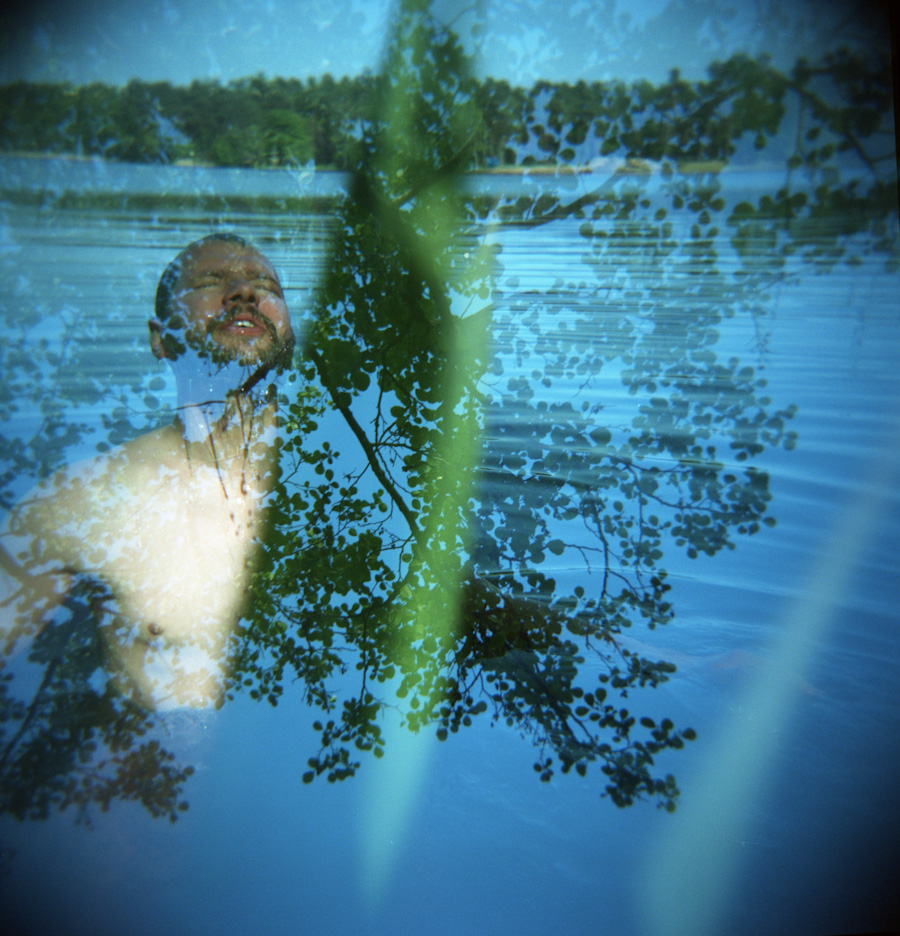 Nearly two hundred years ago, national bard of Poland wrote an epic poem based on old legend about sunken city. It is a common theme of a siege, invaders going to take over, and defenders ready to sacrifice their lives and nature coming to their aid in this suicidal task, destroying everything in the process. There are more ancient legends of this sort and I came to Belarus with a writer who is investigating, looking for a meaning behind the stories, looking for a meaning and character of the country, and looking for meaning in general.
One is tempted to look for various parallels with Chernobyl disaster and what it meant. Who could be invaders in this case, trying to take over, and forced away by the catastrophe? Capitalism, the West, against which Soviet Union fought absurd battle, cold war of egos, ready rather to perish then resign? Or humans in general, whose greed and assault on nature can be only stopped by violent event like this one. It is poignant that human caused pollution in form of disaster has created , in one moment, one of biggest natural parks in this part of world, where all species but man breed and live, free from other forms of pollution that is caused by presence of greedy ape.
So now large part of these lands are like sunken city and we went to explore its stillness, artifacts, to talk to the dead. We crossed the boundary , and our own fear, hoping there will be no punishment and no taboo broken.  To work with the fear, we asked nature to guide us with one of best tools I know for this purpose, sacred mushrooms, and we took them in the abandoned village in the middle of forest, in the Zone.
…
Prawie dwieście lat temu Adam Mickiewicz napisał poemat oparty na starej legendzie o zatopionym mieście. To częsty wątek oblężenia, najeźdzców mających już złamać opór i obrońców gotowych poświęcić swe życia, oraz natury przychodzącej im z pomocą w tym samobójczym zadaniu, niszczącej przy okazji wszystko dookoła. Jest wiele takich starych legend, i przyjechałem na Białoruś z pisarzem w misji, szukającym znaczenia i sensu w tych historiach, znaczenia i charakteru tego kraju, i sensu w ogóle.
Trudno nie ulec pokusie szukania różnych analogii do czarnobylskiej katastrofy i tego co oznaczała. Kim byliby w tym wypadku najeźdzcy, próbujący przejąć kontrolę, i pokonani przez katastrofę? Zachód, z którym Związek Radziecki toczył absurdalną batalię, zimną wojnę ego które raczej gotowe są zginąć niż ustąpić? Czy ludzkość w ogóle, której chciwość i napór na naturę mogą być tylko powstrzymane gwałtownym wydarzeniem takim jak to. To zachwycający paradoks, że wywołane przez człowieka skażenie ponuklearne stworzyło, w jednej chwili, jeden z największych w tej części świata naturalnych parków, gdzie wszystkie gatunki, poza człowiekiem, mogą spokojnie żyć i rozmnażać się, wolne od zagrożenia i wszelakiego zanieczyszczenia jakim skutkuje obecność chciwej małpy.
Obecnie więc duża część tych ziem jest jak zatopione miasto, i przedostaliśmy się tu aby eksplorować jego spokój, artefakty, rozmawiać ze zmarłymi. Przekroczyliśmy granicę i własny strach, mając nadzieję uniknięcia kary i tego że nie łamiemy tabu. Aby pracować ze strachem poprosiliśmy naturę aby prowadziła nas przy pomocy najlepszych narzędzi jakie ma do tego, świętych grzybów, i zjedliśmy je w opuszczonej wiosce w środku lasu, w Zonie.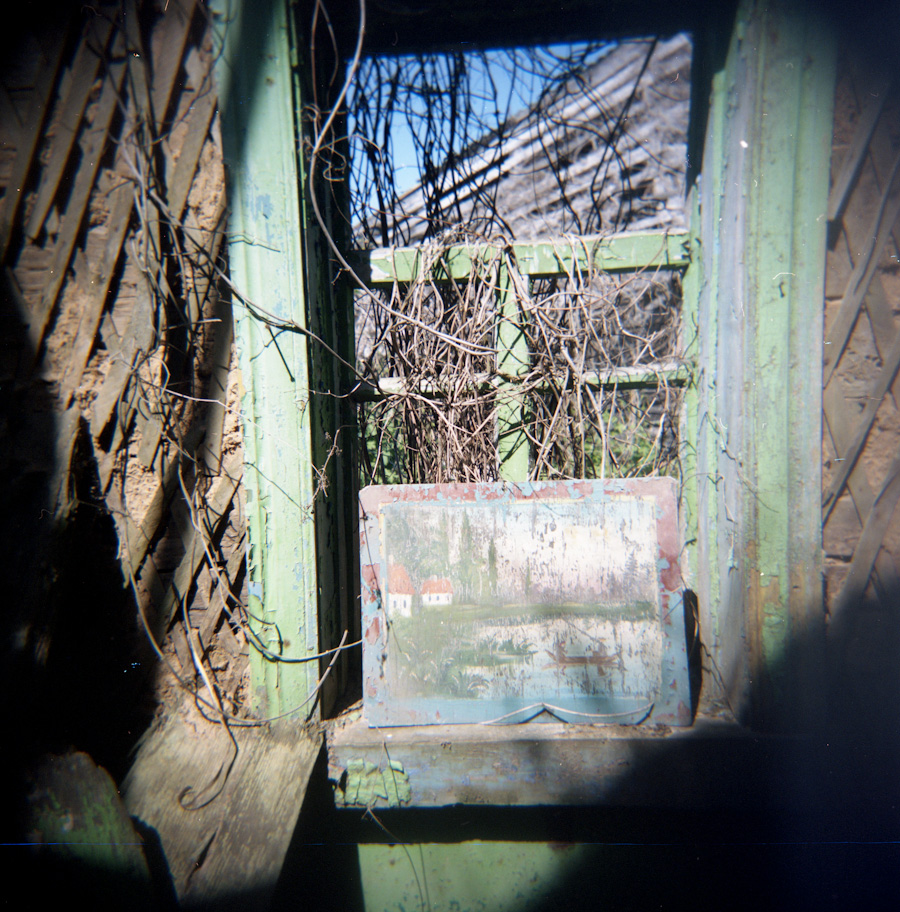 It was late afternoon and I ate handful. I wanted to be on my own and I went to pay homage to the giant concrete soviet soldier guarding entrance to the village. When I got there, anxiety crept in and I decided it is best, and perhaps last moment to take decent crap, so I squatted behind the monument and meditated on my fear and the soldier.
…
Było późne popołudnie kiedy zjadłem swoją porcję. Chciałem być sam i poszedłem pokłonić się gigantycznemu betonowemu sowieckiemu wojakowi strzeżącemu wejścia do wioski. Kiedy tam dotarłem, wtargnął we mnie niepokój i postanowiłem że to najlepszy a być może ostatni moment aby porządnie się wysrać, ukucnąłem więc za pomnikiem, medytując nad swym strachem i nad żołnierzem.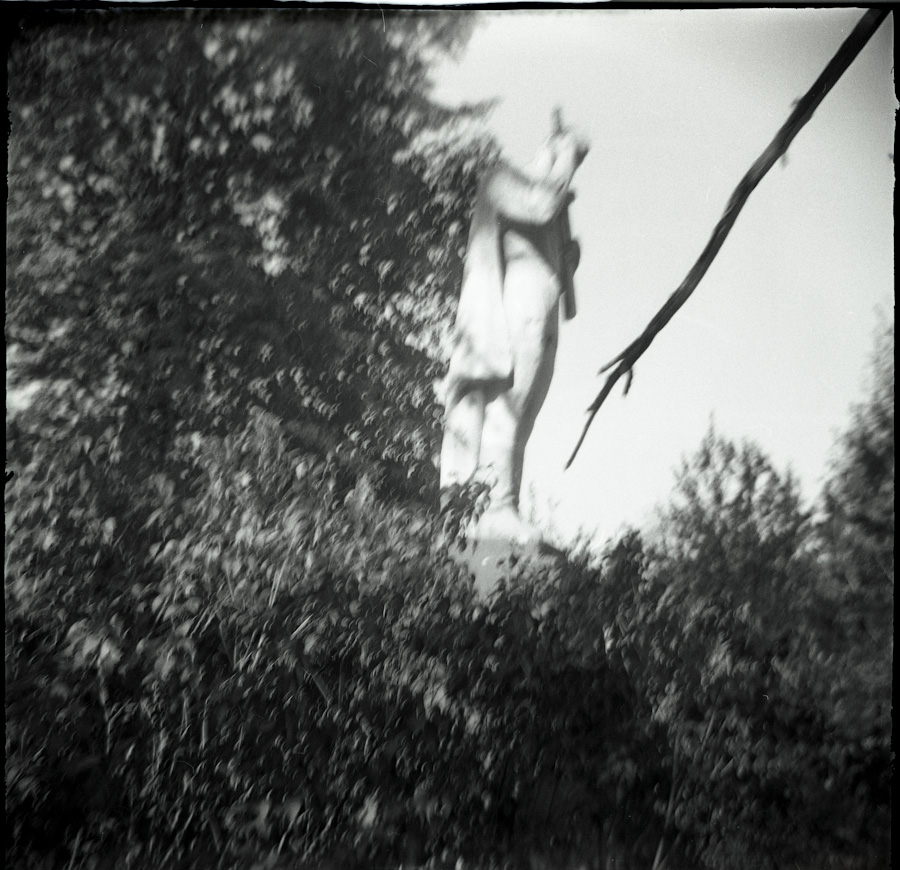 The soldiers could and did stop the hasty blitzkrieg, march of square headed Germans planning to organize the world, but what could they do against the steady, relentless assault of nature? Not much, it was obvious in the Zone and the main theme of the experience. But what could I do to stop the fear ? It was creeping in as I divided my attention between wiping my ass and last chance to change roll in one of my Holgas before I get mad. Or will I? What exactly is the title of the projection I fear? I found joy in this discovery, that to name it , is to take away the power from it. The psychedelics teach us quickly if we choose to pay attention , that most of things we fear are not present in the moment. I fear that I am getting mad, but it is the fear itself that is madness, and it is fear of uncertain future. I fear the mix of psylocybin and radiation can be dangerous, because my rational mind, my threatened ego makes this assumption. I fear I will get physically lost before it happens.  Realizing all this makes fears disappear, turns them into laughter of joy as I rush through the bushes, not in the hurry anymore, to meet with my friends before IT happens, but in hurry to share the joy. What is now is to be enjoyed. Trust, trust, be guided. When I am to fall into hidden, abandoned well, despite tripping, I don't, something warns me. And if were to fall, so I would.
…
Żołnierz radziecki mógł i powstrzymał blitzkrieg, szybki pochód kwadratogłowych Niemców planujących uporządkowanie świata, ale cóżże mógł on uczynić wobec stałego, nieustepującego ataku natury? Niewiele, było oczywistym w Zonie, i był to wątek przewodni naszego doświadczenia. A co mogłem zrobić ja, aby powstrzymać strach? Wślizgiwał się on kiedy ja dzieliłem uwagę pomiędzy szybkie i nerwowe podcieranie tyłka i podejście do zmiany rolki w jednej z moich Holg, zanim oszaleję. No właśnie, czy oszaleję? Czym właściwie jest ta projekcja, to czego się obawiam? Znalazłem radość w tym odkryciu, że kiedy próbuje to nazwać, odbieram mu moc. Psychodeliki szybko nas uczą, jeżeli tylko zechcemy dać swoją uwagę, że większość rzeczy jakich się obawiamy, w ogóle nie istnieją w bieżącej chwili. Obawiam się że nadchodzi szaleństwo, ale to ten strach jest jedynym szaleństwem, strach przed absolutnie nieznaną przyszłością. Obawiam się że mieszanka psylocybiny i radiacji może być niebezpieczna, bo mój racjonalny umysł, moje zaniepokojone ego snuje takie przypuszczenia. Obawiam się że dosłownie zabłądze, zanim to się dzieje. Uświadomienie sobie tego wszystkiego powoduje rozwianie się strachu, zamienia go w śmiech i radość którą niosę przez krzaki, już nie w pośpiechu zanim TO się stanie, ale w pośpiechu by się podzielić. To co jest teraz, to należy smakować. Ufać, ufać, dać się prowadzić.  Gdy mam wpaść do zarośniętej, ukrytej studni, pomimo bycia naćpanym, nie wpadam, coś mnie ostrzega.  A gdybym miał był wpaść to wpadłbym byłbym.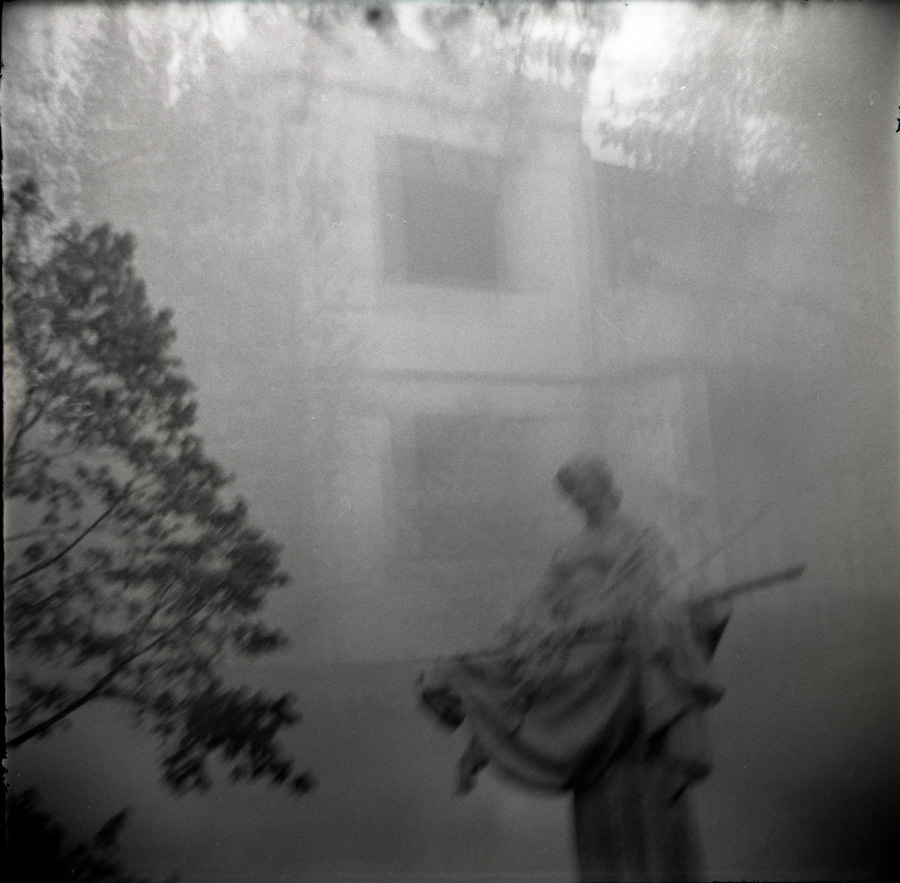 So, you may ask, what about those people evacuated and those who fled, fearing consequences, based on natural activity of modern man – anylyzing, predicting, preventing… ? The cancer they fled from was not to be feared in that moment, but as a consequence, in years to come. So isn't fear good defense mechanism?
Perhaps, depends on the balance, amount, cost. I don't have all the fucking answers. Maybe ask some of those who stayed behind, old men and women, who feared change more than radiation, and thirty years later still live in remote, half abandoned villages, often still in good health.
Here there is no one to ask, but ghosts and forest, but they will soon tell me more interesting story.
…
No a co, możecie spytać, z tymi ludźmi ewakuowanymi, i tymi którzy uciekli, obawiając się konsekwencji, postępując zgodnie z tym naturalnym zwyczajem cywilizowanego człowieka – sekwencją analizowanie-przewidywanie-zapobieganie ? Rak od którego uciekali nie był przecież zagrożeniem danej chwili, ale potencjalną konsekwencją, jaka nadejść miała lata potem. Czyż nie jest więc strach dobrym mechanizmem obronnym?
Być może, zależy od równowagi, ilości, kosztów. Nie mam wszystkich pieprzonych odpowiedzi. Może zapytajcie tych którzy pozostali, starych już dziadków i babcie, którzy obawiali się zmiany bardziej niż promieniowania, i trzydzieści lat później nadal żyją w odleglych na wpół zapadłych siołach, często w dobrym zdrowiu.
Tu nie ma kogo spytać, tylko duchy i las, ale te wkrótce pokażą mi ciekawszą historię.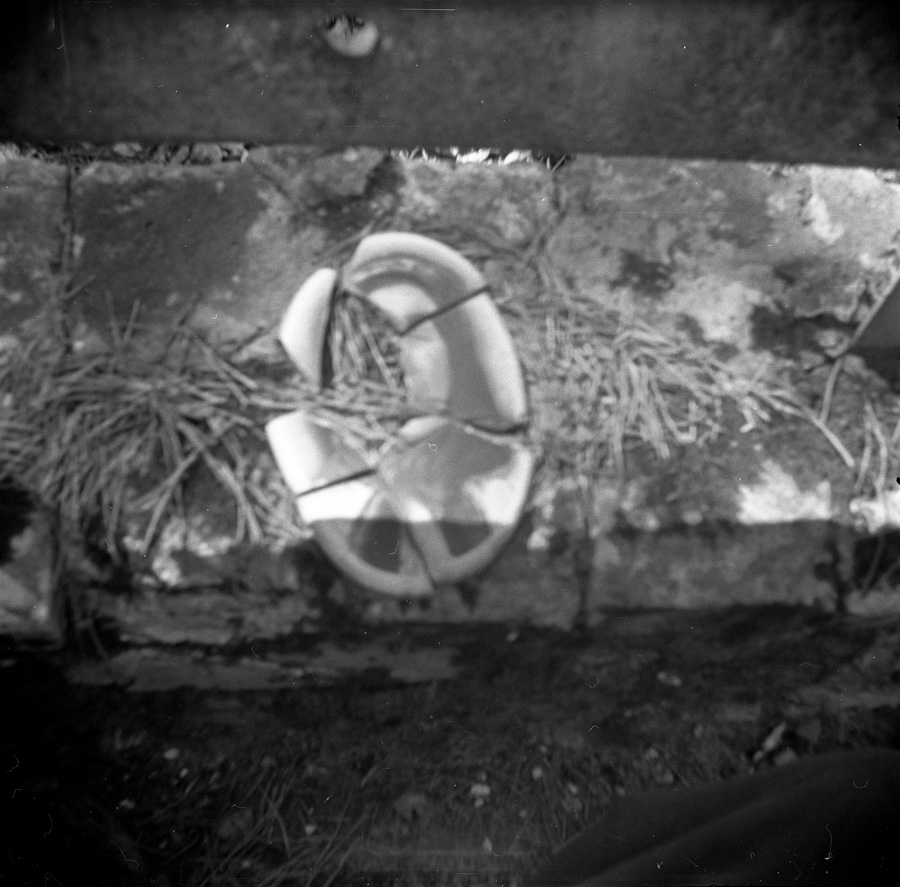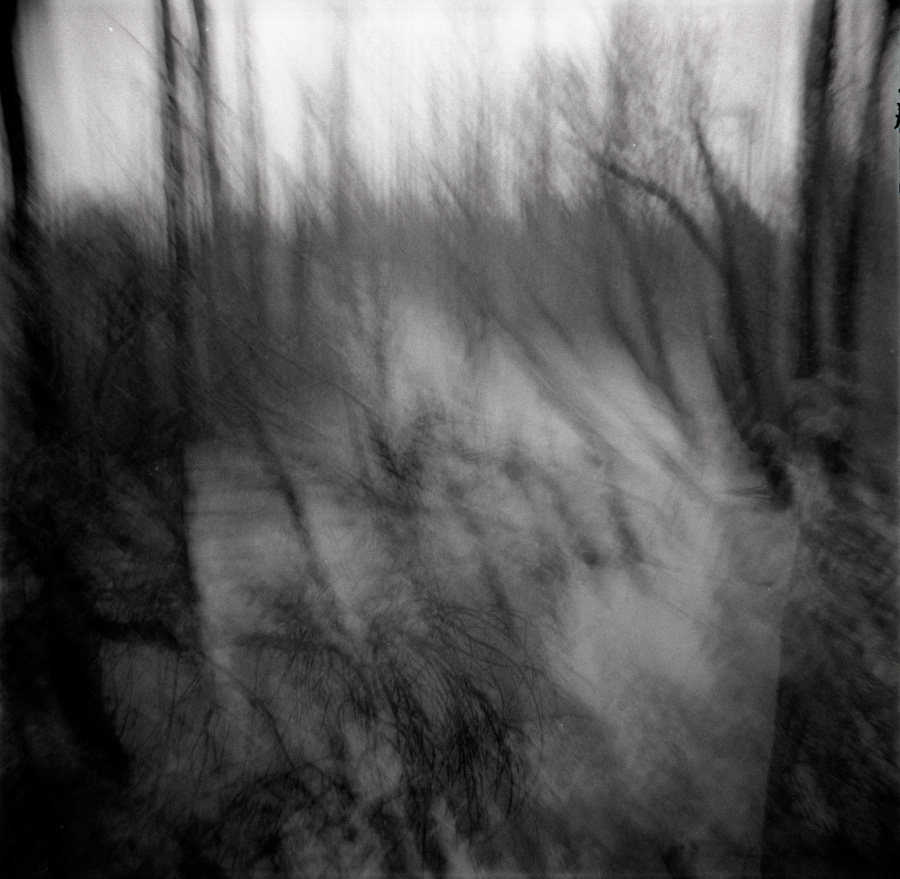 I realize it is better to come back to main path and keep moving towards the base, where my two companions promised to wait, so that we don't get lost in psychedelic confusion. But I am not in a hurry. I contemplate the homes and pay homage to each , sometimes stopping for longer. The uneasy vibration within me beautifully turns into a song with aid of my new toy, jew's harp, a tool to ride the trance on, a new way of speaking, funny sounds, that don't pretend anything like words do.
…
Uświadamiam sobie, że czas powrócić na główną ścieżkę i podążać do bazy, gdzie oczekują mnie przyjaciele, aby nie zagubić się w psychodelicznym zamieszaniu. Ale nie jestem w pośpiechu. Kontempluję kolejne domy, przed niektórymi staję na dłużej. Niełatwa wibracja wewnątrz mnie zamienia się pięknie w pieśń, z pomocą nowej zabawki, azjatyckiej drumli, narzędzia do ujeżdżania transu, nowej formy mówienia, zabawnych dźwięków, które nie próbują za wiele powiedzieć, w przeciwieństwie do słów.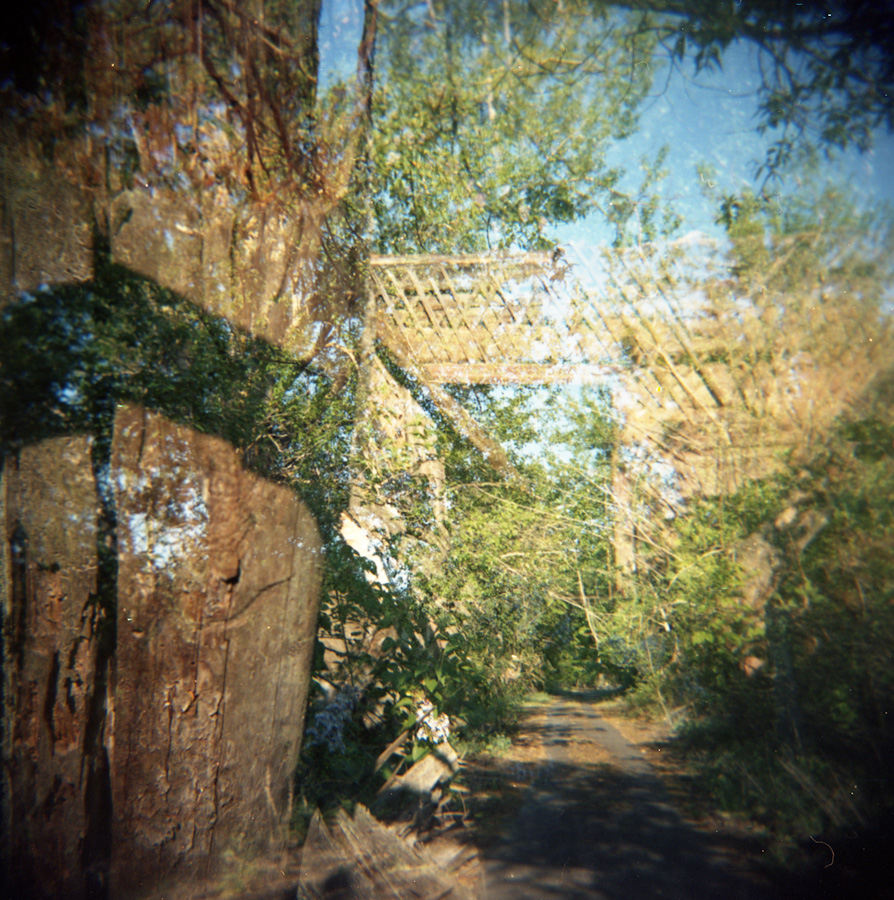 Hours later on this path we will meet a huge boar, rightful ruler of the land. Now it is silent and still when I stop playing. My thoughts are heavy because of this silence and I resume. The homes turn into trees in their calm , slow way. They fall inside, change colour, melt down. The water comes underneath, swamps expand. Layers of concrete foundations, bricks, broken jars interwoven with soil, moss, roots… Paper turns yellow and grey like the leaves of previous autumns.
…
Wiele godzin później na tej ścieżce spotkamy olbrzymiego dzika, prawowitego władce krainy. Teraz jest cicho i martwo, kiedy zaprzestaję grania. Moje myśli są cieżkie i agresywne przez tą ciszę, więc ponawiam melodię. Domy zamieniają się w drzewa w swój powolny, spokojny sposób. Zapadają się do środka, zmieniają kolor, roztapiają się. Woda podchodzi od spodu, bagno rozszerza się. Warstwy betonowych fundamentów, resztek cegieł, kawałków szkła, przeplatają się z ziemią, mchem, korzeniami. Papier żółknie i szarzeje jak liście poprzednich jesieni.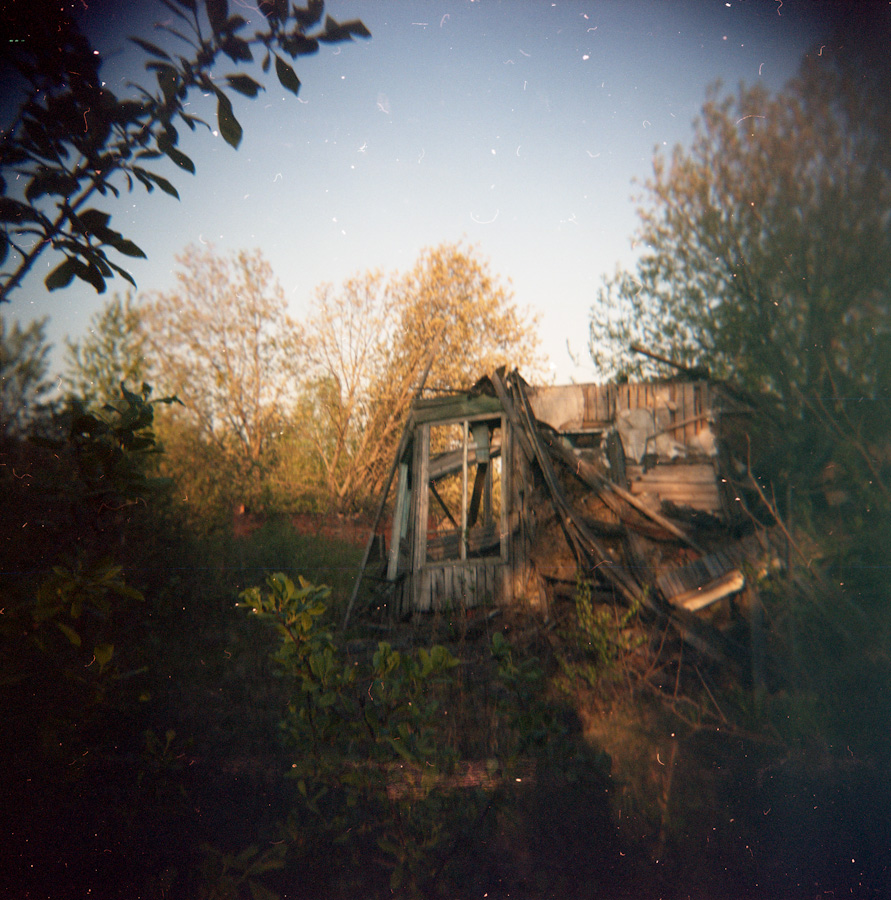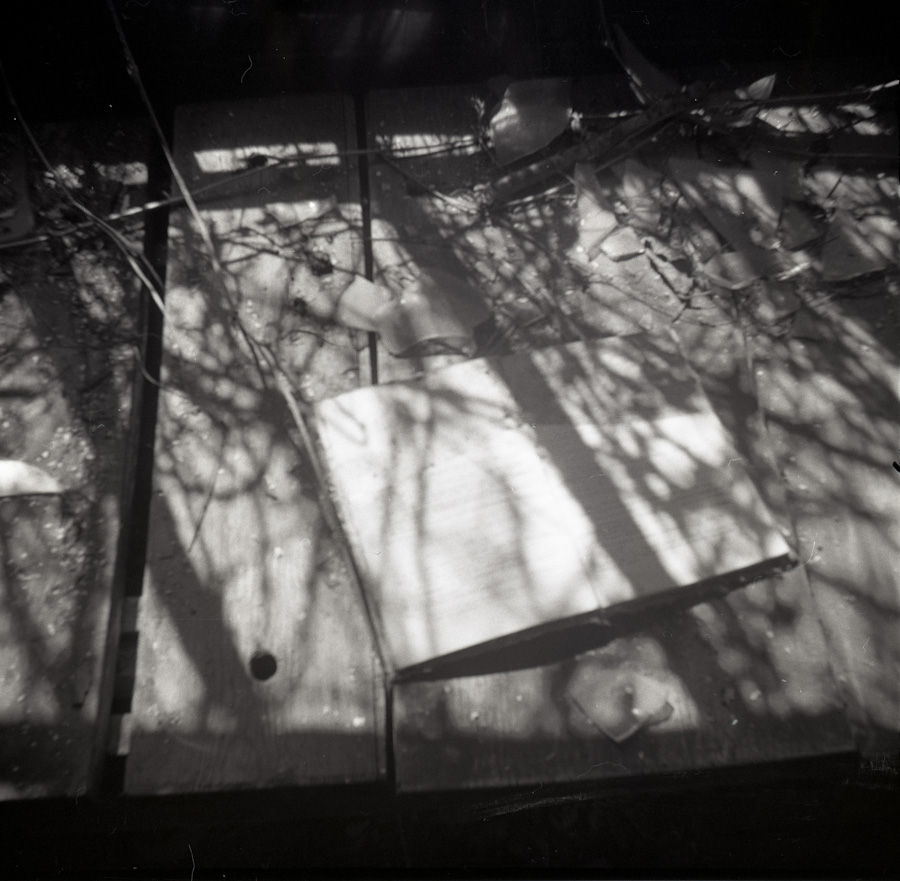 Some homes are already gone. Transformation complete. It was and it is not anymore, pessimist would say, but in recent years, I learned to embrace this changing of the form and understand it always is.
…
Niektóre domy już znikły. Transformacja się dokonała. Było i już nie ma, powiedziałby pesymista, ale ostatnie lata nauczyły mnie cieszyć się tą zmianą formy, i zrozumieć, że zawsze jest.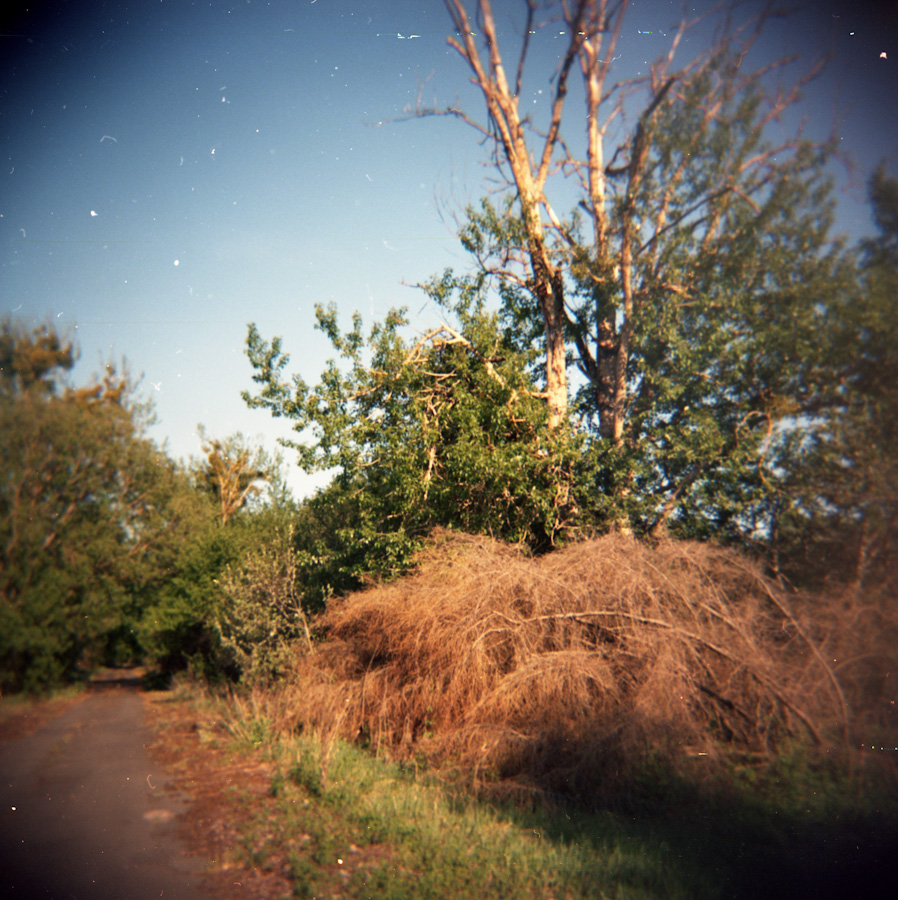 Attachment to the form is source of unhappiness, embracing the transition is a source of delightful sadness. I cry this day, out of happiness. Big pride and dreams may have collapsed here but in doing so they can teach those of us who want to learn how to free ourselves.
…
Przywiązanie do formy to źródło nieszczęścia, zaprzyjaźnienie się z przemianą to źródło słodkiego smutku. Płakałem tego dnia, ze szczęścia. Wielka duma i marzenia być może komuś się tu zawaliły, ale dzięki temu ci z nas, którzy chcą, mogą się nauczyć jak od nich uwolnić.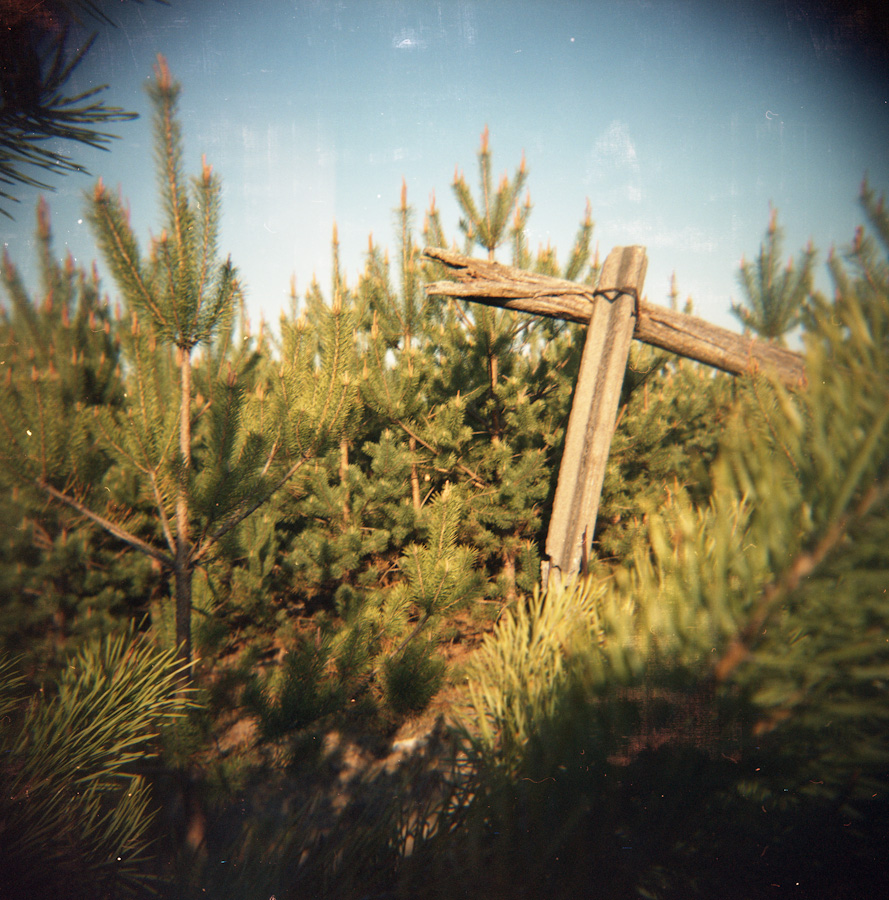 We always cling to something that appears certain, we want to say – now we reached stable ground, now we have a family, home, security. Always illusion.
I creep behind trees and concrete ruins to surprise my friends from the other side than I went away from, to frighten them a bit.
…
Zawsze kurczowo próbujemy się trzymać tego co wydaje się w końcu pewne, chcemy powiedzieć sobie – teraz już dotarliśmy na stabilny grunt, teraz mamy już rodzine, dom, bezpieczeństwo. Zawsze iluzja.
Skradam się za drzewami i betonowymi ruinami, chcąc zaskoczyć i nieco przestraszyć przyjaciół, pojawiając się z przeciwnej strony niż zniknąłem.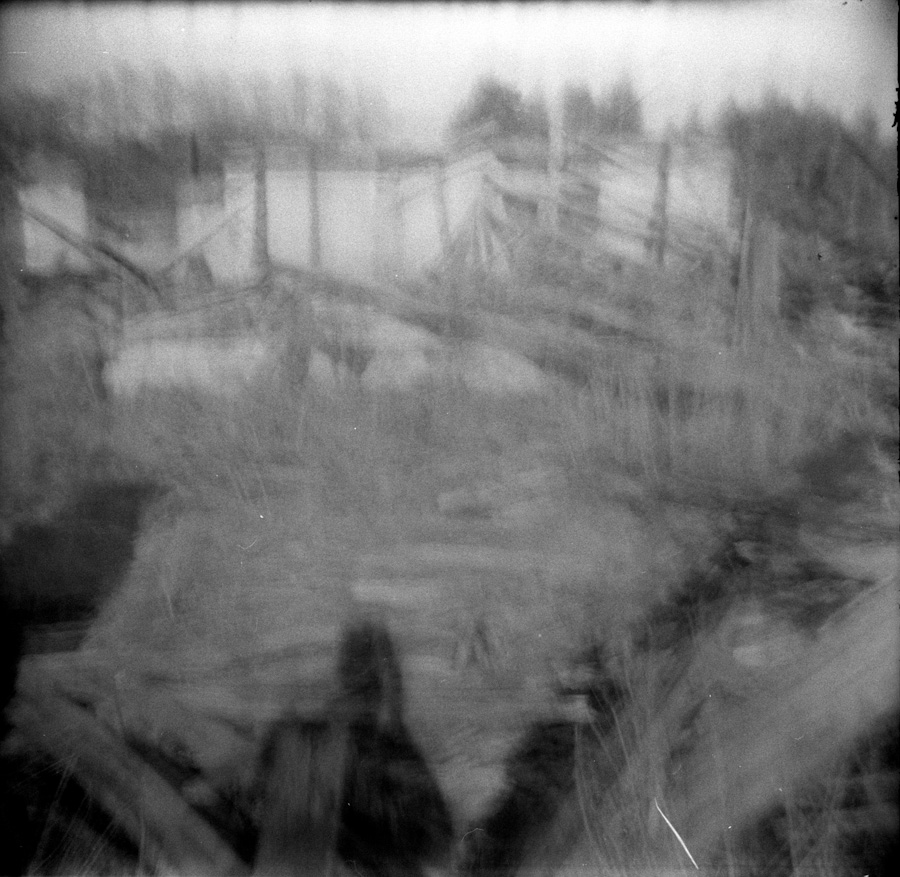 They are my illusion, my point of reference I hold as stable so when I jump from behind the corner, I am struck by the sight of empty camp, things scattered in beautiful light, car unlocked, no one around. I am alone. This is amazing lesson, I am happy how quickly thoughts of complaint "we had a deal" turn into gratitude for my fellow travelers – but here also my teachers.
I am not going to wait for them, but I'll go towards place we saw before, that keeps drawing me stronger, and stronger, as the psylocybin effect climbs its plateau.
The cemetery.
…
Oni są moją iluzją, moim punktem odniesienia, który, jak sobie wymysliłem, jest stały. Kiedy wyskakuje więc zza rogu, w mój zryty baniak uderza widok przerażający nieco, widok pustego obozowiska, rzeczy rozrzuconych w pięknym popołudniowym świetle, auta niezamkniętego, nikogo wokół. Jestem sam. To niesamowita lekcja i jestem zadowolony z tego jak szybko pretensje w mej głowie pod tytułem "nie tak się umawialiśmy" ustepują miejsca wdzięczności dla współtowarzyszy – a w tym wypadku nauczycieli.
Nie będę na nich czekał, idę w stronę miejsca które wcześniej mijaliśmy, które ciągnie mnie coraz silniej w miarę jak efekt psylocybiny osiąga swój szczyt.
Idę na cmentarz.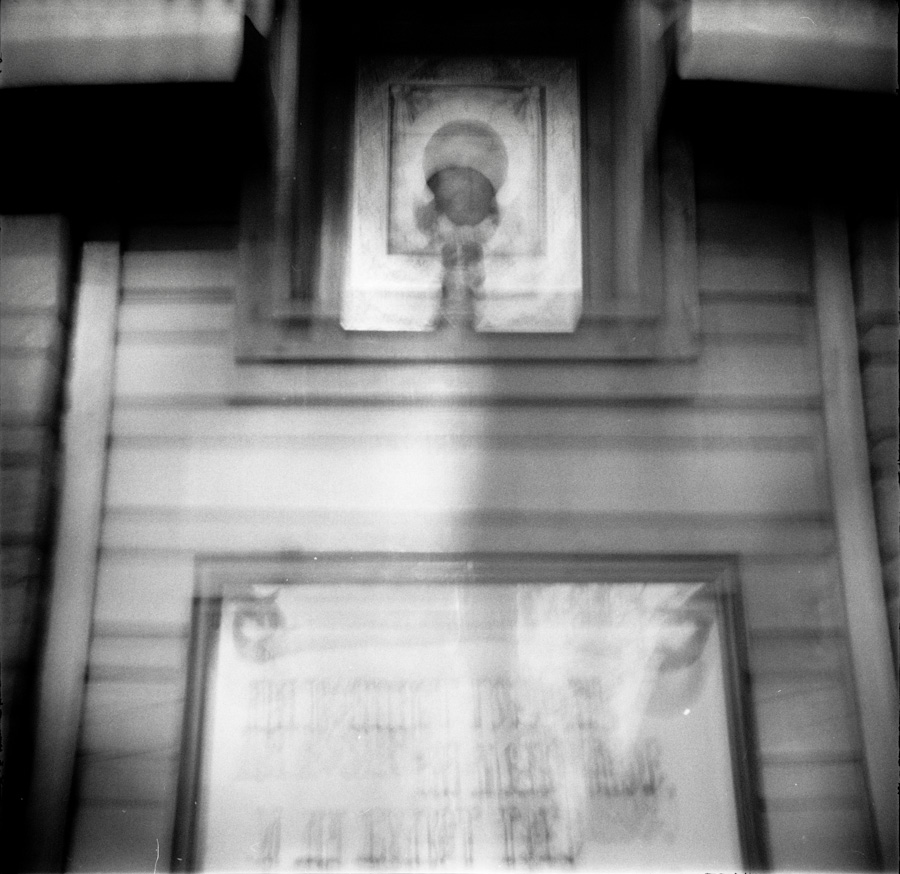 Some days ago, all over the country, people feasted on the graves. It was old pagan tradition, in the beginning of the spring, called Rodzanice. Now the proofs of their presence are visible, the village has been abandoned years ago but the dead still have their visitors, their place is well kept and adorned, sheltered under giant oaks and other trees.
The light is low. It highlights the essential and in this one photo I know I have everything I am trying to tell about One and everlasting dream, about connection over borders of cultures and ages. It is also how I see photography, as receiving gifts. I got another one from the last sun of the day.
The pagan feast is about bounty from the Fate, about giving thanks, receiving and sharing. This pagan feast is life itself.
…
Kilka dni temu, w całym kraju ludzie ucztowali na grobach. To stara, pogańska jeszcze tradycja wiosennego święta odnowy, zwana Rodzanice. Ślady ludzkiej obecności są tu widoczne, resztki jedzenia, kwiaty, wioskę wprawdzie opuszczono wiele lat temu, ale martwi wciąż mają swoich gości, ich miejsce jest dobrze utrzymane, udekorowane, w schronieniu wielkich dębów.
Światło jest nisko, wpada między konarami. Oświetla to co najistotniejsze i robiąc to zdjęcie wiem, że mam w nim wszystko co staram się powiedzieć o Jedni i niekończącym się śnie, o połączeniu ponad granicami kultur i wieków. Tak też widzę fotografię, jako otrzymywanie darów, i dostałem tu jeszcze jeden od ostatniego słońca dnia.
Pogańska uczta to celebracja hojności losu, to podziękowanie, otrzymywanie i dzielenie. Tą pogańską ucztą jest samo życie.
I meet with the others and we head for the swamps at the edge of the village. The end of day is coming but I am still hungry for more.  Who isn't? Another cigarette, another sight, one more insight…
…
Spotykam pozostałych i ruszamy na bagna na skraju wioski. Nadchodzi koniec dnia, ale ja wciąż jestem spragniony więcej. Któż nie jest? Jeszcze jeden papieros, jeden widok, jedno spostrzeżenie…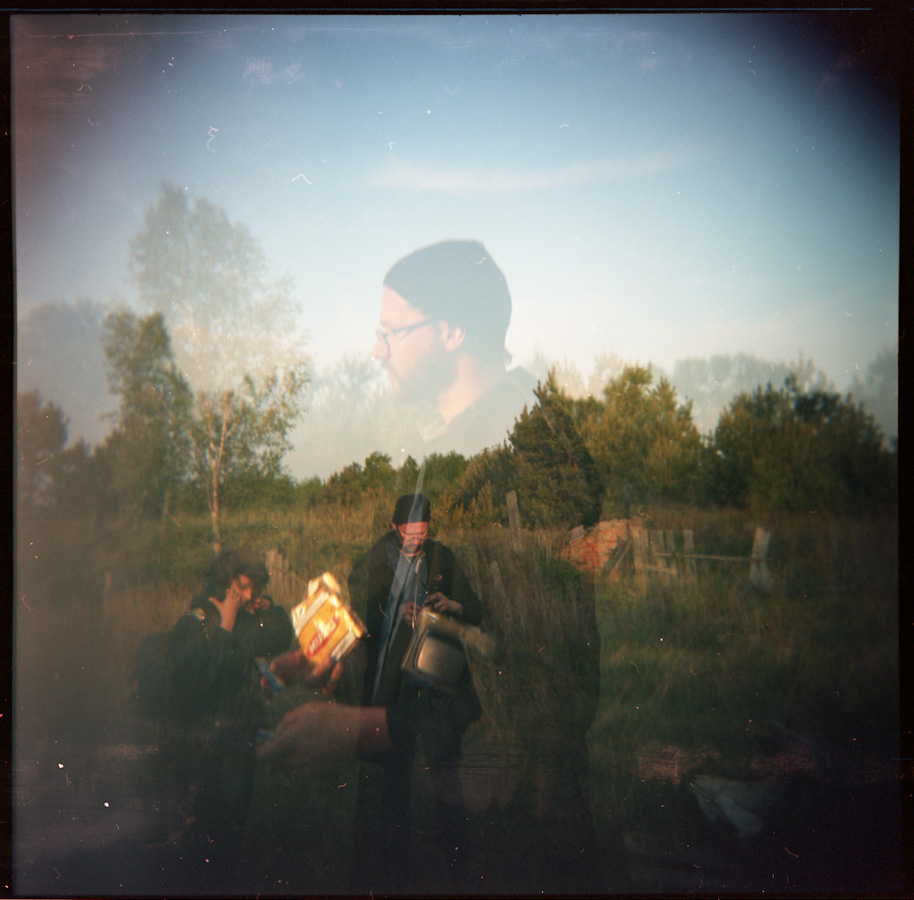 The spring time in the evening is the time to be in the swamps. Life wakes up, birds talk like I never heard them in remote lands. This is Amazon of my tribe, and suddenly I discover I know its language. There is no need for fancy ritual in the process of re-enchantment of the land, it is enough to listen.
…
Wiosna i wieczór to jest właściwy czas aby być na bagnach. Życie się budzi, ptaki gadają tak jak nigdy w tropikach. Oto Amazonia mojego plemienia, i nagle odkrywam, że mówię jej językiem. Nie ma potrzeby skomplikowanego rytuału w tym procesie ponownego zaczarowywania świata. Wystarczy słuchać.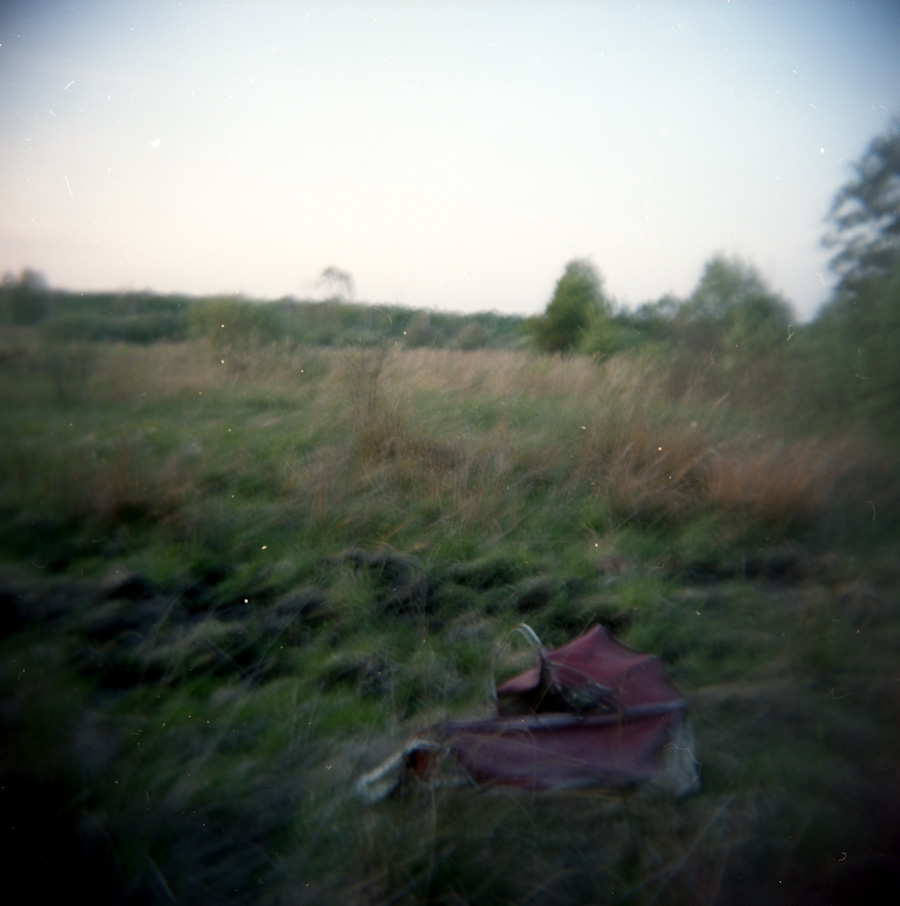 [ Belarus, April - May 2014  /// Białoruś, kwiecień - maj 2014 ]