I was coming here, I must admit, with some fear, which is like a disease that slowly sinks in, despite the defenses you set up, despite what you already know, by way of gossip, media, stories told on the road, doubt is created first, and it grows into little fear, and then into bigger, it is like some kind of muscle atrophy, like loosing stamina, you should not take your fitness for granted, unless you continually work on it, unless you expose yourself to physical hardship, it is unevitable that with age you will grow belly, become weak, slowly fade away. The same is with mental states. So I was apprehensive coming back here after a hard December last year in Lahore, full of tensions, that spread in this country from the north into southern provinces, with danger present every day, just around the corner, especially travelling cheap, in the open.
In that December, with obstacles and failures , one after another, a hard feeling grew, it helped to seal, as one of causes, the end my relationship, it made me nervous, it put me in some sort of crisis.  I was not expecting, and perhaps I should, that the same thing that put me in crisis will help me heal, will be another serious breaktrough on the road to something amazing.
I was now entering the hot Lahore in the end of June, and was welcomed by street riots, with usual package of news of drone attacks, bomb blasts, assassinations and kidnappings of foreigners. Punjab became troubled. In Lahore there was power cuts every hour, leaving me unable to sleep in 40 degrees heat, even in the night, with no fan, you would just wake up the minute it stopped. People were tense, police were tense and suspicious. They searched my bag sniffing for ganja. The Sufi shrines were surrounded with security in the night, even at Shah Jamal drumming was a short affair, not like before, going on late into the night.  I started to think the December story will repeat itself.
And then I went to the south. The stopover in conservative, oven hot city of saints, Multan, literally made me puke the moment I stepped out there, puke out of heat. I could not eat superspicy food, all I wanted day long was another drink. I continued south into Sindh, towards Sehwan Sharif, even if festival was still days away. And there the vibe changed. It was already weird to see police with no guns at the main gate of the shrine, smiling, unbuttoned shirts. I asked them, are they not afraid of bomb blast, like two years ago, in shrine of Baba Farid in Pakpattan. One smiled and answered, "the power of Lal Shahbaz is too great, there is no threat here, no one would try".  And then, when I found best friends that I would after hang out with almost every day, in the small Shia courtyard near the main gate, then I knew that things are really different here. Most of them were police men, all members of the ganja club, fans of bhang, the drink pressed out of cannabis.
***
Jechałem tutaj, muszę przyznać, z "pewną taką nieśmiałością", czy może strachem, który jest jak wirus, powoli rozprzestrzenia się, pomimo zabezpieczeń jakie sobie budujesz, pomimo tego, co przecież już wiesz, drogą plotek, medialnej propagandy, historii jakie słyszysz w trasie, najpierw powstaje wątpliwość, potem rośnie ona w małą obawę, i coraz większą, to jak rodzaj zaniku nieużywanych mięśni, jak utrata kondycji, nie można swej sprawności przyjmować jako daną raz na zawsze, jeżeli stale nad nią nie pracujesz, jeżeli nie wystawiasz się na fizyczne trudności i wysiłek, jest nieuniknionym że w raz z upływem czasu wyrośnie ci brzuch, staniesz się słaby, powoli znikniesz. To samo jest ze stanami umysłu. Tak więc wahałem się wracając do Pakistanu po tamtym ciężkim grudniu w Lahore zeszłego roku, pełnym napięcia, które rozlewa się po tym kraju z dzikiej północy w południowe prowincje, z niebezpieczeństwem codziennie obecnym gdzieś za rogiem, zwłaszcza jeżeli podróżuje się za groszę, publicznym transportem, na widoku.
W tamtym grudniu, pełnym przeszkód i porażek, narosło cieżkie uczucie, nerwowy stan który razem z innymi sprawami przyczynił się do końca mojego związku i wepchnął w dziwny kryzys. Nie spodziewałem się, a być może powinienem był, że ta sama rzecz, to samo miejsce które kryzys wywołały pomogą parę miesięcy później w wyleczeniu, będą kolejnym poważnym przełomem w drodze do czegoś wspaniałego.
Był koniec czerwca i wjeżdżałem od strony indyjskiej granicy do rozgrzanego Lahore, na przywitanie wpadłem w uliczne zamieszki, a w pakiecie nadeszły ciężkie wieści o atakach amerykańskich dronów, zamachach bombowych, morderstwach i porwaniach cudzoziemców. Punjab utonął w problemach. W Lahore prąd wyłączano i włączano co godzinę, co przerywało sen, nie sposób spać w 40 stopniach gorąca kiedy staje wentylator, budzisz się natychmiast. Ludzie byli spięci, policja była spięta i podejrzliwa. Koło dworca kolejowego zatrzymali mnie, zadawali mnóstwo pytań, nawet wąchali w torbie foto szukając śladów zielska. Sanktuaria sufi otoczone nocą były przez ludzi z bronią, nawet bębny w Shah Jamal milknęły wcześniej niż zwykle. Zacząłem obawiać się że grudniowa historia się powtórzy.
I wtedy ruszyłem na południe. Przystanek w konserwatywnym, gorącym jak piec mieście świętych Multan spowodował że dosłownie zacząłem rzygać z gorąca, zaraz po przyjeździe. Nie mogłem prawie nic jeść, wszędzie te przedawkowane pendżabskie przyprawy, chciałem tylko stale pić, szklanka za szklanką, cola za colą. Dalej na południe, do Sehwan Sharif, mimo że do rozpoczęcia festiwalu jeszcze wiele czasu. Dojechałem po wielogodzinnej podróży, otrząsnąłem się, wyspałem, późnym popołudniem wyszedłem na miasto i zrozumiałem że coś się zmieniło. Było dziwnym zobaczyć policjantów bez karabinów przy głównej bramie grobowca, uśmiechniętych, zrelaksowanych, z rozpiętymi koszulami. Spytałem ich czy nie boją się zamachu, takiego jak dwa lata temu w grobowcu Baby Farida w Pakpattan. Jeden uśmiechnął się i mówi : " moc Czerwonego Sokoła jest zbyt wielka, nie ma tu niebezpieczeństwa, nikt się nie odważy". Niedługo potem, kiedy znalazłem najlepszych na tej imprezie kumpli , szyitów, z którymi prawie codziennie przesiadywałem na małym dziedzińcu niedaleko głównej bramy, byłem już pewien że sprawy tutaj w luzackim Sindh mają się zupełnie inaczej. Większość z nich była policjantami i tajniakami, wszyscy członkami gandziowego klubu, fanami bhangu, napoju wyciskanego z konopii.
I look at the images now and I think this story is one of the best I did. As these people seem to be,  I hope to be guided now in the selection out of quite many into less, crucial thing today. But I like to think, the story will continue to build itself, and for what is the most valuable in it , credit is not mine to claim.
***
Patrzę teraz na zdjęcia i myślę, że ta historia może być jedną z najlepszych jakie zrobiłem. Tak jak wydaje się że wielu z tych ludzi jest jest prowadzonych, tak ja też mam na to nadzieję, podczas nadchodzącej selekcji z calkiem wielu w mniej, niezbędny w dzisiejszym świecie proces. Ale chciałbym myśleć, że opowieść będzie dalej tworzyc się sama, i to, co w niej najbardziej wartościowe to nie moja zasługa.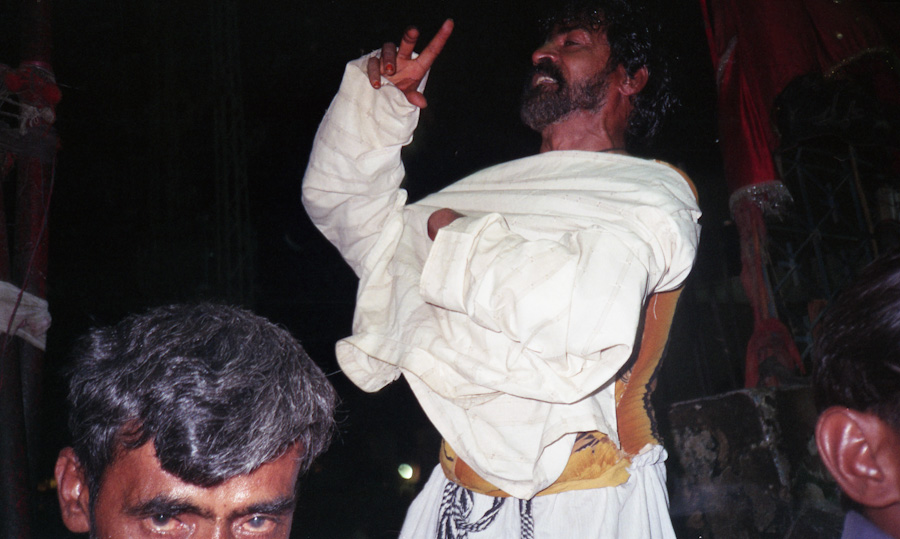 [ Pakistan,  June - July 2012 / Pakistan, czerwiec - lipiec 2012 ]