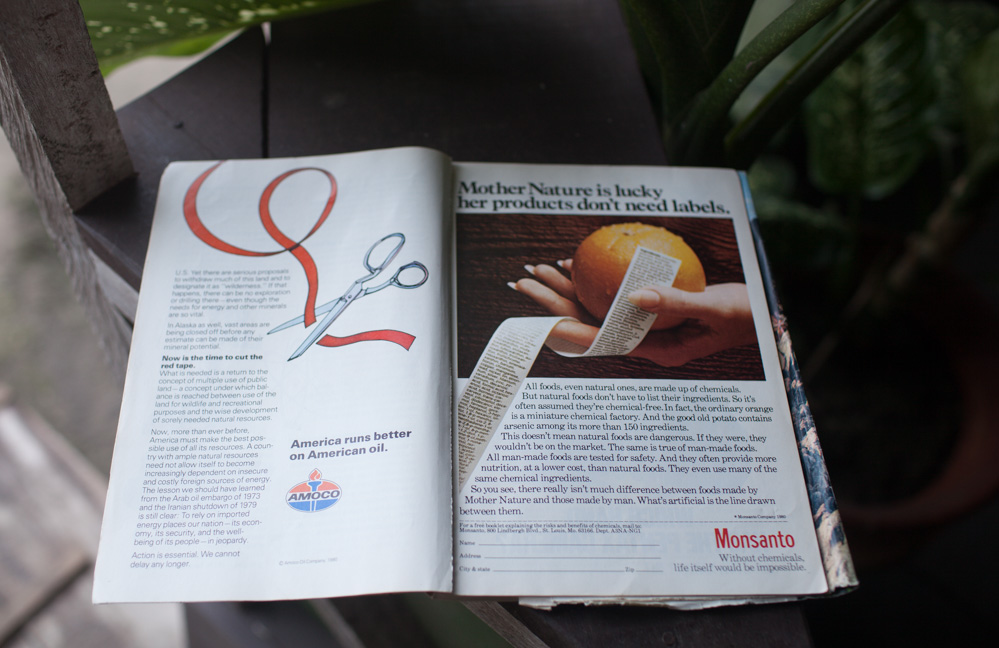 This is National Geographic, June 1980 issue. It shows how times have changed, I don't think something like that would be possible now, even if Monsanto still keep being the same bastards, they have to hide better now. This was slow beginning of Reagan era, of "we can do what we fuckin' like and take no communist bullshit about environment". Some years later we would have a wave of Disney tear-squeezing movies about brave kids fighting some evil company polluting their river or trying to convert park into parking lot for supermarket, but in June 1980 it was still the "earth is ours" and we need "vital resources", so you have Amoco petrol corporation buying 8 pages of advertising piece, saying we have to "protect our national security" ( always the same fear ) from those evil Arabs raising prices, and as we "can't save our way out of our dependence on imported oil", we need to have "accelerated plan for opening "wilderness" areas which may contain oil and minerals", and which this crazy Jimmy Carter administration unfortunately declares "off limits"…
Right on the next page Monsanto declares it is unfair competion that Mother Nature doesn't have to list chemicals in its produce, because "it is all chemicals", you know, and our products actually "provides more nutrition than natural foods". They conclude : "so you see, there really isn't much difference between foods made by Mother Nature and those made by man. What's artificial is the line drawn between them".
…
Oto National Geographic, numer z czerwca 1980 roku. Pokazuje jak zmieniły się czasy i podejście, chociaż nie wiem czy w Polsce. Nie wiem czy obecnie byłoby coś takiego możliwe, chociaż Monsanto dalej działają i pozostają tak samo cynicznie kłamliwymi synami genetycznie modyfikowanej suki, muszą się teraz bardziej kryć. To były powolne początki ery Reagana i ukochanej w Polsce budowniczyni autostrad do sukcesu, pani Thatcher, era "możemy zrobić co nam się podoba i nie łykamy żadnej komunistycznej propagandy o ochronie środowiska". Może z dekadę później przyszła fala familijnych wyciskaczy łez od Disneya o bohaterskich dzieciakach walczących z niegodziwą korporacją zatruwającą ich lokalną rzekę albo próbującą zamienić park w parking, ale w czerwcu 1980 magazyn poświęcony naturalnemu i kulturowemu dziedzictwu ludzkości bez żadnych skrupułów zamieszczał płatny tekst pełen klimatu "ziemia jest nasza" i potrzebujemy "niezbędnych do życia surowców". Mamy tu zatem ośmiostronicowy elaborat wykupiony przez naftowego giganta Amoco, który oczywiście ma misję "obrony naszego narodowego bezpieczeństwa" ( zawsze granie na tym samym strachu ) przed złymi Arabami, podnoszącymi złośliwie ceny i, mimo koszmarnych wyrzeczeń i instalowania jakiś energooszczędnych fanaberii, "nie możemy oszczędnościami uwolnić się od naszego uzależnienia od importowanej ropy", więc potrzebny jest "przyspieszony plan otwierania tak zwanych "dzikich" obszarów, które mogą zawierać ropę i minerały", a które ta szalona administracja Jimmiego Cartera niefortunnie zamyka jako rezerwaty przed eksploatacją…
Zaraz na sąsiedniej stronie Monsanto skarży się na nieuczciwą konkurencję ze strony Matki Natury, która nie musi zamieszczać listy chemikaliów jakie znajdują się w jej produktach, ponieważ "to wszystko chemia", wiecie, a nasze produkty właściwie to "dostarczają więcej substancji odżywczych niż te naturalne". Kończą zgrabnie "więc widzicie, nie ma zbyt wiele różnicy między produktami wyprodukowanymi przez Matkę Naturę, a tymi przez człowieka. Co jest sztuczne, to granica narysowana między nimi".