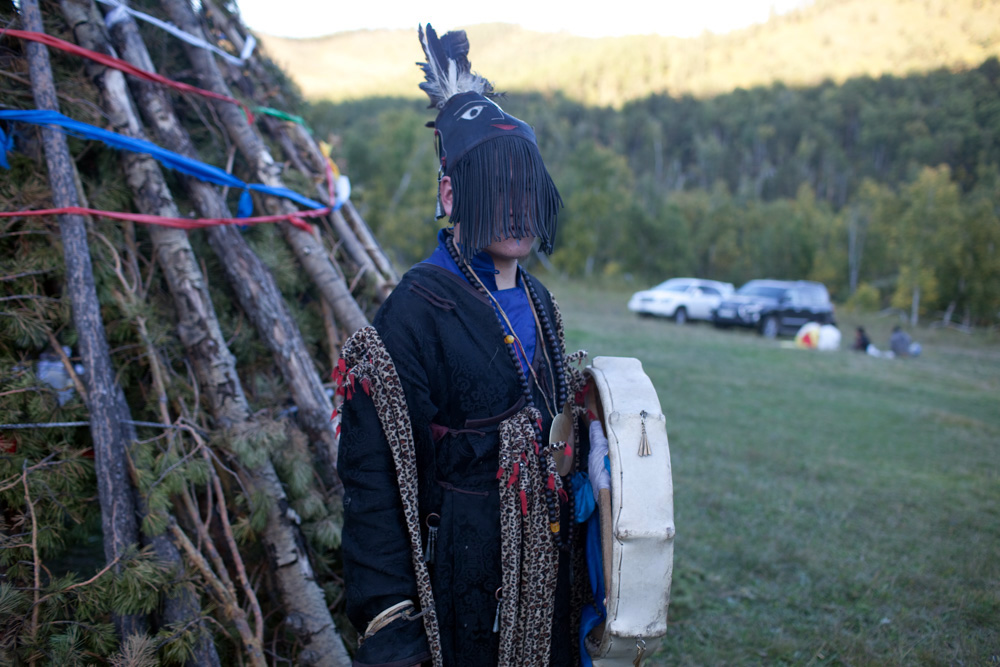 We are looking and looking for something, perhaps sometimes calling a "spiritual quest" fulfillment of more and more complicated desires and forms of greed. In a world where many material problems are solved long ago, and some of the simple needs, like the need to share life with another person or having offspring rarely frankly admitted, people turn to spiritual paths, including something they call shamanism, with fancy motivations and intentions, and therefore they build the concept of shamanism as some system of exploring world of unity, oneness and cosmic vibration. In a world without a tradition to back upon, any theory that comes to one's mind, can be justified, here is one good example :
" But even if you don't meditate, don't dedicate your daily practice to achieving Enlightenment, simply believing in the possibility qualifies you to call yourself a mystic. (…) A mystic only becomes a shaman when he or she applies his belief to affect change in reality."  [  http://nabeelafsar.com/2014/02/04/shaman-or-mystic-cultural-appropriation-in-the-new-age/ ]
To be clear, I see nothing wrong in living in wealthy, peaceful world or even lack of coherent tradition to guide us, we are in flux or limbo for some reason, I am just observing a fascinating process of interpreting other cultures, their tools and terms, and building something completely different, accompanied however by compulsive need to give value to the new system by reference to the original source.
…
Szukamy i szukamy czegoś, być może czasem nazywając "duchowym poszukuwaniem" spełnianie coraz bardziej wyrafinowanych pragnień i żądz. W świecie gdzie wiele materialnych problemów rozwiązano już dawno temu, a wiele z prostych potrzeb, takich jak współdzielenie z kimś życia czy posiadanie potomstwa rzadko są szczerze deklarowane, ludzie wyruszają na duchowe ścieżki, wliczając w to coś, co nazywają szamanizmem, ze skomplikowanymi motywacjami i intencjami, i budują w związku z tym koncepcję szamanizmu jako jakiegoś systemu eksploracji kosmicznych wibracji i jedności. W świecie bez własnej tradycji na jakiej można się wesprzeć, jakakolwiek teoria jaka przychodzi do głowy może być uzasadniona, oto jeden z wielu przykładów :
"Ale nawet jeśli nie medytujesz, nie poświęcasz codzinnej praktyki osiągnięciu Oświecenia, wystarczy aby wierzyć w taką możliwość ( jedności ), by być uprawnionym do nazywania się mistykiem. ( … ) Mistyk staje się szamanem kiedy używa swojego wierzenia do dokonania zmiany w rzeczywistości" [  http://nabeelafsar.com/2014/02/04/shaman-or-mystic-cultural-appropriation-in-the-new-age/ ]
Aby było jasnym, nie widzę nic złego w życiu w zamożnym, spokojnym świecie zaspokojonych podstawowych potrzeb, ani nawet w braku spójnej tradycji nas wspierającej, jesteśmy w czasie zmiany i zamętu z jakiegoś powodu, obserwuję jedynie fascynujący proces interpretacji innych, niedawno wzgardzanych kultur, ich narzędzi i terminologii, i budowania z dowolnie wybranych klocków czegoś zupełnie innego, ale z ciągłą, obsesyjną niemal potrzebą dodawania wartości nowemu systemowi poprzez odniesienie do pierwotnego źródła.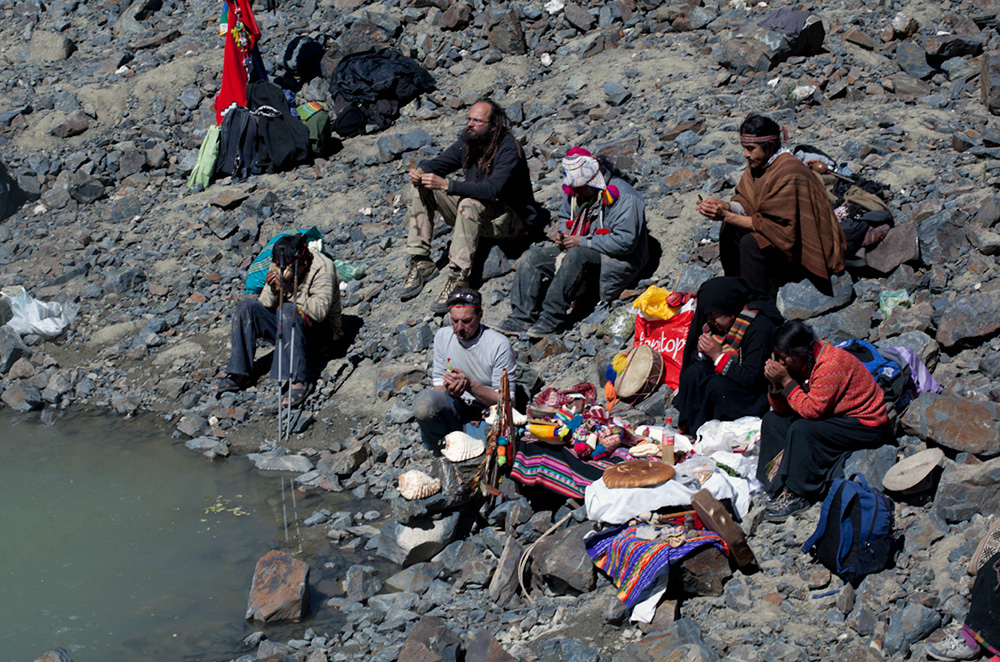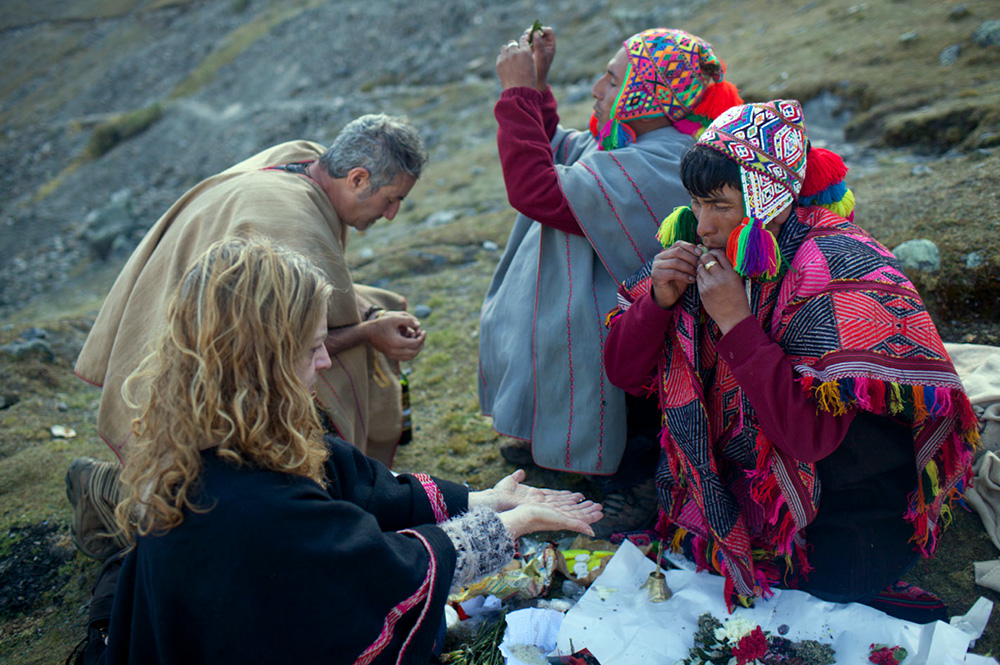 In my travels I found some kinds of traditional belief – or even practices – more accessible, others more hermetic. It is easier to partake in the same psychoactive substance the Amazonian "shaman" uses to approach his experience ( I am not talking about its cultural context and explanation of the experience ), while Mongolian practice requires perhaps more belief, preferably understanding language, or even, as I was told in some places, Mongolian ancestry. One can of course again appropriate useful gadgets, buy a drum and drum oneself into "cosmic consciousness", but that doesn't mean at all that he got any closer to a practice where a specific spirit of person living 400 years ago is summoned to be given milk and probed what one must do to obtain dreamed of job or favors of one pretty girl.
…
W swoich podróżach napotkałem pewne rodzaje tradycyjnych wierzeń – lub praktyk – które były bardziej dostępne dla kogoś z zewnątrz, inne natomiast bardziej hermetyczne. Łatwiej jest zażyć tą samą psychoaktywną substancję co amazoński "szaman" i zbliżyć się do jego doświadczenia ( nie mówię tu o jego kulturowym kontekście i tłumaczeniu tegoż doświadczenia ), podczas gdy praktyka mongolskiego szamanizmu wymaga więcej wiary, najlepiej też zrozumienia języka, a nawet, jak mówiono mi w paru miejscach, mongolskich korzeni. Oczywiście można sobie pożyczyć przydatne gadżety, kupić bęben i wbębnić się w "kosmiczną świadomość", ale to nie oznacza, że chociaż trochę zbliżyliśmy się do tradycyjnej praktyki w której konkretnego ducha osoby żyjącej 400 lat temu wzywa się aby napoić go mlekiem i zasięgnąć rady, co trzeba zrobić aby zdobyć wymarzoną pracę albo względy wybranki.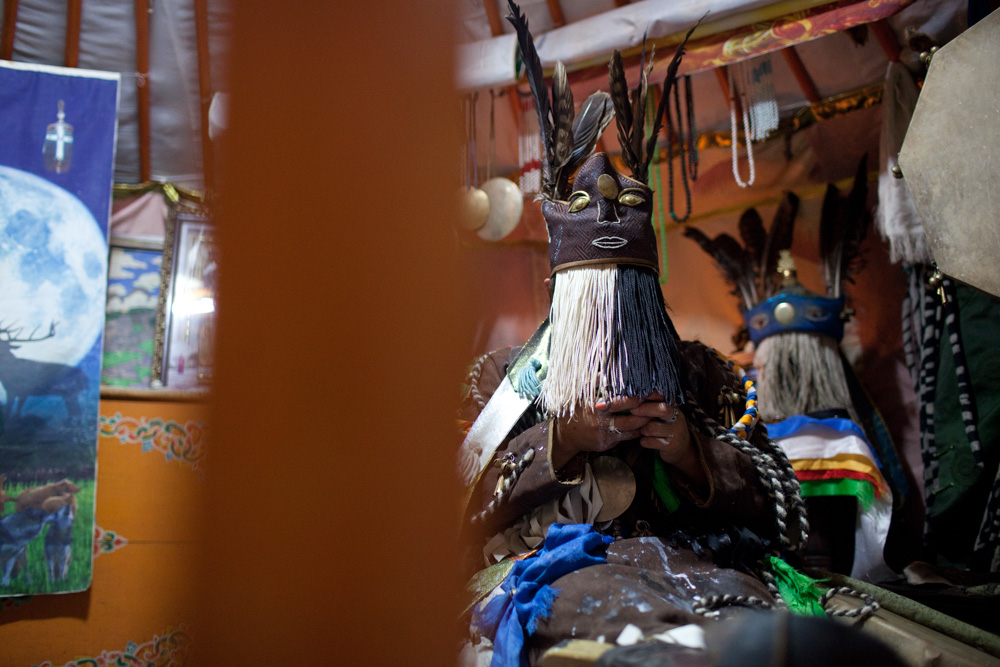 Perhaps that is a reason ( alongside with more expensive and less pleasant traveling conditions ) that Mongolian shamanism remains for outsiders more exotic, often referred to, but rarely practiced as compared to, let's say Andean "Inca" traditions, even if practicing would just mean burning palo santo and posting flute music on Facebook. What is especially hard to buy from traditional systems for New Age adherents of shamanism, is its relation to animals, not just imaginary wolf spirit, but animals in flesh and the animal sacrifice. Skulls, fresh skins, blood, all this seems more repulsive to modern, vegetarian sensitivity than Andean embroidery or even feathers found "without killing". This has serious consequence, I believe, for the subject most crucial in shamanism in my opinion, but so often omitted in its adaptation, is death.
…
Być może to jest jeden z powodów ( obok dużo droższych i mniej komfortowych podróży ) z którego mongolski szamanizm pozostaje dla cudzoziemców bardziej egzotycznym, czasem cytowanym, ale rzadko praktykowanym, w porównaniu, na przykład, do andyjskich "Inkaskich" tradycji, nawet jeżeli praktykowanie to sprowadza się do palenia palo santo i zamieszczaniu muzyki peruwiańskiej w linkach na Facebooku. Czymś co szczególnie trudno jest przejąć new agowym adeptom szamanizmu z tradycyjnych systemów jest ich podejście do zwierząt, nie abstrakcyjnego ducha wilka, ale zwierząt z krwi i kości i zwierzęcej ofiary. Czaszki, świeże skóry i krew, to wydaje się bardziej odpychające dla współczesnej wegeteriańskiej wrażliwości niż andyjskie wyszywanki czy nawet pióra zdobyte "bez zabijania". Ma to poważne konsekwencje, bo moim zdaniem najbardziej kluczowa w szamanizmie sprawa, a często omijana w jego miękkich adaptacjach, to śmierć.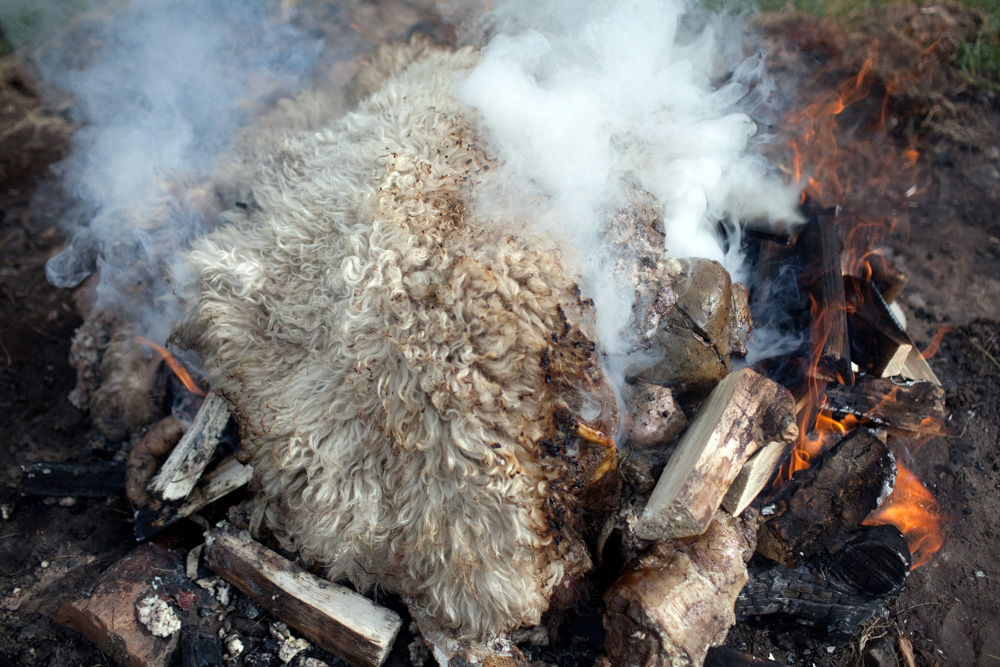 Of course – the Western/modern adherents often confirm, at least verbally, their belief that death is just another side of life, that one can not exist without the other etc, but in practice this is subject strayed away from, it remains abstraction, and the concrete reminders – such as a friend of mine drinking from his human skull in a neo-tribal gathering full of shamanic sentiments – rare and still shocking. Even more problematic is the issue of communication with dead people – not just some abstract spirits, but concrete, specific ancestors of our own family line – something central, not only to Mongolian shamanism. How many of people who claim to be into neo-pagan or shamanic practices would be ready to work with their deceased best friend's remains?
…
Oczywiście -  współcześni adepci często potwierdzają, przynajmniej w słownych deklaracjach, swoją wiarę w to, iż śmierć jest nieodłączną częścią życia, że jedno nie może istnieć bez drugiego etc, ale w praktyce ten temat się zwykle omija, pozostaje abstrakcją, a konkretne przykłady jakie mogą go ostro przywoływać – jak mój znajomy pijący kawę ze swej ludzkiej czaszki na neo-plemiennym zgromadzeniu pełnym szamańskiej retoryki – takie przykłady są rzadkie i wciąż szokujące. Jeszcze bardziej kontrowersyjna jest komunikacja z martwymi – nie jakimiś abstrakcyjnymi duchami, ale konkretnymi przodkami z własnego drzewa genealogicznego – coś oczywistego, nie tylko w mongolskim szamanizmie. Jak wielu z tych którzy deklarują się uczestnikami neopogańskiego odrodzenia i praktykującymi szamanizm byłoby gotowych pracować ze szczątkami zmarłego najbliższego przyjaciela?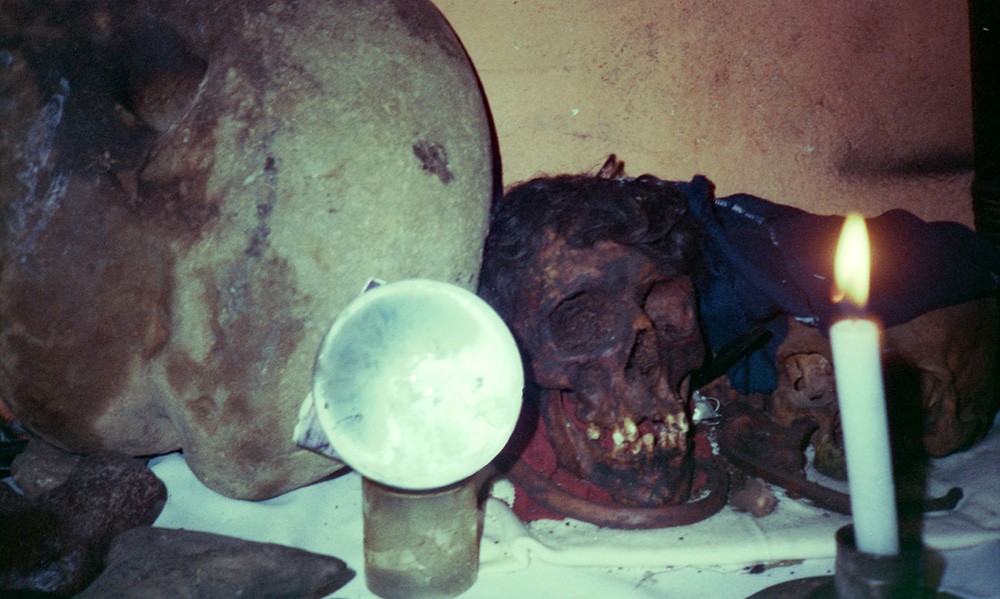 And how many of them claim the right to judge that out of the heritage of mankind, the practices they choose to pick and preserve, belong to the "more evolved" ones, and others, still respected and performed by many indigenous people who never had their connection to natural world broken by materialist and rationalist revolution, are obsolete, cruel, or backward? Perhaps the animal death, sacrifice, putting it back into focus, right into the light of consciousness, can teach us about death in general. This is no coincidence that we tend to regard Muslim ritual slaughter ( often, in the context of respective societies rooted in shamanic tradition ) as barbaric, while at the same time happily feeding our best friends/pets/ cans of industrially slaughtered meat of slave animals- without any respect and attention given to their death as individuals – and in the same culture we do not even have the courage anymore to spend a night in wake with the dead body – like we used to.
…
A jak wielu z nich roszczy sobie prawo do oceniania co z dziedzictwa ludzkości, które praktyki wybiorą jako godne zachowania, bo "bardziej wyewoluowane", a inne, wciaż szanowane i uprawiane przez rdzenne społeczności jakie nie przerwały swojego połączenia z naturalnym światem materialistyczną i racjonalistyczną rewolucją, odrzucą jako przestarzałe, okrutne, zacofane? Być może śmierć zwierzęcia, ofiara, wprowadzenie jej ponownie w centrum, w światło świadomości, może nauczyć nas czegoś o śmierci jako takiej. Nie jest to chyba przypadek, że oceniamy rytualne zarzynanie w islamie ( często, w kontekście poszczególnych społeczeństw oparte na wcześniejszych, szamańskich zwyczajach ) jako barbarzyńskie, podczas gdy sami w tym czasie karmimy swoich pupili – pieski i kotki – puszkami przemysłowo mordowanych niewolników – bez żadnego szacunku i uwagi poświęconej ich indywidualnemu życiu i śmierci. W tej samej kulturze nie mamy już nawet odwagi by spędzić chociaż jedną noc czuwając – jak to wcześniej bywało – przy trupie.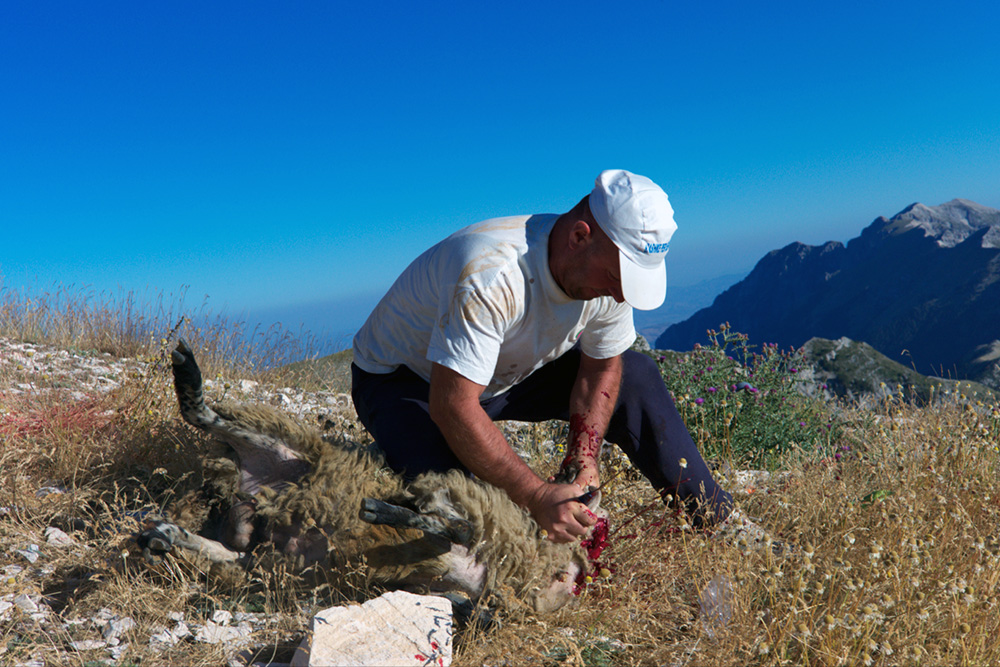 The followers of Bwiti in their night ngoze ceremony are dressed as actual ancestors, in their iboga induced journey they seek to meet actual deceased relatives, their grandmother, father… The spirit summoned by a Mongolian visiting his shaman was a living person once, often from his own family. How does this relate to the experience of modern seeker, who is often seeking far because of disillusionment with his own culture, which is caused by disillusionment with his own family. How to bridge this gap, how to bring our own dead to life, led by a very simple and down to earth motivation – to heal the living?
…
Członkowie Bwiti w swej nocnej ceremonii ngoze ubrani są jak ich przodkowie, w swojej wywołanej działaniem ibogi podróży wyruszają aby spotkać się z konkretnymi przodkami, babcią, ojcem… Duch wzywany przez Mongoła odwiedzającego swojego szamana to była kiedyś konkretna, żywa osoba, często z rodziny. Jak to się ma do doświadczenia współczesnego poszukiwacza, który często szuka daleko, bo rozczarowany jest własną kulturą, a to z kolei wynika z rozczarowania własną rodziną. Jak zamknąć to rozdarcie, jak przywołać naszych martwych, w prostej, przyziemnej motywacji – uleczenia tych co żyją?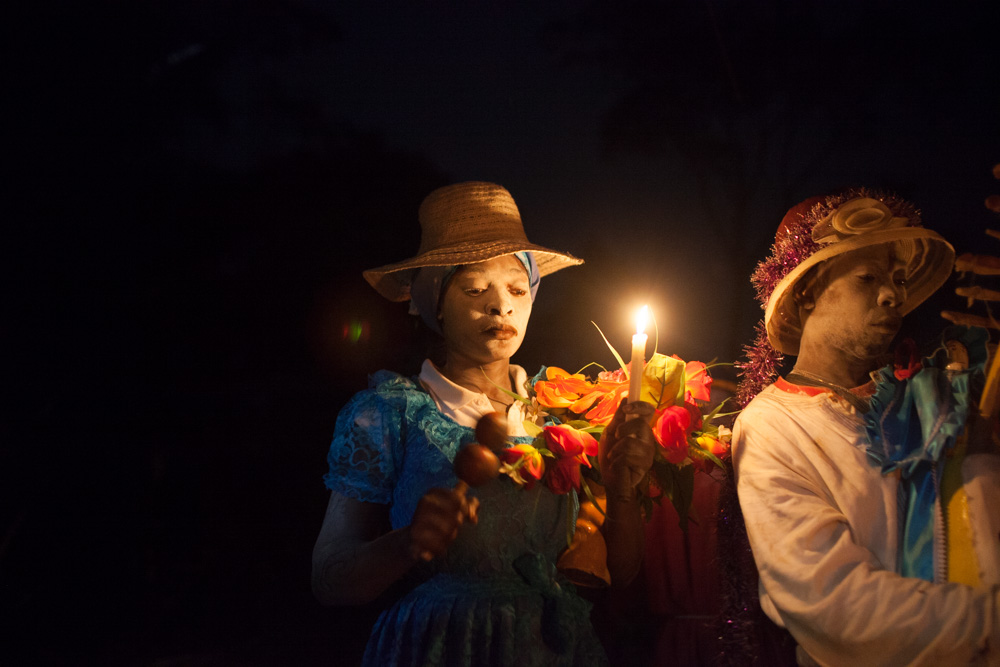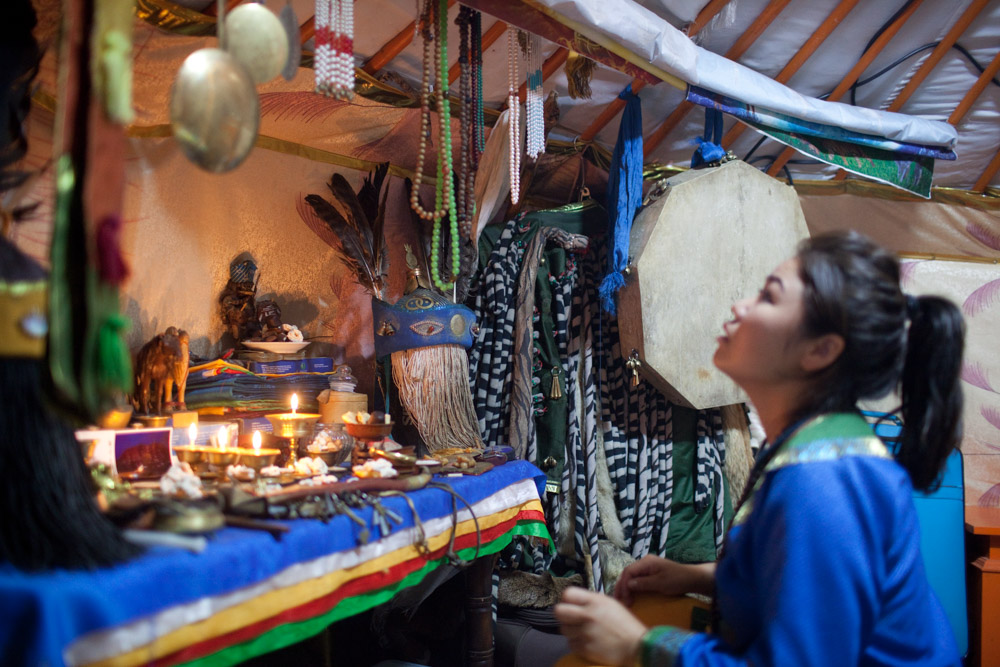 Because shamanism, in my opinion, in practice is above all about healing. Be it journey with the drum, or application of plant medicine, this is not so much about creating complicated worldview and exploring worlds for the sake of exploring, but a set of techniques to be applied here and now, for better living. That is why I also agree with Alejandro Jodorowsky, when he says that he is not interested in any art that does not aim to heal, what for to look for answers for big questions and split hair in four if we can't help people – or ourselves for that matter – to stop hurting ourselves or those around?
…
Bo szamanizm moim zdaniem to przede wszystkim praktyki uzdrawiania. Czy to podróż z bębnem czy przyjęcie roślinnego sakramentu, nie chodzi tu tyle o kreowanie skomplikowanych map wszechświata i eksplorowanie światów dla samej eksploracji, ale o zestaw technik do zaaplikowania tu i teraz, dla lepszego życia. Dlatego też zgadzam się z Alejandro Jodorowskim, kiedy mówi iż nie interesuje go sztuka, która nie ma na celu uzdrawiania, po co bowiem szukać odpowiedzi na wielkie pytania i rozdzielać włos na czworo jeżeli nie możemy pomóc ludziom – czy nam samym zresztą też – powstrzymać się od wyrządzania sobie krzywdy – i tym co wokół.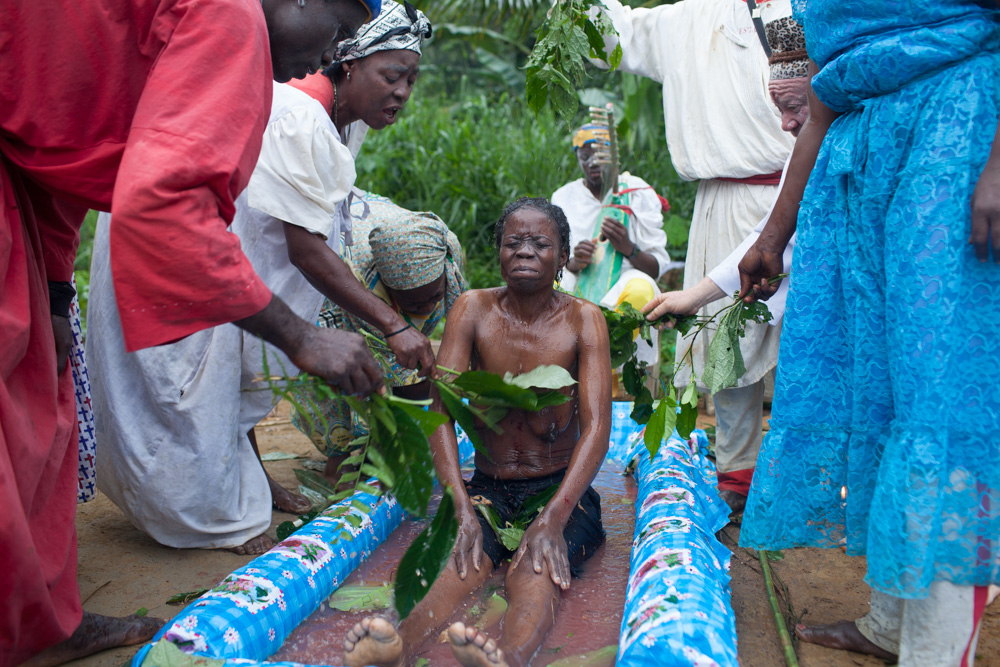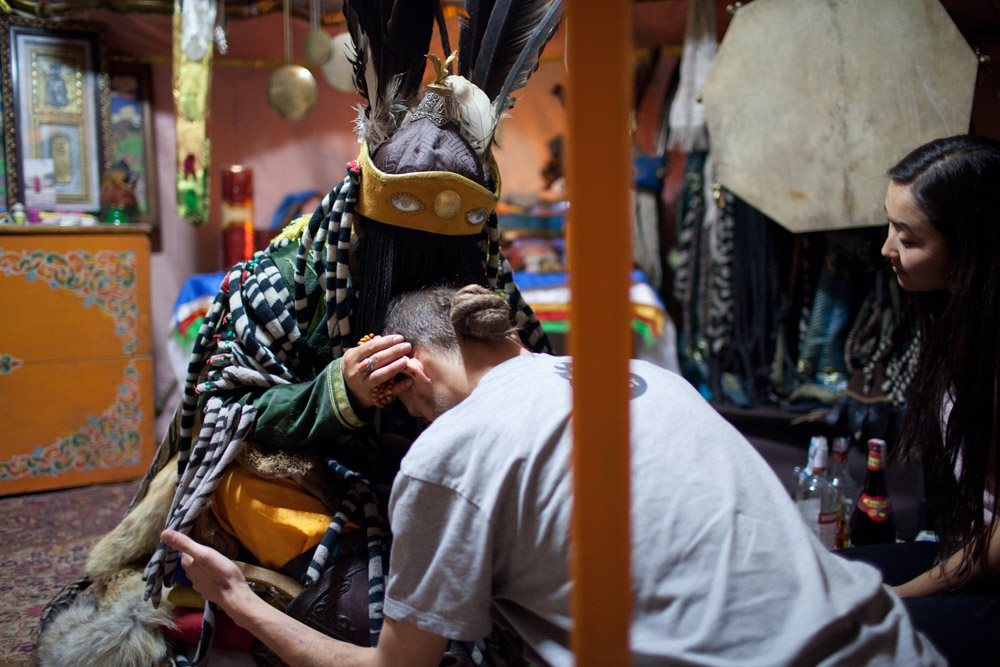 Now we arrive at the issue of price. We have commodified all world and its resources and when we have build a rich civilization based on this commodification, we start to feel guilty, and associate transaction with this sense of guilt for all the wealth amassed. This can have very peculiar consequences – like seeing the evil in the transaction itself, not in the scale and imbalance in the exchange. I assume it is because of this wealthy members of modern societies somehow see the pure shamanism as the one free from their own malaise, free from material and especially financial attachment. So many times I heard young people, who are prepared to pay for whatever they fancy, including flight to exotic destination, that they want to find a shaman who is true, meaning he requests no money, at worst he can be rewarded with a chicken or something, or best, with the "skills" this young seeker has to offer.
…
Docieramy teraz do kwestii ceny. Zamieniliśmy cały świat i jego zasoby w towar i kiedy już zbudowaliśmy dzięki temu sprawnie działającą bogatą cywilizację, zżera nas poczucie winy za całe te skarby zagarnięte i łączymy z nim samą ideę transakcji. To może mieć bardzo dziwne konsekwencje – takie jak widzenie zła w samej transakcji, a nie jej skali czy nierównowadze wymiany. Wydaje mi się też z tego powodu bogaci reprezentanci współczesnych społeczeństw mają tendencje do postrzegania jako "czysty" tego szamanizmu który rzekomo jest wolny od ich własnej choroby, wolny od materialnego a zwłaszcza finansowego uwiązania. Tak często słyszę młodych ludzi, przygotowanych do zapłacenia za swą dowolną zachciankę, włącznie z lotem do dalekiego kraju, że chcieliby znaleźć szamana, który jest "prawdziwy", co oznacza, że nie chce kasy, w najgorszym wypadku zadowoli się jakimś kurczakiem a najlepiej gdy pozwoli młodemu adeptowi popracować, podzielić się jego, jakże pożądanymi umiejętnościami.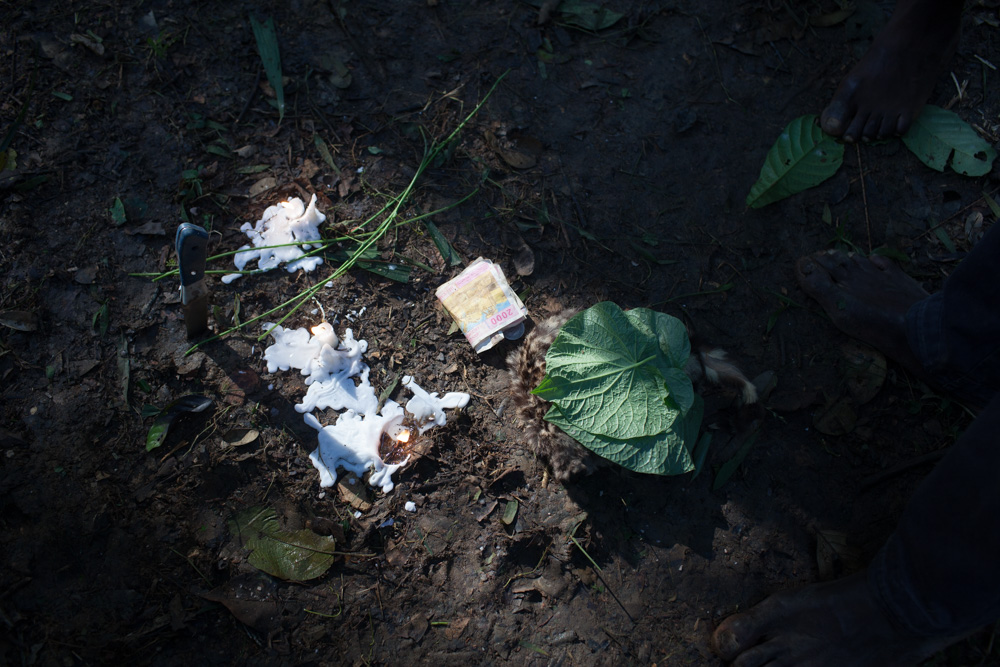 Indigenous cultures which recently entered the world we created do not seem to have this guilt. Yes, they had barter economies, in a simple society we dream about as paradise lost that would work, but now they see nothing wrong in money as representation of energy exchanged, as blood – life flowing, and it can be used in transactions with humans or with nature – and spirits as well. For transaction – bringing and restoring balance – is another foundation of shamanic worldview. You want something – be prepared to pay. Life must be fed with life, that is the meaning of sacrifice. You want health, you want life – pay the spirits with blood, pay with something precious. Superstition? Is it better to just take what we want, and in doing so, without noticing, instead of the price paid for the spirit we ask, we feed insatiable Moloch of greed, god of our consumerist culture.
…
Rdzenne kultury, które niedawno wkroczyły w świat jaki stworzyliśmy, nie mają tego poczucia winy. Tak, miały swoje ekonomie wymiany, to działało w prostym społeczeństwie o którym śnimy niby o raju utraconym, ale teraz nie widzą niczego złego w pieniądzu jako reprezentacji wymienianej energii, jako krwi – przepływie życia, pieniądzu, który może być używany w transakcjach z ludźmi lub naturą – a także duchami. Bo transakcja – przynosząca lub przywracająca równowagę – jest kolejnym z fundamentów szamańskiej wizji świata. Chcesz czegoś – bądź gotowy za to zapłacić. Za życie trzeba czasem zapłacić życiem, takie jest znaczenie ofiary. Chcesz zdrowia, chcesz życia – zapłać duchom krwią, zapłać czymś, co jest cenne. Przesąd? Czy lepiej brać jest po prostu to na co mamy ochotę, i robiąc tak nawet nie zauważać, iż zamiast ceny płaconej duchom za pomoc, karmimy nienasyconego molocha chciwości, boga naszej konsumpcyjnej kultury.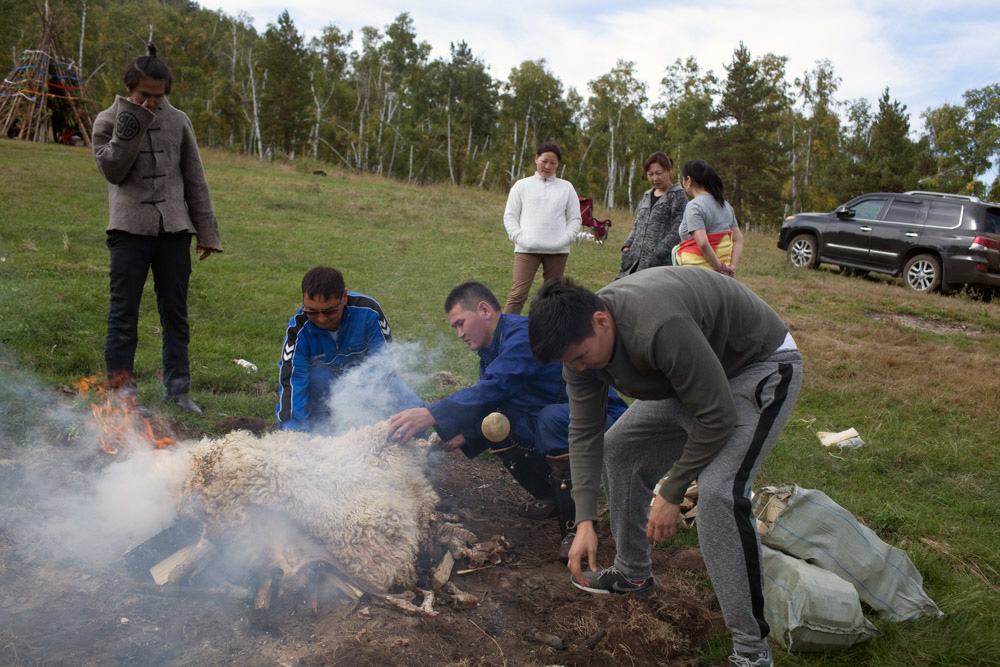 Transaction is acknowledgement of value of the thing/service received, it means we do not take it for granted, we pay, at least symbolic cup of vodka to the spirit we acknowledge as something real, and by feeding it, we give it power we will after all need ourselves. If we truly believe in unity of being, by feeding the world, we feed ourselves.
…
Transakcja jest uznaniem wartości rzeczy/ usługi otrzymywanej, oznacza, że nie przyjmujemy daru – w tym wypadku od losu/duchów/świata – jako czegoś oczywistego, płacimy, przynajmniej symbolicznym kubkiem wódki duchowi, którego istnienie potwierdzamy przez to jako realne. Karmiąc go, dajemy mu moc której w końcu sami będziemy potrzebować. Jeżeli szczerze wierzymy w jedność istnienia, karmiąc świat, karmimy samych siebie.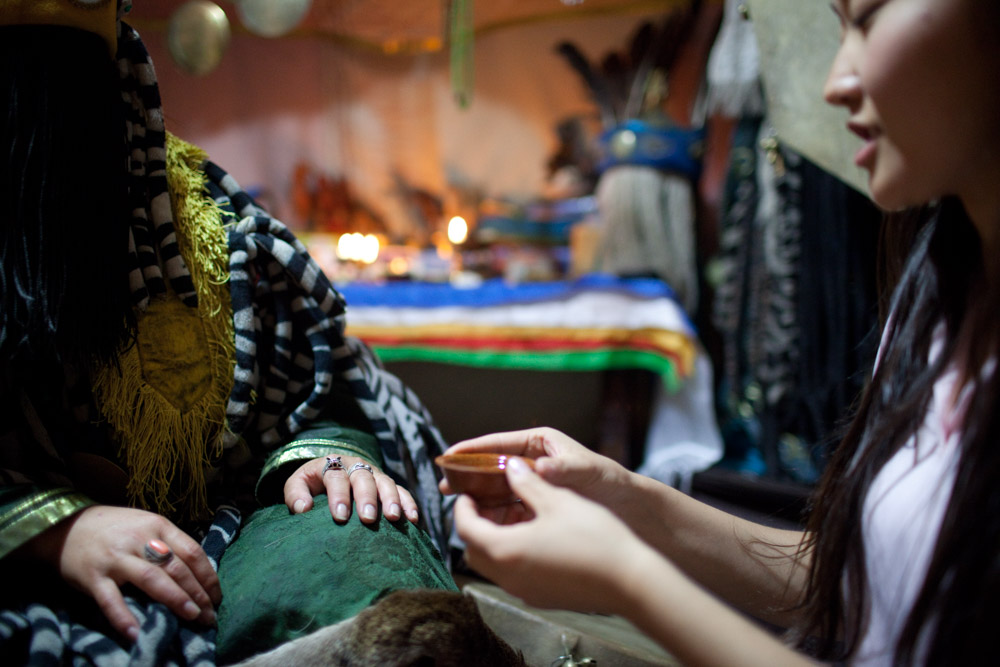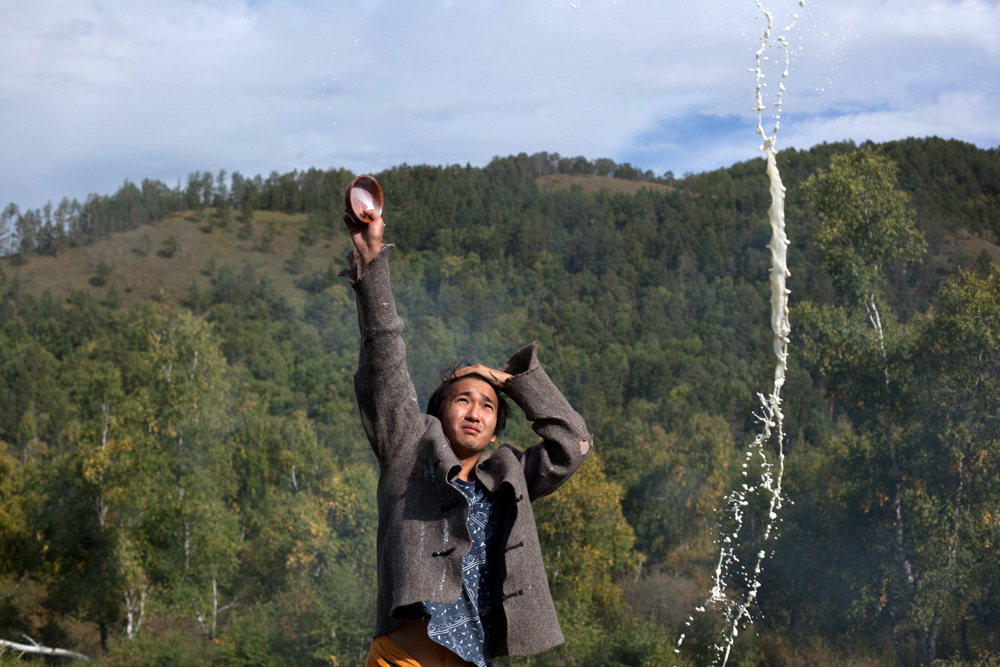 And who is shaman in all this, that mysterious figure, so ambiguous, interpreted according to one's fancy, cultural background, the lectures we read…
…
A kim jest w tym wszystkim szaman, ta tajemnicza postać, dwuznaczna, postrzegana przez pryzmat widzimisie, kulturowej tresury, lektur, jakie się przeczytało..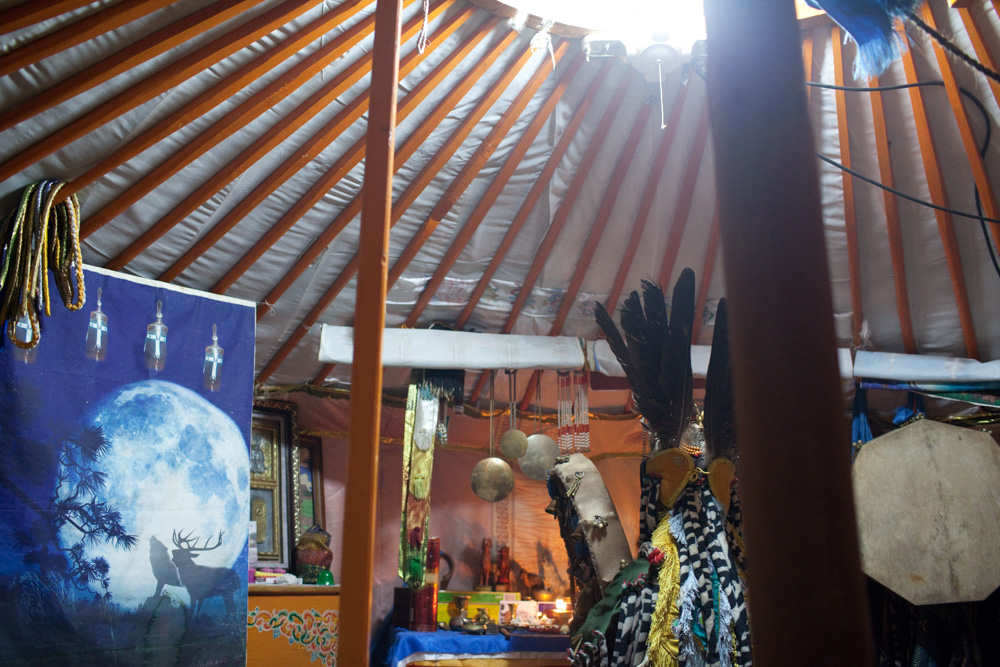 Is he a guru to be followed or rather a vessel, should we worship our guides or the world they show us? Should we really focus on the finger or rather the beauty of the moon it points towards, the voices he – or she – may just be more sensitive to hear?
…
Czy jest to guru za jakim trzeba podążać, czy raczej naczynie? Powinniśmy czcić naszych przewodników, czy też świat, który nam pokazują? Powinniśmy naprawdę skupiać się na palcu, a może na pięknie księżyca jaki ten palec wskazuje? Na głosach, jakie on – lub ona – słyszy z większą wrażliwością…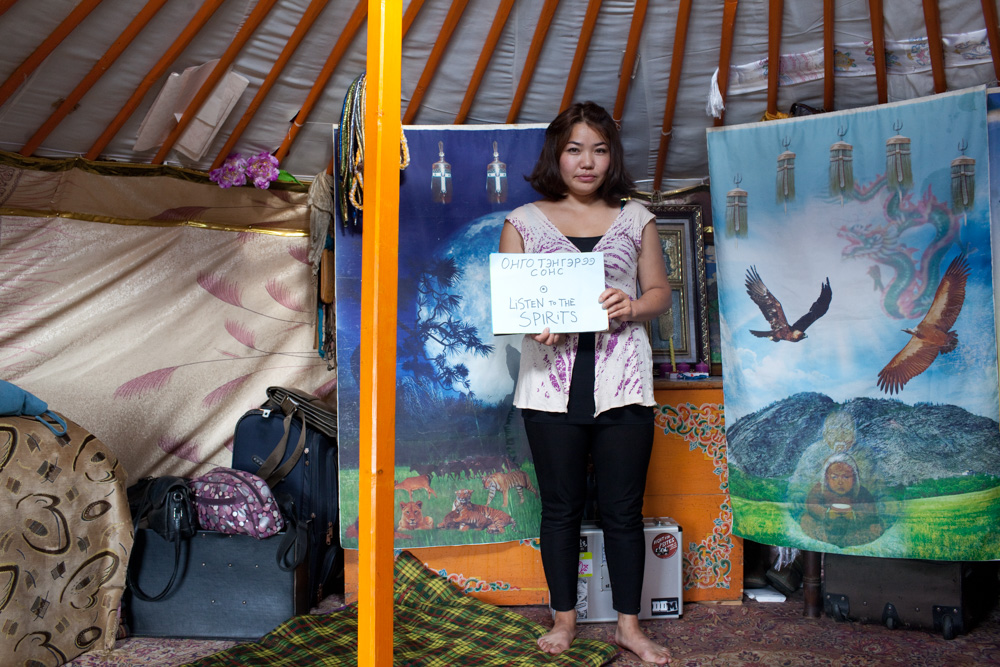 [ Mongolia / Peru / Ecuador / Albania / Cameroon / 2011-2015 ]