In the name of Psychic Cat I hereby commence this tale about communion with spirit of Huachuma on the White Lake, on the day of Dead
…
W imię Psychokocura niniejszym zaczynam relację z komunii z duchem Huachuma na Jeziorze Białym, w dzień Przodków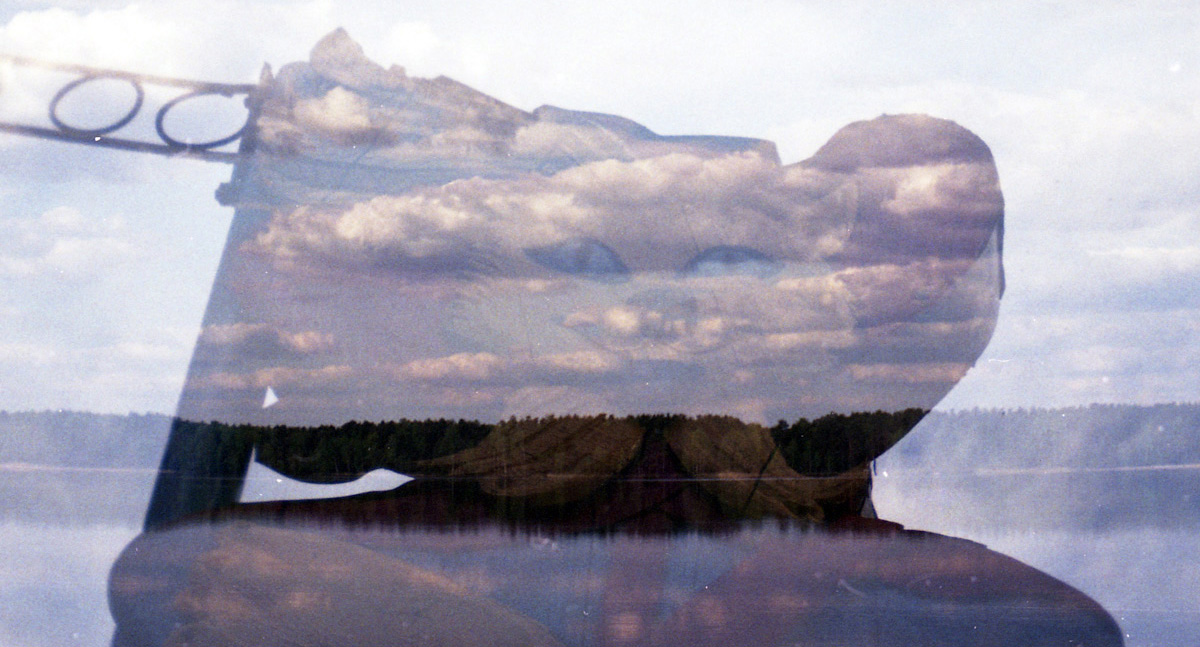 The sacred cacti , Huachuma, has a history of thousands of  years of ritual use.  The earliest archaeological evidence so far discovered is a stone carving of a huachumero, shaman holding the plant, found at the Jaguar Temple of Chavín de Huantar in northern Peru, which is almost 3,500 years old.
After the conquest, Indians forced to take new forms, and talk the language of strangers, decided to call it San Pedro, meaning Saint Peter, because it holds keys to heaven. It is not some "out there" heaven, where you may go after you have paid your duties to your rulers , but heaven of here and now, heaven of the Gospel of Thomas, the heaven when without and within melt.
…
Święty kaktus, Huachuma, ma historię tysięcy lat rytualnego stosowania. Wśród najstarszych odkrytych dotąd archeologicznych dowodów znajduje się kamienna rzeźba huachumero, szamana trzymającego kaktusa, znaleziona w Świątyni Jaguara w Chavín de Huantar w północnym Peru, datowana na mniej więcej 3500 lat.
Po podboju Indianie zmuszeni do przyjęcia nowych form i mówienia językiem zdobywców zdecydowali się nazwać swój sakrament San Pedro, co oznacza święty Piotr, ponieważ trzyma on klucze do bramy raju. To nie jest jakiś tam raj daleko i wysoko, gdzie możesz trafić jak spłaciłeś swoje długi wobec wszelakich władców, ale raj tu i teraz, królestwo niebieskie z Ewangelii świętego Tomasza, niebo gdy scala się to, co na zewnątrz i wewnątrz.

We took it on the shore of Bieloe Ozero, White Lake in he south of Belarus, in the middle of Slavic Amazon, on the grounds of a psychedelic temple of Soviet nostalgia and vintage calm. This was the day when I understood what pagan feast of bounty and gratitude to the world means, in the juice of pig shared with friendly country folks, in in the sun, air, taste of women's lips and strength of working body. Grease on my fingers, and crumbs for the ants on the ground, enough for everyone, enough food, space and peace.  Even for the dead. As it turned out this evening, the day we chose for our journey has been sacred in Eastern tradition since pagan times, a feast on the graves in the beginning of Spring honouring the dead and gone, who are foundation of what is being born.
…
Przyjęliśmy go na brzegu Jeziora Białego na południu Białorusi, w sercu słowiańskiej Amazonii, na terenie psychodelicznej świątyni sowieckiej nostalgii i staroświeckiego spokoju. Był to dzień, w którym zrozumiałem co oznacza pogańska uczta obiftości i wdzięczności światu, w soku kapiącym z grillowanej świni dzielonej z przyjaznymi tubylcami, w słońcu, powietrzu, smaku kobiecych ust i sile działającego ciała. Tłuszcz na moich palcach i okruszki na ziemi dla mrówek, wystarczająco dla wszystkich, wystarczająco jedzenia, przestrzeni i pokoju. Nawet dla martwych. Jak się okazało tego wieczora, dzień który wybraliśmy na naszą podróż był święty we wschodniej tradycji od pogańskich czasów, dzień uczty na grobach na początku wiosny, uczczenie tych co odeszli i z których rodzi się to co nowe.


From the excellent review with modern day huachumera, cactus witch :
"What people need to understand is that San Pedro is not a hallucinogenic like ayahuasca, so they will never see images and pictures, and there is no point, therefore, in lying in the dark waiting for something to happen. San Pedro's teaching is visionary instead, in the revelations it brings about the natural – not the spirit — world, and in daylight you can see that more clearly. That is why we hold our ceremonies in sunlight: because San Pedro wants it that way and that is how it was first done."
( https://www.erowid.org/plants/cacti/cacti_writings1.shtml )
It was a sunny day, and we inflated our rubber boat, forced the bitter medicine inside, and started paddling. It is highly recommended, physical exercise and adrenaline when you wait impossibly long for what is going to happen.
…
Ze świetnego wywiadu z współczesną huachumera, wiedźmą kaktusową :
"Ludzie muszą zrozumieć, że San Pedro nie jest halucynogenem takim jak ayahuasca, więc nie zobaczą po nim obrazków i nie ma zatem sensu leżeć w ciemności, czekając aż coś się zdarzy. Nauka San Pedro jest raczej wizyjna, w objawieniach, które przynosi na temat tego fizycznego, naturalnego – a nie duchowego świata, i w dziennym świetle możesz zobaczyć to wyraźniej. To dlatego prowadzimy nasze ceremonie w świetle słońca, bo tak chce San Pedro, i tak było to pierwotnie robione."
( https://www.erowid.org/plants/cacti/cacti_writings1.shtml )
Był to właśnie słoneczny poranek kiedy napompowaliśmy nasz ponton, wmusiliśmy gorzkie lekarstwo w siebie i zaczęliśmy wiosłować.  To coś co warto zarekomendować, fizyczny wysiłek oraz adrenalina w czasie gdy niemożebnie długo oczekuje się na to co ma nadejść.

It was a perfect trip, significant progress from the previous one. It seemed like the ritual – meaning order and form of the day – self formed itself, or was organized by the plant.
According to the words of one of most experienced anthropologist in that field, Anthony Henman,
"A kind of ritual appropriate for San Pedro would have to take into account the fact that the effects last a long time and it also takes a long time to kick in. After two hours you still don't feel it completely, and it only "hits" from the third, fourth, or fifth hour. Then there is a relatively long period, for a good four hours, in which you are in the "heart" of the experience. And over another three or four hours the effect decreases. It would be good, then, to organize activities according to these three stages. In the first hours, people often feel a lowering of blood pressure, sleepy, and cold. They have to be livened up — I can imagine a kind of ritual activity such as music, dance etc. could help to bring out the strength of the beverage. In the main phase, silence would be good, giving the chance for each person to get into their own thing, to have their visions."
We reached the other shore, I kept paddling and my companions walking, we paddled again, walked, played and so we went through the first phase. Physical activity is good because you are more in the body and less in the anxious mind, and this guides you forward.
You become more and more conscious of yourself and the nature around. It speaks, in ways hard to convey. You can talk back, with your instrument perhaps.
…
Była to pierwszorzędna podróż, znaczący postęp od poprzedniej. Wydawało się jakby rytuał – co oznacza porządek i kształt dnia – sam uformował się, albo zorganizowała go roślina.
Według słów jednego z najbardziej doświadczonych antropologów z tej dziedziny, Anthony Henmana :
"Budując rytuał odpowiedni dla San Pedro należałoby wziąść pod uwagę fakt, że działanie jego jest bardzo długie i trwa też długo zanim się je da wyczuć. Po dwóch godzinach wciąż nie czujesz go w pełni, i tak naprawdę uderza od trzeciej, czwartej czy piątej godziny. Potem jest relatywnie długi okres, przez jakieś cztery godziny, gdy znajdujesz się w sercu doświadczenia. W ciągu jakiś trzech – czterech kolejnych godzin efekt maleje. Byłoby dobrze zatem zorganizować aktywność zgodnie z charakterem tych trzech faz. W pierwszych godzinach ludzie często czują obniżenie ciśnienia, senność i zimno. Powinni zostać ożywieni i pobudzeni – na przykład muzyka czy taniec mogłyby tu pomóc w wydobyciu siły wywaru. W głównej fazie cisza byłaby wskazana, co dałoby szanse każdemu wejścia w głąb, poszukania swojej wizji."
Dotarliśmy na drugą stronę jeziora, ja dalej wiosłowałem sam wzdłuż brzegu, moi towarzysze szli, powiosłowaliśmy troche razem, szliśmy, graliśmy, leżelismy i tak z pierwszej fazy weszliśmy w drugą. Fizyczna aktywność była tu dobra, ponieważ jest się więcej w ciele i mniej w niespokojnym, przeładowanym umyśle. Ciało prowadzi naprzód.
Stajesz się też coraz bardziej świadomy siebie i natury wokół. Ona mówi, w sposób trudny do opisania. Możesz jednak mówić do niej, na przykład dźwiękiem.

Your body guides you, follow its instincts and needs. Lay down, or get up, let the hand, the leg, the muscles do what they feel like. When I wanted to enter the lake, I didn't think too much. In end of April it was still chilly, but that chill is a friend too. I was standing in the water naked for a long time, and I guess that was the turning point, from the difficult phase of going upwards in a exhausting long climb to realizing I am about to enter the sunny plateau of Huachuma. My wrists were hurting with delicious cold pain of being alive. I finally retreated inside the forest to lay down in grass, melting into the air and sun. Insects were crawling on me, mosquitos sucking their share of pleasure. Accepting it, befriending pain and itching was no problem at all. I trusted to stay and so when bites became too strong I trusted them too and did not fight the urge to go. I opened my eyes, saw the stormy cloud coming, and in spirit of this magical perception of the world, I thanked ants for warning.
It was many hours later we finally reached the shore we left in the morning, after many insights too personal to reveal, and events to hermetic to tell about. A ride of joy and adventure was finished with mystery when we arrived walking along the shore at what seemed to be very weird abandoned campsite.
…
Ciało cię poprowadzi, podążaj tylko za instynktem, za jego potrzebami. Połóż się lub wstań, pozwól dłoni, ręce, nodze, mięśniom robić to, na co mają ochotę. Kiedy chciałem wejść do jeziora, nie myślałem zbyt wiele. W końcu kwietnia było wciąż zimne, ale ten chłód to też przyjaciel. Stałem w wodzie nagi przez długi czas, i myślę, że był to własnie przełomowy punkt podróży, w którym ciężki etap długiej, mozolnej wspinaczki na górę przeszedł w radosne wejście na słoneczny płaskowyż Huachuma. Me nadgarstki bolały smakowitym, zimnym bólem bycia żywym. W końcu wycofałem się do lasu, na słoneczną polanę, aby leżeć w trawie, rozpływając się dla odmiany w słońcu i wietrze. Właziły na mnie wszelakie robale, siadały muchy, komary ssały swój przydział przyjemności. Akceptowanie tego, zaprzyjaźnienie się z bólem i swędzeniem nie było problemem. Ufałem im na tyle aby pozostać bez ruchu a kiedy ugryzienia stały się zbyt ostre, tak samo ufałem i nie walczyłem z chętką wstania. Otworzyłem oczy, zobaczyłem zbierające się burzowe chmury, i w duchu tego magicznego postrzegania związków w świecie podziękowałem mrówkom za ostrzeżenie.
Wiele godzin później dotarlismy na brzeg z którego wypłynęlismy tego poranka, po wielu wglądach i wizjach zbyt osobistych aby je tu ujawniać, i wydarzeniach, które zbyt hermetyczną opowieść by tu stworzyły. Przejażdżka radości i przygody zakończyła się tajemnicą, kiedy dotarlismy pieszo wzdłuż brzegu na teren który sprawiał pozory bardzo dziwnego, opuszczonego kempingu.

Nothing was certain, even when we saw a car we seemed to know. It was like we were detached from the reality we left behind and almost expecting to see ourselves by the car to believe we came back.
But we did, so we retraced our steps to get the boat, landed after a final dance on the sunset lit waves, straight into a feast, to be greeted by new – and only – fellow campers with whisky toasts and homemade food. After few minutes we were home with some people we knew for years.
…
Nic nie było pewne, nawet gdy zobaczyliśmy auto, które wydawało się znajome. Było tak jakbyśmy byli oddzieleni od rzeczywistości, którą pozostawiliśmy za sobą i oczekiwali zobaczyć siebie samych przy aucie, aby uwierzyć, że wróciliśmy.
Ale wróciliśmy, to był nasz obóz. Cofnęliśmy się zatem po ponton, wylądowaliśmy nim na plaży po ostatecznym tańcu na falach pomarańczowych od zachodzącego słońca, wprost na ucztę – na przyjęcie przez nowych – i jedynych towarzyszy na kempingu, z toastami whisky i domowej roboty żarciem. Po kilku minutach byliśmy w domu z ludźmi, których najwyraźniej znaliśmy od zawsze.

This is a puzzle to me. Every time I come back from somewhere, I am obviously asked how was it, how were the people. I noticed recently I am suspiciously enthusiastic in my answers, and it puzzles me, cos it wasn't always so. The question arises, have I started going in better destinations, and need some Beijing or Austria to bring back balance in my seeing of the world, or it is just me who changed?  How can I be seen as genuine and trustworthy after my recent trip to Peru, where I found some of the nicest people ever, when I feel like saying the same now after Belarus?
I see the Belorussians I met as brothers, and I am happy to find that kind of a mature, calm brother, who can give me perspective on who we are as Polish, or what is it we might have lost?
They are curious of the foreigners, not scornful. They seem to still have the innocence we had when rare were visitors from the West, and when it was not obvious we can go there ourselves. I remember being humiliated by customs assholes in Dover and so I apologize to every of my Eastern brothers who ever had to face Polish policeman or border staff superiority and ridiculing.
The people I met in that campsite shared their time, their meat, their liquor, their words. There was an ex-soldier who spoke about about peace and I knew he meant it. When faced with hair-splitting hypothesizing of the "what if your family is threatened" in discussion about events like the ones happening in Ukraine, he said, "you always have a choice". This was truly a man of 'the other cheek", and his peace came not from weakness, but from true strength and balance. His beliefs were something he did not need to impose, as it often happens under influence of alcohol. He spoke calmly, as a man who knows his thing, a man who knows himself. He needed no San Pedro or other stuff we fix our broken souls with.
…
To jest dla mnie pewna zagadka. Zwykle gdy skadś wracam, zadawane jest mi oczywiste pytanie, jak było, jacy byli ludzie. Zauważyłem, że ostatnio jestem podejrzanie entuzjastyczny w swoich odpowiedziach, i zastanawia mnie to, bo nie zawsze tak było. Powstaje pytanie, czy zacząłem jeździć w lepsze destynacje, i potrzebny mi jest jakiś betononowy Pekin albo mieszczańska Austria aby przywrócić równowagę w moim postrzeganiu świata, czy też to ja się zmieniłem a nie świat. Jak mogę być wiarygodny, po ostatniej wyprawie do Peru, gdzie, jak twierdziłem, spotkałem jednych z najbardziej spoko ludzi jak dotąd, kiedy czuję, że muszę to samo powiedzieć teraz po Białorusi?
Białorusinów, których spotkaliśmy na tamtym kempingu czuję jak braci, i byłem szczęśliwy, że mogłem odnaleźć takiego dojrzałego, spokojnego brata, który da mi perspektywę spojrzenia na to kim jesteśmy jako Polacy, i co być może straciliśmy.
Byli ciekawi cudzoziemców, nie nieufni, cyniczni, cosiekurwapatrzysz. Ciągle mieli tą niewinność wioskowego dzieciaka, którą i my mieliśmy gdy rzadki był tu gość z Zachodu, i nie było takie oczywiste, że nas samych tam wpuszczą. Pamiętam poniżanie nas przez mundurowych post-imperialnych dupków na granicy w Dover, i przepraszam każdego z mych wschodnich braci, który kiedykolwiek musiał spotkać się z takimże polskim policjantem czy celnym urzędnikiem i ich poczuciem wyższości, żarcikami.
Ludzie, których spotkałem na tamtym kempingu podzielili się swoim czasem, napitkiem, mięsem i papryką, swoim słowem. Był wśród nich były żołnierz, który mówił o pokoju, i wiem, że mówił serio. Kiedy skonfrontowany został z naszym filozoficznym rozdzielaniem włosa w stylu "a co gdy zagrożona będzie twa rodzina", w dyskusji o wydarzeniach na Ukrainie, on odparł "zawsze masz wybór". To był naprawdę człowiek drugiego policzka i jego pacyfizm pochodził nie ze strachu czy słabości, ale prawdziwej siły i równowagi. Jego poglądy były nie były czymś, co musiał narzucać, jak to często bywa pod wpływem alkoholu. Mówił spokojnie, jak człowiek, który wie swoje, który zna siebie. Nie potrzebował San Pedro czy innych lekarstw, którymi leczymy nasze pękniete dusze.
There were two families here. The other was Igor's, the persian cat owner. He seemed a but more restless, like a younger brother, but also on his way to understanding, and a good guy. It is with him I made the deal.
…
Były tam dwie rodziny. Druga była Igora, właściciela perskiego kota. Wydawał się nieco bardziej niespokojny, jak młodszy brat, ale także na drodze do zrozumienia, dobry koleś. To z nim zawarłem swój zakład.

I know I am often a bridge between worlds, and cultures that find each other customs a bit strange, or even threatening. For me, after having stepped out of alcohol culture, which I was never an enthusiastic member anyway, it became a bit of a boring, uneasy, or sometimes hostile ground. For many Belorussians, including our new friends, marijuana is something not really known, I mean they hear about and believe the propaganda of a dangerous drug. When it came out in conversation, they were seriously worried for me, a habitual smoker with several years of experience. Igor claimed vodka is not a drug, so I said -  I check. "Are you able to prove, that you can step out of a custom that is everywhere around you? For a year, for example?". "Sure", he replied, "but what you give in return?"
He got me. I might have delved into sophistic arguments "it is not about me, it is about you now", but Grandfather Huachuma was watching over and it was clear he wrote that scenario to prove I am also ready to be a man of more than words.
"You get my ganja", I said. "A year without smoking."
We got the deal. We both got a new, refreshing turn in our histories, a new perspective and state of mind. There is no regret, because infinity of life's possibilities keeps opening in every moment.
That new twist of the plot is just a cherry on the top of cake I got for the Slavic day of the Dead. Hail to the Psychic Cat !
…
Wiem, że często jestem mostem pomiędzy światami i kulturami, które postrzegają mnie ( a we mnie zwyczaje tej innej ) jako nieco dziwne, lub wręcz niebezpieczne. Dla mnie, po wystąpieniu pare lat temu z kultury alkoholu, której zreszta nigdy nie byłem entuzjastycznym członkiem, stała się ona nieco nudnym, grząskim, a czasem nawet wrogim gruntem. Dla wielu Białorusinów, w tym naszych nowych znajomków, marihuana jest czymś raczej nieznanym, to znaczy słyszeli o niej, ale głównie w jednostronnej propagandzie o niebezpiecznym narkotyku. Kiedy wynikł ten temat w rozmowie, byli mną poważnie przejęci i zmartwieni, mną, miłośnikiem i praktykiem zioła z kilkunastoletnim doświadczeniem. Igor twierdził, że jego wódka to nie narkotyk, więc powiedziałem – sprawdzam. "Czy jesteś w stanie to udowodnić, że możesz wykroczyć ze zwyczaju który jest wszędzie dookoła ciebie? Na rok, na przykład?". "Jasne" , odrzekł "ale co dajesz w zamian?"
Tu mnie złapał. Mogłem zarzucić go sofistycznymi argumentami w stylu "to dla twojego dobra, to nie o mnie, a o tobie teraz gadamy", ale Dziadek Huachuma patrzał mi przez ramię i było jasnym, że to on napisał scenariusz, w którym muszę udowodnić, że jestem człowiekiem nie tylko słów.
"Masz moją ganję" – powiedziałem – "Rok bez palenia"
Zawarliśmy zakład. Oboje dostaliśmy nowy, odświeżający zakręt w naszych historiach, nową perspektywę i świeży stan umysłu. Nie ma czego żałować, bo nieskończoność możliwości i atrakcji jakie daje życie otwiera się w każdym momencie.
Ten nowy zwrot akcji to tylko wisienka na torcie, jaki dostałem na słowiańskie święto Przodków.  Sława Psycho Kocurowi !

However, take warning. Receive all you will from your Psychic Cat, and be grateful, but do not seek to understand too much of the mystery, or you may get lost in explanations and theories, hurt by the paws of madness. Do not ask for more than you are getting, do know when to stop, to satisfy yourself with what you may have thought just a day ago was not possible. These gifts are fragile, and may be gone if you go on chasing too much of "more", or you can be lost in treating your medicine as drug. It won't work like this.
One more quote from the interview with huachumera :
"Part of the disease, it seems to me, is to want to understand the world in terms of its "mechanisms" when its nuts-and-bolts really don't matter at all. It is the beauty of the world that should attract, engage, and inspire us! When we drink San Pedro that is one of the first things we learn – and then our questions become irrelevant anyway. So the real answer, for those who want to know the hows and whys of San Pedro, is simple: drink it and then you will see!
The "what" of San Pedro is that it heals lives. Let us leave the sleepless nights of the whys and hows to the academics for whom such things seem to matter."
…
Jednak zapamiętajcie to jedno ostrzeżenie. Przyjmujcie dary, które będą płynąć od waszego Psycho Kocura, i bądźcie wdzięczni, ale nie próbujcie zrozumieć zbyt wiele z tajemnicy, bo inaczej możecie zagubić się w wyjaśnieniach i teoriach, draśnięci pazurem szaleństwa. Nie proście o więcej niż dostajecie, nie naciskajcie, warto wiedzieć, kiedy się zatrzymać, zadowolić tym, co może dzień wcześniej wydawało się przecież niemożliwym marzeniem. Te dary mogą być kruche i ulotne, mogą prysnąć jeżeli będziecie ścigać zbyt wiele tego "więcej", albo możecie skończyć jako używający tego lekarstwa jako narkotyku. Tak to nie działa.
Jeszcze jeden cytat z wywiadu z wiedźmą huachumera :
"Częścią choroby, jak mi się wydaje, jest chęć zrozumienia świata w sensie jego "mechanizmów", podczas gdy te śrubki i trybiki nie mają zupełnie znaczenia. To piękno świata powinno nas przyciągać, zajmować i inspirować ! Kiedy pijemy San Pedro, to jedna z pierwszych rzeczy jakich się uczymy – i wtedy nasze pytania stają się nieważne. Zatem prawdziwa odpowiedź, dla tych którzy tak bardzo chcą poznać "jak-i-dlaczego" San Pedro jest prosta – wypij, a zobaczysz.
Tym "co" San Pedro jest fakt, że uzdrawia życia. Pozostawmy bezsenne noce z "jak-i-dlaczego" akademikom, których takie sprawy frapują."