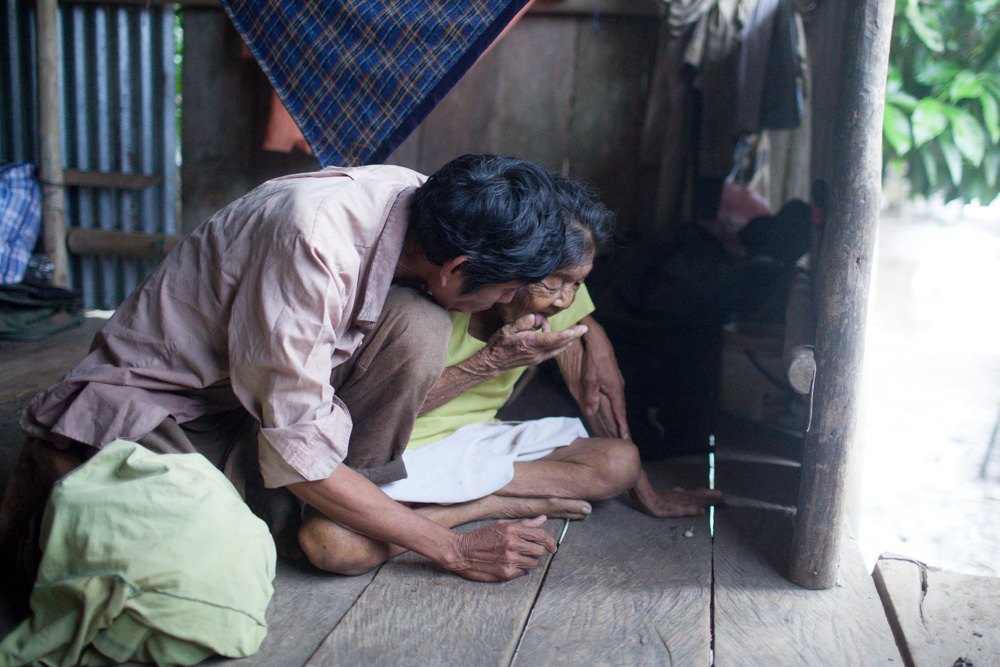 Our lifes are so smooth and problems so little in comparison, we realize when facing such stories, and then next day or an hour later we already don't remember that at all.
We visited a healer living in a remote village on Maranon river. We slept in one room with his family and other patients, in this case old mother of the healer's wife. She is almost 90 years old and taken care of by her partner, who is around 58, half blind from an accident in the field. He asked me if by any chance I dont have any glasses. His wife is constantly holding or trying to grab his hand, to be sure he is around, even if he goes out for a moment to carry out the pot with her urine. In the meantime her other hand constantly scans the floor, even right after dinner, in search of something to eat, be it crumbs, insects, dust, mud. She just can't be reasoned with, can't be convinced to stop. She wakes in the middle of the night, screaming. That is her life. On the wooden floor, waiting for the end. That is his life. Without nurses to help, government benefits, free day to rest from the unexplainable burden of being full time caretaker that is only known to those who have experienced it. Even if there was someone with TV in the village, to distract his mind for a while, he doesn't have this pair of glasses we just take for granted, as many other things, health included. Until it is lost.
…
Nasze życia są tak proste i bezproblemowe w porównaniu z takimi, zdajemy sobie sprawę, kiedy los podsunie nam takie przykłady pod nos, a potem, następnego dnia albo godzinę później nie pamiętamy już o tym wcale.
Odwiedziliśmy uzdrowiciela mieszkającego w odległej wiosce nad rzeką Maranon. Spaliśmy w jednym z pokoju z jego rodziną i innymi pacjentami, w tym wypadku starą teściową znachora. Ma około 90 lat, i zajmuje się nią jej partner, w wieku ponoć 58 lat, na wpół ślepy po wypadku w polu. Spytał mnie czy nie mam czasem jakiś okularów, nie wiedział zupełnie jaką moc potrzebuje. Jego żona bezustannie próbuje trzymać go za rękę, by być pewną że jest w pobliżu, nawet kiedy musi wyjść na moment by wylać jej nocnik z sikami. W międzyczasie jej druga dłoń stale skanuje podłogę, nawet tuż po posiłku, w poszukiwaniu czegoś do zjedzenia, okruszków, insektów, drzazg, kurzu, błota. Nie można z nią się dogadać, nie można jej przekonać by przestała. Budzi się często – i innych – w środku nocy, krzycząc. Takie jest jej życie. Na gołych deskach, czekając na koniec. Takie jest jego życie. Bez pielęgniarek jakie by mu pomogły w opiece, bez rządowych zasiłków, bez wolnego dnia by odpocząć od trudnego do wytłumaczenia brzemienia całodobowej opieki, znanego tylko tym, którzy go doświadczyli.  Jeżeli nawet ktoś w wiosce miałby telewizor, by odciągnąć od tych kłopotów na moment jego głowę, nie ma on przecież nawet tej pary okularów, czegoś co uważamy za oczywiste, nam dane, jak wiele innych rzeczy zresztą, wliczając to zdrowie. Ten, co je stracił ci powie.