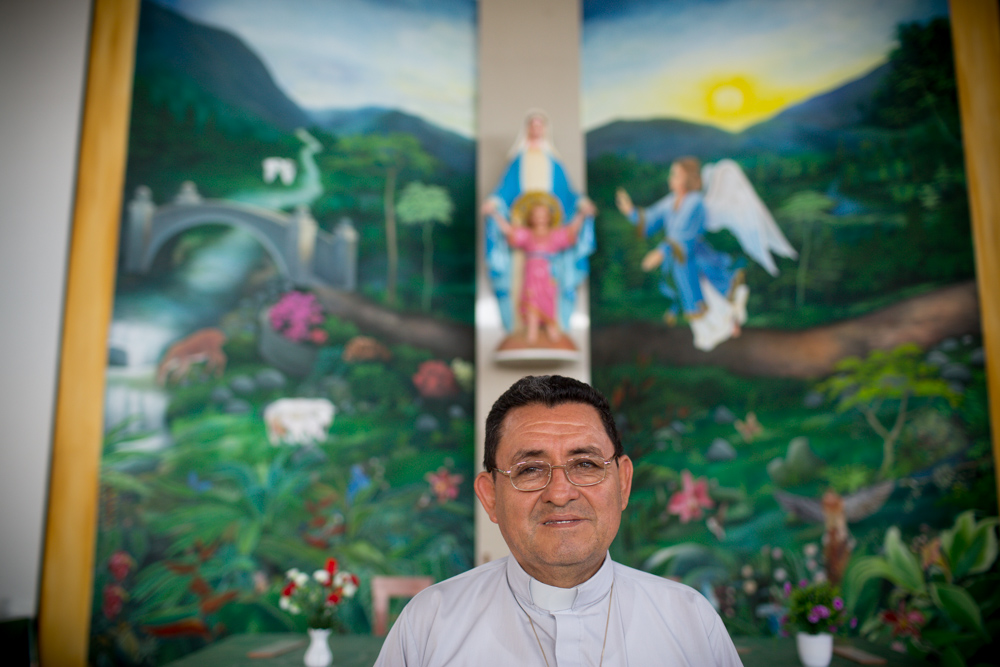 "Ayahuasca była wielkim odkryciem dla mojego życia zawodowego, jako osoby duchownej. Wiele lat temu zostałem poproszony przez mojego ówczesnego biskupa, abym objął duchową opieką pacjentów z centrum Takiwasi, uzależnionych od narkotyków, pogubionych ludzi, będących w istocie poszukiwaczami. Bardzo szybko zdałem sobie jednak sprawę, iż nie posiadając wiedzy odnośnie roślin z jakimi pracowali i światów w jakie te rośliny ich zabierały, nie miałem możliwości komunikacji z nimi a zatem skutecznej pracy. Przebywali oni w światach mi nieznanych i obcych dla moich koncepcji religijnych. Jak miałem zrozumieć ich trudności, ich przeszkody na tej ścieżce? Była tu jednoznaczna, duchowa konieczność mojego zanurzenia się w tej rzeczywistości, a równocześnie czułem, że rośliny te mogą pomóc mi w moich własnych problemach, które w tamtym czasie były poważne. Byłem pogubiony, a przecież oczekiwano ode mnie bym był pasterzem dla innych. Dr Mabit także to dostrzegł, i sugerował, że rośliny mogą być pomocne. Zacząłem od roślin przeczyszczających, i stopniowo zacząłem zauważać poprawę, subtelne zmiany w moich uczuciach. Zdecydowałem, iż muszę spróbować głównego narzędzia z jakim pracuje się w Takiwasi – ayahuaski. Niezbędnym było spytanie o zgodę mojego biskupa. Jeżeli mam zdziałać coś w sferze duchowej dla tych pacjentów, powiedziałem mu, muszę poznać ich świat. W seminarium mówiono nam, że powinniśmy mówić o Bogu w oparciu o naszą własną rzeczywistość i doświadczenie. Biskup odpowiedział, jeżeli jest to dla pracy zdobywania dusz, ułatwiania im odkrycia tego, czego szukają, to powinienem zrobić to, co uważam za słuszne.
A zatem wypiłem. Zobaczyłem wtedy ogromny potencjał tej medycyny. Umożliwiła mi ona po raz pierwszy w życiu wniknięcie w duchową rzeczywistość, o której nie wiedziałem nic do tego momentu. Studiowałem przez lata w seminarium, pracowałem potem jako kapłan w wielu parafiach, ale nigdy nie było mi dane doświadczyć bezpośredniej relacji z tą świętą, wewnętrzną przestrzenią. Rośliny pokazały mi, iż blokada była we mnie, i po tym jak przyjęłem ayahuaskę, zrozumiałem jakie zmiany były niezbędne w moim życiu, jak powinienem rozpocząć proces pogodzenia się ze sobą samym, z naturą, z innymi, z Bogiem. Ta roślina, ayahuaska, to skuteczne narzędzie dla tych z nas, którzy szukają w życiu odpowiedzi. Czyni nas bardziej wrażliwymi, ludzkimi, osłabia racjonalną część naszej osobowości, i pomaga przez to poczuć to, co znamy z pism, naprawdę wejść w kontakt z tym, o czym dotąd jedynie czytaliśmy i znaliśmy intelektualnie.
Doświadczenie to było zdecydowanie przeżyciem duchowym. Mogłem dostrzec własne demony i zrozumieć skąd one pochodzą, dlaczego moje życie dotąd nie było szczęśliwym, dlaczego nie mogłem żyć w pokoju, całą tą wściekłość i ciemność mnie blokującą. Nie byłem wcześniej w stanie odkryć swojej prawdziwej natury. To właśnie odróżnia ayahuaskę od narkotyków – wielu ludzi żyje w takim pogubieniu, i uciekają w narkotyki, ale te przynoszą tylko tymczasową ulgę, i nie przynoszą zrozumienia.
Kontynuuję swoją pracę z roślinami i z ayahuaską, i widzę do teraz, jak wpływają na mnie, jak motywują mnie w moim życiu religijnym, w moich obowiązkach kapłana, pozwalają mi docenić bardziej kościół do jakiego należę. To doświadczenie pomaga mi w mym codziennym życiu aby lepiej rozróżniać pomiędzy złem i dobrem. Jest pewne pomieszanie w Kościele Katolickim odnośnie szamanizmu. Szaman to termin neutralny etycznie, wykonuje on pracę do jakiej jest wynajęty, czasem uzdrowienie a czasem czynienie szkody. Moja praca wiąże się z "curanderos", uzdrowicielami, których intencją jest używanie roślin wyłącznie w celu leczenia. Jak może być to złe w oczach Boga, twórcy roślin dla pożytku człowieka?
Tutaj warto wspomnieć o interesującym fakcie – termin "curandero" w swym rdzeniu zawiera hiszpańskie określenie kapłana – "cura". To nie jest zbieg okoliczności. Wykonujemy wspólne zadanie, leczymy dusze. To jest praca, która płynie od Boga, ze światła, którego wszyscy w istocie szukają. Jest wiele dróg dotarcia do dusz, niektórzy potrzebują tej drogi, drogi roślin. Ostatnio, podczas wizyty biskupa w Takiwasi, odbyło się kilka chrztów pacjentów. To są konkretne życia, duchowe życia odmieniające się. Czy jest to zasługą mej pracy jako ksiądz? Nie, to dzięki pracy curanderos i dzięki roślinom, więc mówimy tu o realnym wpływie, realnej odmianie. Tak było i w moim przypadku, wielka odmiana i ratunek z bałaganu w jakim wtedy byłem. Teraz kocham bardziej swoje powołanie, bardziej się poświęcam pracy, jestem mniej znużony. Mam nadzieję, iż zrozumienie tych procesów będzie powoli wzrastać, że doświadczenia ludzi takich jak ja bedą świadectwem, za którym inni w Kościele będą mogli podążyć."
O. Christian Alejandria.
Z nakazu swojego biskupa jest pasterzem, duchowym przewodnikiem dla personelu i pacjentów Centrum Takiwasi. Uczestniczy aktywnie w procesach rozwoju psychoterapeutycznego poprzez sesje z roślinami, i prowadzi warsztaty dla promocji wartości. Takiwasi jest bezwyznaniową organizacją pozarządową, jednak uznaje jako niezbędne wprowadzenie wymiaru duchowego dla skutecznego przełamywania psycho-emocjonalnych problemów.
…
"Ayahuasca has been a discovery for my priest life. Years ago I have been asked by my bishop to take into my spiritual care patients of the Takiwasi center, drug addicts, people lost, who were also on spiritual quest. However, very quickly I realized, that having no knowledge of the plants they work with and the worlds these plants take them to, there was no possibility of communication between us and therefore no possibility of effective work. They lived in world unknown to me and alien to my religious concepts. How could I understand their difficulties, their obstacles on this path? There was a clear spiritual necessity for my immersion and I also felt these plants could help me in my problems, which were serious at this time. I was lost myself, and at the same time there was expectation of me to be shepherd to others. Dr Mabit saw that too, and he suggested the plants could be of help. I started first with plant purges, and as I slowly started to notice improvements, subtle changes in feelings, I decided I have to try the main tool used in Takiwasi – ayahuasca. I needed to go and ask permission of my bishop. If I am to do something spiritually for my patients, I said to him, I need to know their world. We were told in seminary that we should talk about God based on our own reality and experience. Bishop replied, that if it is for the work of winning souls, enabling them to find what they look for, then I should do what I feel is right.
So I drank. I saw that the potential of this medicine is enormous. It helped me for the first to truly enter inside spiritual reality I did not know before. I studied years in the seminary, worked afterwards as a priest in many parishes, but I was never able to enter in relation with this sacred, interior space. The plants have shown me that the blockage was in me, and after I took ayahuasca, I understood what changes were necessary to do in my life, how I should start the process of reconciliation with myself, with nature, with others, with God. This plant, ayahuasca, is effective aid for those of us, who seek answers in life. It makes us more sensitive, more human, weakens our rational part and so helps us to feel what we know from the teaching of the scriptures, to truly enter in the relationship we read about and so far only knew intellectually.
That experience was something definitively spiritual, because I could see my own devils, where they originate, why my life so far was not happy, why I could not live in peace, all the rage and darkness blocking me. I couldn't really know whom I was. This is how ayahuasca differs from drugs – many people live in this kind of confusion, and they resort to drugs to escape, but they bring only temporary relief. They belong to the darkness and offer no understanding.
I continue to work with ayahuasca and I can see until now how it affects me and motivates me in my religious life, in my duties as a priest, it helps me to appreciate more my church. The experience helps me in my daily life, to distinguish between good and bad with better clarity. There is this confusion within Catholic church regarding shamanism. Shaman is a term neutral ethically, he performs work he is hired to do, be it harm or healing. My work is with curanderos, healers whose intention to use plants is to heal exclusively. How can that be wrong in the eyes of God, creator of plants for the benefit of humanity?
It is interesting, that the term "curandero" in its core has a Spanish word for priest – "cura". It is not a coincidence. We do the common work, we heal the souls. This is the work which flows from God, from light, which all are truly looking for. There are many ways to reach souls, some need this way, way of the plants. Recently, during bishop's visit to Takiwasi, some baptisms of patients were performed. These are real lifes, spiritual lifes affected. Was it because of my work as a priest? No, it was thanks to the work of curanderos and the plants, so we are talking about real changes occuring. So it was in my case, a great change and a rescure from great mess I was in at that time. I love now more my vocation, I am more dedicated to my work, less weary. I hope that understanding of these things will increase gradually, that the experiences of people like me will be testimonies for others within church to follow."
Father Christian Alejandría
By order of his bishop, he assumes a pastoral role of spiritual guidance to staff and patients of the Takiwasi Center. Participates actively in the psychotherapeutic evolution processes through plant sessions, and offers workshops to promote values. Takiwasi is a non-denominational NGO that however considers essential to extend the overcoming of psycho-emotional problems through the introduction to a spiritual dimension.