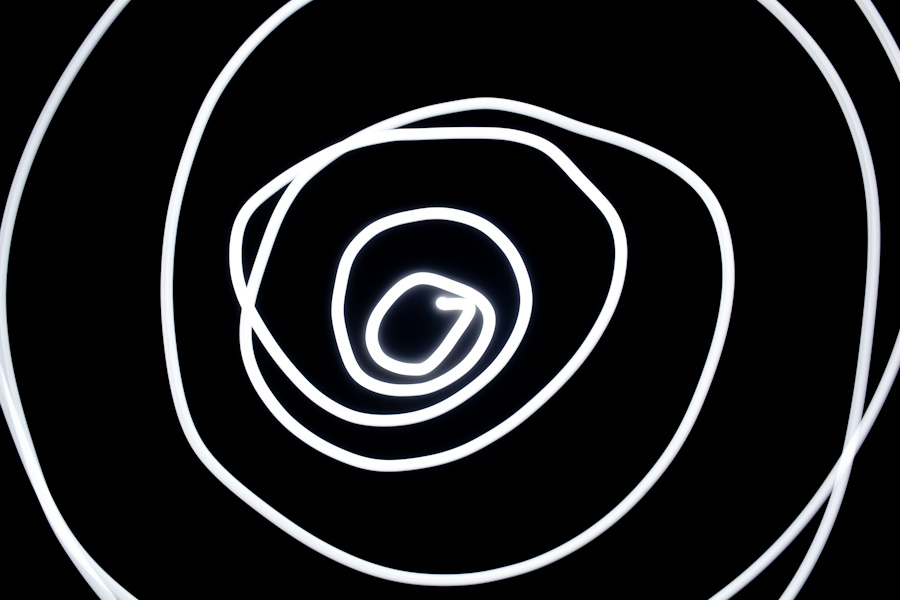 Ponieważ wydarzenia z 23 kwietnia, z rocznicy śmierci padrinho Corriente były tak mocne, dwa dni później notuję jeszcze raz, już ostatnie takie przemyślenia z Mapii :
25.04. Daime uczy pokory, uważności, budowy fundamentów. Wężowa powtarzalność, wężykiem, od piekła do ulgi do ekstazy, na tyle cżęsto aby się wbiło w łeb, pętle nie są tak złowrogie i pozornie bez sensu jak kwasowe, są jak wielokrotne powtórzenia tej samej lekcji, w celu utrwalenia, udoskonalenia, niczym kolejne strzały cyfrówką, kiedy już niby mam to, o co chodzi, ale ciagle "jeszcze raz", "jeszcze trochę" – aby próbować dojść do tej nieuchwytnej perfekcji, a być może aby w końcu odpuścić, uświadomić sobie że do perfekcji dojść nie sposób – i tym sposobem uwolnić się z męczenia, z obsesyjnego powtarzania kadru, z obsesyjnego celebrowania cierpienia, zagubienia, bycia ofiarą.
W błysku zrozumienia widzę, że jest okej, tak jak jest, nic więcej nie trzeba, starczy – i naprawdę w to wierzę – i wtedy kończy się ot tak, coś co wydawało się nie skończy się nigdy.
***


Because events in the night of 24 April, the anniversary of death of padrinho Corriente were so strong, I am compelled to write a bit again two days later, last notes of this kind from Mapia :
25.04 Daime teaches being humble and careful, teaches building foundation. In a serpentine repetitive swinging movement from hell to relief to ecstasy, so frequent it carves a path in the mind. I see those mind loops being less threatening and less absurd than those of LSD, they are like frequent repetition of the same lesson to be memorized for good, for perfection, like many consecutive shots with digital camera, when, despite already having what I need, I keep on shooting, more and more, "one more time", "one more minute" – trying to grab perfection – or perhaps realize it is ungraspable, and so get release from this futile struggle, obsessive correcting of the frame, or obsessive celebration of suffering, being lost, being a victim.
In a flash of understanding I see that all is OK, as it should be, that no more is needed, it is enough – and I do believe that – and than the hard part ends, just like that, something that seemed will never end.