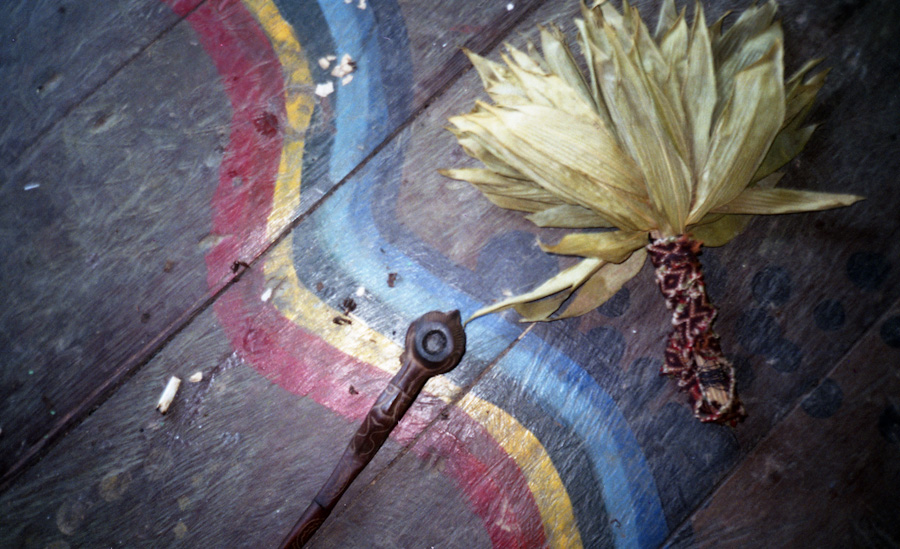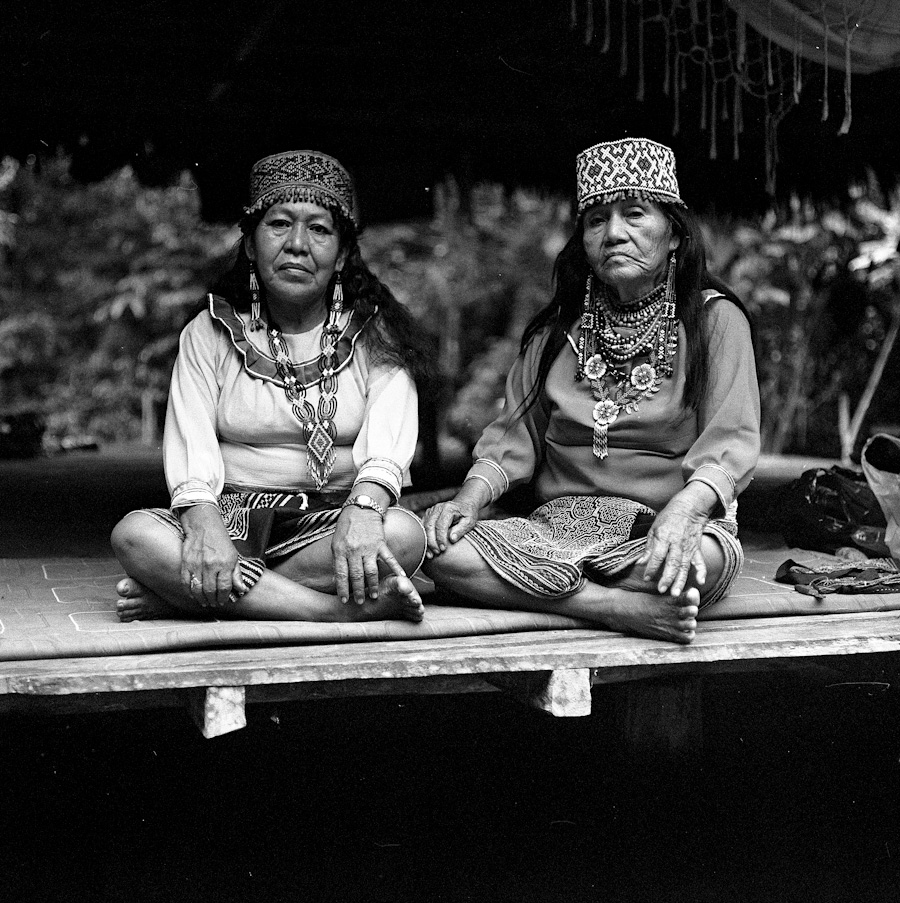 This is a story about people of Rainbow community drinking ayahuasca with Shipibo shamans Laura and Ines, in the jungle not that far from Iquitos. This is a home for nomads, a stopover and at the same time, still a journey.
…
Oto historia mieszkańców i gości wspólnoty Rainbow, pijących ayahuaskę z szamankami z plemienia Shipibo, Laurą i Ines, w dżungli nie tak daleko od Iquitos. To dom dla nomadów, przystanek a zarazem wciąż podróż.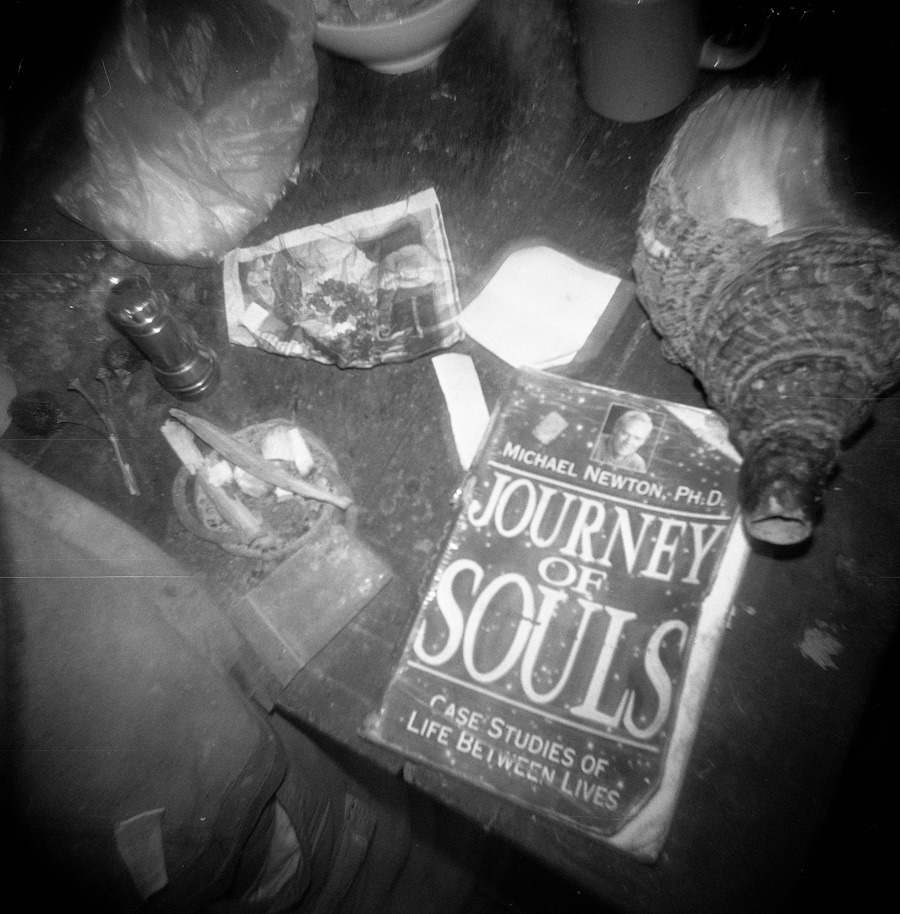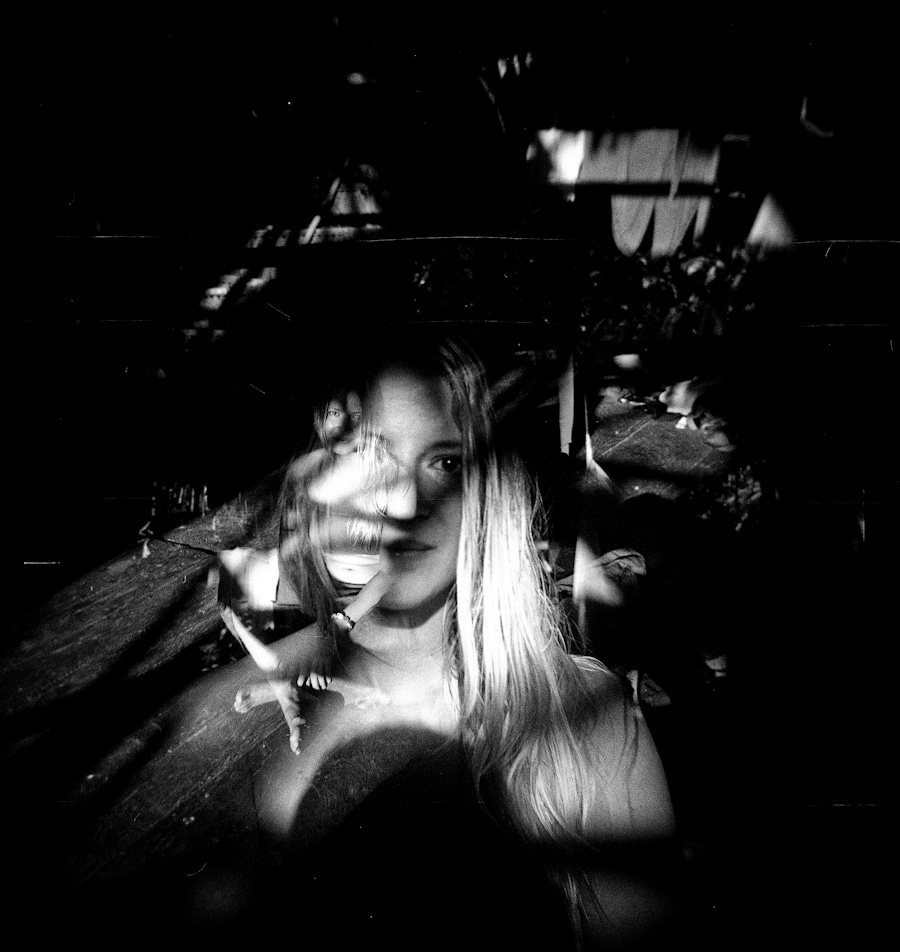 I was supposed to put away my digital camera here, and I failed, of course. I say "of course", because I see this as a pattern, being unable to keep firm promises, and actually not worried about this at all. One previous typical example was around a month before, in my giving up of the idea to climb mountain and fast alone for days during vision quest I attended in Colombia.  I was actually amused , how easily I did that, resigning from this concept called "I can make it, no matter what". This is just not my thing. So I say, nothing for me is permanent, no belief to be taken too seriously… Did I say "I take rest from digital"? But that was not now. Now we have a magic I want to capture, and people I don't want to disturb with flash.
…
Miałem odłożyć swój cyfrowy sprzęt po przyjeździe tutaj, i zawiodłem, oczywiście. Mówię "oczywiście", bo wydaje się to już powtarzającym się motywem, moja niestałość postanowień, którą nie martwię się zupełnie. Jeden z typowych tego przykładu był zaledwie miesiąc wcześniej – kiedy zrezygnowałem z udziału w vision quest, na jaki przyjechałem specjalnie na północ Kolumbii. Miałem wspinać się tam na górę i pościć, bez wody, jedzenia i dachu nad głową przez ileś dni. Właściwie mnie rozbawiło, jak łatwo z tego zrezygnowałem i popłynąłem w stronę innej możliwości, która się otworzyła, jak łatwo zrezygnowałem z tej koncepcji "dam rade niezależnie co by się działo". To nie była ma bajka. Więc powtarzam, nie bierzcie nic z tego co tu piszę zbyt poważnie, nic nie jest dla mnie stałe, wieczne. Czy powiedziałem "czas na odpoczynek od cyfry"? Ale to nie było teraz. Teraz mam przed sobą magię, którą chcę choć w kawałeczku zarejestrować, i ludzi których nie chcę straszyć holgowym fleszem.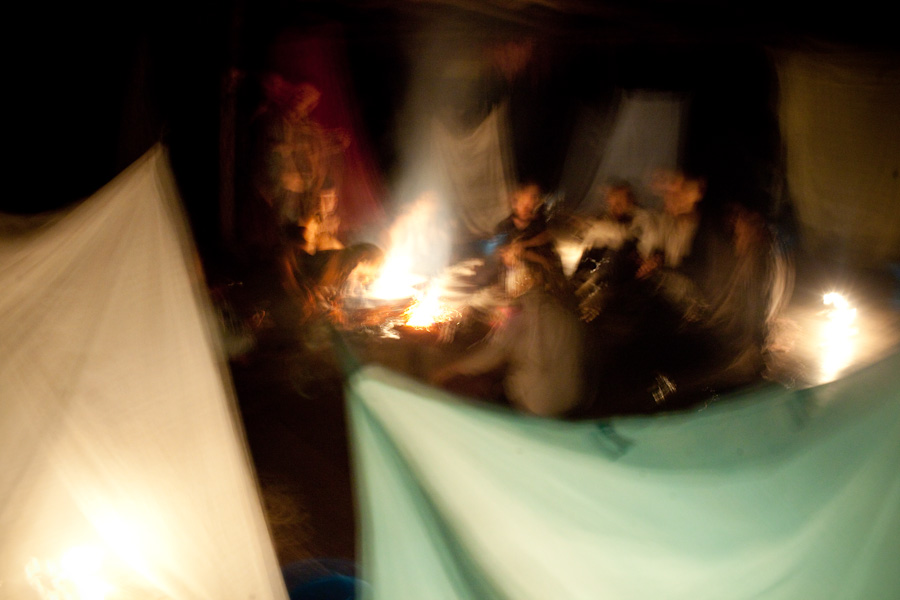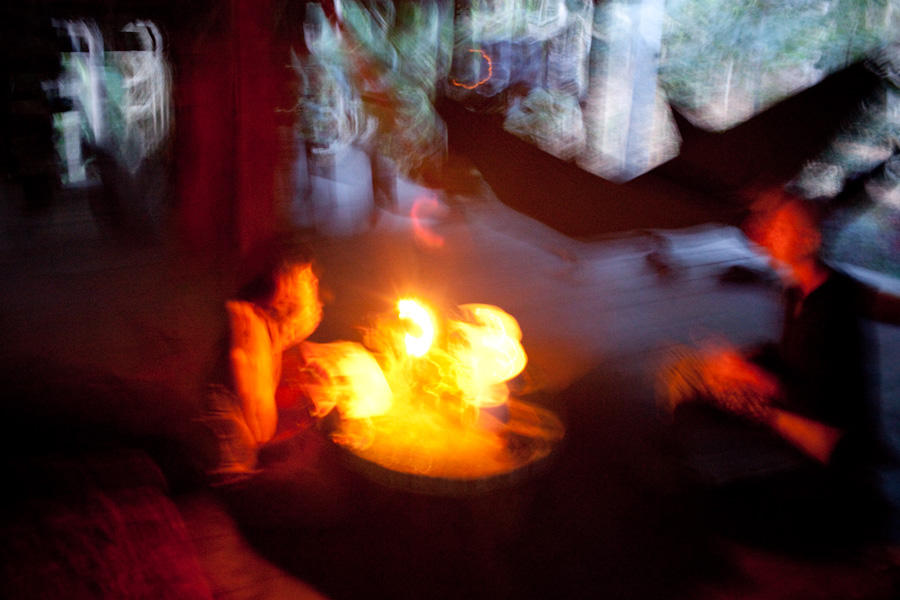 The ceremonies are held in total darkness, I have some moments for photos before candles go out, before we drink and yage creeps in and I have other direction to look to. But one night I come to the ceremonial maloca and don't drink, I come to register.
…
Ceremonie odbywają się w całkowitej ciemności, mam pare chwil na fotki zanim nie zgasną świece, zanim nie wypijemy yage i nie rozpełznie się ono po krwi, kierując mą uwagę w inną stronę. Jednej nocy przychodzę do ceremonialnej maloki nie pijąc, a jedynie po to by dokumentować.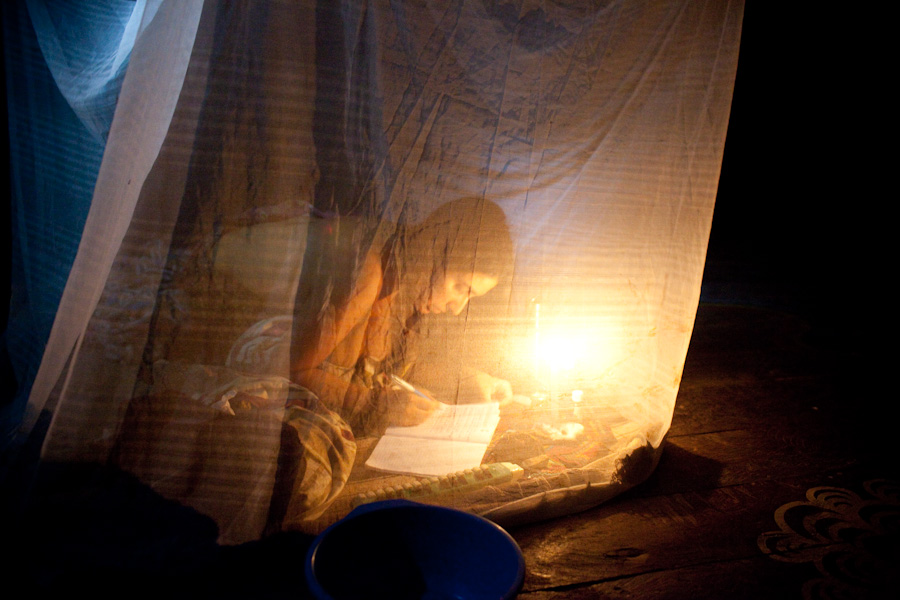 I take some portraits, and later I record icaros of Laura and Ines. I am as discreet as I can, as quiet as a cat when I move closer and closer towards them, chanting to the people, one by one.  But my device has got tiny red light, just a dot, and this is what gets noticed and causes terror. Shipibo shamans in their trance, seeing nothing but red light were convinced it is some evil spirit approaching. It is time to step back, but you can listen now ( below ) , nearly one hour. Quality gets better as I get closer :
…
Robię kilka portretów a potem nagrywam icaros śpiewanych przez Laurę i Ines. Jestem tak dyskretny jak tylko się da, tak cichy jak kot kiedy skradam się coraz bliżej szamanek, śpiewających po kolei dla każdego z pacjentów. Ale mój sprzęt ma malutkie czerwone światełko sygnalizujące nagrywanie, i to one, zauważone, jest przyczyną przerażenia. Laura i Ines w swym transie, nie widząc nic więcej poza czerwonym światełkiem w ciemności, przekonane są że to nadejście jakiegoś złego demona. To czas bym się wycofał, ale wy teraz możecie posłuchać ponad godziny nagrania ( poniżej ). Jakość poprawia się w miarę jak z zbliżam się do śpiewających :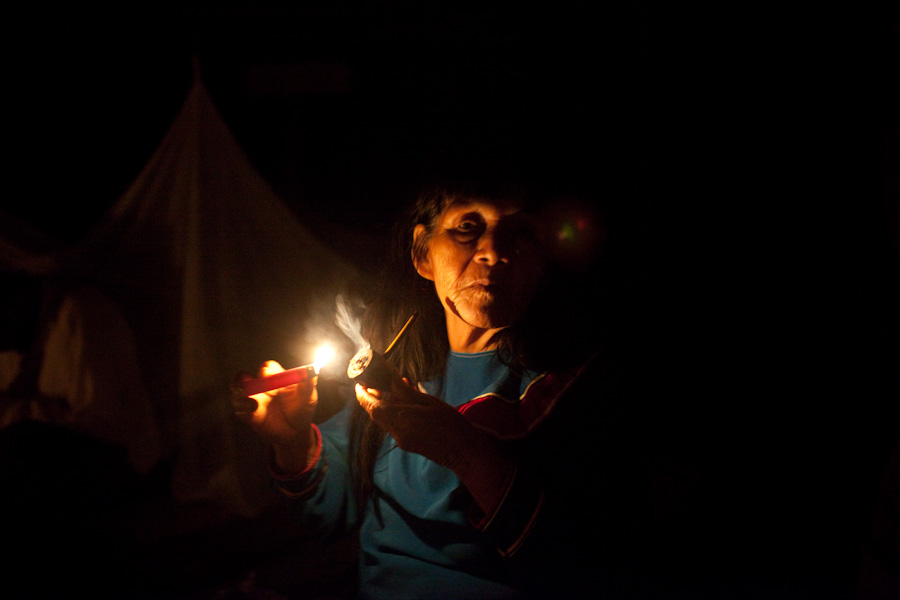 These is what I came for to Peru, I missed Shipibo chants. Shamans in Colombia and Ecuador rarely do that, the best were some of the Cofan tribe, but eerie melodies from Ukayali are yet to be matched. Also, ayahuasca from Iquitos is top notch. Other plants are added here, and make the brew strong. Some ayahuasqueros abandoned chacruna in favour of huambisa, they say it has more light ( DMT ) in it, others add toe, which brings strong but dangerous visions.
My first session with Ines and Laura brings me to me knees, I float in vomit. I kicked the bucket in total darkness, lost any sense of direction, and after some struggling, any sense of shame. While I puke all over, more and more violent, the chants of joy of fellow travelers rise higher and higher. This is wonderful thing here, there is abundance of compassion, and exactly because of that, there is no pity, by feeling what other feels we know he must goes through this, and there no need for worry. I need no one to pity me , I want joy when it its sincere, and I can join it when ready. That doesn't take long.
…
To po to właśnie przyjechałem do Peru na ostatnie dwa tygodnie. Tęskniłem za pieśniami Shipibo. Szamani w Kolumbii czy Ekwadorze rzadko tak śpiewają, najlepsi byli niektórzy z plemienia Cofan, ale nie-z-tej-ziemi melodie znad Ukajali nie mają sobie równych. Ponadto ayahuasca z okolic Iquitos to pierwsza klasa. Dodaje się tutaj też inne rośliny, aby uczynić wywar silniejszym. Niektórzy z ayahuasqueros porzucili chacrunę na rzecz huambissy, mówią, że więcej w niej światła ( DMT ), inni dodają też toe, które sprowadza silne, lecz niebezpieczne wizje.
Moja pierwsza sesja z Ines i Laurą powala mnie na kolana. Pływam w rzygach. Potknąłem się o swą miskę w ciemności, gdzieś poleciała, straciłem jakiekolwiek poczucie kierunku, a po krótkiej walce z samym sobą, poczucie wstydu. Kiedy wymiotuję pod siebie, na siebie, coraz gwałtowniej, okrzyki radości i śpiewy współtowarzyszy podróży podnoszą się coraz wyżej. To wspaniała rzecz, jest tu bogactwo współczucia, i dzięki temu nie ma krzty litowania się, bo czując co inni czują, wiemy, że muszą przez to przejść, i nie ma się czym martwić. Nie chcę by ktokolwiek się nade mną użalał, chcę by radość płynęła, gdy jest szczera, a ja dołącze, kiedy będę gotów. To nie zabierze długo.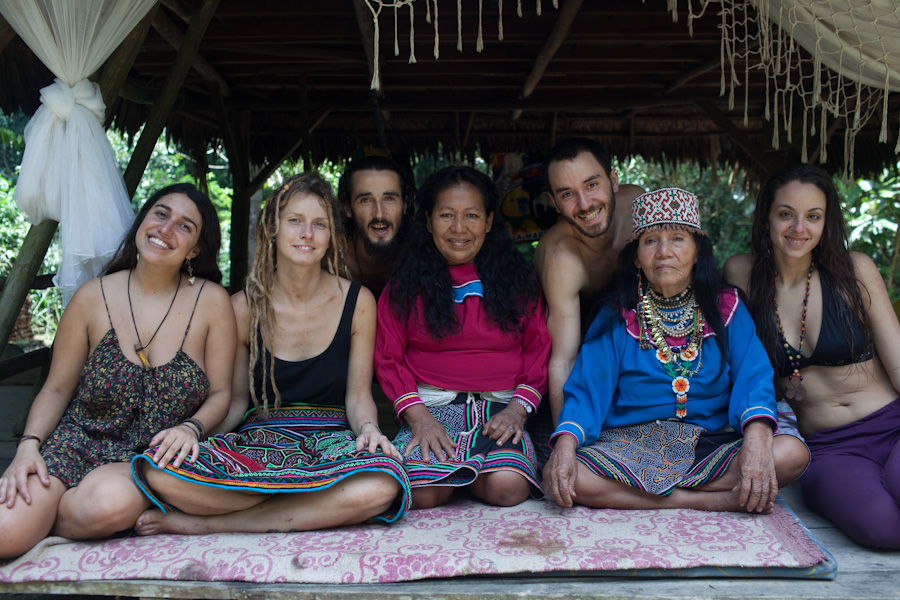 There is communal living in the day and communal journey in the night. I like this intertwining of the paths, mainly because it is for a short while.
…
Jest tu wspólne życie za dnia, i wspólna podróż w nocy. Lubię to splątanie ścieżek, głównie ponieważ wiem, że jest tymczasowe.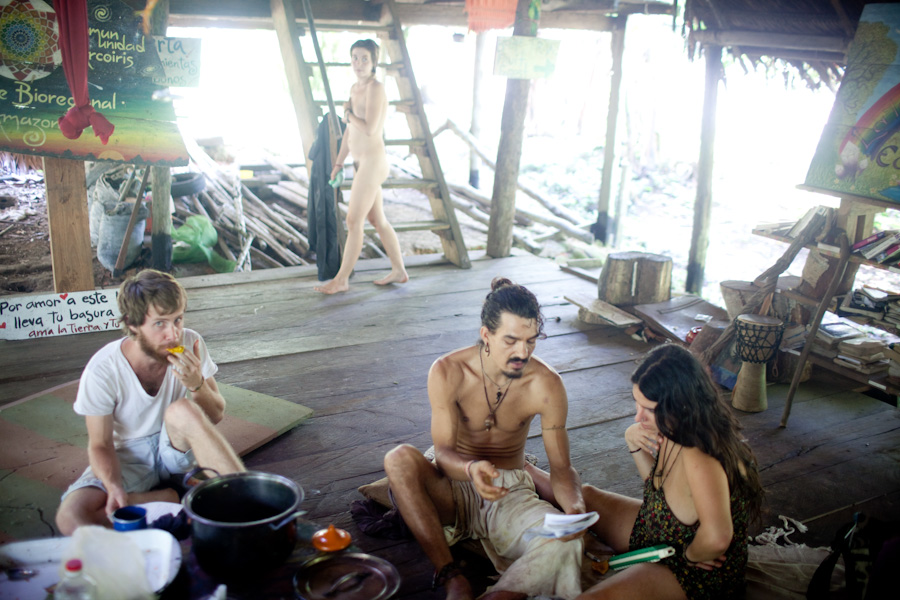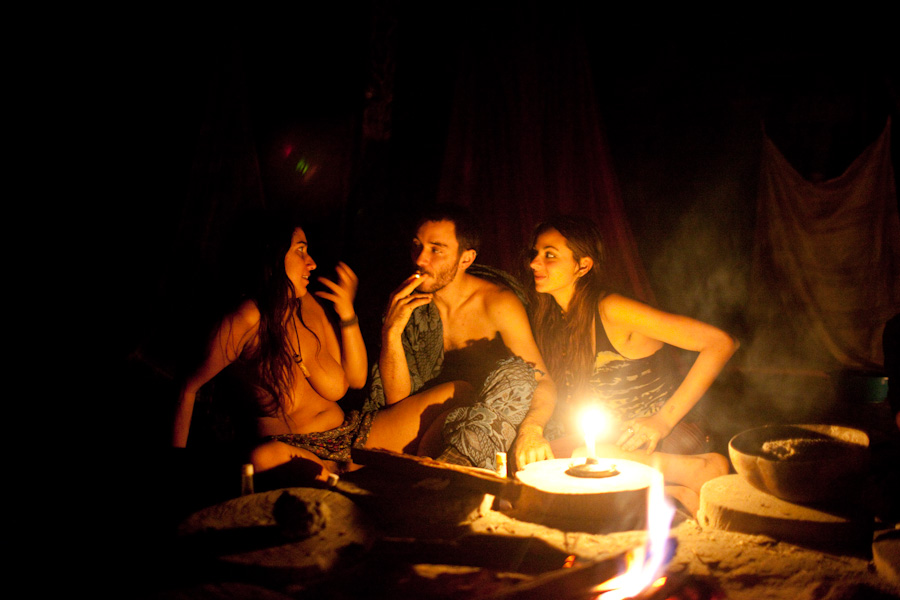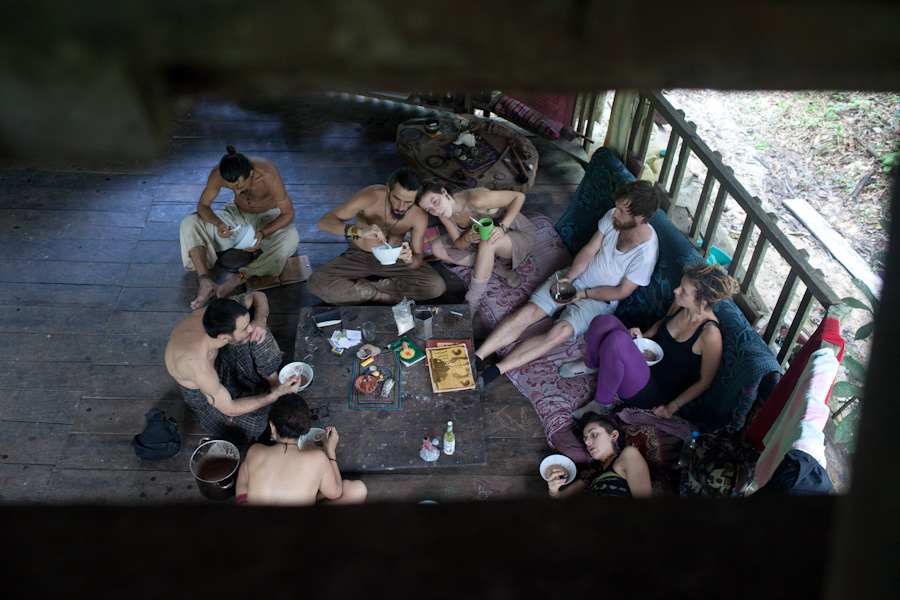 I can sense the presence of those "vast amounts of beauty".  ///   Mogę poczuć tu obecność tych " wielkich ilości piękna".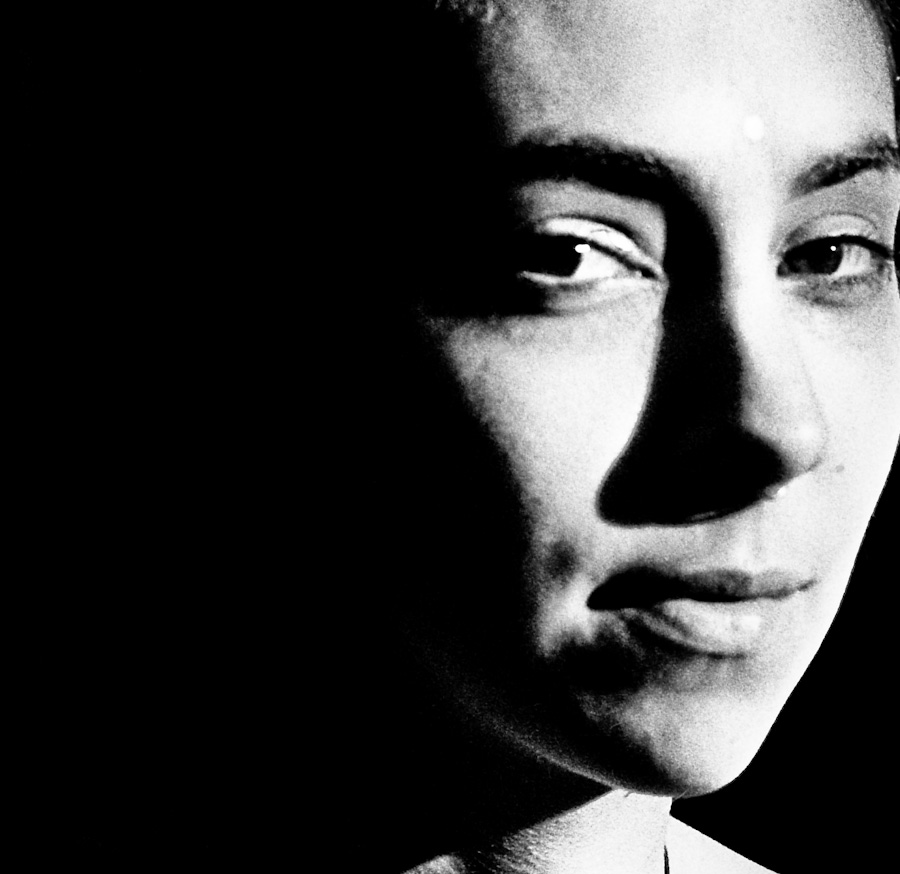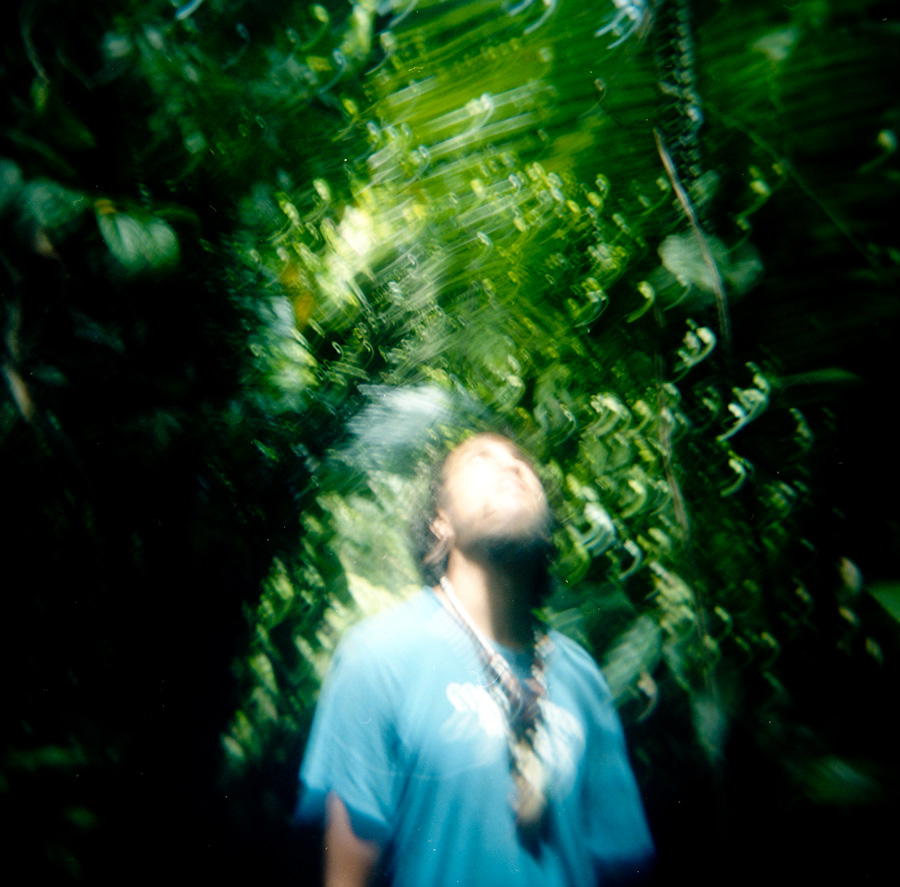 There are quite a few interesting characters here, as always in Rainbow gatherings. Bat, vagabond and ex-punk, now already nearly two years in training for ayahuasquero. Arnaud, the French host and co-creator of the place. Drum, hyperactive drummer who helped with his beats to carry me away from shambo one night. There are many more.
…
Znaleźć tu można, jak zwykle na zgromadzeniach Rainbow, niezłą kolekcję interesujących postaci. Bat, włóczęga i były punkowiec, obecnie od prawie dwóch lat trenujący w dżungli fach ayahuasquero. Arnaud, francuski gospodarz i współtwórca tego miejsca. Drum, hiperaktywny bębniarz, który pewnej nocy pomógł mi swym rytmem oddalić się od shambo. Jest i wielu innych.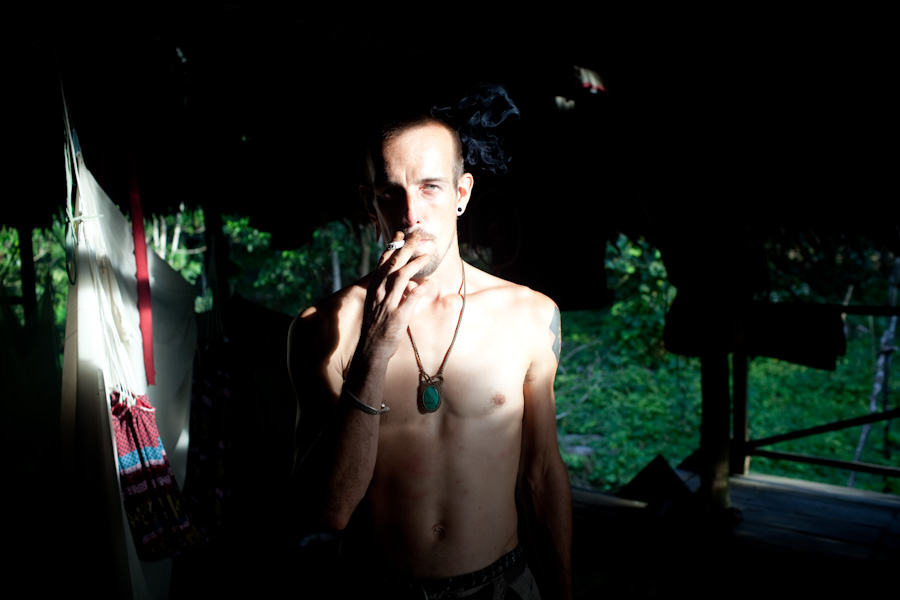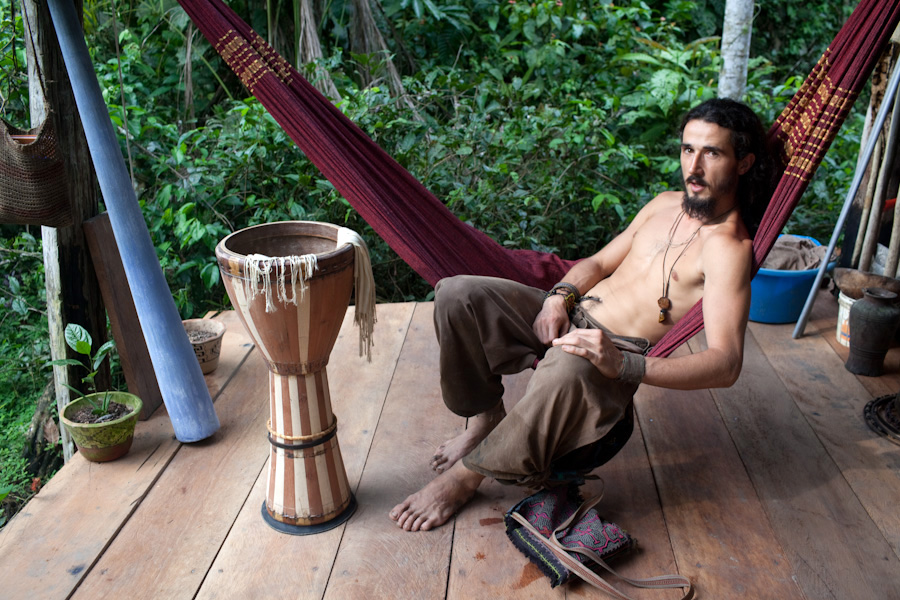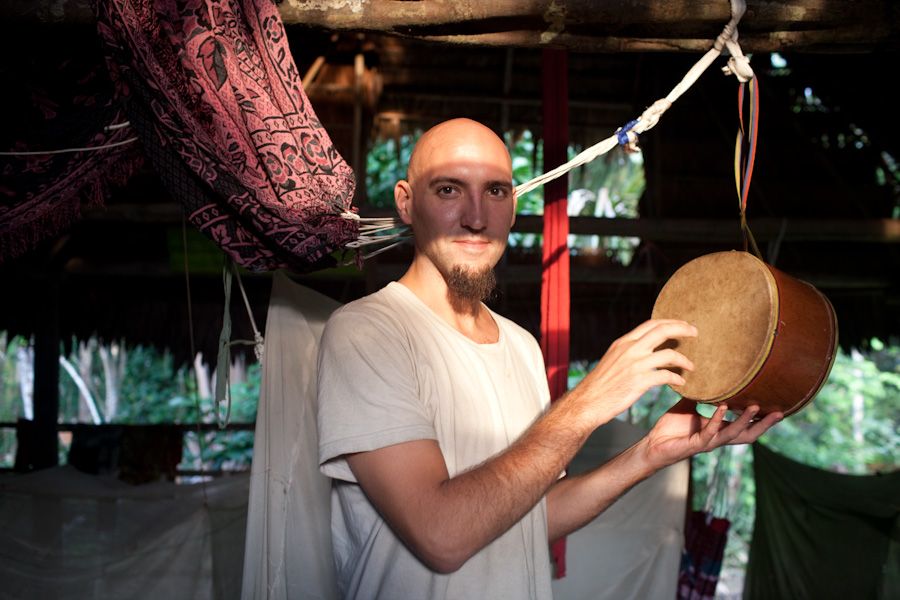 Exceptional character is in Rodrigo. In the beginning I only meet him during ceremonies, he is in the diet, hence living like a hermit, on the other side of the stream. Then one night he comes for his final ceremony, which closes the diet, and since then I have a chance to get to know him a bit.
…
Wyjątkowy charakter jest w Rodrigo. Na początku spotykam go tylko podczas ceremonii, bierze udział w ścisłej diecie, stąd mieszka oddzielnie, jak pustelnik, po drugiej stronie strumienia. Pewnej nocy przychodzi na swą ostatnią ceremonię, zamykającą dietę, i przerywa milczenie, a ja mam okazję poznać go co nieco.
I am intrigued, as in his acting, movement, way of speaking, sense of rhytm, focus on the ritual, he is as Indian as any of the sadhus gathered on banks of Ganges for Kumbh Mela. He doesn't seem like many of those western hippies who put on exotic outfit, puff on ganja and repeat boom shiva!, this is real deal. I admire something about him – the concentration. Whether it is morning puja, or playing with the sounds coming out of his mouth in ayahuasca trance, all this raka-a-tak in style of Indian percussionists, cooking or harvesting the vine, he is always focused on the moment.
…
Intryguje mnie, bo w swym zachowaniu, ruchach, sposobie mówienia, poczuciu rytmu, skupieniu na rytuale, jest tak hinduski jak jakikolwiek z sadhu zgromadzonych podczs Kumbh Meli nad brzegami Gangesu. Nie jest jednym z tych zachodnich hipisów, którzy zakładają egzotyczny kostium, pykają ganję i powtarzają boom shiva!, to oryginał. Podziwiam w nim jedno – koncentrację. Czy to przy porannej pudży, czy zabawie dźwiękiem z paszczy podczas ayahuaskowej podróży, całym tym raka-a-tak w stylu hinduskich perkusjonistów, czy przy gotowaniu lub zbieraniu liany, Rodrigo jest zawsze skupiony na chwili.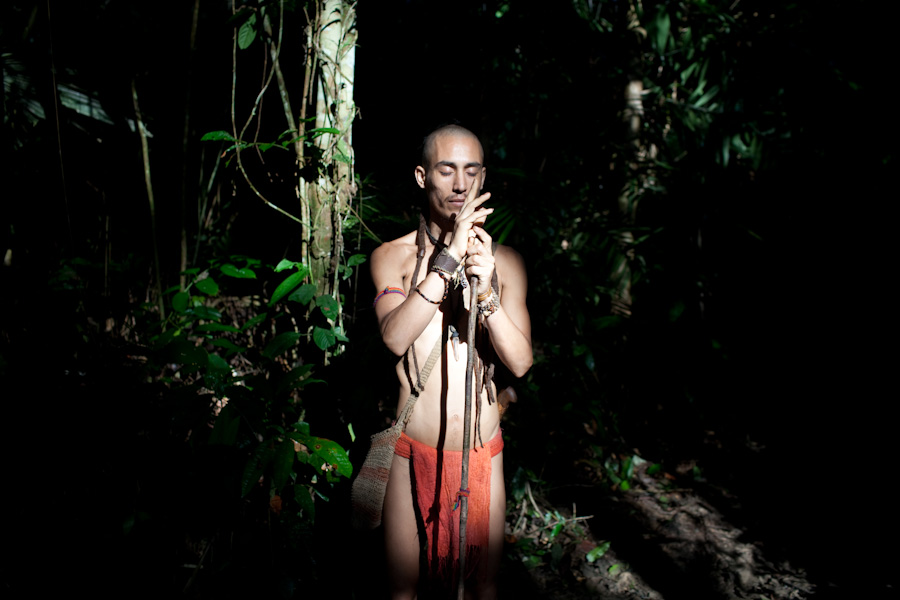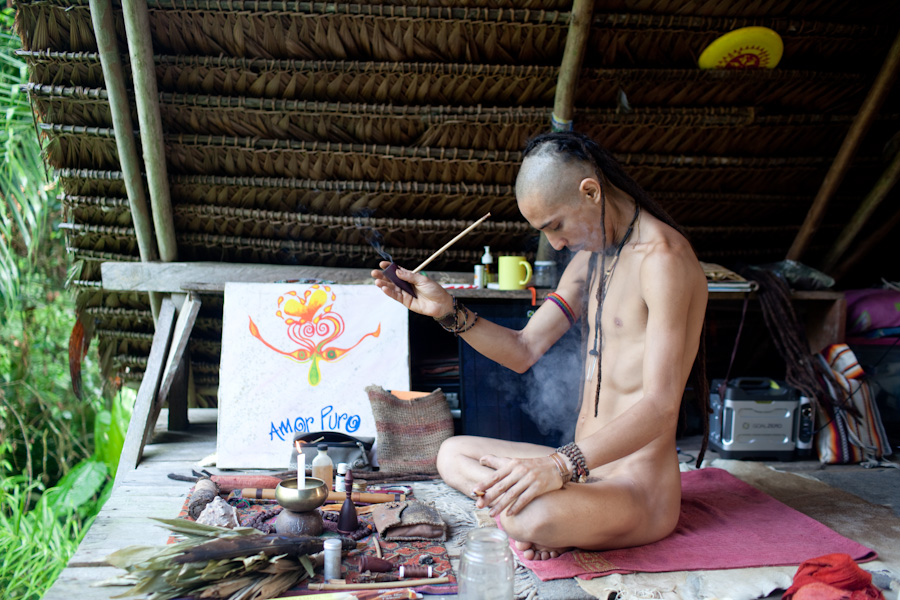 He was born in Lima and has never been to India, not in this life, he feels. He tells me he has been thinking about cutting his dreadlocks for long time, but something has stopped him, it was not the time yet. Now, his diet finishing, he felt it was to be done. It has been exactly 12 years since he started growing them. I tell him about something he didn't know about, and what gives me shivers. This is precisely the length of period of tapasya, spiritual vow sadhus take, and it is exactly after such period that they cut their locks.
…
Urodzony w Limie, nigdy nie był w Indiach, a przynajmniej nie w tym życiu, jak czuje. Opowiada, że od dawna myślał o ścięciu swych dreadlocków, ale coś go powstrzymywało, to nie był jeszcze czas. Teraz, na koniec ważnej diety, poczuł, że ten czas nadszedł. Mija właśnie dokładnie 12 lat odkąd zaczął je zapuszczać. Mówię mu o czymś, o czym jak się okazuje nie wiedział, a co powoduje ciary, jak dla mnie. To jest właśnie okres, te 12 lat, na jaki sadhu podejmują swe duchowe zobowiązania, tapasya, i to dokładnie po takim okresie ścinają często swe długo zapuszczane dredy.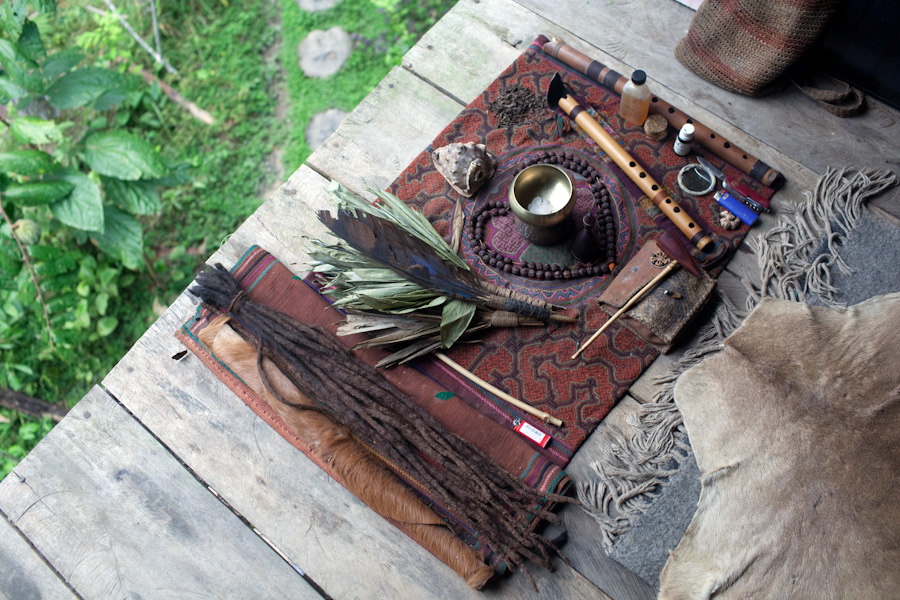 With every such piece of experience I feel that the vine is longer than I could expect. /// Z każdym takim kawałkiem doświadczenia czuję, że liana jest dłuższa niż się spodziewałem.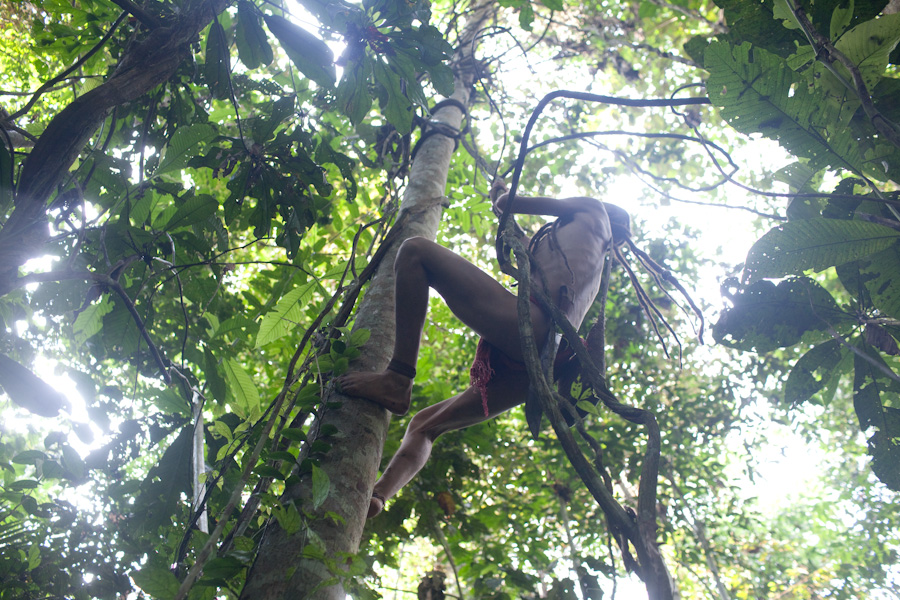 It connects us and nature.  ///  Łączy nas i przyrodę.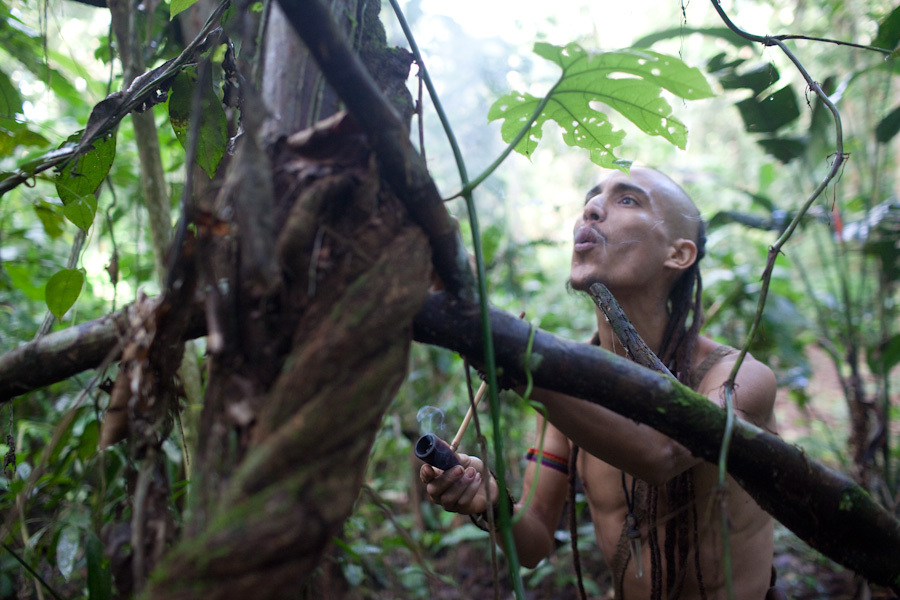 Connects people of the distinct cultures.  ///  Łączy ludzi różnych kultur.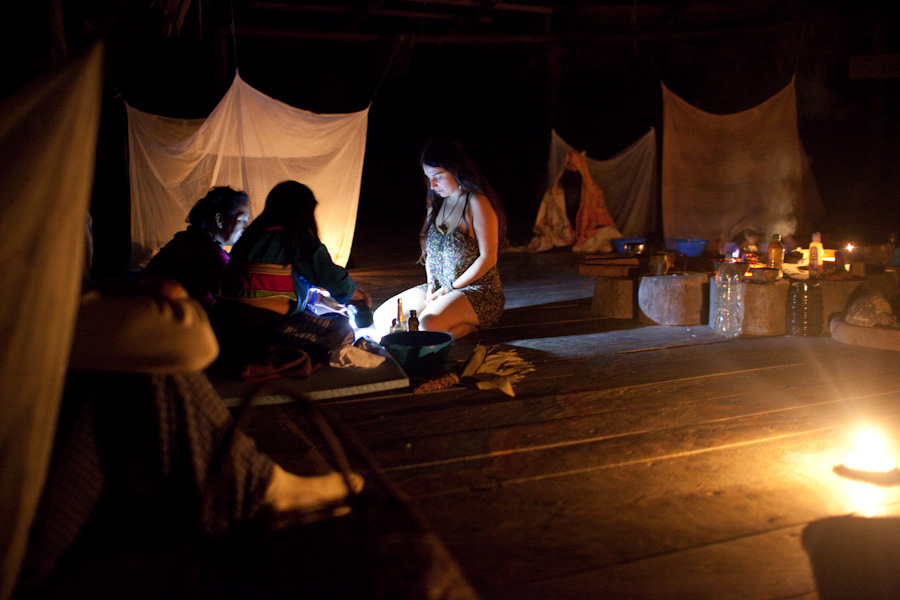 Connects with the past that is not just the past, in ever re-told story, story that never ends.  ///  Łączy z przeszłością, która nie jest tylko przeszłością, we wciąż na nowo opowiadanej historii, historii, która nigdy się nie kończy.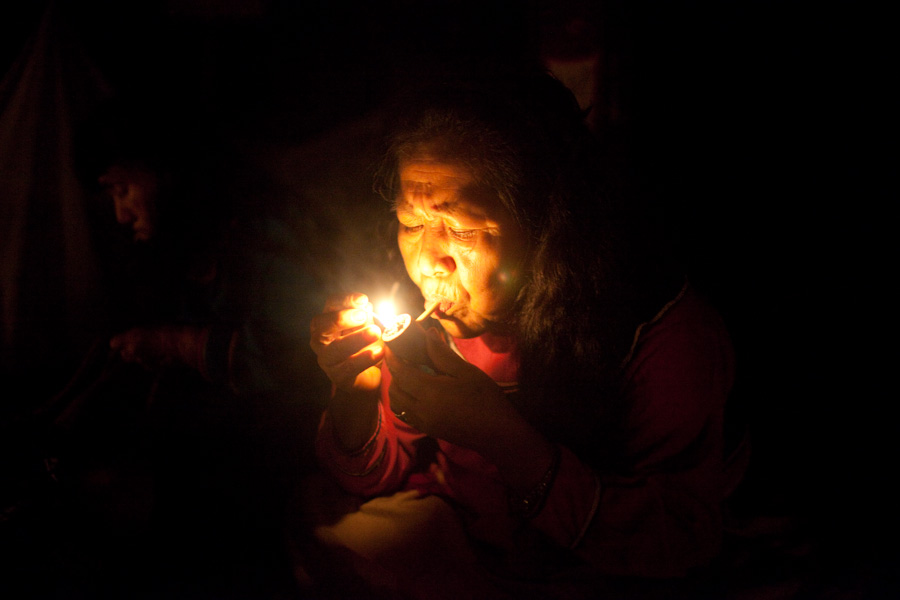 Even when it is time to go, on the way, it is with us, permanent ceremony.  ///  Nawet gdy nadchodzi czas by ruszać, pozostaje z nami na drodze, w ciągłej ceremonii.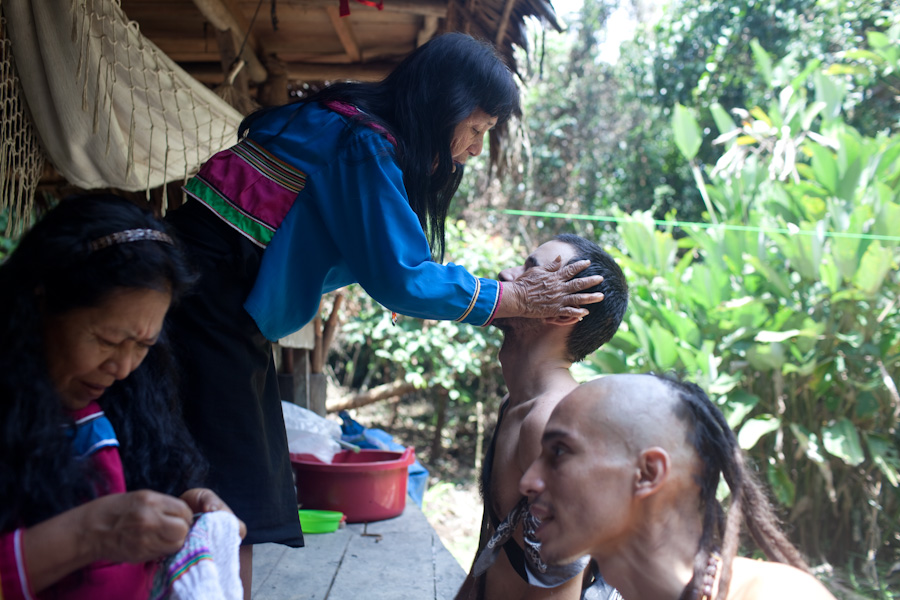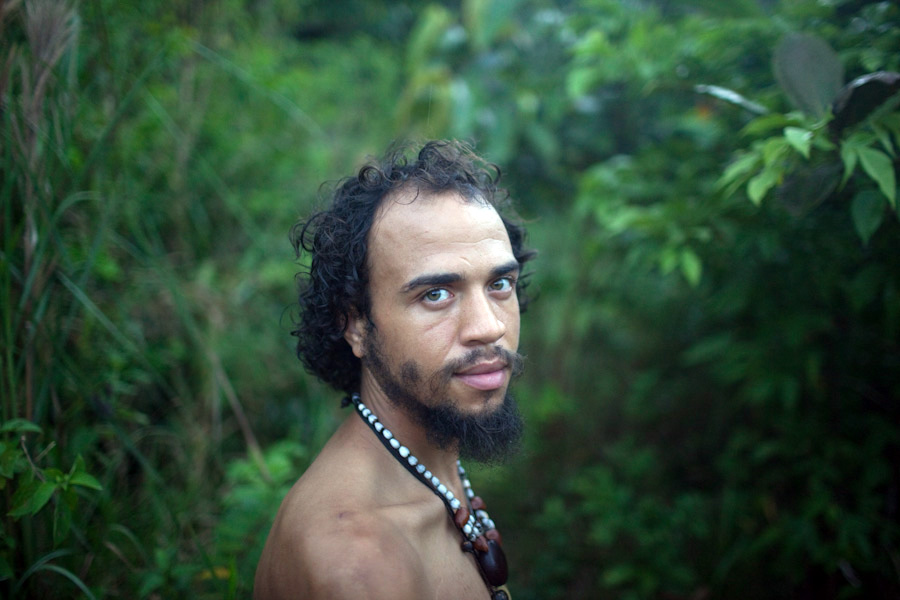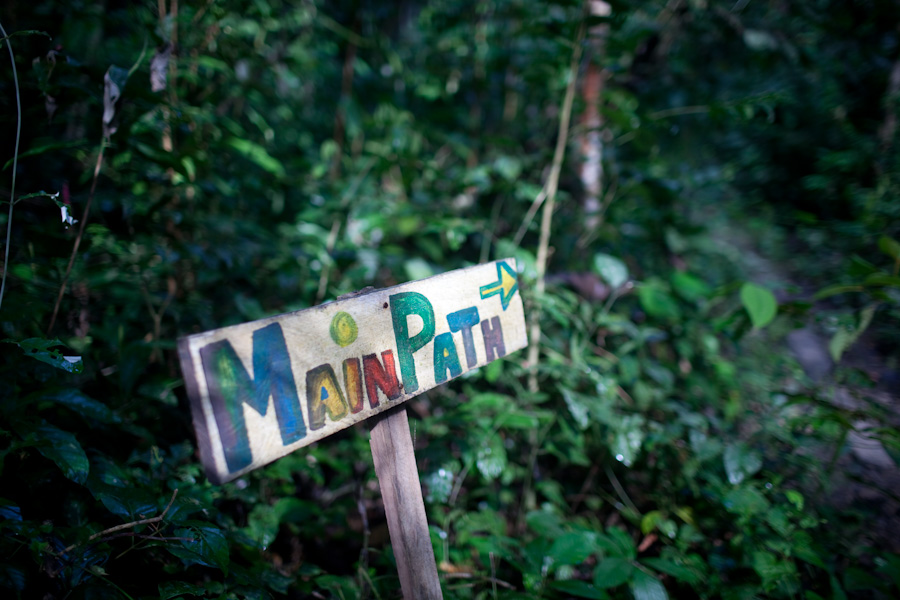 all the info : ( http://rainbowamazonia.blogspot.com/ )