Let that sink in, lovers of Pachamama :
"( Incas ) burned so much firewood ( for their solar gods ) that the countryside around Cusco was denuded of trees ; they offered huge amounts of food and fine clothing to the gods, especially the Sun.
It was for quite some time that I found hard to understand many spiritual counterculture representants' enchantment with chosen empires of the new world, such as Maya or Inca. I can recognize in the need of pride source why local populations may respect or even worship their distant ancestors, while bitching about current, elected governments, even though I never believed that pride is a good remedy for low self-esteem, I rather see them as two sides of the same coin. But why scores of critics and refugees from ¨Western¨ patriarchal regimes of oppression and domination, outcasts from Babylon, as they sometimes describe themselves, choose to worship totalitarian rulers of the past, tyrannical oppressors of all kinds of minorities, pioneers of forced resettlement of nations, performers of human sacrifice, theocrats, killers of own brothers, who build their empires by sweat of generations of forced labourers, that never fails to amaze me. But then again, I was never impressed by abilities of certain people to force others to pile lots of bricks or stones, these systems of oppression and its fruits called civilization. You may argue that lots of people are, and they willfully supported and worshipped their Inca ( = ruling elite ) masters, but a system of ruthless punishments for disobedience recorded in chronicles, as well as similar sights of conquered, occupied crowds in Eastern European streets forced into cheering their Stalins suggest otherwise.
But I am here more interested in psychology of Inca´s themselves and what we can learn from it for ourselves, especially that, as we can see all around us, similar mechanisms are at play in human psyche of today, as well as in society at large. Society that is constructed out of pathological overgrowth of one of components of human being, that is parasitical, always hungry ego. Society of domination, unlimited as cancer expansion, which in reality suffers deep void, emptiness, covered up by shiny artifacts and appolinian propaganda, all because of denial of the shadow. Society of unchecked sun, proud master, that forgotten or even demonized the wisdom of the snake.
Ego wants to speak, does not want to listen to uncomfortable truths. Ego is control, chaos kept at bay, all little elements must be dominated, put into order of the empire of soul, there is no space for trickster, no space for questioning the dogma. Certain ancient cultures knew this danger and carefully preserved the remnant of shamanic voice in form of oracles, irrational source of wisdom, to be consulted and listened to, despite own desires and plans. But totalitarian tyrans tend to forget about this balance. There was such an oracle in Peru, a place called Pachacamac, serving for generations, until the Incas took it, in their quest to subdue everything to their one and only – as is the Sun – authority. It was allowed some degree of independence, even sons of Sun were afraid of the old chtonic force of the earth. But if one reads their story as a tale of subconscious being progressively conquered by the sunny egoes of the rulers, then it is not surprising that eventually it acts against them, and in the crucial moment of Spanish conquest, when consulted by Atahualpa, Pachacamac lies to him, saying that newcomers are no threat to fear. We all know further story of the fall, what goes too much up, must go down.
…
Przemyślcie dobrze poniższe słowa, miłośnicy Matki Natury :
" ( Inkowie ) palili ( dla swoich solarnych bogów ) tak wiele drewna, że kraina wokół Cusco została pozbawiona drzew ; ofiarowywali ogromne ilości jedzenia i drogich tkanin swoim bogom, zwłaszcza Słońcu"
Od dłuższego już czasu miałem problem ze zrozumieniem wielu reprezentantów duchowej kontrkultury, zakochanych w niektórych, wybranych imperiach nowego świata, na przykład Majów czy też Inków. Jestem w stanie rozpoznać w potrzebie źródła dumy powód takiej fascynacji czy nawet kultu dawnych przodków wśród lokalnych mieszkańców, którzy równocześnie klną na współczesne, wybrane przez siebie przecież rządy, chociaż i tak osobiście uważam, że duma nie jest rozwiązaniem problemu niskiej samooceny, to raczej dwie strony tego samego medalu. Ale dlaczego tylu spośród krytyków i uchodźców spod opresji "zachodnich" patriarchalnych reżimów, uciekinierów z Babilonu, jak się czasem sami określają, decyduje się na kult totalitarnych egzotycznych władców przeszłości, tyranów prześladujących liczne mniejszości, pionierów przymusowych przesiedleń, ofiar z ludzi, teokratów, bratobójców, którzy zbudowali swoje imperia na pocie pokoleń przymusowych robotników, to nigdy nie przestaje mnie zadziwiać. Cóż, nigdy nie imponowały mi specjalnie talenty niektórych ludzi do zmuszania innych by gromadzili na kupie wiele cegieł czy kamieni, te systemy opresji i ich owoce zwane cywilizacją. Można argumentować że wielu ludzi się tym jara, i ochoczo wspierało i czciło swoich Inków ( = panów i władców ), ale system brutalnych kar za nieposłuszeństwo zachowany w kronikach, jak i podobne obrazki podbitych, uciskanych tłumów Europy Wschodniej, zmuszonych do radosnego wiwatowania swoim Stalinom sugerują raczej coś innego.
Ale tutaj jestem bardziej zainteresowany psychologią samych Inków, i tym co możemy się z niej nauczyć, zwłaszcza że, jak widzimy wokół nas, podobne mechanizmy funkcjonują we współczesnej psychice, jak i w społeczeństwie. Społeczeństwie, jakie zbudowane jest na patologicznym rozroście jednej ze składowych ludzkiej istoty, to znaczy pasożytniczym, zawsze głodnym ego. Społeczeństwie dominacji, nieograniczonej niczym rak ekspansji, które w rzeczywistości cierpi z powodu głębokiej pustki, przykrytej lśniącymi artefaktami, apolińską propagandą, wszystko z powodu wyparcia cienia. Społeczeństwie niepohamowanego, zaborczego Słońca, dumnego pana, które zapomniało, a nawet zdemonizowało wiedzę węża.
Ego chce przemawiać, nie chce słuchać niewygodnych prawd. Ego to kontrola, wypierany chaos, wszystkie drobne elementy muszą być zdominowane, poukładane w racjonalną układankę imperium duszy, nie ma tu miejsca dla trickstera, nie ma miejsca na kwestionowanie dogmatu. Pierwotne kultury znały to zagrożenie, i przechowały pozostałość szamańskiego głosu ostrzegawczego w formie wyroczni, nieracjonalnego źródła mądrości, którego warto posłuchać, wbrew własnym pragnieniom i planom. Ale totalitarni władcy zwykle zapominają o tej równowadze, ku swojej zgubie. Istniała w Peru taka wyrocznia, miejsce zwane Pachacamac, służaca pokoleniom i niezależnym narodom, aż nie przejęli jej Inkowie, w swojej krucjacie podporządkowania wszystkiego swojej , jedynej jak Słońce, władzy. Pozostawiono mu nadal nieco niezależności, nawet synowie Słońca bali się starej chtonicznej siły ziemi, choć uznali ją za podrzędną. Ale jeżeli czytamy ich historię jako opowieść o podświadomości stopniowo podbijanej przez słoneczne ego władców, to nie zaskakuje iż ostatecznie obraca się ona przeciw nim, i w kluczowym momencie hiszpańskiego podboju Pachacamac okłamuje Atahualpę szukającego rady, mówiąc mu iż przybysze nie są żadnym zagrożeniem. Wiemy co działo się dalej, co się za wysoko wspięło, musi boleśnie spaść.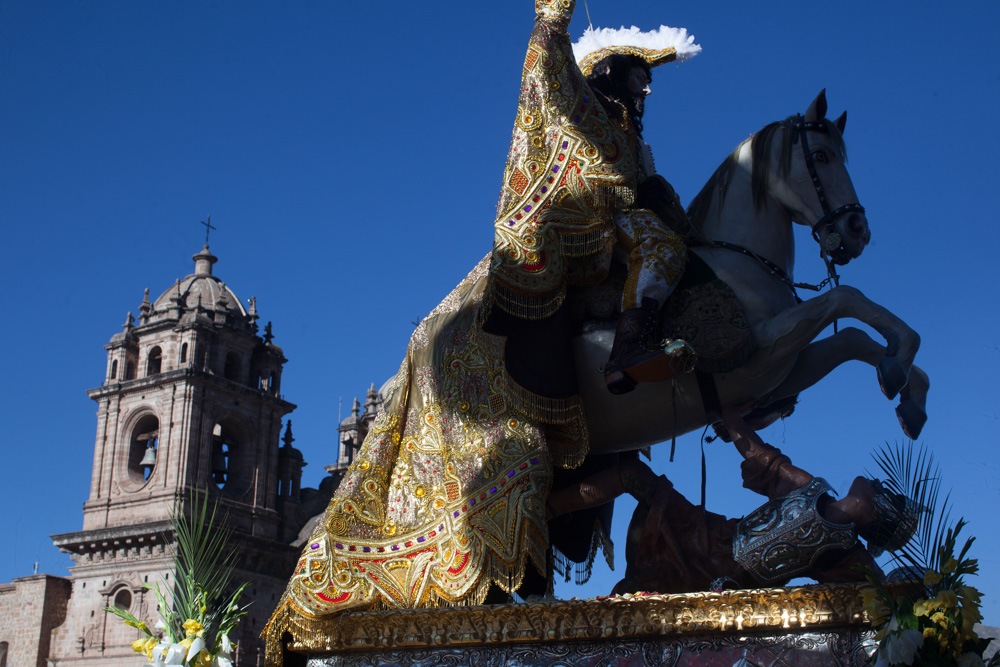 Just as the arrogant rulers of the highlands who failed to penetrate the thicksness of the jungle and to subdue its wild inhabitants, angry at their failure devised a view of the spiritual world divided into pure and sophisticated high world, hanan pacha, connected with male and solar values, and hurin pacha, low chtonic land of the death, moist and feminine, so their Christian counterparts, rooted in semitic desert traditions, worshipped only ancient high wind creator, Jahwe, and scorned the inner wisdom of the serpent. The truth was to be imposed from above, royal edict not be questioned, be it from masters in Cusco, ¨navel of the world¨, or Catholic monarchs of Vatican representing even higher lord. The exoteric, formal knowledge and rules are what ego loves and it is useful for creating empires, effective piling of bricks, but devastating for nature, both the one at large, and the one inside. It eventually brings disaster, and this is what happened to the Incas. Their shiny egoes climbed to such heights, that they were just calling out for the likes of conquistadors, their mirror reflections, to come and conquer, because ego, like cancer, in the end is its own destroyer. It was the love of solar gold, and disregard for own brother, it was the love of own words, own theological creations, that all protagonists of this story shared, and that until this day continues to destroy their souls, and sometimes, in a serpentine twist of fate, when things are bad, they end up coming to drink ayahuasca with us, to the green matrix of the jungle, to listen to the snake again.
This is where I'd rather be, in balance and coexistence, in vibrating matrix of life, matrix of constant checks and balances, not domination over scorched plain, or stony plaza build upon it, where artificial idols, constructs of human mind, are paraded just as before Incas paraded their own mummies, in love with themselves only, with their own WORD, silencing all others, this rich symphony of nature, full of paradoxes. I want to be the serpent sneaking out of boring palace of one and only truth, before it crumbles to its doom.
…
Tak samo jak aroganccy władcy wysokich gór, którym nie udała się penetracja ciemnej gęstej dżunglii i podporządkowanie jej dzikich mieszkańców, wściekli na swoją porażkę wymyślili obraz duchowego świata podzielonego na czysty i wyrafinowany hanan pacha, świat wysoki, związany z solarnymi i męskimi wartościami, oraz hurin pacha, niski świat, chtoniczne królestwo śmierci, wilgoci i kobiecości,  tak ich chrześcijańscy odpowiednicy, zakorzenieni w semickich pustynnych tradycjach, czcili jedynie swego starożytnego boga wiatru, Jahwe na wysokościach, i gardzili wewnętrzną mądrością węża.  Prawda była narzucana z góry, jak królewski edykt, którego się nie kwestionuje, czy to od władców z  Cusco,"pępka świata", czy od katolickich monarchów z Watykanu, namiestników jeszcze wyższego i bardziej odległego pana. Egzoteryczna, formalna wiedza i zasady są czymś, co ego kocha i co jest użyteczne do budowania imperiów, efektywnego składania cegieł do kupy, ale równocześnie niszczące dla natury, zarówno tej na zewnątrz, jak i tej wewnętrznej. Ostatecznie sprowadza kataklizm, i to się właśnie przydarzyło Inkom. Ich lśniące ego wspięło się na takie wyżyny, że było to jak wzywanie kogoś takiego jak konkwistadorzy, ich lustrzane odbicie, aby przybyli i podbili, bo ego, jak rak, ostatecznie jest przyczyną swej własnej zagłady. Miłość dla słonecznego złota, i nieposzanowanie własnego brata, miłość dla własnych słów, własnych teologicznych konstrukcji były czymś co łączyło wszystkich uczestników tej historii, i co po dziś dzień dalej niszczy ich dusze, aż czasem, w wężowym zwrocie losu, kiedy już jest źle, trafiają do nas, by w zielonej macierzy dżungli wypić ayahuaskę i posłuchać ponownie węża.
Wolę być tutaj, w równowadze, we współistnieniu, w wibrującej macierzy życia, w ogrodzie współzależności a nie dominacji nad wysuszonym płaskowyżem, czy na kamiennym rynku nań wybudowanym, gdzie sztuczne idole, produkty ludzkiego umysłu, są obnoszone na paradach, dokładnie tu gdzie Inkowie paradowali swoje mumie, zakochani w sobie samych, w swym własnym SŁOWIE, uciszając pozostałe, całą tą bogatą symfonię natury, pełną paradoksów. Chcę być wężem wyślizgującym się z nudnego pałacu jedynej słusznej prawdy, zanim zawali się na dobre.