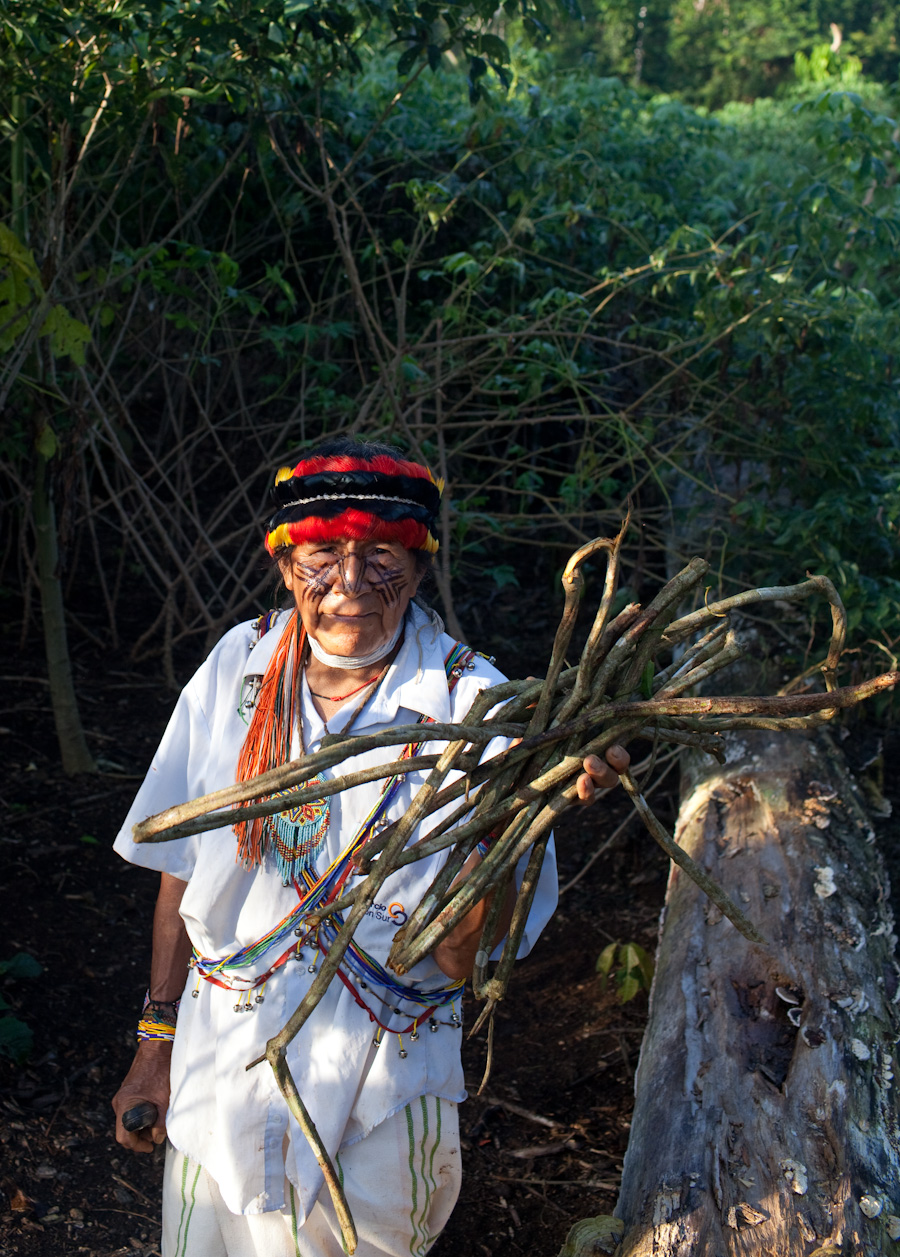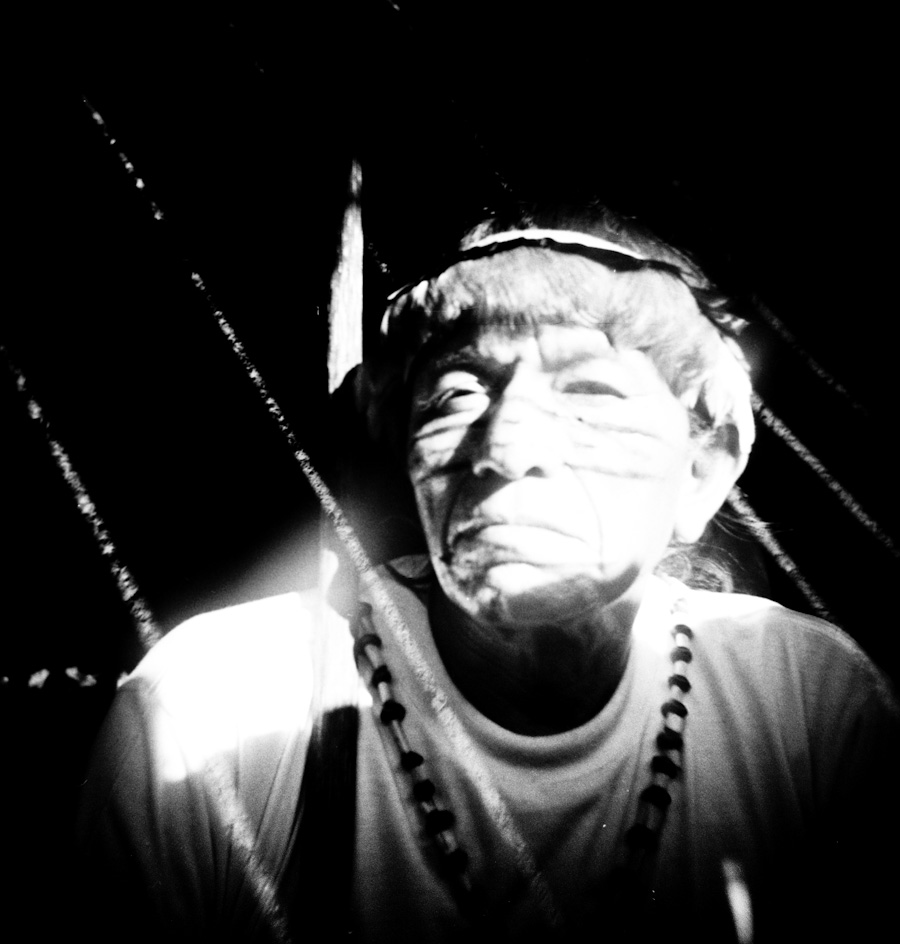 Uratowane z bardzo niewielu notatek z tej części podróży :
Bóg Ojciec.
Być może problem jaki mam, z akceptacją spośród tych wielu tradycji religijnych tej najbliższej geograficznie, religii katolickiej, wynika z tego, że tak ważna w niej jest, odziedziczona po Żydach, rola boga – surowego ojca, oddzielonego od stworzenia stworzyciela, ponad swym dzieckiem, który wie lepiej i trzeba sie go słuchać albo spierdalać, bez prawa negocjacji, jakaś tresura.. Mam z tym problem, z tym wychowawcą i dawcą zakazów, z akceptacją takiego ojca, przez własną historię rodzinną. Zawsze więc miałem problem z surowym ojcem, wychowawcą, policjantem, władzą, hierarchią, sprawdzaniem się, regułami, wypełnianiem obowiązków, sztywnymi granicami. Na marginesie, teraz widzę, że ten problem jest wielkim darem, bo uczynił mnie kim jestem.
No ale to wszystko kojarzy mi się też z tym nieszczęsnym Kościołem Katolickim, który ewidentnie nie radzi sobie z dostarczeniem marchewki, a kij jaki dzierży coraz śmieszniejszy jest, tak jak śmieszny staje się stary samiec, co wciaż chciałby straszyć ale nie ma już sił. Znikło tu doświadczenie mistyczne ( historia z kobietą co na Jasnej Górze dostawała ekstazy i wizji, a "ojcowie" wezwali karetkę ) , znikła radość, przynajmniej ja jej nigdy nie czułem, jest tylko granie na strachu i desperackie powtarzanie jakiś praw z czasów Hammurabiego, kościół to niewiele więcej niż kumpel państwa. Dotyczy to zresztą większości religii, ale niektóre z nich wciąż jeszcze przechowały resztki przestrzeni dla anarchisty, dla sadhu, który śmieje się z bramina i spuszcza z niego powietrze.
Ale dla mnie istorna jest jeszcze jedna rzecz. Eksplorując inne kraje, lądy, kultury, też napotykam surowych ojców, też napotkam bogów grających króla, pana i władcę, ale łatwiej mi o dystans do ich pozy, to bardziej wujkowie, których odwiedzam, jak spiętego i wyniosłego pustynnego Allaha, ale nie czuję jakoś, że mają szanse rościć sobie prawo do rządzenia mną.
Jaka jest zatem droga transmutacji, zamiany ciężaru, który wykrzywia kręgosłup, w skałę o którą można się wesprzeć? Fascynująca.  Odkrycie, że przyczyna i skutek mogą zamieniać się miejscami , że czas płynie w dwie strony, że też jestem swoim ojcem, i mogę być ciężarem lub skałą.
…
Saved from very few notes I did during that part of journey :
God Father
Perhaps the problem I have with accepting, out of so many religious traditions the one that is closest geographically, the Catholic, it comes from the fact how important is in it, inherited from Judaism, the role of God – harsh father-creator , apart and above his creation, above his child, knowing better, which must be listened and obeyed, or fuck off, no negotiation, like a military commander. I have problem with this, with this trainer, giver of law and order, with accepting such a father, because of my own family history. I always had a problem with strict father, teacher, policeman, the authority, hierarchy, obeying, achieving, fulfilling duties; rules and fixed boundaries. By the way, I see now, this problem is at the same time great gift, as it made me who I am.
But all of the above also brings to my mind this big heavy figure called Catholic church, which is clearly unable to deliver attractive carrot these days and the stick it wields is more and more ridiculous, as ridiculous as old male who still pretends to play tough guy but has no more strength . Mystical experience completely disappeared here, so did most of joy, what I see left is only playing with fear and desperate repeating of some old laws from Bronze Age, Hammurabi style, church is not much more than mate of the state. It concerns other religions too, but a few of them still preserved some space for anarchist, outcast, for the sadhu who laughs at brahmin and his serious pose.
But there is one more thing which is important here for me. Exploring other lands and cultures I also meet strict fathers, I meet gods playing role of king, lord and ruler, but it is much easier for me to stay unaffected by their pose, they are ( to me )  more like uncles. I visit them, for example the proud and uptight Allah from the desert, but I don't feel they can claim right to rule above me.
What is then the way of transmutation, changing burden, which hurts my spine, into a rock that can be of use and support? Fascinating. It is discovery that cause and effect are interchangeable, that time runs both ways, that I, too, am my own father, and I can be a burden or a rock.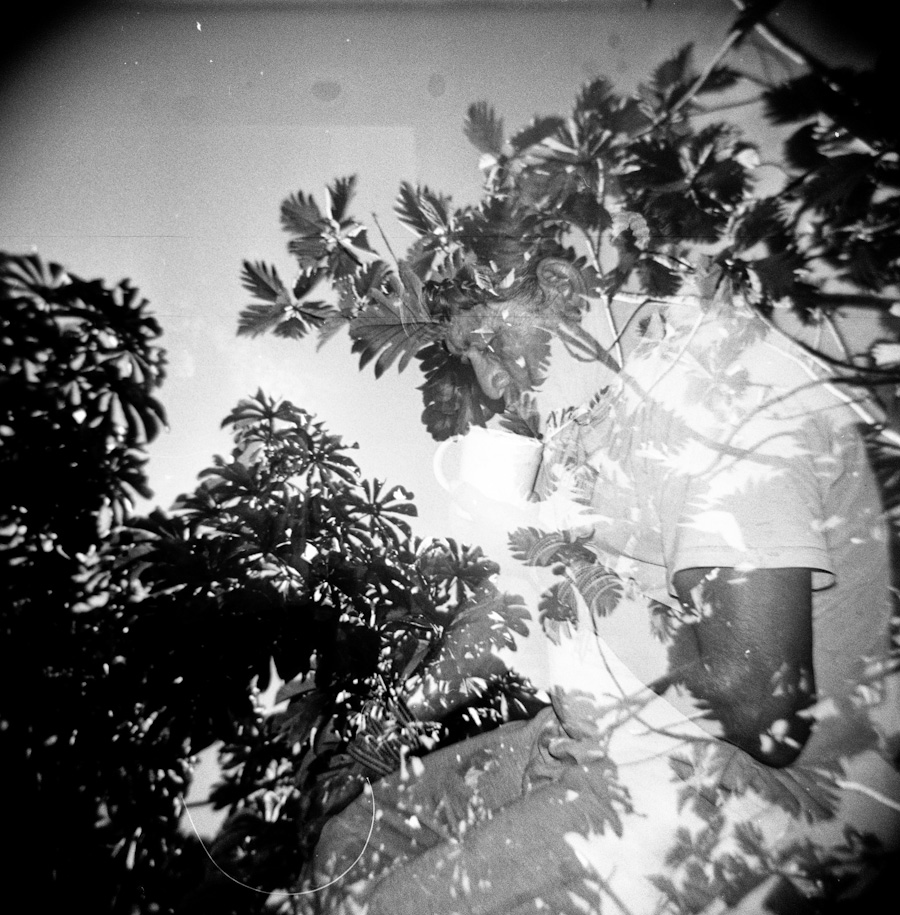 We came to Achuar territory straight after leaving Haourani tribe. It was interesting continuation. When we were leaving Bameno, Penti, one of the leaders fighting against the invasion of petrol companies in Yasuni National Park, was standing in his short pants with a group of fellow villagers looking a bit helpless, above the maps showing what is left of their ancestral lands. They had another one of those reunions, when tribal people discuss the vital issues and course for future.
…
Trafiliśmy na terytorium Ashuarów zaraz po opuszczeniu plemienia Waorani. Była w tym interesująca ciągłość. Otóż gdy opuszczaliśmy Bameno, Penti, jeden z przywódców plemienia walczący z inwazją korporacji szukających ropy, stał w swych krótkich portkach wraz z grupą rodaków, wyglądając nieco bezradnie, ponad mapami pokazującymi co pozostało z ich rdzennych ziem. Było to kolejne z tych spotkań, podczas których członkowie plemienia dyskutują o ważnych sprawach i podejmują decyzje co do przyszłości.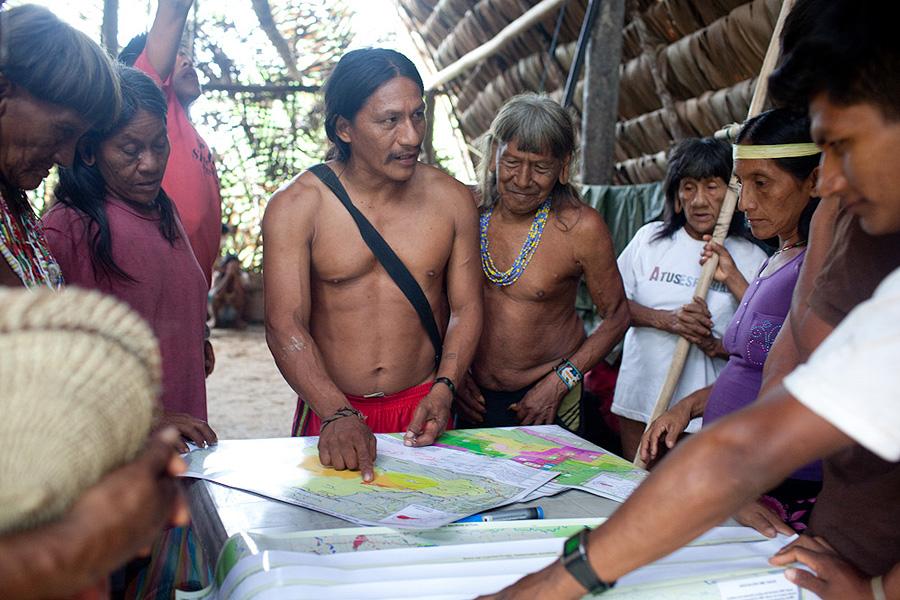 We took a boat out of there, and after three days we got to Shell airport to fly to Sharamentza, Achuar village near border with Peru in Pastaza province, reachable only by plane.
…
Wypłynęliśmy stamtąd jedyną drogą, na łodzi, a po trzech dniach, wielu zakrętach rzeki a potem drogi z Coca do Puyo dotarliśmy na lotnisko w Shell, aby awionetką dostać się do Sharamentza, wioski Achuarów przy granicy z Peru, w prowincji Pastaza, gdzie dotrzeć można właśnie tylko tak.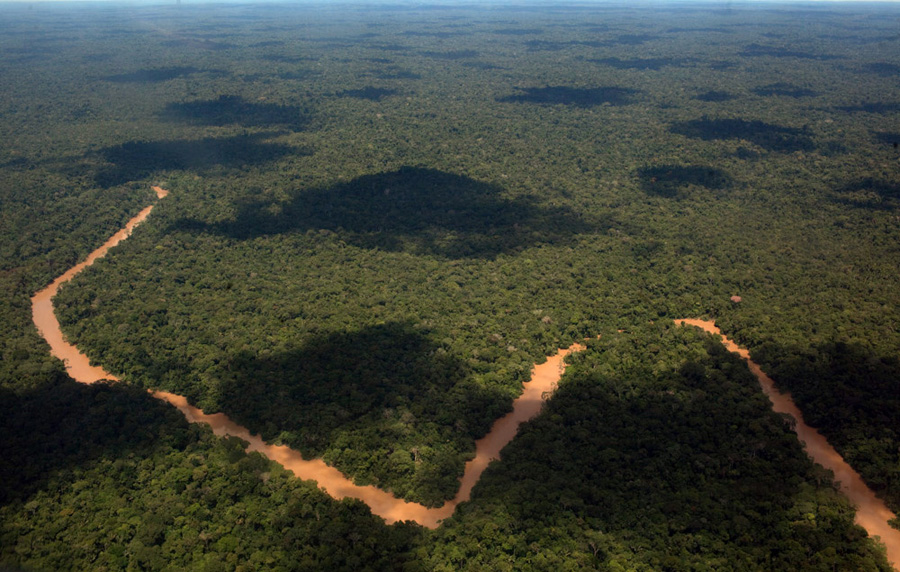 When we got there, we were surrounded by men in tribal outfits and painted faces and it wasn't a welcome committee. They were painted because of the tribal gathering, important one. Jaime Vargas,  president of Achuar nation, residing in Puyo, came here as part of tour of all villages, preparing for confrontation with the petroleros. So this thing is bigger, much bigger. People are pissed, the tribes of the forest see what has happened to the lands of their brothers in the north of the country, who took shiny gifts and agreed for the greedy white man to come, with his roads, jobs and supermarkets.
…
Kiedy się tam dostaliśmy, otoczyła nas grupa mężczyzn w odświętnych tradycyjnych strojach i umalowanych twarzach, i nie był to wcale komitet powitalny. Byli tak wystrojeni z powodu plemiennego zgromadzenia, ważnego. Jaime Vargas, prezydent narodu Ashuarów, rezydujący w Puyo, przyleciał niewiele przed nami, rozpoczynając wizytę wszystkich wiosek zamieszkałych przez swych rodaków, przygotowując ich do konfrontacji z petroleros, nafciarzami. Zatem ta sprawa jest większa, dużo większa. Ludzie są wkurzeni, plemiona z lasów widzą co stało się z ziemiami ich braci z północy kraju, na przykład Cofanów z regionu Lago Agrio, którzy przyjęli błyszczące podarki i zgodzili się aby wszedł chciwy człowiek z miasta, ze swymi drogami, pracą i supermarketami.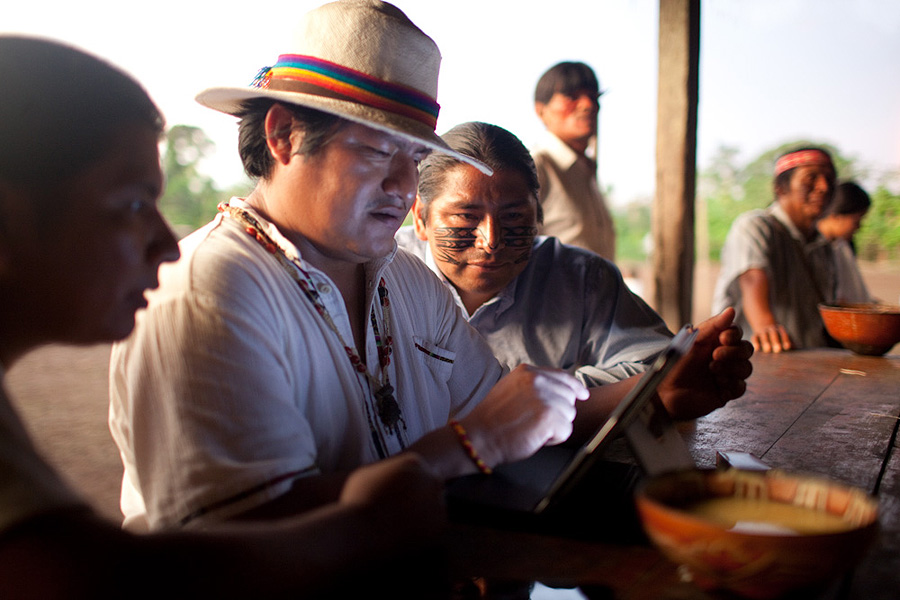 These gifts are dangerous because they are attractive, but they don't have to come in a package together with 8-5 jobs and shantytowns, with addicton and obesity. Achuar say "yes" to solar panels, they like to contact with outside world by Internet, but do not want roads. Can you imagine living in enormous tropical park, in villages of thatched houses linked only by waterways, without noise of amplified music, cars, without pollution, fishing for your supper in broad rivers, spending lots of spare time with family and friends, chatting and joking? What kind of wage you want to trade it for?
…
Te dary są niebezpieczne bo są atrakcyjne. Nie muszą jednak przyjść w pakiecie z pracą od rana do wieczora, ze slumsami, uzależnieniem i otyłością. Achuarzy mówią "tak" panelom solarnym, lubią kontakt z zewnętrznym światem za pomocą Internetu, ale nie chcą dróg. Czy możecie wyobrazić sobie życie w gigantycznym tropikalnym parku, w wioskach chat krytych strzechą, połączonych między sobą tylko wodnymi szlakami, bez hałasu, aut, bez zanieczyszczeń, łowiąc swój obiad w szerokich, czystych rzekach, spędzając dużo "wolnego" czasu z rodziną i przyjaciółmi, na pogawędkach i żartach? Za jaką pensję jesteście w stanie to oddać?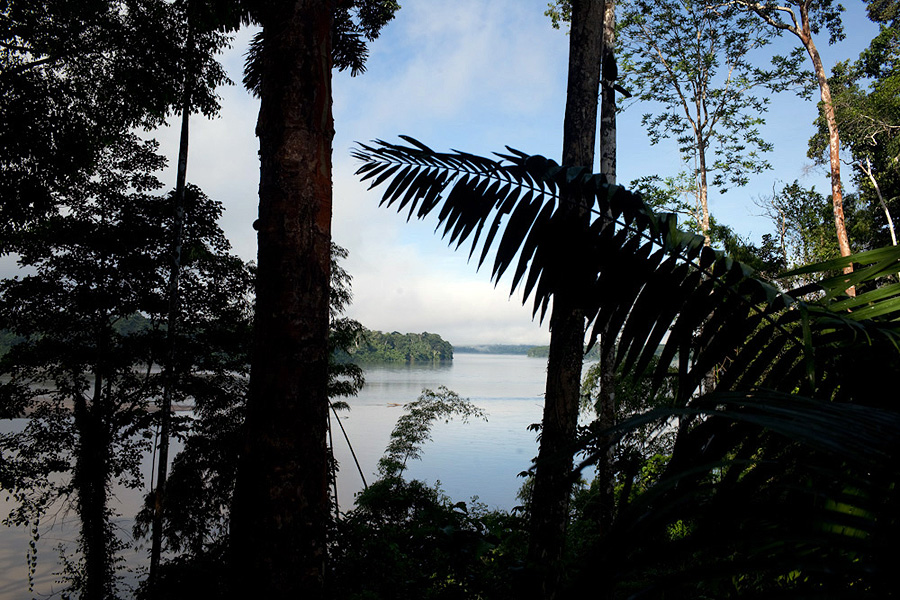 In their villages, unlike many other Indian settlements of South America, they don't eat junk sweets and drink liquor from the city. They are most of the time a little drunk on chicha made from fermented yuca root, drunk of course during such events, but also for breakfast, lunch and dinner. They live very healthy lifestyle and it shows, in their calm, smiles, long, strong hair, physical and spiritual beauty. ( women are very feminine and shy, so no photos )
…
W ich wioskach, w przeciwieństwie do wielu innych indiańskich osad Ameryki Południowej, nie je sie gównianych słodyczy i nie pije wódy z miasta.  Mieszkańcy są bardzo często lekko "podchmieleni" cziczą ze sfermentowanego korzenia yuki, pije się ją podczas takich spotkań jak powyżej, ale także na śniadanie, obiad i kolację. Prowadzą tutaj bardzo zdrowy tryb życia, i to widać, w ich spokoju, uśmiechach, długich, silnych włosach, fizycznym i duchowym pięknie. ( kobiety są bardzo kobiece i nieśmiałe, więc bez zdjęć )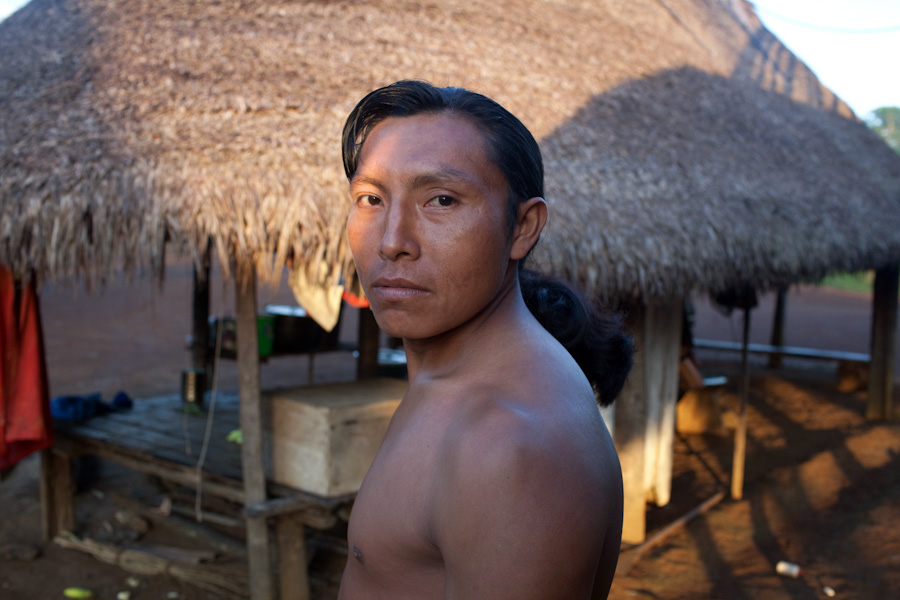 Why do I make this detour, this long introduction, if the post was supposed to be about ayahuasqueros? Because it is important. Because ayahuasca is a medicine which fixes not only individual, but all society. Because Achuar are such society, its fabric is thread with the vine, its values, cohesion and balance, based on the visions and lessons of natem, as it is called in their language. Natem is also a name for unique collective psychedelic ritual, happening not so often, in which all members of society come together, sometimes from far away villages, to drink the brew and seek healing, answers for future, and solutions to their problems, both individual and group ones. Perhaps it is redundant to make this distinction as people involved in ayahuasca know very well, group problems are individual problems and vice versa.
Achuaras know this also. They also believe that dreams are collective property, what one dreams may be of significance to the rest and to the whole. And this extends beyond humans. In many Amazonian languages there is no clear distinction between word used to describe humans and other beings. Trees are tree people , fish – fish people, approximately. Language conveys view of the world, and their philosophy is based on harmony, not domination. Therefore it is important to talk about trees and rivers and pollution, and violence in nearby streets and all that surrounds us, because ayahuasca experience is experience of the world. This why it matters where and with whom you drink, what you give back, to people, to the world. This reciprocal relation is slowly understood even by mainstream and this is one of arguments Santo Daime church used in their legalization battle in Brasil.
…
Dlaczego właściwie robię tą wielką dygresję, ten wstęp, jeżeli tekst miał być o ayahuasqueros? Bo to ważne. Bo ayahuaska to lek, który naprawia nie tylko jednostkę, ale także społeczność.  Bo Achuarzy są taką społecznością, która utkana jest z liany, której wartości, spójność i równowaga oparte są na wizjach i lekcjach pochodzących od natem, jak nazywają ją w swym języku. Natem to także nazwa unikalnego, kolektywnego psychodelicznego rytuału, odbywającego się niezbyt często, podczas którego wszyscy członkowie społeczności gromadzą sie, przybywając czasem z odległych wiosek, aby pić wywar i poszukiwać uzdrowienia, odpowiedzi, co do przyszłości i rozwiązania ich problemów, zarówno jednostkowych jak i grupowych. Być może zbędnym jest jednak robić powyższe rozróżnienie, i ludzie zajmujący się ayahuaską dobrze to wiedzą, grupowe problemy to problemy indywidualne i vice versa.
Achuarzy wiedzą o tym również. Wierzą też, że sny są kolektywną własnością, co śni się jednemu może mieć znaczenie dla reszty i dla całości. I rozciąga się to poza świat ludzi. W wielu amazońskich językach nie ma jasnego rozdzielenia między słowami używanymi do nazywania ludzi i innych istnień. Drzewa to ludzie-drzewa ryby – ryboludzie, w przybliżeniu. Język zawiera wizję świata, i filozofię opartą na harmonii i współistnieniu a nie dominacji. Jest więc ważnym aby mówić tu o drzewach i rzekach i zanieczyszczeniu, i przemocy w waszych miastach, i wszystkim co was otacza, bo doświadczenie ayahuaskowe to doświadczenie świata. Dlatego ma znaczenie z kim i gdzie pijesz, co dajesz w zamian, ludziom, światu. Ta dwustronna relacja jest powoli rozumiana nawet przez mainstream, i to jeden z argumentów, jakich użył kościół Santo Daime w swej legalizacyjnej walce w Brazylii.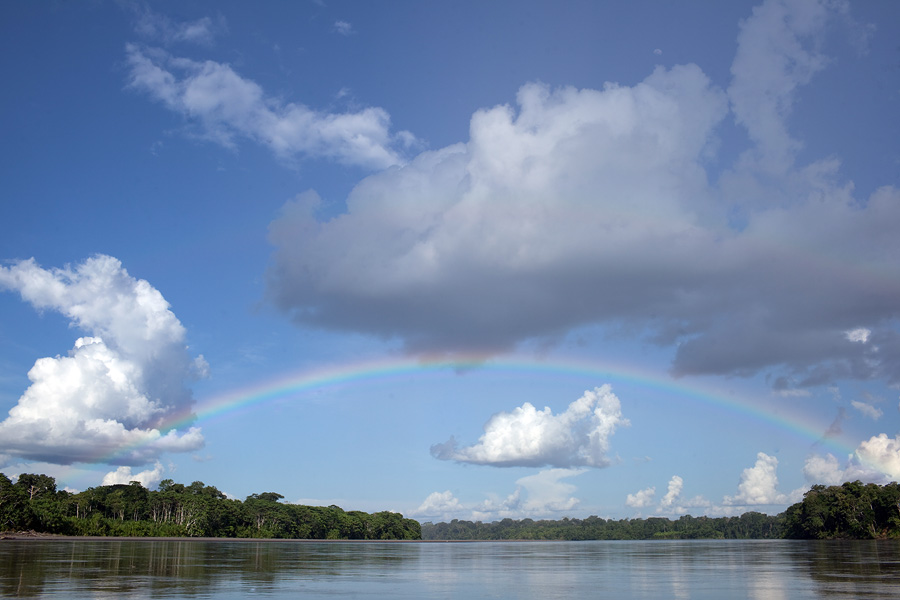 We can all sense this connection and intervowen fates, and its beautiful to see as the vibration becomes more and more in tune. Despite of critics accusing social media of dehumanizing, they are just our way of connecting with what moves others, it is technological and materialistic way, as almost everything about our civilization is such, but it does not matter so much, what is more thrilling is that never before there was time when waves of emotion and state of mind of one person were spreading so fast around the planet , that we could almost instantly hear what others heard, saw what they saw, think about what they were thinking. This is great speeding up, synergy of learning. It is a question of form, yes, we can wake up at 4 AM like the Achuar to drink guayusa together and share the dreams of last night, or we can wake up to check Facebook news, but I think of these as complementary. Choose you way and be alert to change it when it becomes to stiff and rigid, says the snake. Update your vision, when you lost directions, as Achuar do, and ask the plants.
…
Wszyscy możemy poczuć to połączenie i przeplecione losy, i jest pięknym patrzeć jak wibracje coraz bardziej się dostrajają. Wbrew opinii krytyków, oskarżających internet i społecznościowe media o dehumanizację, są one tylko sposobem połączenia się z tym co porusza innych, to technologiczny, materialistyczny sposób, bo prawie wszystko w naszej cywilizacji jest takie, ale to nie ma takiego znaczenia. To co mnie bardziej ekscytuje, to fakt, że nigdy wcześniej nie było tak, że fale emocji i stanów umysłu jednej osoby rozlewały się tak szybko po planecie, że niemal od razu możemy usłyszeć to, czego słuchali inni, zobaczyć to, na co oni patrzeli, pomyśleć o tym, o czym oni właśnie myśleli. To wielkie przyspieszenie, synergia wspólnego uczenia. Pozostaje kwestia formy, tak, możemy wstać o czwartej rano jak Ashuarzy aby pić wspólnie guayusę i dzielić się snami poprzedniej nocy, albo możemy obudzić się aby sprawdzić nowości na Facebooku, ale ja myślę to tych formach jako uzupełniających się a nie wykluczających. Wybieraj swoją, i bądź gotów ją zmienić, gdy staje się zbyt sztywna, mówi wąż. Aktualizuj swoją wizję, kiedy tracisz kierunek, tak jak robią to Ashuarzy, spytaj roślin.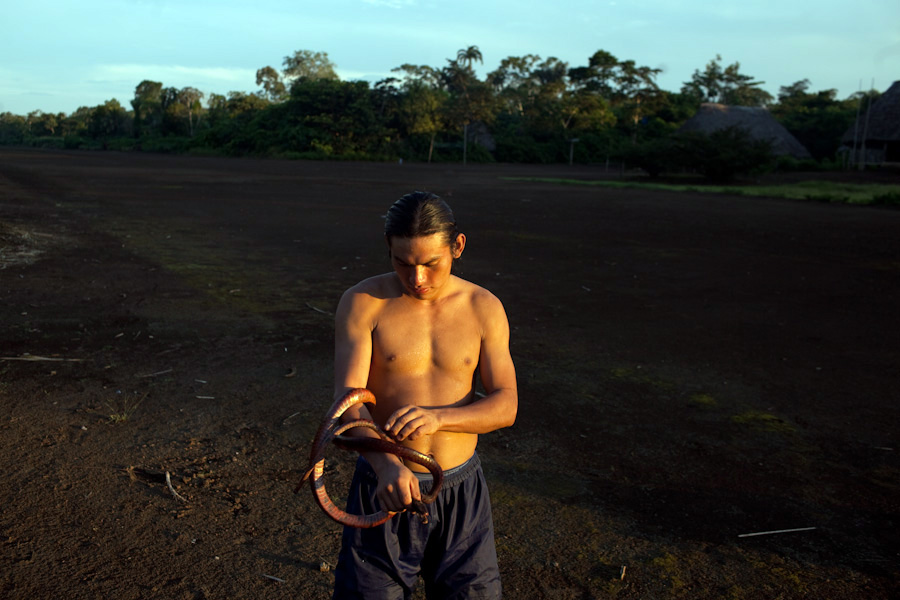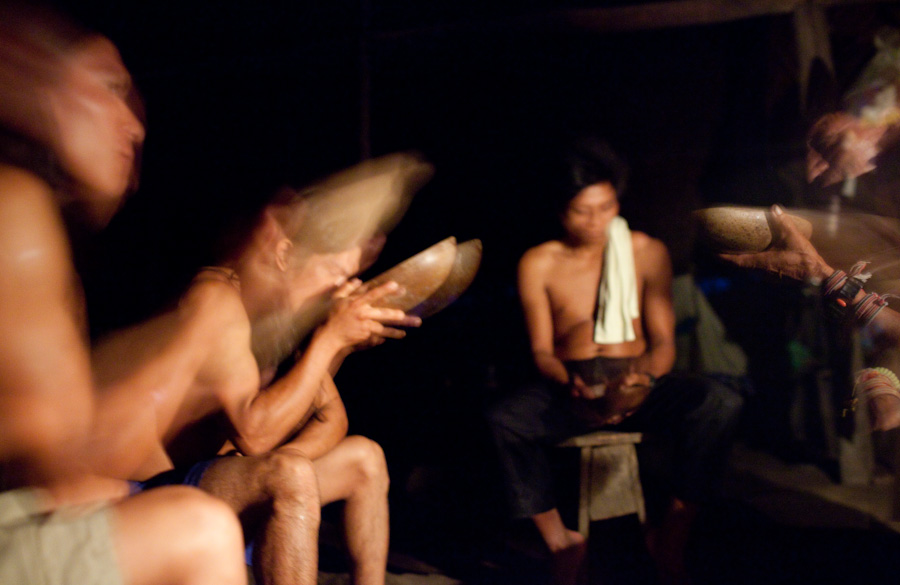 Collective decision making, discussing important things together, society of cooperation rather than competition, participating in sacred vision rather than listening to old dogmas, all these values remind me of something, when I live in wooden tribal longhouses with thatched roofs. I have seen this kind of places somewhere before, somewhere close to home. I have seen them in history books and outdoor ethnographical museums, showing ways of our forefathers, before Christianity came. I have read about this, years ago, fascinated with Norse traditions, I have read about Ting.  I heard stories about Slavic democracy, about tribal gatherings where chieftains were elected, and decisions made. Once again, I came a long way to see into the roots.
…
Kolektywne podejmowanie decyzji, wspólne dyskutowanie ważnych spraw, społeczeństwo kooperacji a nie konkurencji, współuczestniczenie w świętych wizjach zamiast słuchania starych dogmatów, wszystkie te wartości przypominają mi coś, kiedy mieszkam w tych drewnianych, pokrytych strzechą klanowych chatach. Widziałem już gdzieś takie miejsce, gdzieś bliżej domu. Widziałem je w podręcznikach historii, w skansenach etnograficznych, pokazujących jak żyli nasi przodkowie, zanim przyszło chrześcijaństwo i jego państwo. Czytałem o tym, lata temu, zafascynowany skandynawskimi tradycjami, czytałem o tingu. Czytałem też historie o słowiańskiej demokracji, o wiecach na których wybierano wodzów i podejmowano decyzje. Ponownie zdaję sobie sprawę, że przebyłem szmat drogi aby zajrzeć do korzeni.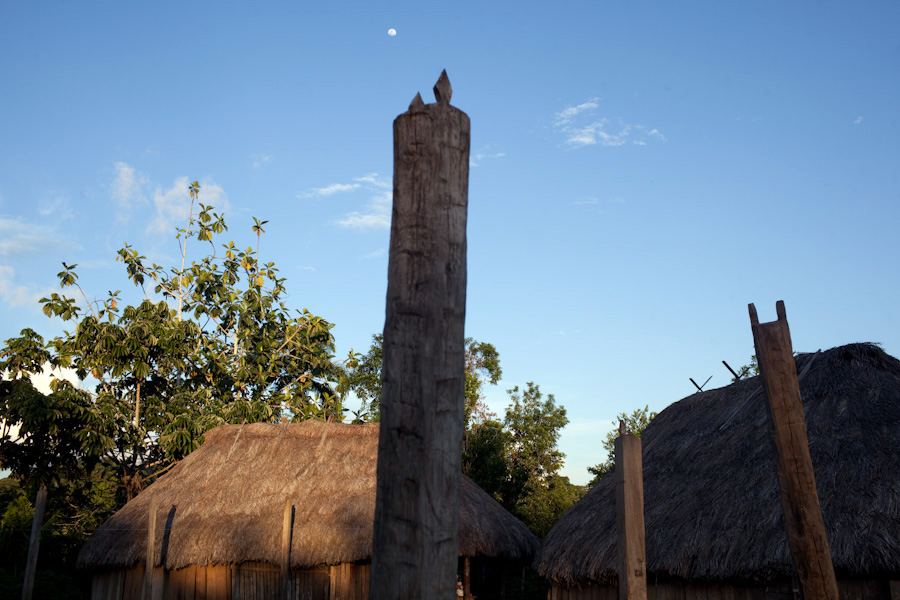 Things slowly start to make sense to me. Of course you can ridicule it, from trenches of something you call tradition, and what is just a blink of an eye, but I know now there is more than coincidence in the fact that believers of superior Father God, Semitic ruler above the nature that is to be subjugated, came and brought with their god a model of the ruler above the people, a state and laws as originated in Middle East, and destroying the beliefs based on coexistence with sacred world, they destroyed such society. The way for it to be reborn is from little things – like replacing the priest whose authority is based on belonging to hierarchy of rulers, with "pagan" healer and guide, who is nothing but his skills and experience. Working on this project is my little stone added to the foundation.
…
Ta historia powoli nabiera sensu. Oczywiście możecie szukać dziury w całym albo z niego żartować, z okopów czegoś co nazywacie tradycją, a co jest zaledwie mgnięciem oka, ale wiem, że jest coś więcej niż "zbieg okoliczności" w tym, że wyznawcy wywyższonego Boga Ojca, semickiego władcy – stworzyciela ponad naturą, którą trzeba sobie podporządkować, przyszli i przynieśli ze swym modelem boga model świętego, namaszczonego władcy ponad ludźmi, boskiego gubernatora, i model państwa i sztywnych praw, taki jak powstał na Bliskim Wschodzie, i jednocześnie zniszczyli wierzenia oparte na współistnieniu ze świętym światem, zniszczyli takie społeczeństwo. Droga jego odrodzenia wiedzie przez małe rzeczy – takie jak zastąpienie kapłana, którego autorytet opiera się na przynależności do instytucji i hierarchii władców, "pogańskim" uzdrowicielem i przewodnikiem, który nie jest niczym więcej jak swym doświadczeniem i umiejętnościami. Praca nad tym projektem to mój mały kamyczek dołożony do fundamentów.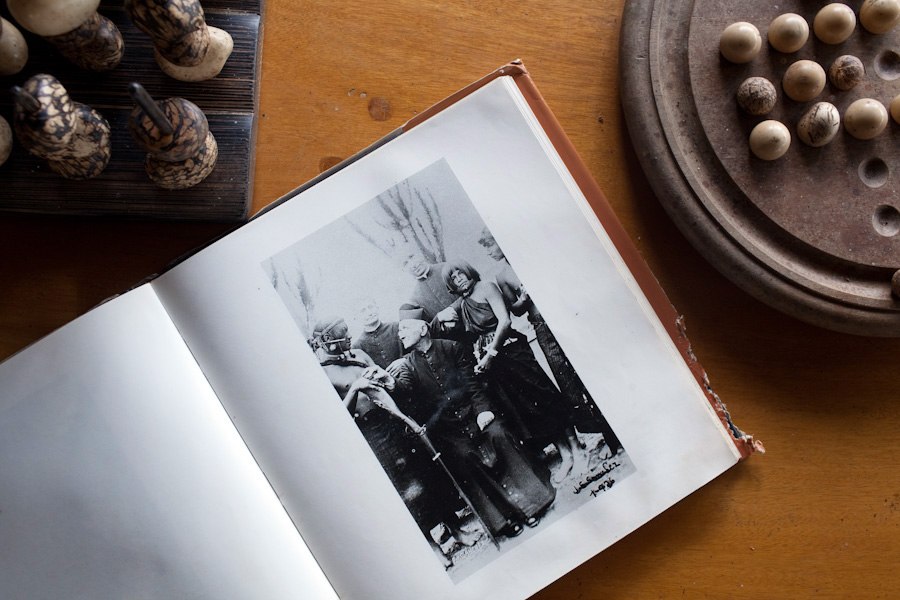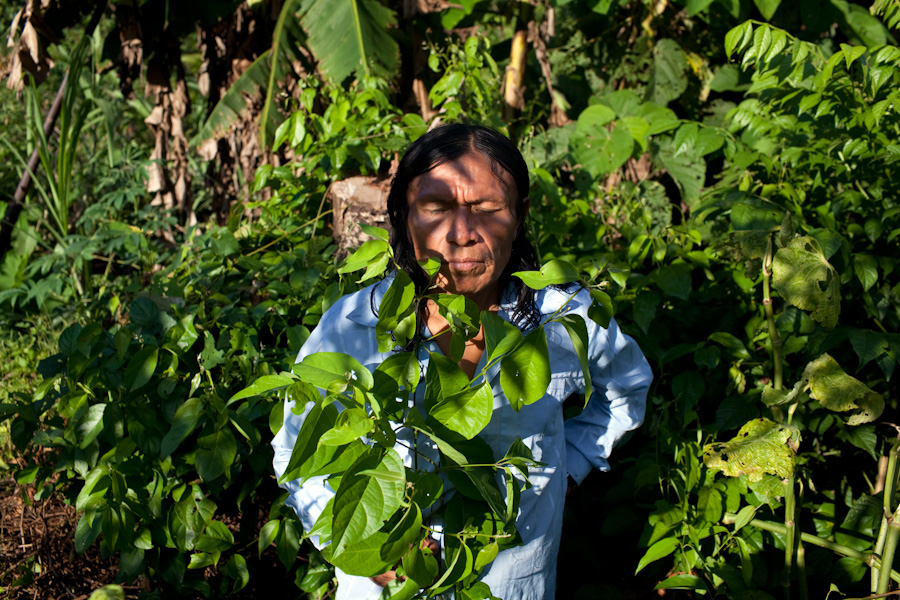 Pictured above is the first shaman out of three we drank with in Achuar territory. His name is Rafael Uyunkar and he is based in Sharamentza, a village which can serve as a gateway as it has best facilities, including good quality runway for planes that can bring you there.
When I say "we", perhaps I should explain. For years I had personal relationship with some private clients, dating back to times when I guided custom tailored expeditions for independent tour company. These two ladies come with me once a year to special places, and them being pretty open, allow me to take them and show really interesting worlds, many of these not accesible to ordinary tourist. We did together desert festivals and Sufi pilgrimages, we slept in temples and nomads' tents, and this time they agreed to be initiated into world of ayahuasca. We were joined on part of this journey by a Polish psychiatrist, interested in transpersonal psychology, shamanism and altered states of consciousness. As is turned out, despite knowing the theory, real life experience was much more difficult for her.
I wanted the first time for them to happen in safe and comfortable place, and Sharamentza offers such possibility. As a part of independent eco tourism project, started with help of German NGO, they have built a lodge, where one can stay in luxury, considering remote location, for quite decent price. I normally stay away from such places, but this was worth it. The staff, including superfriendly cleaning girls, guides etc are all Achuar, very well trained, polite and smart. One of them is Edwin Yunkar ( below ), son of our first shaman, easy going and intelligent fellow who became our guide on this trip.
…
Na zdjęciu powyżej znajduje się pierwszy z trzech szamanów z jakimi piliśmy na ziemiach Ashuarów. Nazywa się Rafael Uyunkar i mieszka w Sharamentza, wiosce, która może służyć jako brama do podróży po tej krainie, bo ma niezłe udogodnienia, wliczając w to dobrej jakości pas do lądowania awionetek.
Kiedy mówię "my" powinienem w końcu wyjaśnić. Przez lata miałem prywatny układ z dwoma klientkami, relację rozpoczętą jeszcze w czasach gdy prowadziłem szyte na miarę wyprawy dla niezależnego biura podróży. Te dwie panie jadą ze mną raz do roku w nietypowe miejsca, a że są dość otwarte, pozwalają mi na zabranie ich w ciekawe światy, wiele z nich niedostępnych zwykłemu turyście. Odwiedziliśmy razem pustynne festiwale i pielgrzymki sufich, spaliśmy w świątyniach i namiotach nomadów, tym razem natomiast zgodziły się na inicjację w świat ayahuaski. Podczas części tej podróży dołączyła do nas pani psychiatra, zainteresowana transpersonalną psychologią, szamanizmem i zmienionymi stanami świadomości. Jak się okazało, pomimo tego, że dobrze znała teorię, praktyczne doświadczenie było dla niej dużo cięższe.
Chciałem aby ich pierwszy raz miał miejsce w bezpiecznym i wygodnym miejscu, i w Sharamentza było to możliwe. Zbudowano tu, we współpracy w niemieckim NGO, jako część ekoturystycznego projektu, ekskluzywny lodge, gdzie można zatrzymać się w luksusowych ( biorąc od uwagę lokalizację ) warunkach, za całkiem przyzwoitą cenę. Normalnie trzymam się od takich miejscówek z daleka, ale tym razem było warto. Personel, wliczając w to superprzyjazne sprzątaczki, przewodników itd to wszystko Ashuarzy, świetnie wyszkoleni, uprzejmi i bystrzy. Jeden z nich to Edwin Yunkar (na zdjęciu poniżej ), syn naszego pierwszego szamana, wyluzowany i inteligentny koleś, który został naszym przewodnikiem na czas tej wyprawy.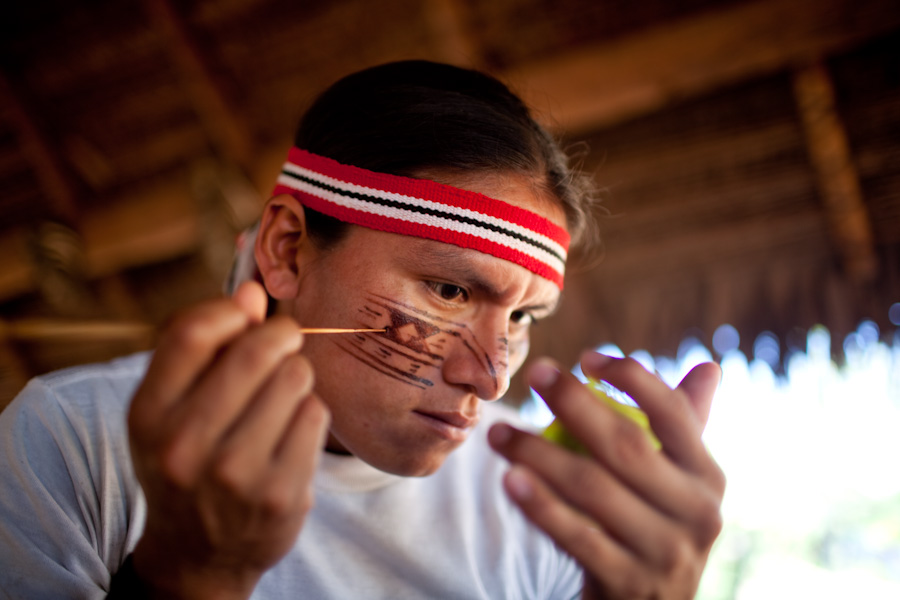 Edwin is manager of the lodge, and this is where he brought his father, so that on the first night, not loosing any time, we drank with him.
I was a bit disappointed as he didn't sang or do much during that night, I also thought his natem was not strong enough, but I was not the most important during that night. All three women suffered a bit during that night. One overcame it quickly and started to enjoy the second part of the trip, second was not feeling good physically, but being hardened traveller, she went throught that trip with dignity.
The psychiatrist was worst. Despite knowing and probably advising against it to her patients, she focused on her issues, and struggled with them, instead of letting go. This was to repeat itself in next nights, it was becoming clear to me that she is stuck in victim role, not only from her behaviour during night sessions, when she was very sick but also in days between, being almost theatrically weak. Even though it was a bit difficult not only for me, but also for fellow travelers, I found again compassion to be solution. She was also an intelligent companion for my clients, explaining them theory of what she was not able to follow in practice, and more importantly, giving clear example of western therapist as often unable to sort out own problems but resorting to helping others, complete reversal of shamanic model.
We later went to visit Rafael in his home and see the way he works with patients. He lives with part of his family, as often traditional shamans do, in the only house far away from the village, surrounded by jungle, preferring company of spirits of the forest to fellow villagers who do not follow same path. Of course he is very active in community life, we actually met him first in the gathering about petroleros, but afterwards he returns to his place, apart. Despite my average experience with him, my intuition tells me this is trustworthy and professional ayahuascero.
…
Edwin jest zarządzającym lodgem ( lodżą? ) i to tu sprowadził swojego ojca, a my już pierwszej nocy, nie tracąc czasu, wypiliśmy z nim natem.
Byłem nieco rozczarowany, bo Rafael nie śpiewał ani nie robił wiele tej nocy, poza tym byłem zdania, że jego natem jest raczej wodnisty i niezbyt mocny, ale nie ja byłem najważniejszy tym razem. Wszystkie trzy kobiety cierpiały nieco tej nocy. Jedna szybko sobie z tym poradziła i zaczęła cieszyć się lżejszą częścią podróży, druga nie czuła się za dobrze fizycznie, ale jako zahartowany podróżnik przeszła przez wyboje z godnością.
W najgorszym stanie była pani psychiatra. Pomimo świadomości tego i zapewnie odradzania swoim pacjentom, skupiała się na swoim problemie, celebrowała go i walczyła z nim, zamiast zaakceptować i odpuścić.  Miało się to powtórzyć podczas następnych nocy, stawało się dla mnie jasnym, że utknęła w swej roli ofiary, nie tylko na podstawie jej zachowania w czasie nocnych sesji, kiedy była zmożona niemocą i chorobą, ale i w trakcie dni pomiędzy, teatralnie słaniająca się i słaba, a jednocześnie nie słuchająca żadnych rad i wskazówek, co do diety, zachowania, ceremonii. Chociaż było to trudne, nie tylko dla mnie ale i dla współtowarzyszek podróży, ponownie rozwiązaniem okazało się współczucie. Była poza tym jednak inteligentnym kompanem dla mych klientek, tłumacząc im wiele z teorii, za którymi nie umiała podążyć w praktyce, a co ważniejsze, dając swym zachowaniem klasyczny przykład reprezentanta zachodniej psychoterapii, który nie potrafi rozwiązać własnych problemów i zamiast tego zabiera się za pomoc innym, totalne odwrócenie szamańskiego modelu.
Później poszliśmy odwiedzić Rafaela w jego chacie i zobaczyć jak pracuje z pacjentami. Żyje z częścią swej rodziny na uboczu, jak często robią to tradycyjni szamani, w jedynym domów z dala od wioski, otoczonym dżunglą, przedkładając towarzystwo duchów lasu nad wieśniaków, którzy nie podążają tą samą ścieżką. Jest oczywiście aktywny w życiu społeczności, spotkaliśmy go przecież po raz pierwszy na zgromadzeniu w sprawie petroleros, ale potem wrócił do swojej siedziby z dala od reszty. Pomimo mojego nieszczególnego doświadczenia sesji z nim, intuicja podpowiada mi, że to godny zaufania i profesjonalny ayahuasquero.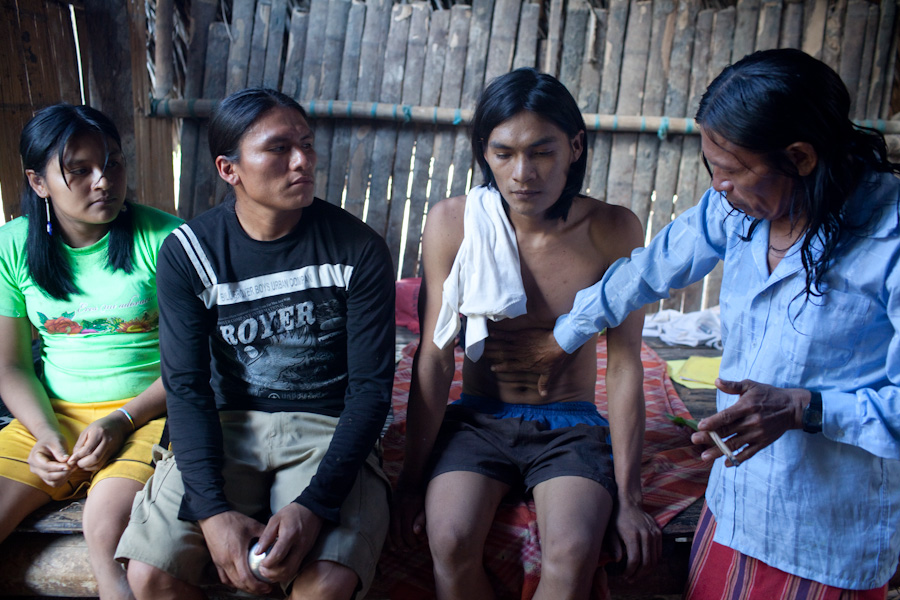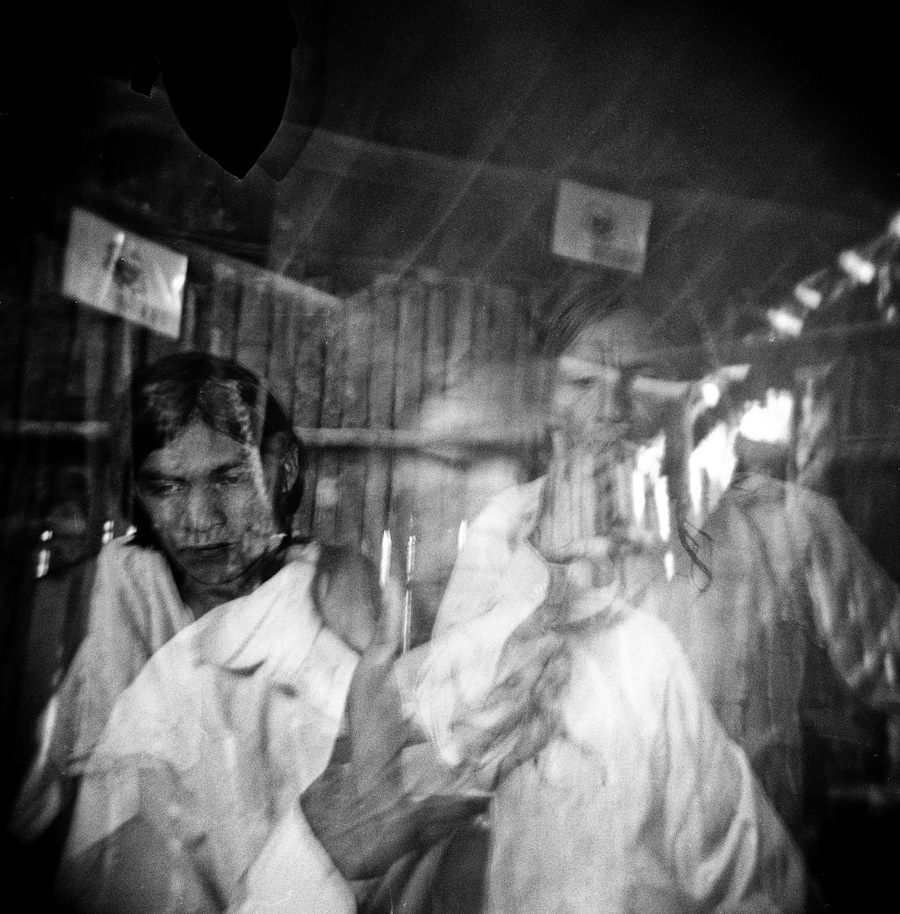 Next shaman we visited and drank with was Sumpa Etsaa, meaning Sun's Lizard, from Wachirpas, also living half an hour away from the village, with his wife and several other members of family, in amazing spot overlooking the river.
…
Nastepnym szamanem, którego odwiedziliśmy i z którym piliśmy, był Sumpa Etsaa, co oznacza Jaszczurka Słońca, z Wachirpas, który również żyje pół godziny od głównej części wioski, ze swoją żoną i kilkunastoma członkami rodziny, w niesamowitym miejscu z widokiem na rzekę.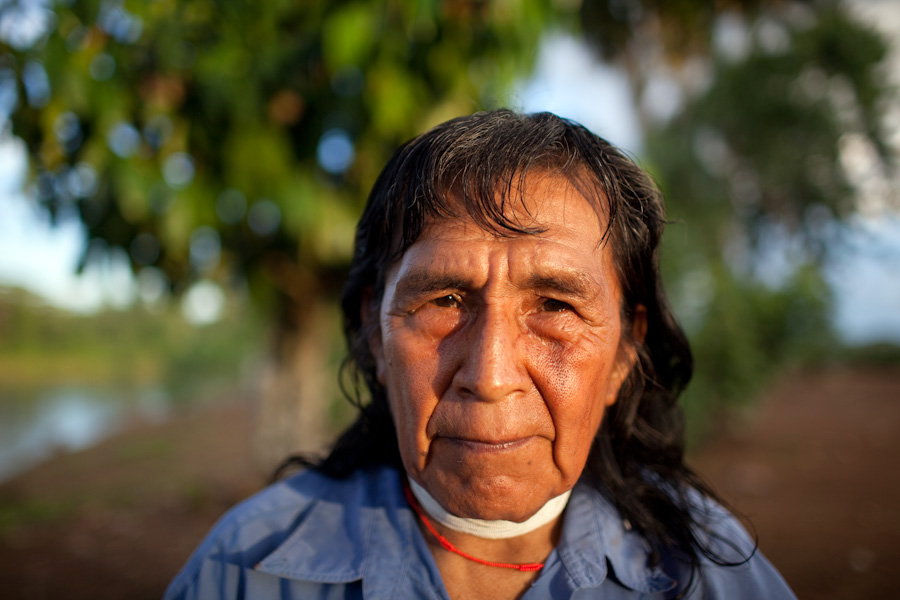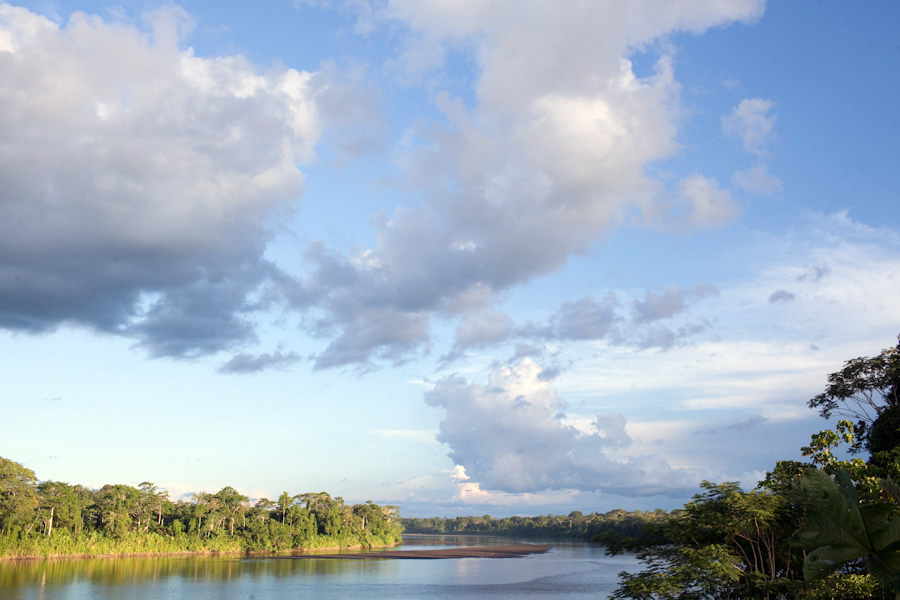 We stayed here two nights, and drunk on the second one. Sumpa Etsaa needed to prepare fresh natem, and there was no way to get in contact with him before. Things require patience in this world of slow life.
…
Zostaliśmy tu dwie noce, i piliśmy podczas drugiej. Sumpa Etsaa potrzebował czasu aby przygotowac świeży natem, i nie było jak z skontaktować się z nim wcześniej. Wiele potrzeba cierpliwości w tym świecie powolnego życia.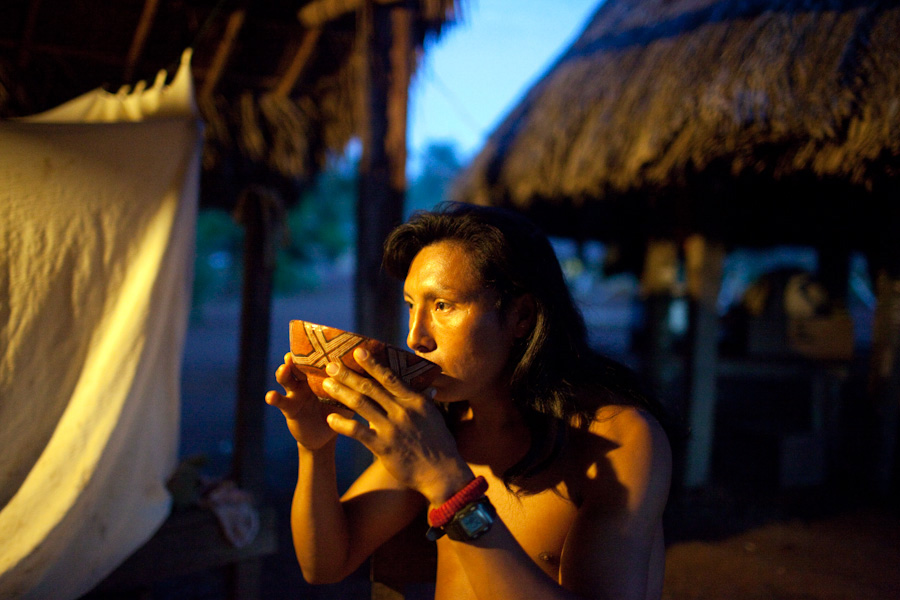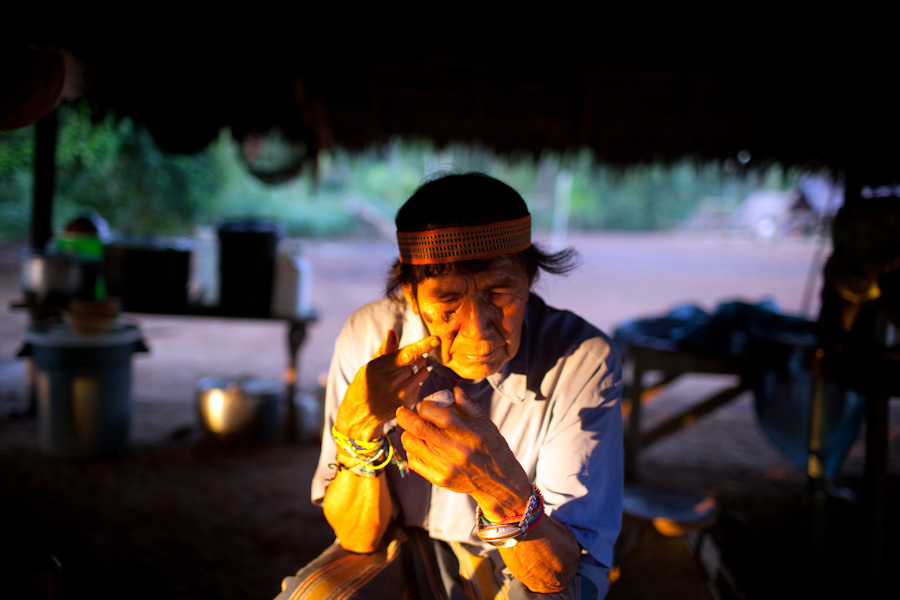 After the ceremony I took notes :
Trip in Wachirpas. Heavier taste than the one in Sharamentza, more thick, stronger. Young vine gathered on the previous day. Visions are calm, more personal. Absurd of the slogan "change the world". It is changing itself in every second, every piece and item, equally as the ayahuasca vision, changing every moment, but if I am able to distance myself, to let it flow, I accept truly and honestly that change, then things become interesting, and the change comes softly, without friction, simply, once it is ecstasy, another time pain or vomit.
I see my father, I see my kind, I see suffering and death. I see my companion on this journey, I understand her physical suffering as continuation of her sorrow, heavy burden, life's suffering, I see lack of love. When Sun's Lizard cleanses me with his leaves rattle and then touches my head and neck, I feel understanding and empathy for those who spend years without receiving any touch, for the lonely ones, sick and abandoned. I also think about the other side, about hatred giving birth to hatred, about clan revenge, something that both here, in these tribal lands, and all around the world was happening for so many generations, and I feel, understand and appreciate the simplicity of Jesus' commandment, and advice of so many mystics. If evil, sorrow, hate and frustration, they all arise from lack of love, be it self-love or love for others, so there is only one effective and lasting solution, one commandment – to love each other. All the rest is either bullshit or means towards this end, tools like gentleness, patience..
Again, I see clearly my impatient remarks when explaining something, I see in me my father, impatient, angry, but I understand him. I understand myself, and I appreciate the change that is happening, despite falling again, into being rude and harsh, like so many times before, to my women for example, and I understand that it is the same thing my father did to me, believing subconsciously that by not giving me simple ready answers and solutions he will force me to learn better, and perhaps that is true, I am doing fine now in life. So I repeat the same pattern, subconscious, doing something that in the eyes of others can be harsh, unpleasant. It is nothing but lack of attention, forgetfullness. I must control that, I must notice my teacher side and keep it reigned in, but without punishing myself, I accept who I am. Yes, I am also my father, and my duty is to carry what I received from him towards perfection.
Next day – see : http://blog.swiatoslaw.com/?p=6534
…
W dzień, lub kilka dni po ceremonii robiłem notatki :
Trip w Wachirpas. Cięższy niż w Sharamentza smak, lepki, mocny. Młode liany zbierane poprzedniego dnia. Wizje spokojne, znów osobiste. Absurd hasła "change the world", świat zmienia się w każdej sekundzie, w każdym fragmencie, tak jak co chwilę zmienia się ayahuaskowa wizja, jeżeli jednak nabiorę do tego dystansu, pozwolę płynąć, zaakceptuję szczerze tą zmiane, wówczas robi się ciekawie, a poza tym wchodzi ona miekko, bez tarcia, po prostu, raz rzyganko, raz ekstaza.
Widzę swojego ojca, widzę bliskich, widzę cierpienie i śmierć. Widzę swą współtowarzyszkę podróży, rozumiem jej cierpienie fizyczne jako kontynuację smutku, ciężkiego bagażu, cierpienia życia, widzę brak miłości. Kiedy Jaszczurka Słońca oczyszcza mnie liścianą grzechotką a potem dotyka głowy i karku, czuję zrozumienie i współczucie dla tych, którzy całe lata nie dostają żadnego dotyku, dla samotnych, chorych, porzuconych. Myślę też o drugiej stronie, o nienawiści rodzącej nienawiść, o zemście rodowej, o tym co tu, i na całym świecie przez całe pokolenia się działo, i czuję, rozumiem i doceniam, prostotę przykazania Jezusa i tylu innych mistyków. Skoro zło, smutek, nienawiść, frustracja, wszystkie wynikają z braku miłości, czy to własnej czy dla innych, jest tylko jedno skuteczne i trwałe rozwiązanie, i jedno przykazanie – abyście się wzajemnie miłowali. Wszystko inne to albo bzdury albo narzędzia na drodze, łagodność, cierpliwość.
Znowu widzę swoje niecierpliwe uwagi przy tłumaczeniu czegoś, widzę w sobie swego ojca, niecierpliwego, wkurwionego, ale rozumiem go. Rozumiem siebie i doceniam zmianę, mimo, że znów byłem opryskliwy, tak jak kiedyś na przykład dla swoich kobiet, i rozumiem, że to samo robił wobec mnie mój ojciec,  wierząc, że nie dając gotowych, zbyt łatwych rozwiązań, lepiej się nauczę, i to prawda, dzięki temu lepiej sobie radzę. Więc ja podświadomie robię to samo, co w oczach innych może być ostre, wręcz nieprzyjemne. To brak uwagi, to zapomnienie. Muszę to pewnie ważyć, i hamować, ale nie umartwiam się bynajmniej, akceptuję kim jestem. Tak, jestem też swoim ojcem, a mój obowiązek, to doskonalić to, co od niego dostałem.
Nastepnego dnia – patrz : http://blog.swiatoslaw.com/?p=6534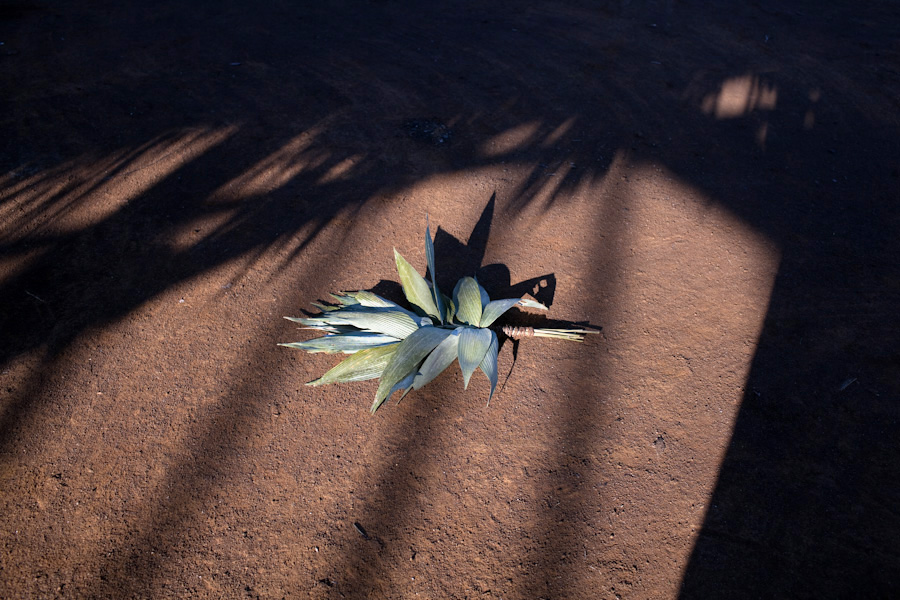 We leave from that place after two days, with one of us light in spirit, another heavy in body. That is the nature of this game, again I stress it, remember, this guide is highly subjective.
…
Opuszczamy to miejsce po dwóch dniach, jedno z nas lekkie na duchu, inne ciężkie ciałem. Taka jest natura tej gry, ponownie to podkreślę, ten przewodnik jest bardzo subiektywny.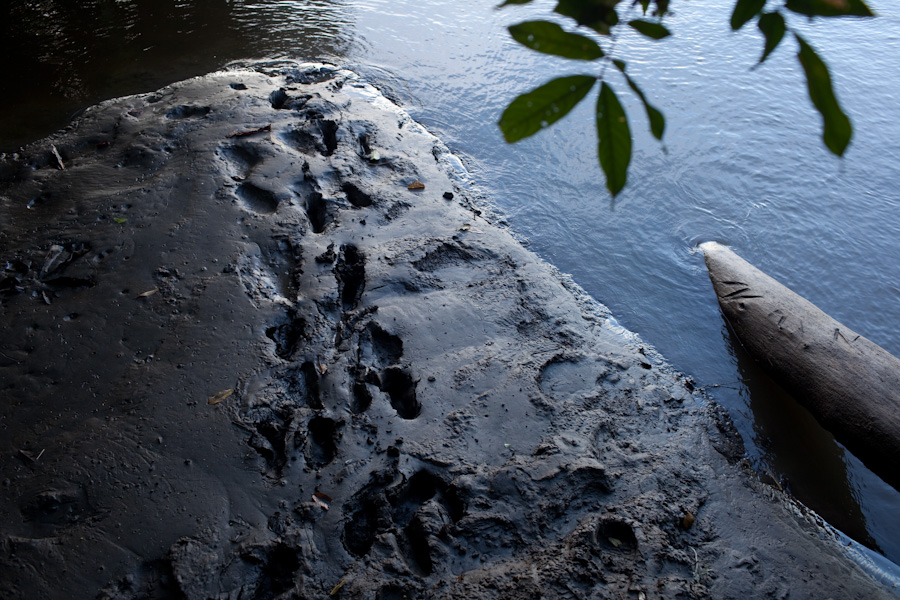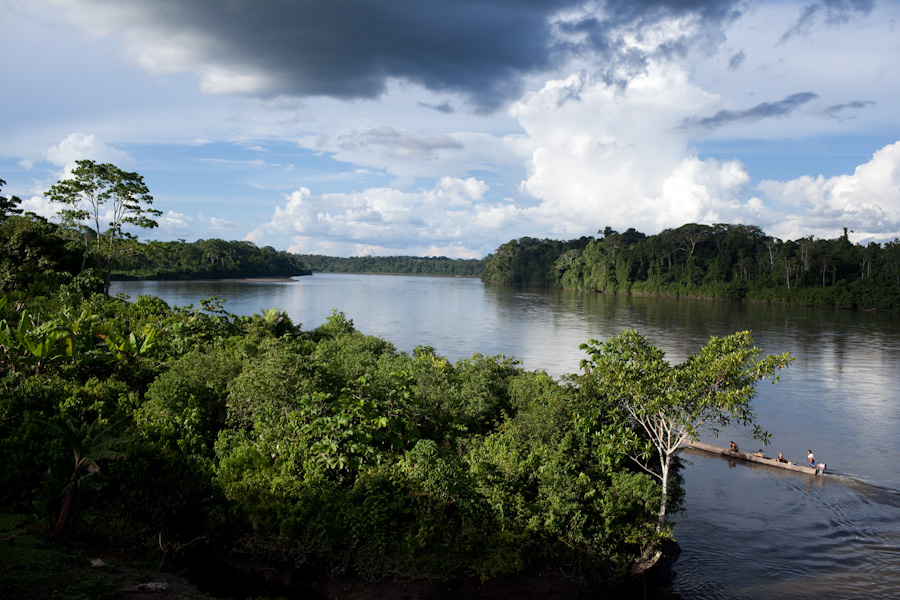 The last place on our loop was Wayusentza and ayahuasquero named Taish Uyunkar.
…
Ostatnim miejscem na naszej trasie jest Wayusentza i ayahuasquero Taish Uyunkar.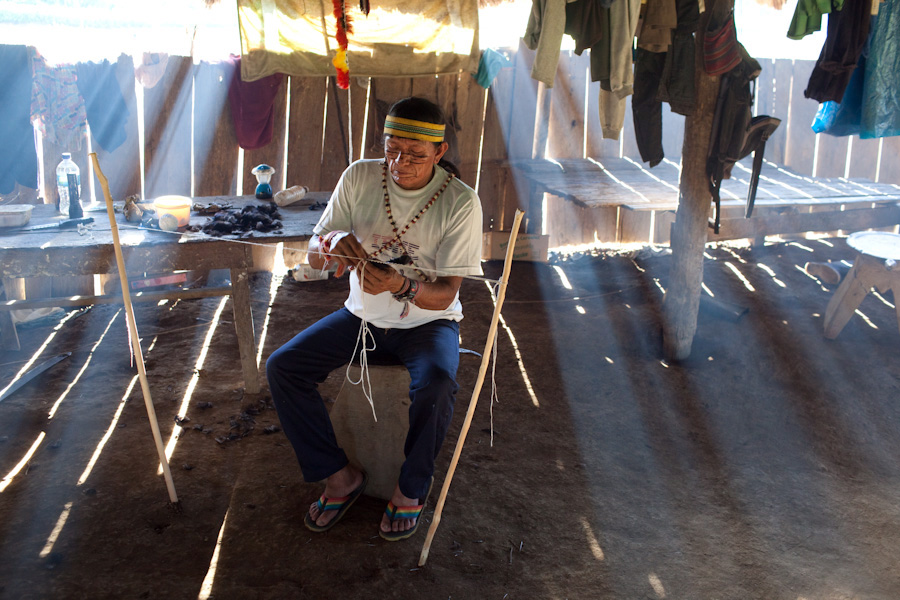 Taish boasted that many foreigners come to visit, most of them from nearby Kapawi, extremely expensive, fancy ecotourism lodge. His place was quite pleasant, and ayahuasca, as far as I remember too, but nothing special happened, at least not strong enough to stay in my memory. Out of four, only two of us decided to drink, two girls needing a break from psychoactive experiments.  There was not much time for sleeping, I hardly drifted away in dreamlike state when sounds of people waking up for guayusa ceremony forced me up from my hammock, to drink, shoot, chat, and suck as much as possible from the cup life offers. Plant power !
…
Taish utrzymywał, że odwiedza go tu wielu cudzoziemców, większość z nich z położonego nie tak daleko Kapawi lodge, ekstremalnie drogiego i luksusowego hotelu dla "ekoturystów". U Taisha było całkiem miło, a ayahuaska, z tego co pamiętam, też spoko, chociaż nic specjalnego się nie wydarzyło, nie na tyle aby pozostać mi w pamięci. Z naszej czwórki tylko dwie osoby zdecydowały sie pić, a dwie dziewczyny wybrały przerwę od psychoaktywnych eksperymentów. Nie było za wiele czasu na spanie. Ledwie odpłynąłem w senny stan, kiedy dźwięki ludzi budzących się na ceremonię guayusa zmusiły mnie do poderwania z hamaka, aby pić, focić, gadać, i wyssać ile się da z tego kubka który życie oferuje. Roślinna moc!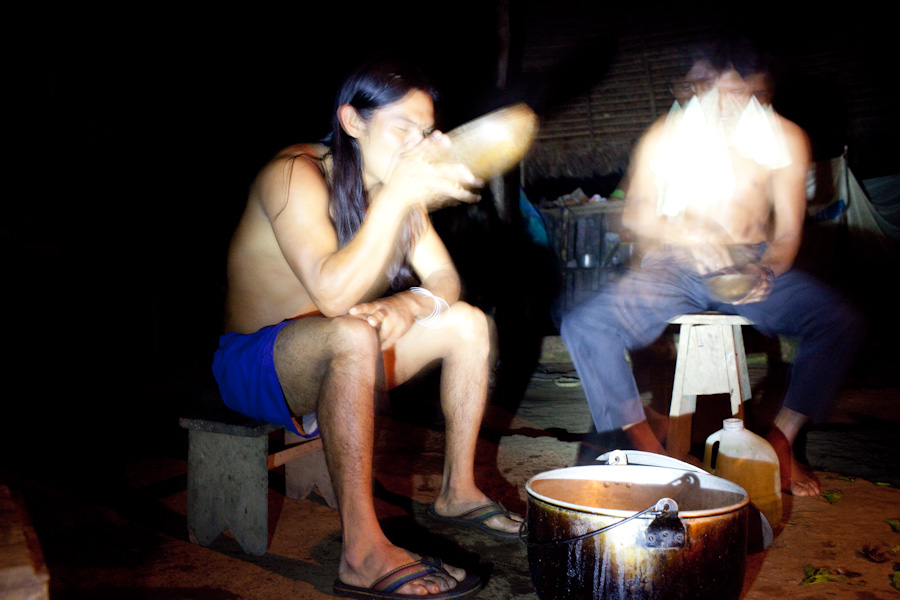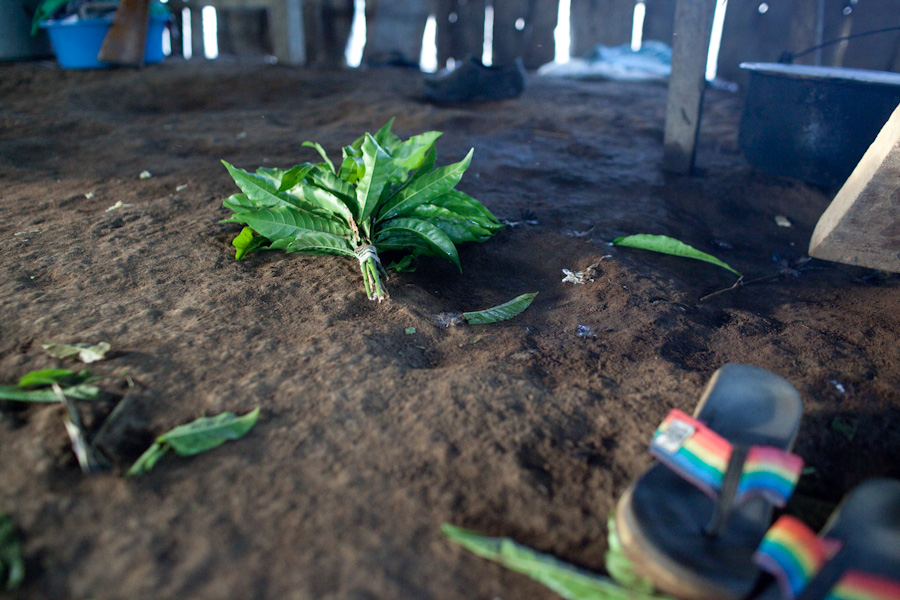 When we came back we had one more comfortable night in the lodge of Sharamentza, very warm and sincere goodbye party with the people of the village, exchange of gifts and adresses. Even if that difficult place to come to, it is one of more beautiful parts of Amazon I have seen and I would wish to return one day.
…
Gdy powróciliśmy, w Sharamentza czekała nas bardzo ciepła i szczera pożegnalna impreza z mieszkańcami wioski, ładowanie baterii i komfortowa noc, wymiana prezentów i adresów.  Mimo tego, że trudno tu dotrzeć, to jeden z piękniejszych kawałków Amazonii jaki widziałem i chciałbym kiedyś powrócić.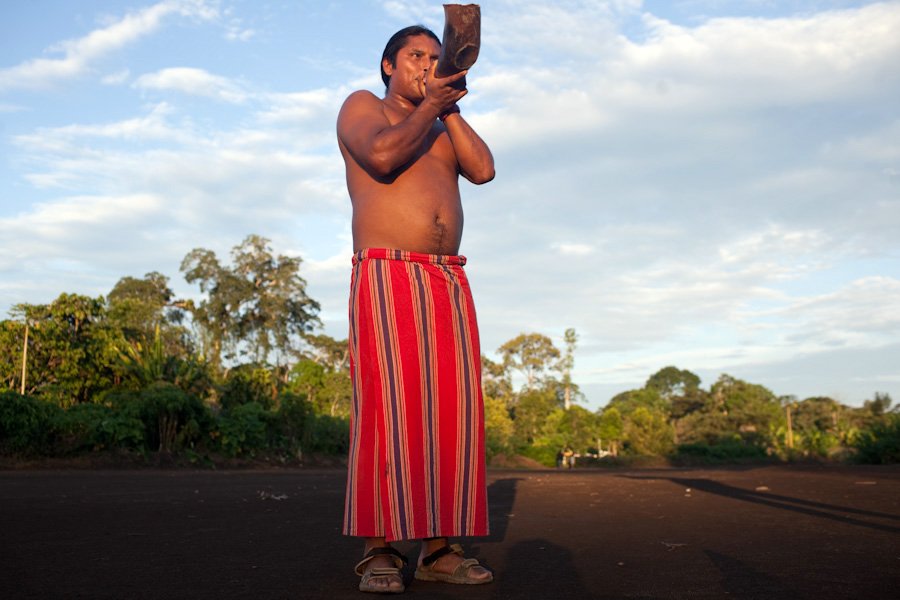 You can contact( in Spanish ) following people for arranging your stay in Achuar territory :
Domingo Peas from NAE, Achuar nation in Puyo : sharampd@yahoo.es / sacifa@gmail.com / 0987963569
Edwin Yunkar, manager of the lodge in Sharamentza and guide : https://www.facebook.com/edwin.yunkar
The biggest expense will be flight, around 500 USD one way for up to 3/4 passengers.  Your stay in Sharamentza lodge is 80 USD per person per day, all inclusive, considering standard, one of best deals I have seen in Amazon. On top of that essential are hiring boat and boatmen to move between villages, and shaman fees ( around 20-30 USD per person per ceremony ). If you eat simple, some rice, fresh fish, chicha, you will not have many more expenses in this land of no shops.
…
Aby zorganizować podróż na terenie Ashuarów można kontaktować się ( w języku hiszpańskim ) z poniższymi :
Domingo Peas z NAE, organizacja narodu Ashuarów w Puyo : sharampd@yahoo.es / sacifa@gmail.com / 0987963569
Edwin Yunkar, zarządca lodge w Sharamentza i przewodnik : https://www.facebook.com/edwin.yunkar
Największym wydatkiem będzie przelot, około 500 USD w jedną stronę za 3/4 pasażerów. Wasz pobyt w Sharamentza to 80 USD za osobę za dzień, wszystko w tym zawarte, biorąc pod uwagę standard, bardzo uczciwa propozycja, jak na to co widziałem w Amazonii. Ponadto niezbędne będzie wynajęcie łodzi, sternika i przewodnika aby przemieszczać się między wioskami, i opłaty dla szamanów ( jakieś 20-30 USD za osobę za ceremonię). Jeżeli jecie skromnie, jakiś ryż, świeża ryba, czicza, wiele nie wydacie w tej krainie bez sklepów.